Thanksgiving is right around the corner and we have our 50 Best Thanksgiving Recipes for you! We have everything from appetizers, breads/biscuits, side dishes, mains (and not just turkeys!), and desserts. It's the ultimate list of thanksgiving recipes!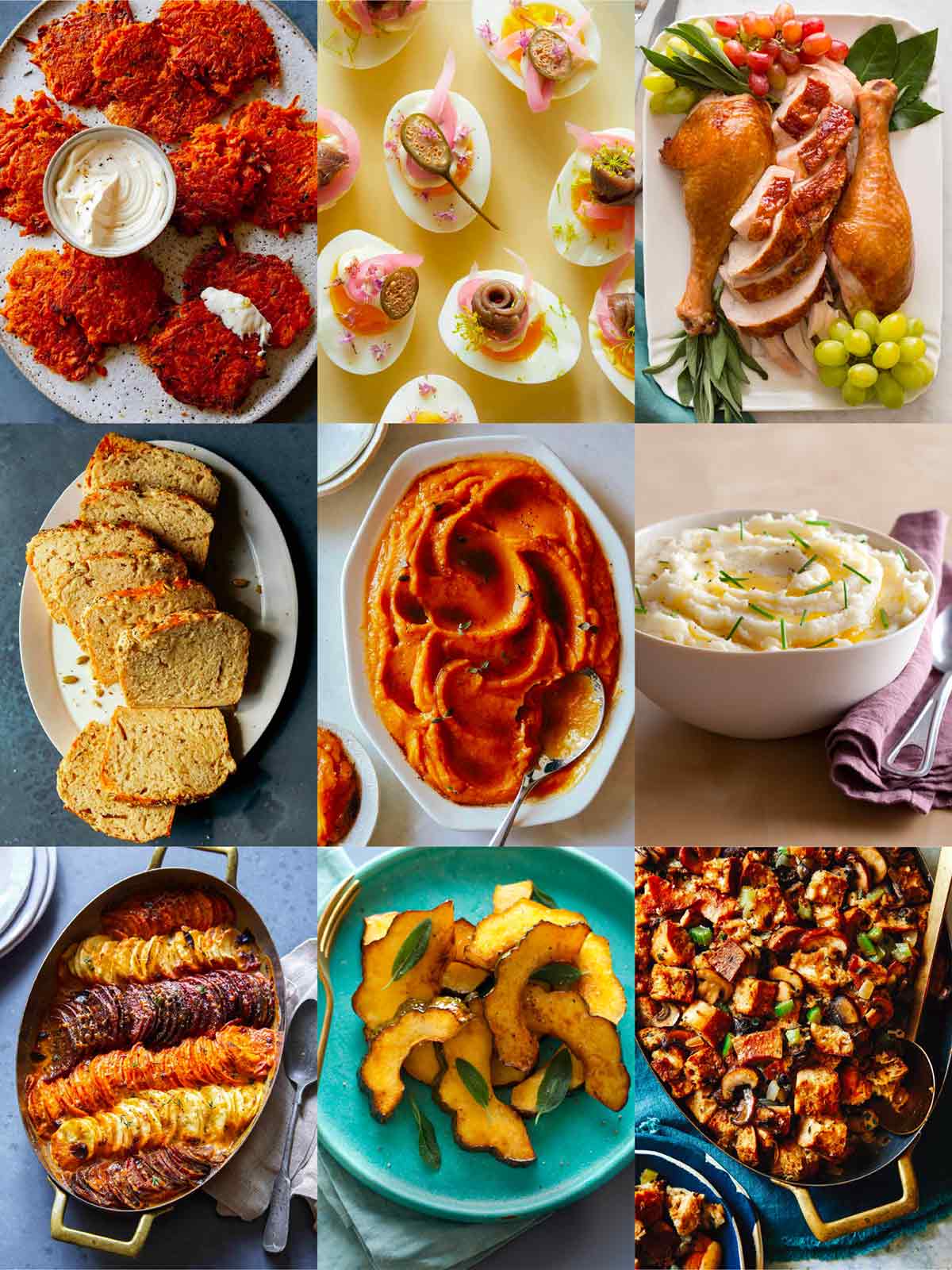 Thanksgiving Appetizers
Everyone loves to prep their stomach by nibbling on a little something before the big meal, so we have a list of some of our favorite hot and cold appetizers that will definitely kickstart any appetite.
Cold Appetizers
Cold appetizers are perfect for Thanksgiving. Why? Because cold means make ahead! We know oven space gets limited so these are all our trusted and most loved appetizer recipes.
Hot Appetizers
This collection of Thanksgiving appetizers is for those of you who are looking to impress. There are some seriously delicious recipes in this hot appetizer collection, and we know you will find some you just have to make!
Breads and Biscuits
We love carbs and think warm bread and biscuits are a must on every thanksgiving table! Yes, ok, we know there is usually always stuffing which is also bread but come on – you can never have too much bread! We have rounded up our favorite Thanksgiving Bread and Biscuit recipes that are perfect for sopping up the last of that gravy on your plate.
Breads
Biscuits
Side Dishes
Thanksgiving side dishes are favorites for many people and we definitely don't have a shortage of delicious side dishes to include in your thanksgiving meal! In fact, we think side dishes are maybe the best part of Thanksgiving. This collection of side dishes has everything you could want!
Thanksgiving Stuffing Recipes
More Thanksgiving Side Dishes
Main Dishes
While turkey is the traditional main dish most people expect to enjoy we also have other alternatives if turkey isn't your thing!
Dessert
Even if everyone is ready to roll themselves home after thanksgiving dinner, people can and will always find some stomach space for dessert!
We hope our list of 50 Best Thanksgiving Recipes helps you put together an epic thanksgiving feast! If you're looking for delicious beverages to enjoy with your meal, check out our Drinks section for a variety of both alcoholic and non-alcoholic beverages for everyone!
Also check out our:
Still looking for more thanksgiving recipes? Check out our Holiday Headquarters for even more recipes for your thanksgiving table. Enjoy!