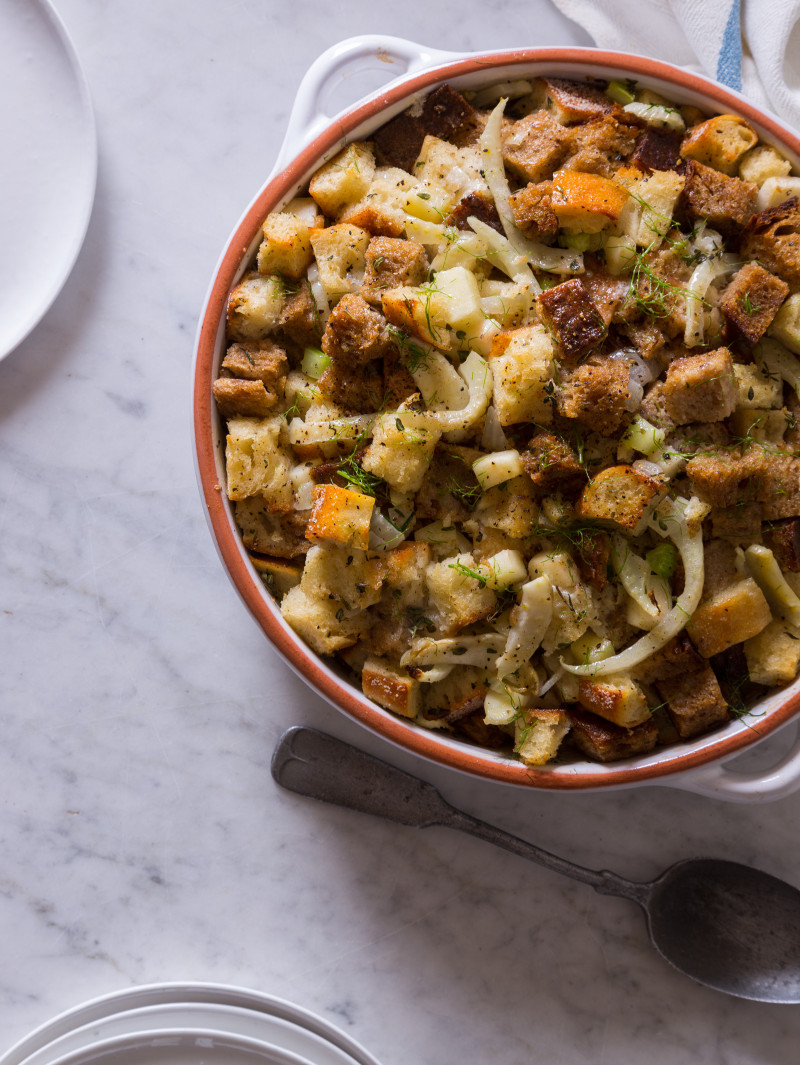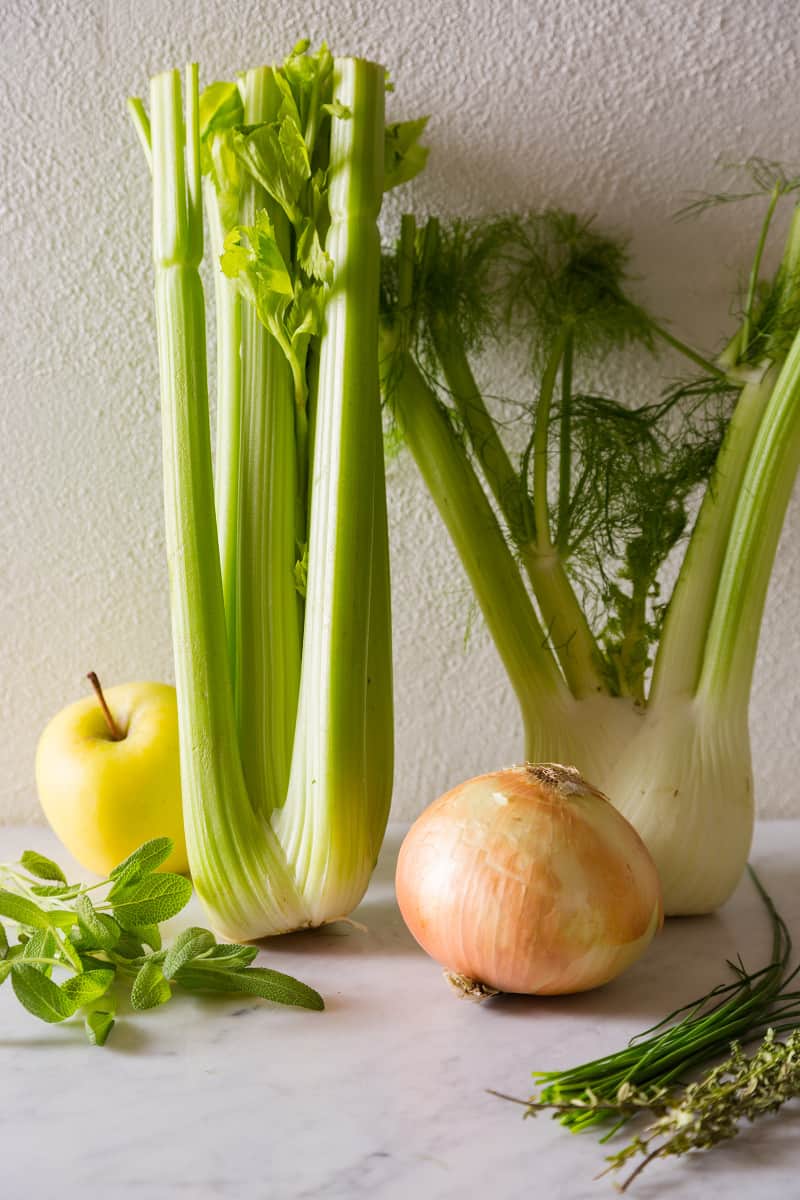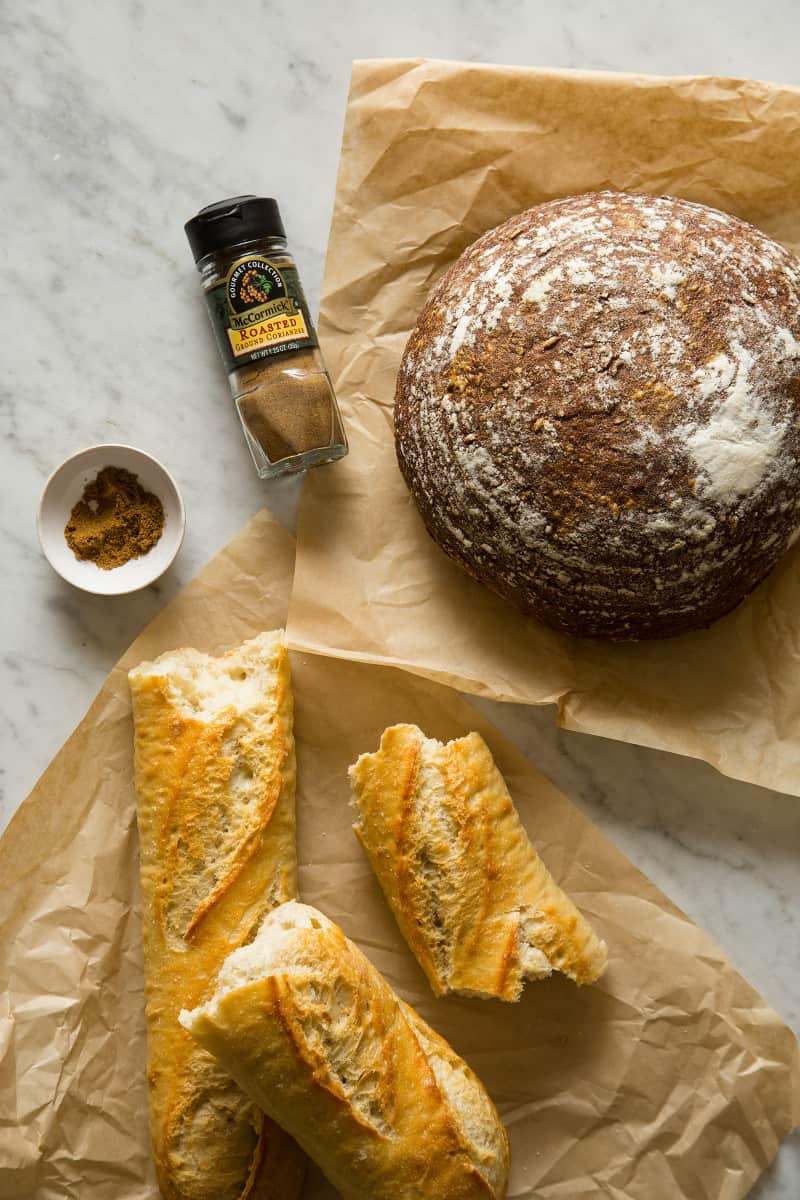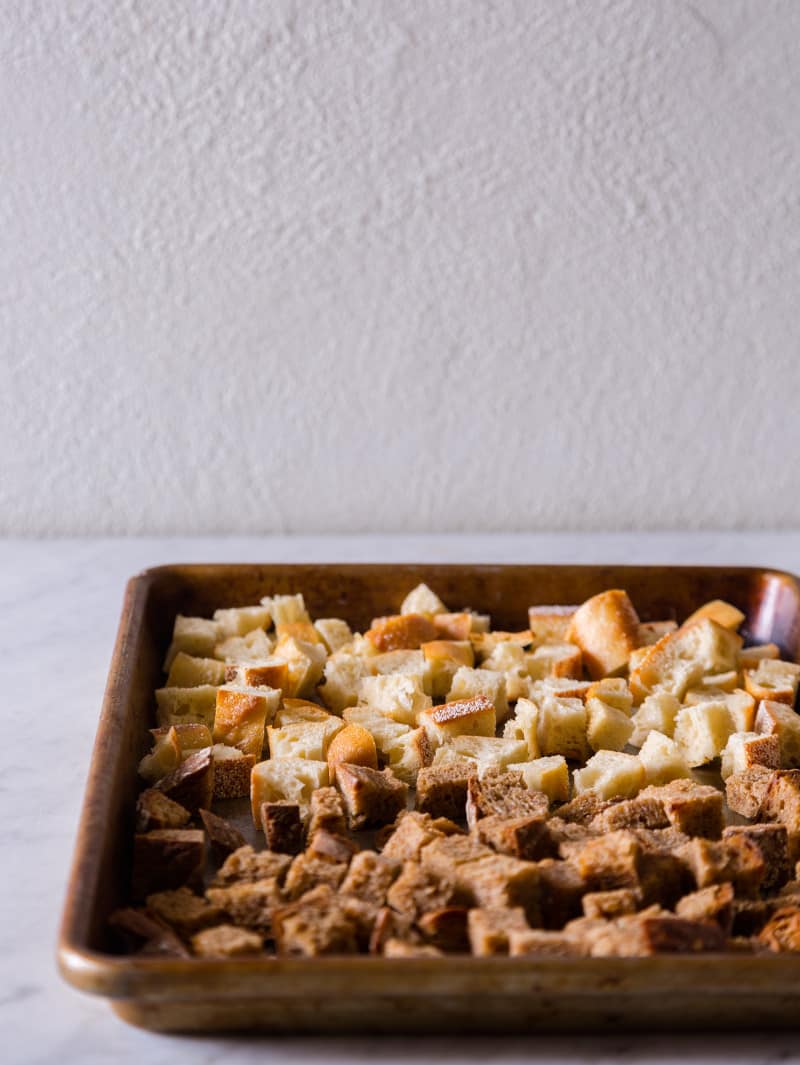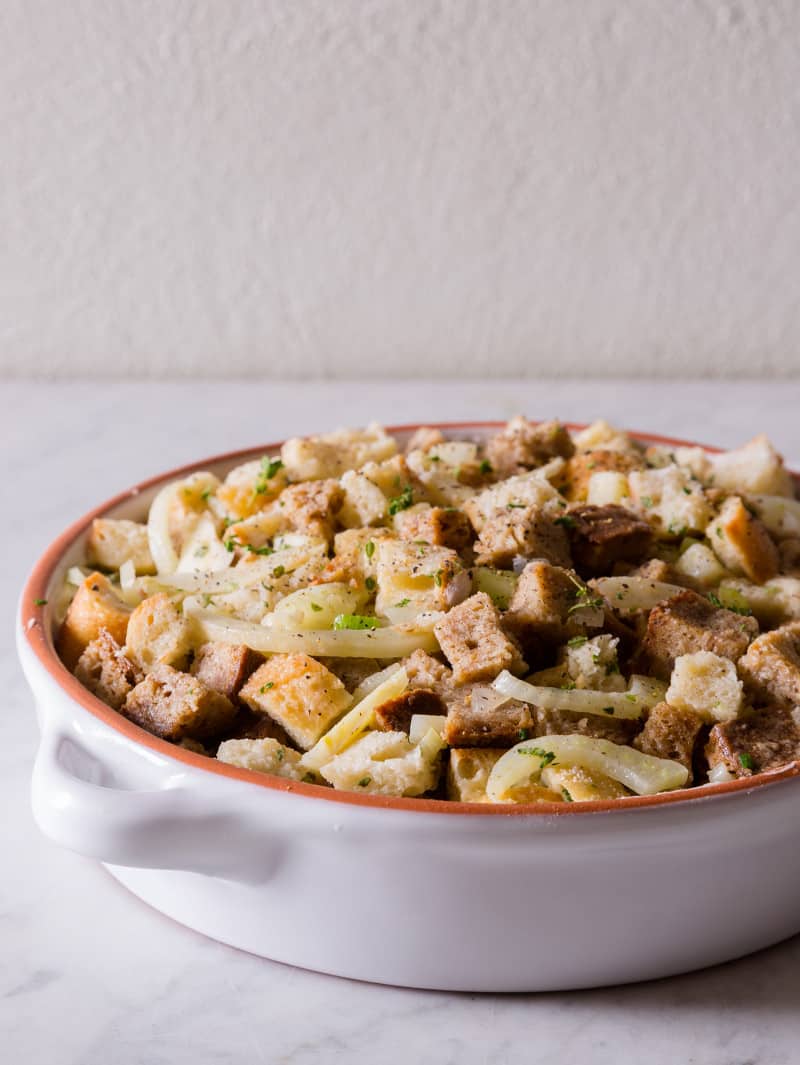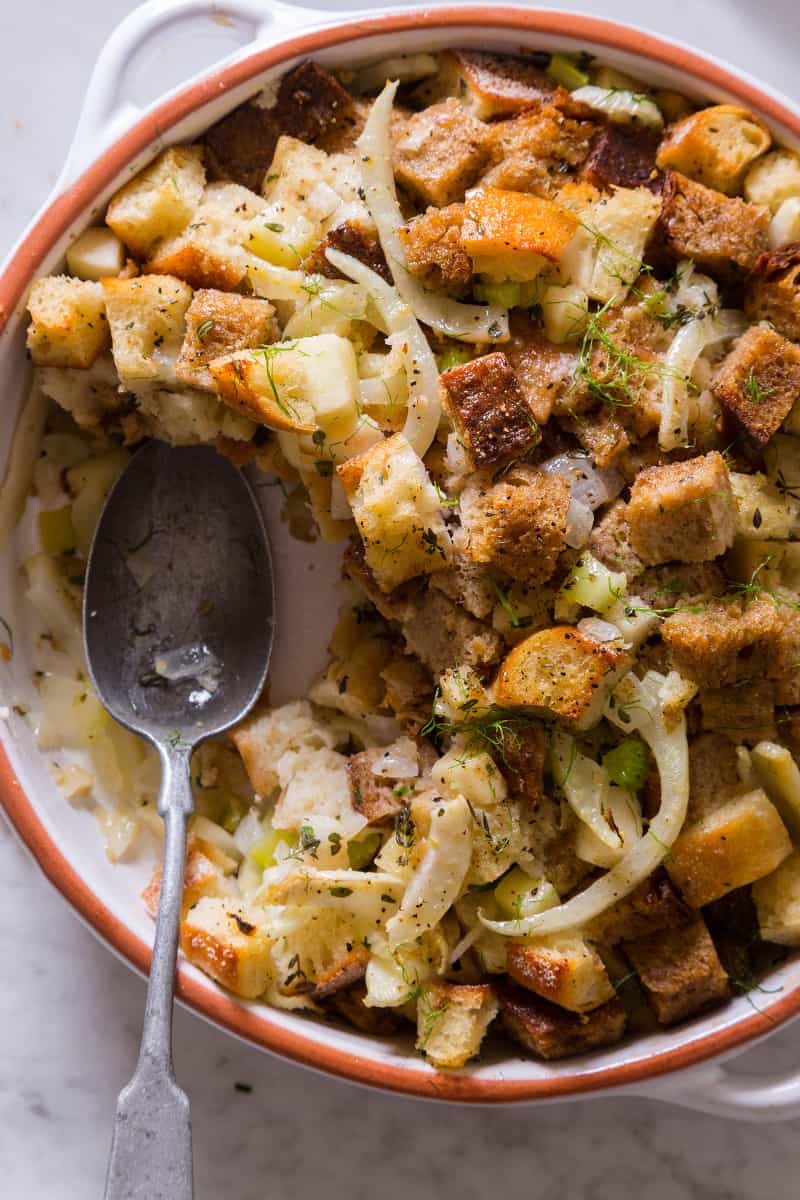 I think most people would agree that the side dishes are the best part of the thanksgiving meal. Stuffing, mashed potatoes, buttered green beans, creamed corn, roasted squash, dinner rolls, all smothered in gravy. Yum. Turkey is great, yes, but side dishes always seem to take center stage. Stuffing in particular has always been my favorite thing to eat on thanksgiving.
This year this apple and fennel stuffing is making it to my thanksgiving table and I'm so excited. The combination of sweet apples, buttery bread and bright flavors of anise from the fennel come together nicely. The ground coriander we've included adds hints of lemon and sweetness to the dish that's both subtle and warming. Depending on how soft or stiff you prefer your stuffing, you can adjust the amount of stock you chose to use. I tend to like my stuffing soft and moist with a nice crust baked on the top so the amount of stock in the recipe makes a softer stuffing.
If you're looking for a new stuffing to try out this thanksgiving or holiday season, infused with a delicious bevy of flavors, you might want to try out our apple and fennel stuffing; it's sure to be a crowd pleaser!
Apple and Fennel Stuffing
Serves 8 to 10
Ingredients:
1 French baguette, cut into 1/2 inch cubes and toasted (about 5 cups loosely packed)
1/2 loaf of pumpernickel bread, cut into 1/2 inch cubes and toasted (about 3 cups, loosely packed)
3/4 cup (1 1/2 sticks) unsalted butter, melted and divided
1/2 medium yellow onion, diced
1 rib celery, diced
1 fennel bulb, thinly sliced
2 golden delicious apples (or apples of your choice), peeled cored and diced
1 tablespoon minced thyme
2 teaspoons thinly sliced chives
1 1/2 teaspoons minced sage
2 garlic cloves, minced
1 teaspoon McCormick's Gourmet Collection ground coriander
3 1/2 cups chicken stock (or vegetable stock)
salt and pepper to taste
Directions:
1. Preheat oven to 350˚F.
2. Combine both kinds of toasted cubes into a large bowl and toss together. Set aside.
3. Pour 1/4 cup butter into a large pot and place over medium-high heat.
4. Add onion and sauté for 2 to 3 minutes. Add celery and fennel and continue to sauté for 4 to 5 minutes or until vegetables start to become translucent. Season with salt and pepper.
5. Stir in apples, herbs, garlic, and coriander. Pour stock and remaining butter into the pot and bring mixture to a boil.
6. Once mixture has come to a boil, remove from heat and add toasted bread cubes. Stir together until moist or all of the liquid has been absorbed. Adjust seasonings.
7. Pour mixture into a lightly greased 9"x13" (3 quart) baking dish, cover with foil and bake for 30 minutes. Uncover and bake for an additional 10 minutes.
8. Allow mixture to cool for 10 to 15 minutes before serving.