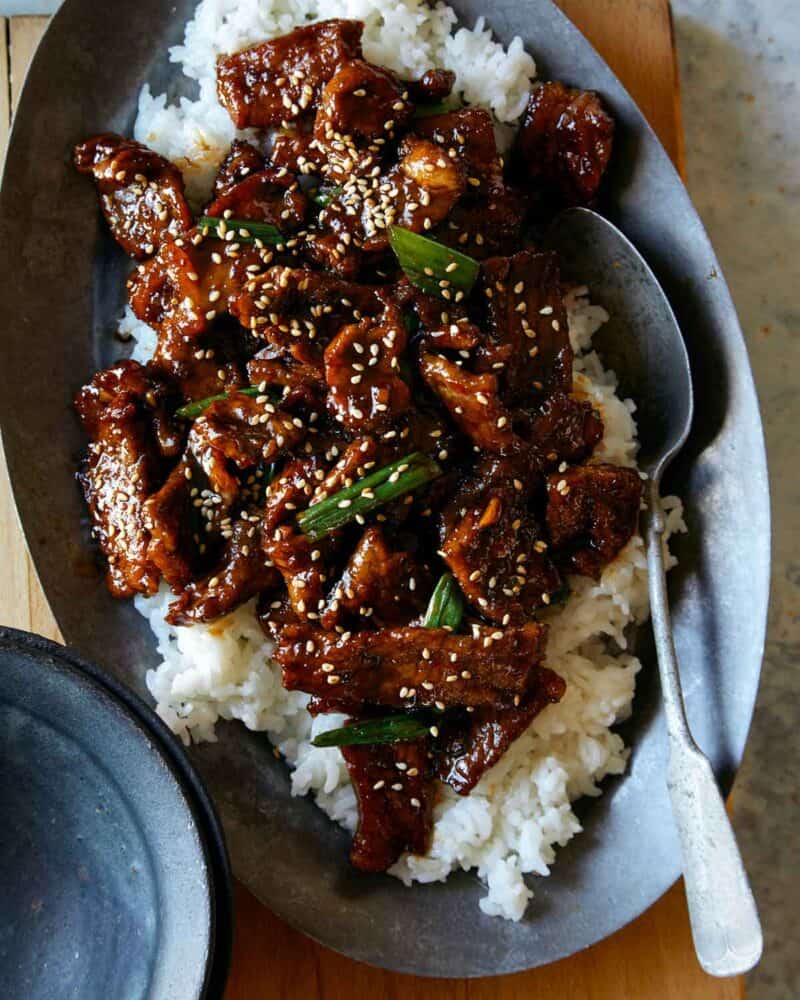 This Mongolian Beef recipe is right up our alley. We're big fans of deliciously quick and easy dinners, especially if they make incredible leftovers. This is one of those dishes! We always make sure to make a double batch of this recipe just to ensure we have leftovers for a couple of days.
What is Mongolian beef?
Mongolian beef is a stir fry beef dish served at Chinese restaurants. The sliced beef is quickly cooked and coated in a sweet and salty sauce with green onions.
Where did it originate from?
Many people think Mongolian beef originated in the U.S. and is considered a Chinese-American Dish. It was actually developed in Taiwan, where Chinese barbecue restaurants originated.
Why is it called Mongolian beef?
The name of the dish refers to Mongolian barbecue style of cooking, which is quick and over high heat. The dish itself isn't actually a part of Mongolian cuisine.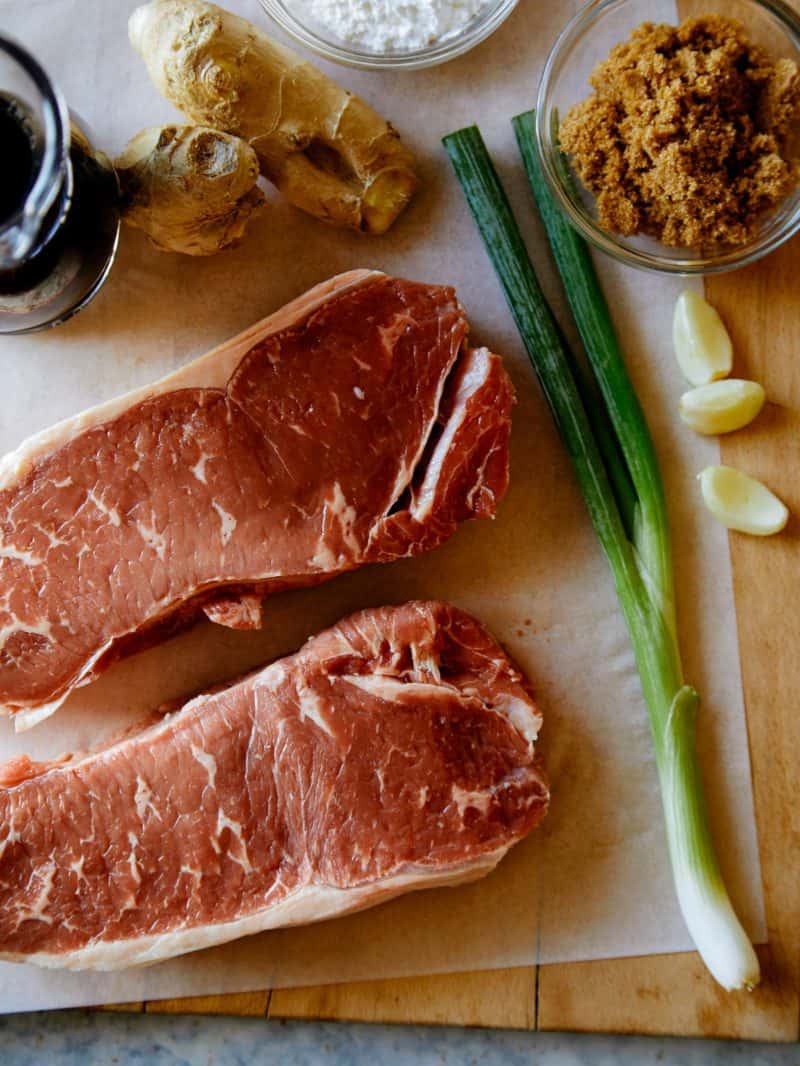 What kind of beef is used?
Flank steak, sliced against the grain is most commonly used to make Mongolian beef, although any quick cooking beef works great. We use New York strip steaks in our version, as flank steak isn't always found at all grocery stores and New York strips general are. Lamb has also been used to create this dish, although beef is more common and popular.
Why coat beef in cornstarch?
Coating the sliced beef in cornstarch is important because it helps to tenderize the meat. Cornstarch also helps to thicken the sauce, so that it coats the cooked beef.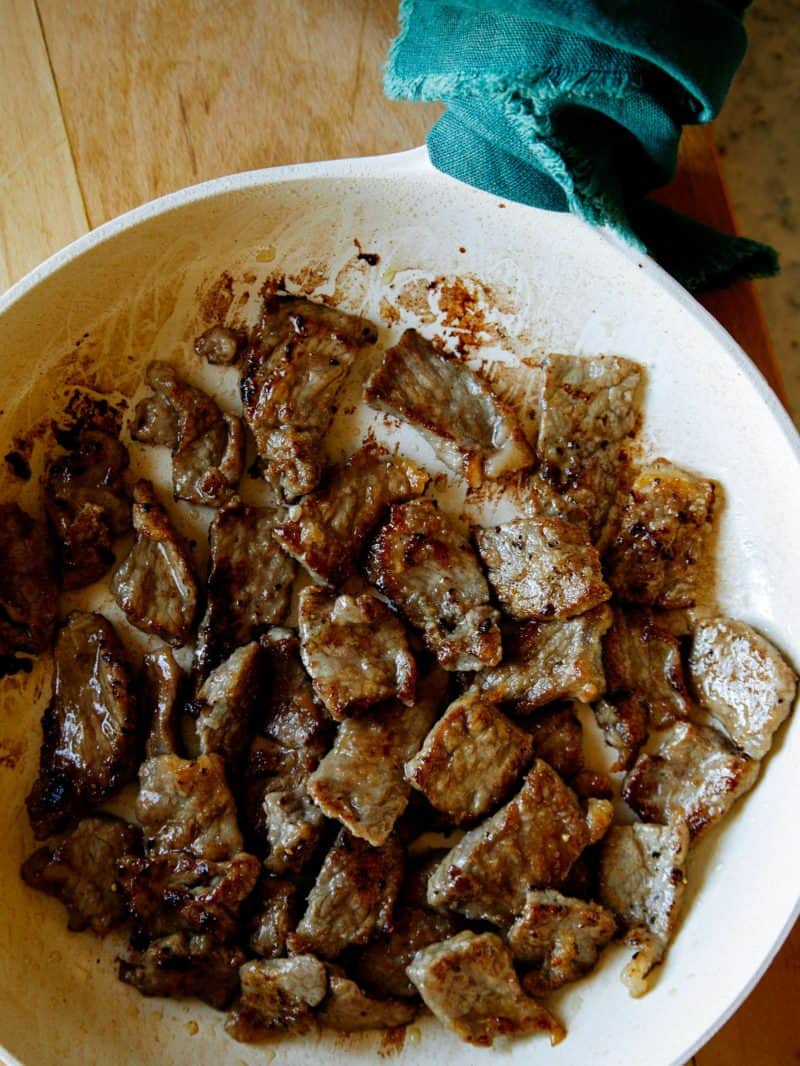 What to serve with Mongolian beef?
This dish is commonly served over a bed of steamed rice, which is how we serve our recipe. It's also commonly served over a bed of fried cellophane noodles, which adds a light, crisp texture to the overall dish. We opted out of the noodle version since frying the noodles would add an extra step and more clean-up in the end, but it is a delicious alternative!
Make ahead and reheat:
The sauce in this dish can be made up to 5 days ahead of time. The meat can be sliced up to 2 days ahead of time.
When ready to make the dish, toss beef in salt, pepper and cornstarch.  Sear in skillet as directed.
Warm the sauce in a saucepan for a few minutes before adding it to the seared meat. This will help to avoid the temperature dropping in the skillet, not allowing for quick and even cooking.
The overall dish can be made up to 3 days ahead of time. When ready to serve, pour entire mixture into a large skillet and simmer over medium heat until warmed through, about 5 to 6 minutes.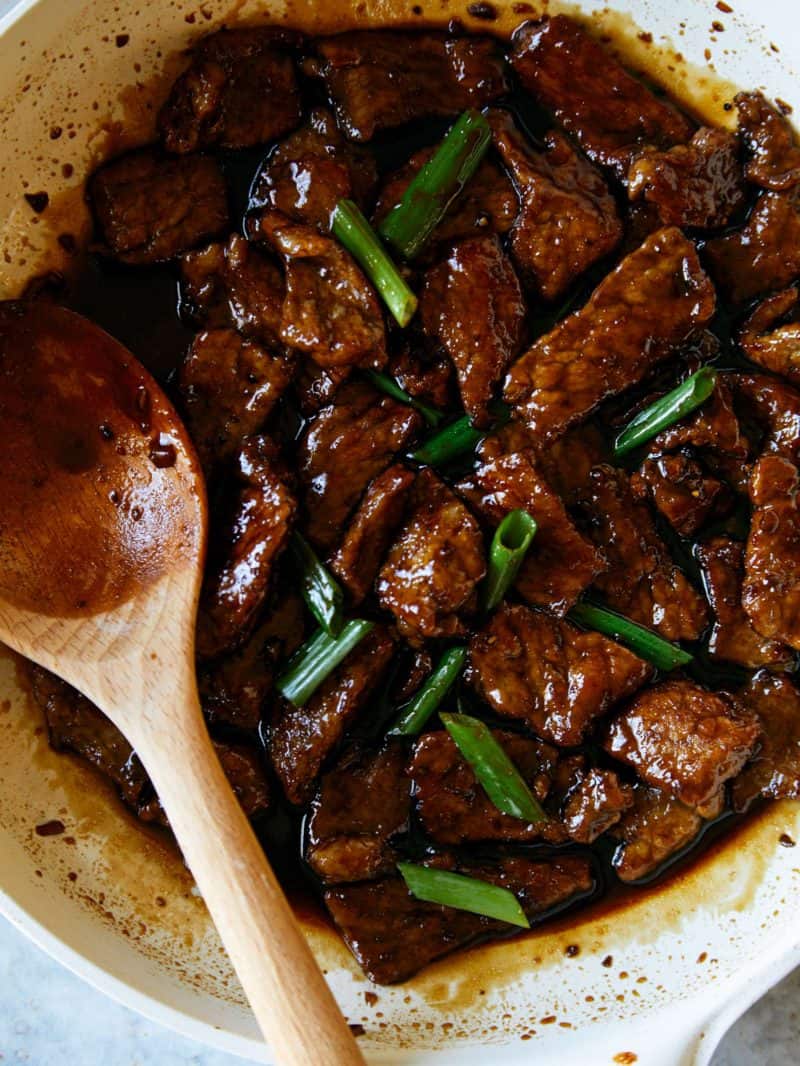 Freeze ahead:
Cool Mongolian beef completely before transferring into a freezer friendly container. Store in freezer for up to 3 months. When ready to use, thaw in refrigerator overnight. Pour mixture into a skillet and slowly reheat until just heated through.
This recipe is so simple and requires such few ingredients, it's one of our favorite weeknight dinners! We love serving our Mongolian beef recipe it with some lightly roasted green beans to make it a complete meal.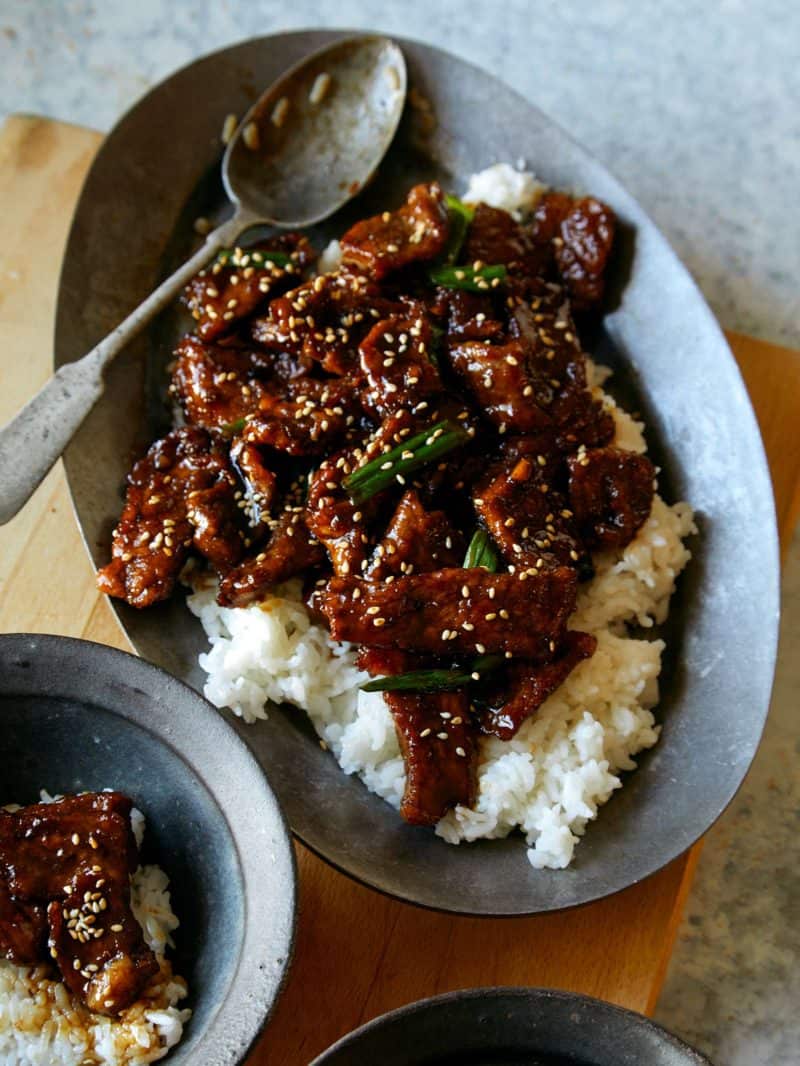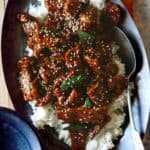 ---
Mongolian Beef
We love this Mongolian beef recipe. It's a quick, easy and delicious stir-fry dish of tender beef coated in a slightly sweet and savory sauce. We love to serve it over steamed rice!
INGREDIENTS
2

New York Strip Steaks, thinly sliced (about 1 1/2 pounds)

3

tablespoons

cornstarch

2

tablespoons

vegetable oil, divided

3

cloves garlic, minced

1

tablespoon

minced ginger

⅓

cup

low sodium soy sauce

⅓

cup

water

½

cup

dark brown sugar

2

green onions

sliced into 1 inch pieces

1

teaspoon

toasted sesame seeds

optional

salt and pepper to taste

steamed rice

for serving
INSTRUCTIONS
Season sliced steak with salt and pepper. Toss steak in cornstarch until fully and evenly coated. Set aside.

Place a large skillet over medium-high heat and add 1 tablespoons oil. Add garlic and ginger and saute for 1 minutes. Add soy sauce, water and sugar and bring to a boil until sugar dissolves, about 2 minutes.

Pour sauce into a liquid measuring cup and set aside.

Place skillet back over heat and add remaining oil. Add steak and sear until evenly browned on both sides, 1 to 2 minutes per side.

Pour sauce back into skillet and toss together with meat. Allow sauce to thicken, 1 to 2 minutes.

Toss in green onion and continue to cook for 1 more minute until sauce is thick enough to coat the back of a wooden spoon.

Pour Mongolian beef over steamed rice and serve.
Calories:
444
kcal
Carbohydrates:
36
g
Protein:
24
g
Fat:
23
g
Saturated Fat:
13
g
Cholesterol:
69
mg
Sodium:
778
mg
Potassium:
403
mg
Fiber:
1
g
Sugar:
27
g
Vitamin A:
77
IU
Vitamin C:
2
mg
Calcium:
48
mg
Iron:
3
mg
KEYWORD:
mongolian beef, quick and easy, stir-fry
COURSE:
dinner, main dish