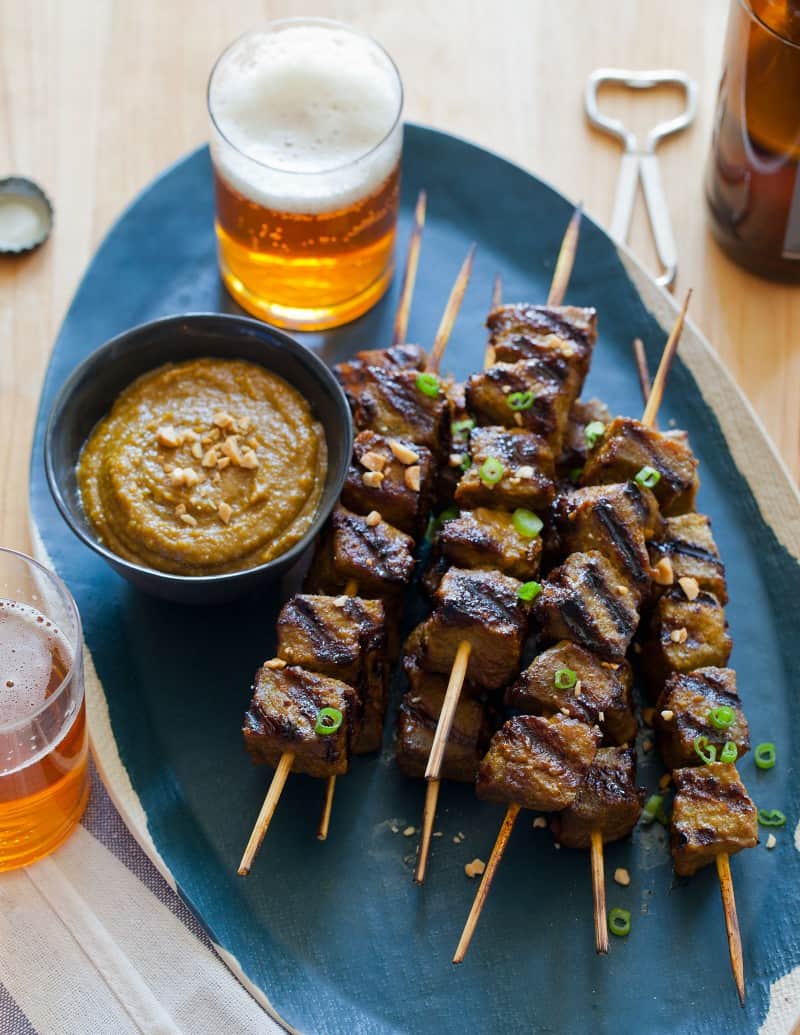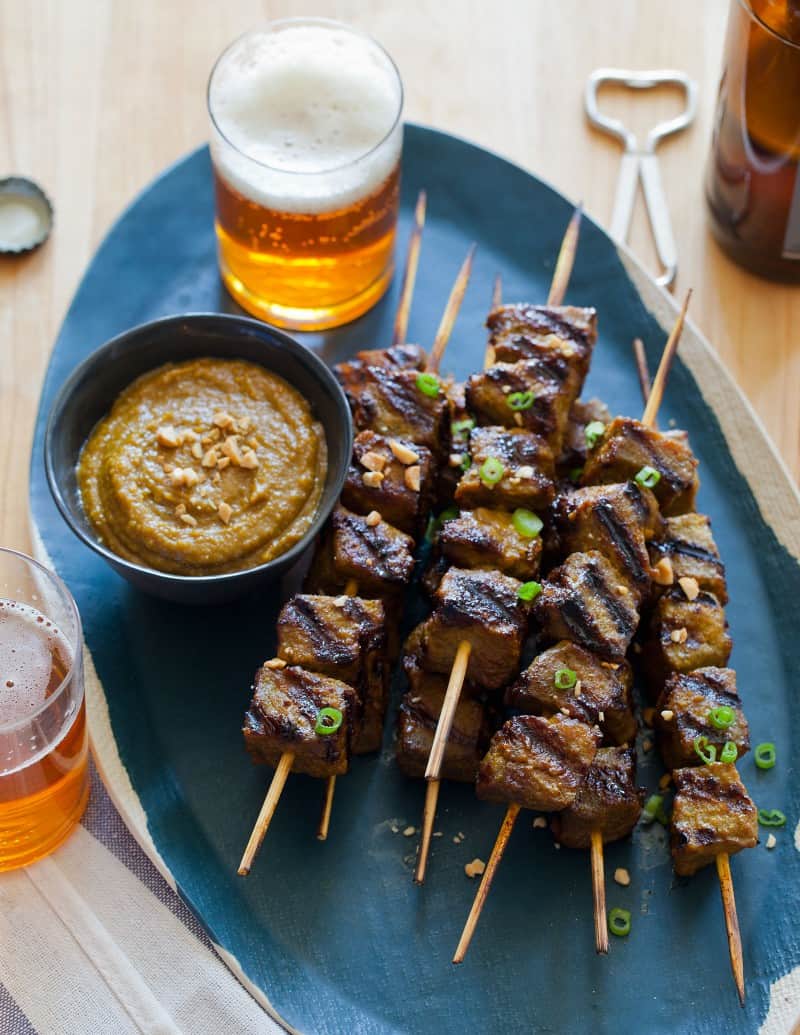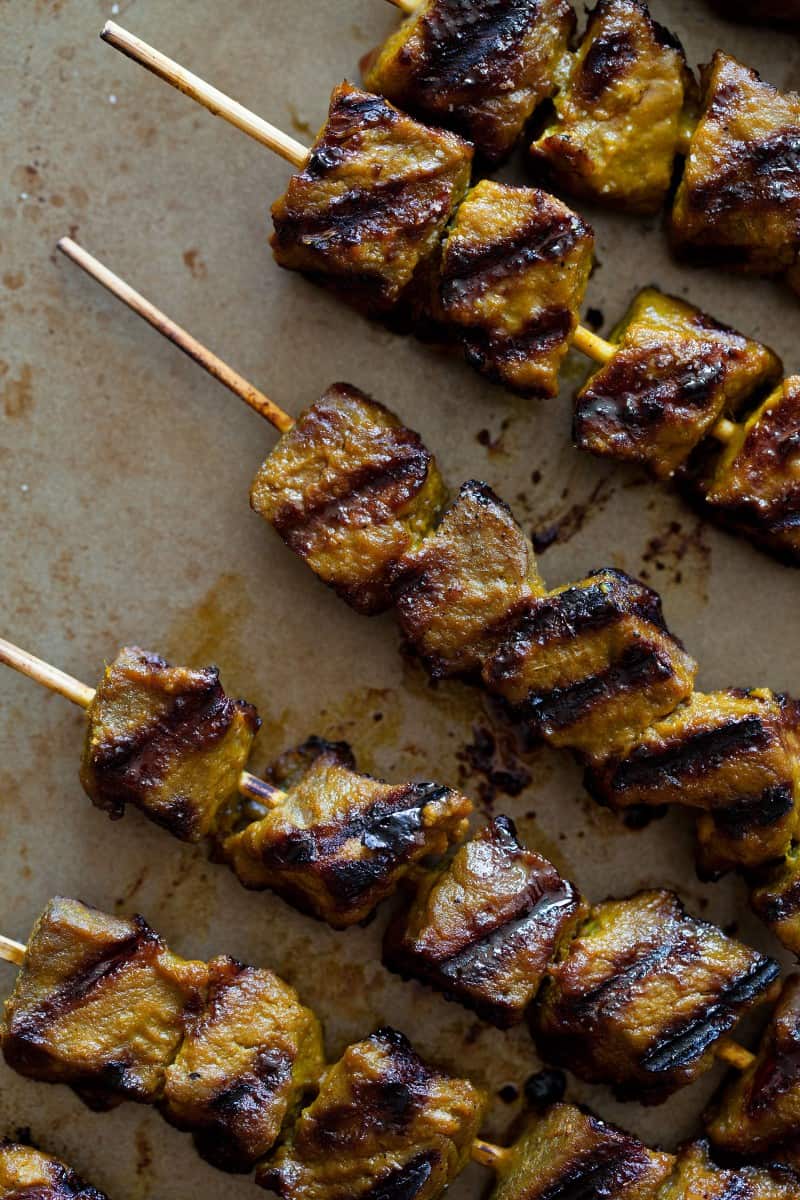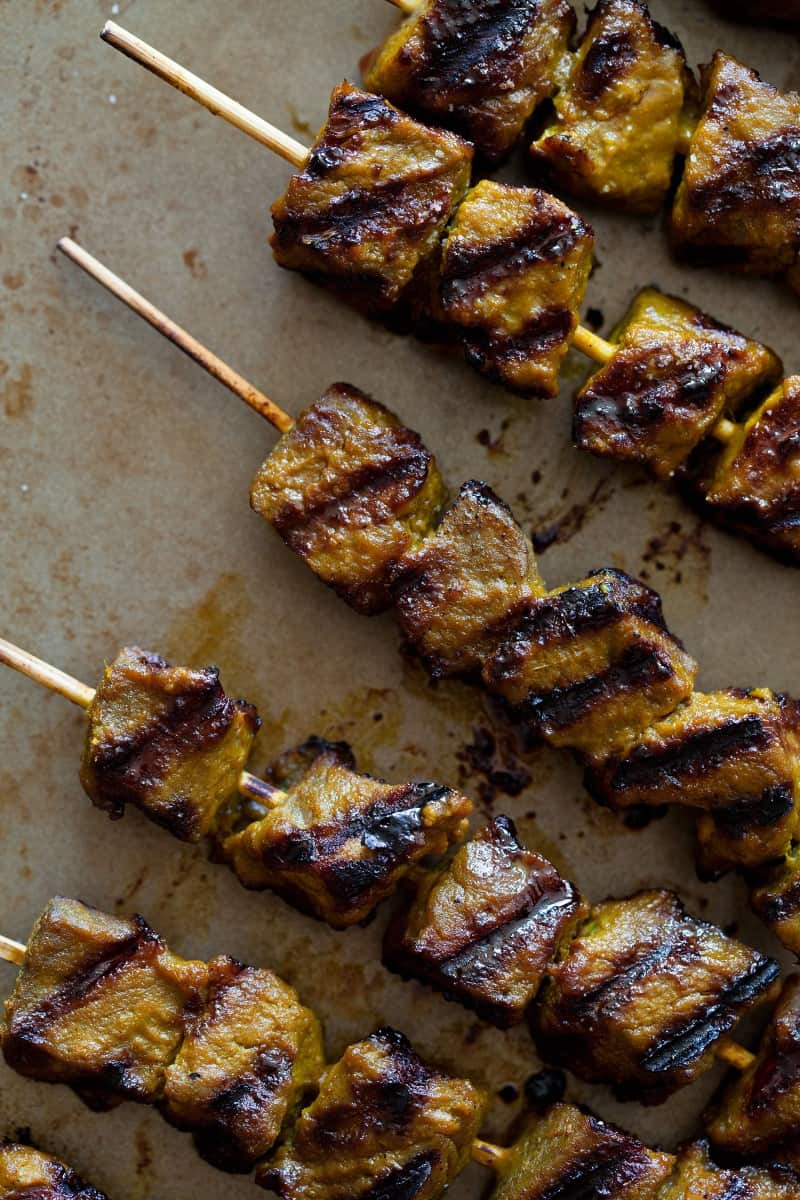 Hi All! Today we have beef satay for you! I love the potent flavors of lemongrass, ginger and lime, within most Thai style satays. If you're able to find makrut limes and/or makrut lime leaves use those to replace the lime zest/juice used in this recipe! Kaffir limes are sweeter and more mild than regular limes and the leaves are the best part! They're filled with this lovely citrus flavor which I may or may not have dabbed on my wrists one or two times to use are a perfume bc I love the smell so much (I'm a creep, I know). Traditionally, beef satay is made with thin slices of beef, threaded onto a skewer and grilled, but we've changed things up a bit by using a NY strip steak and cutting the pieces of meat into cubes. The cubes just make for "meatier" (no pun intended) and more filling bites…and we totally like meaty and more filling over here. ;) These make great appetizers at a party or a great entree for a quiet night in. Don't be intimidated by the laundry list of ingredients! Most of the marinade and peanut sauce ingredients are repeats of one another and most of this recipe itself calls for throwing everything into a blender and blending away. So the next time you have guests over, why not treat them to some really yummy and easy to make, beef satay!
xx Jenny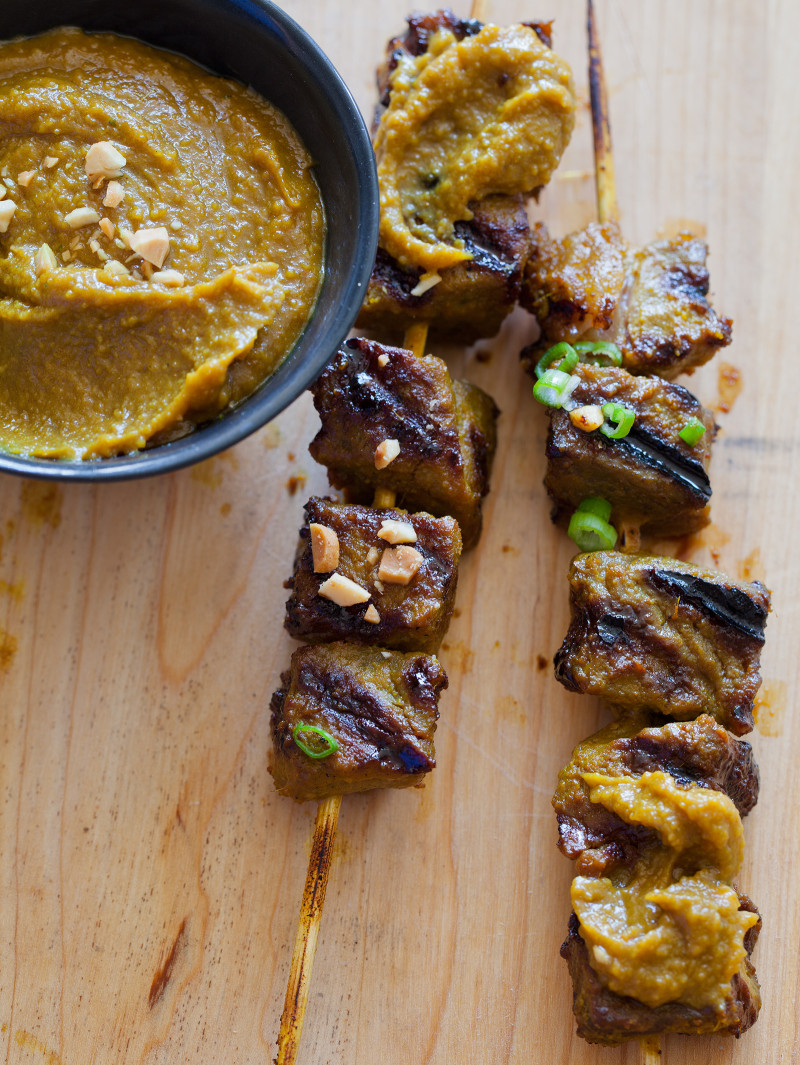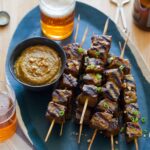 ---
Beef Satay
EQUIPMENT
7-8 bamboo skewers, soaked in water for 30 minutes
INGREDIENTS
pound

boneless and trimmed New York strip steak, cut into ½ to 1 inch cubes
satay marinade
⅓

cup

dry roasted peanuts

⅓

cup

light brown sugar

¼

cup

plus 1 ½ tablespoons low sodium soy sauce

¼

stalk

lemongrass, chopped

3

garlic cloves, chopped

½

lime, juiced

1

tablespoon

peeled and diced baby ginger

1

tablespoon

turmeric

¼

teaspoon

curry powder

¼

teaspoon

black pepper

2

tablespoons

vegetable oil
spicy peanut sauce
⅓

cup

reserved marinade

¼

cup

dry roasted peanuts

3

tablespoons

vegetable oil

1 ½

tablespoons

low sodium soy sauce

1

lime, zested and juiced

1 to 2

Thai chiles, seeded (depending on desired heat)

1

garlic clove, chopped

1

green onion, thinly sliced
garnish
chopped peanuts

thinly sliced green onions
INSTRUCTIONS
Place steak cubes in a large mixing bowl, lightly season with salt and pepper and toss together. Set aside.

Place all marinade ingredients into a blender and blend until smooth. Reserve ⅓ cup of marinade for peanut sauce. Pour remaining marinade over beef and toss together until all beef cubes are completely covered. Allow mixture to marinate for at least 4 hours (ideally overnight).

Skewer 5 to 6 cubes of beef onto each bamboo skewer, until all beef has been used.

Place a grill pan over medium-high heat. Pour oil into pan and grill skewers for 2 minutes, on each side. Repeat until all skewers have been grilled. Top satay with chopped peanuts and green onions.

For spicy peanut sauce: Place all ingredients for peanut sauce into a blender and blend until smooth. (If sauce is too thick, blend some water into the sauce, ½ tablespoon at a time, until desired consistency has been achieved) Pour mixture into a small bowl or ramekin, top with chopped peanuts and serve as dipping sauce for satay.
Calories:
631
kcal
Carbohydrates:
28
g
Protein:
31
g
Fat:
46
g
Saturated Fat:
23
g
Cholesterol:
91
mg
Sodium:
1225
mg
Potassium:
618
mg
Fiber:
3
g
Sugar:
19
g
Vitamin A:
30
IU
Vitamin C:
4
mg
Calcium:
66
mg
Iron:
4
mg