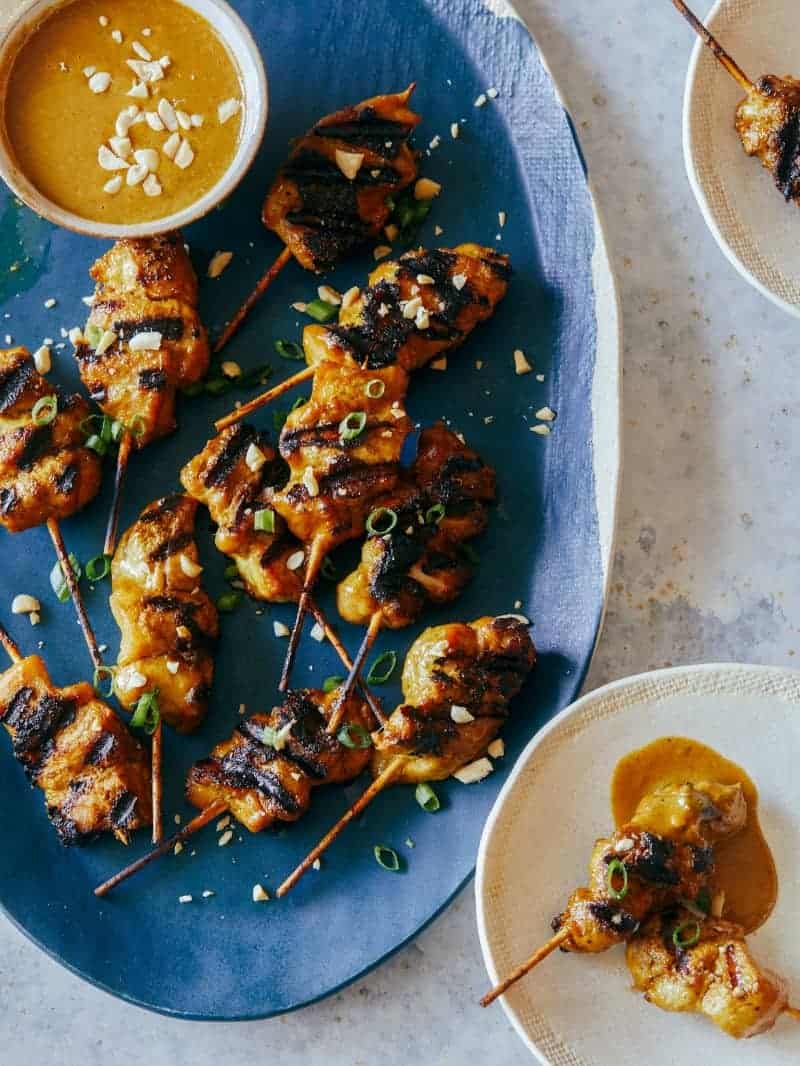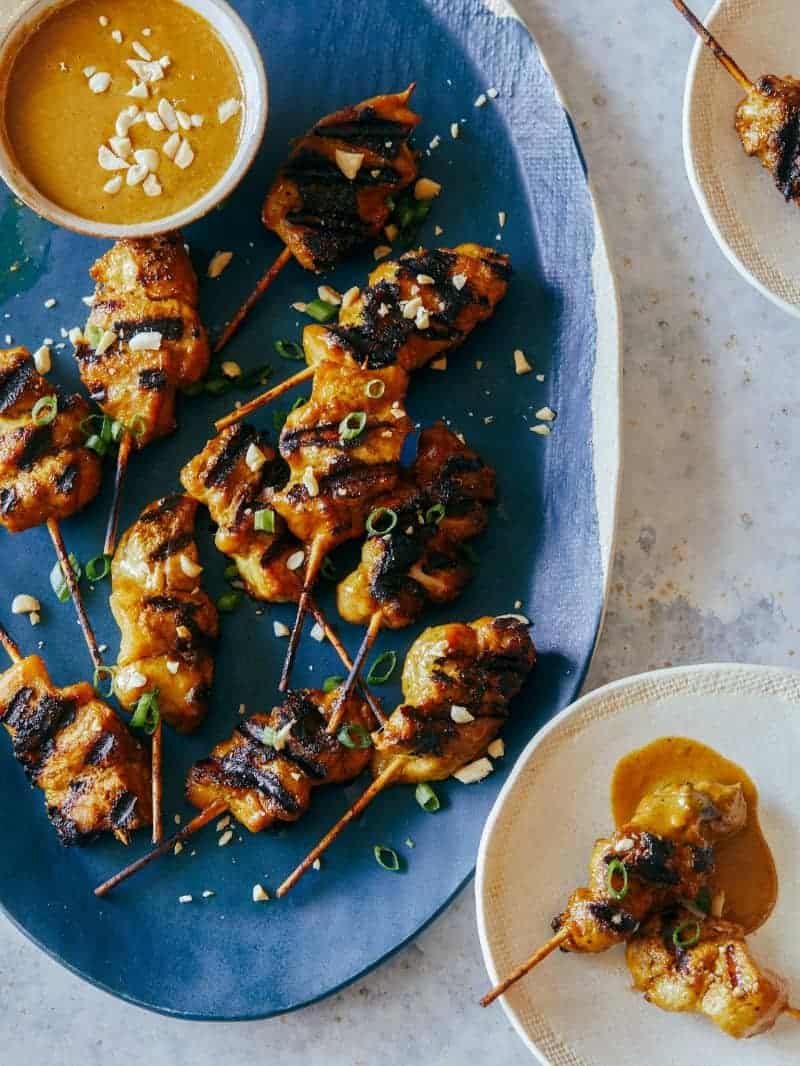 I've never been a big fan of general, bbq kabobs. I'm never totally satisfied with the way the protein or vegetables are cooked and I also think they're just hard to eat. Chicken Satay is totally another story though. I love the flavors and using chicken thighs instead of breasts ensure you'll get a tender and juicy outcome.
My recipe does require a few different ingredients, but it's also super simple because most of the ingredients are thrown into the blender. These are also a little easier to eat than the typical 'kabob' because they're appetizer sized on shorter skewers, so you can really just eat it like a savory lollipop. These are packed with TONS of great flavor and take less than 10 minutes to grill up! So easy and so perfect for all the upcoming summer bqq's! Enjoy! xx, Jenny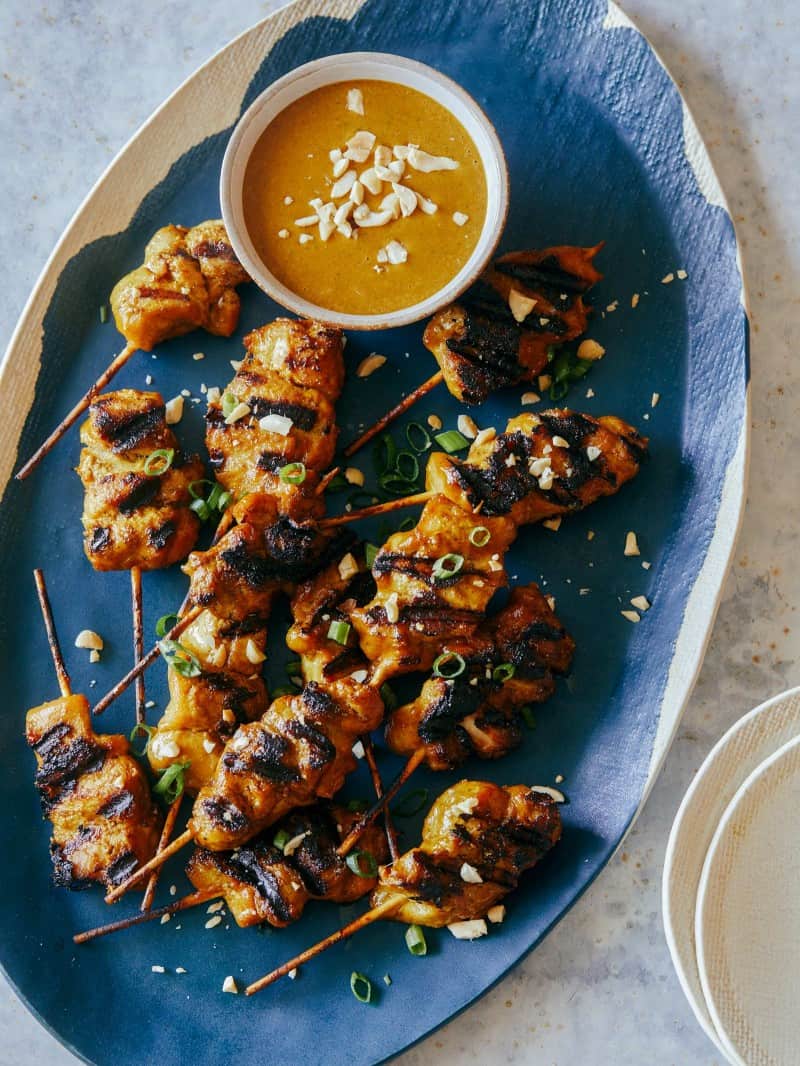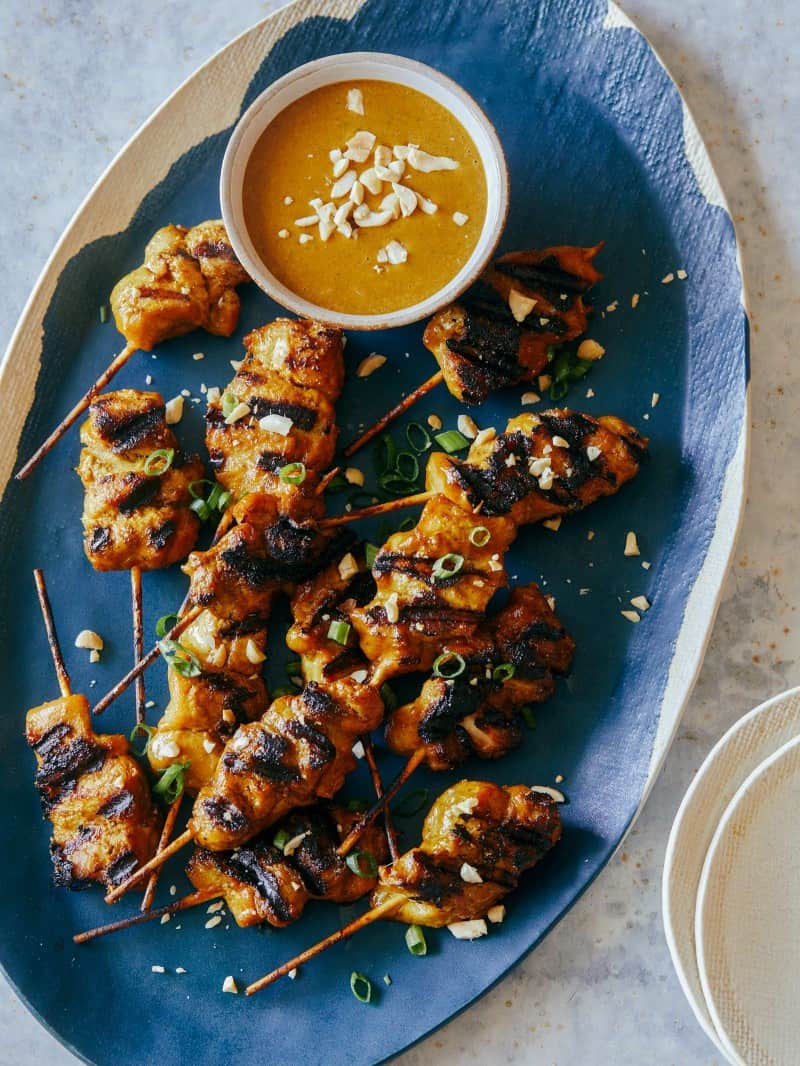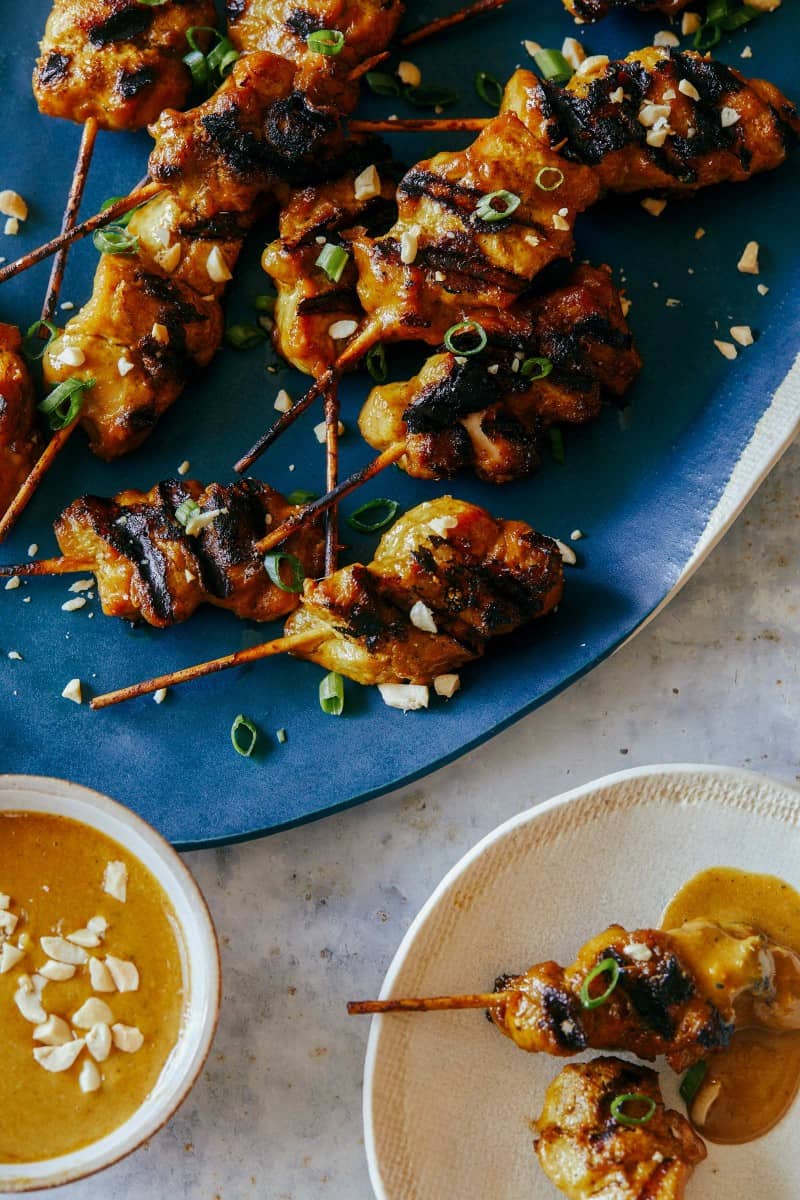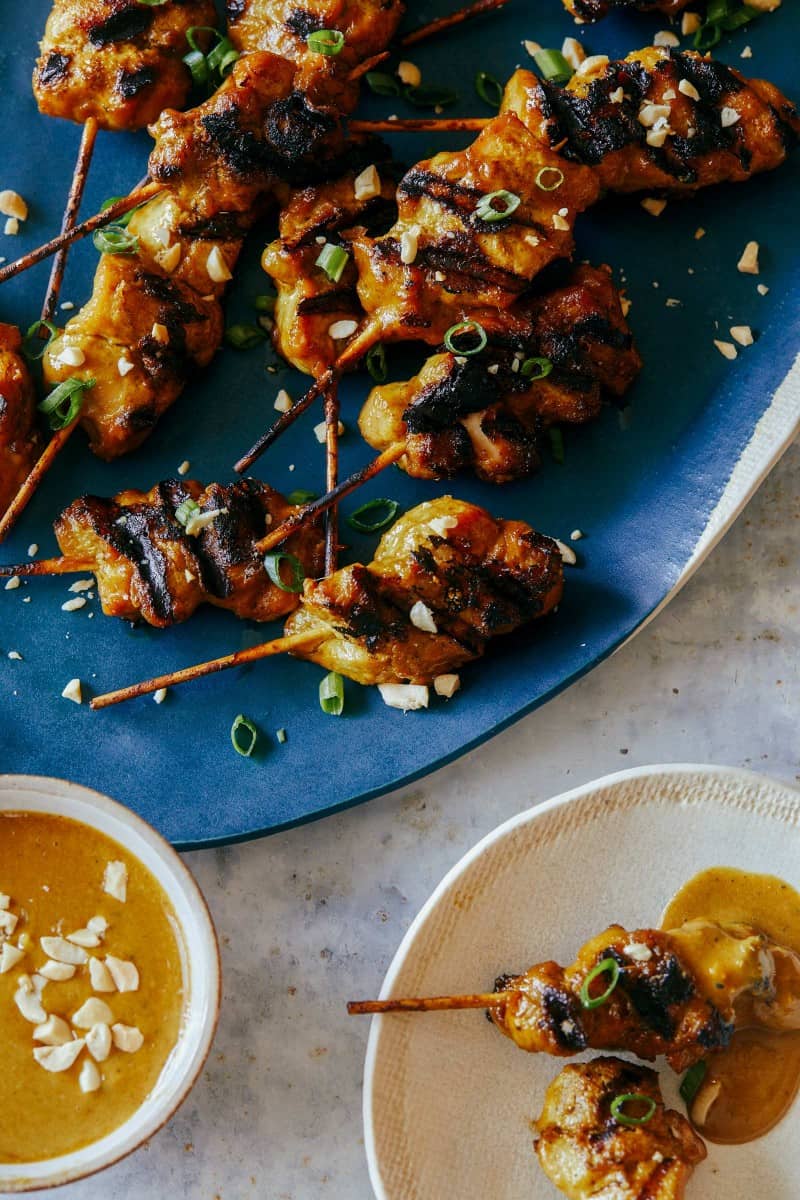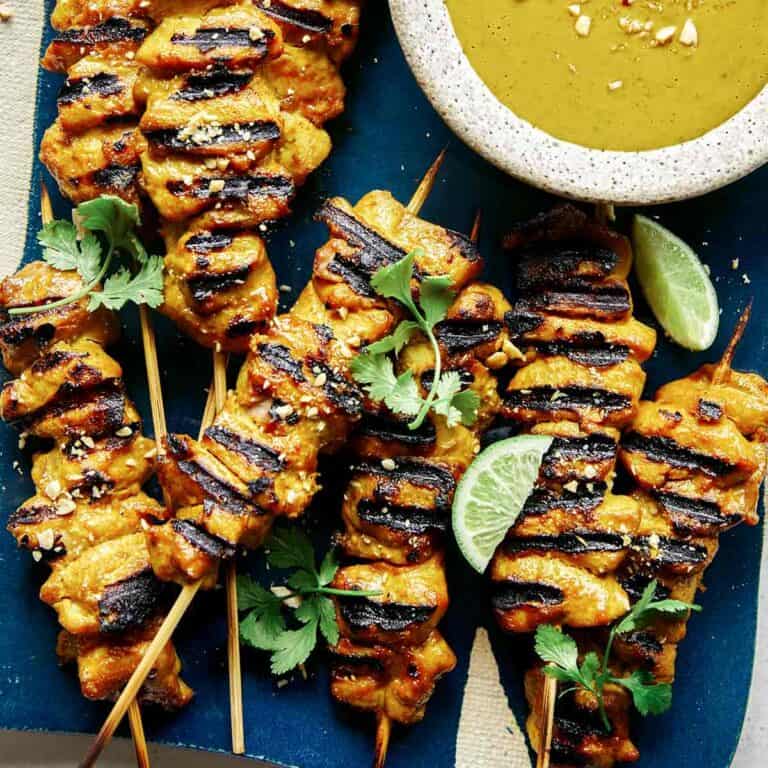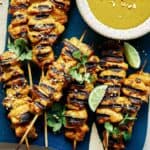 ---
Chicken Satay
A simple and delicious recipe for juicy, char-grilled, flavor packed Chicken Satay with an equally delicious peanut dipping sauce! They make great appetizers or even a delicious dinner served with some steamed rice and simple cucumber salad!
EQUIPMENT
15 (10 inch) bamboo skewers, soaked in water for 30 minutes
INGREDIENTS
1 1/2

pounds

boneless, skinless chicken thighs, cut into 1-inch pieces (about 6)
satay marinade
1/2

cup

dry roasted peanuts

⅓

cup

light brown sugar

6

tablespoons

soy sauce

¼

stalk lemongrass, chopped (about 3 inch piece)

3

garlic cloves, chopped

2

makrut lime leaves, chopped

OR 1 lime, zested and juiced

1

tablespoon

minced ginger

1

tablespoon

turmeric

¼

teaspoon

curry powder

¼

teaspoon

black pepper

3

tablespoons

vegetable oil, divided
spicy peanut sauce
⅓

cup

reserved marinade

¼

cup

dry roasted peanuts

3

tablespoons

vegetable oil

1 ½

tablespoons

soy sauce

1

lime, zested and juiced

1 to 3

Thai chiles, seeded

depending on desired heat

1

garlic clove, chopped

1

green onion, thinly sliced
garnish
2

tablespoons

crushed peanuts

cilantro leaves
INSTRUCTIONS
chicken satay
Place all marinade ingredients into a blender, except 1 1/2 tablespoons oil, and blend until smooth.

Reserve ⅓ cup of marinade for peanut sauce. Pour remaining marinade over chicken.

Toss together until all chicken pieces are completely covered. Allow mixture to marinate for at least 4 hours (ideally overnight).

Skewer 5 to 6 cubes of chicken onto each bamboo skewer, until all chicken has been used.

Place a grill pan over medium-high heat (or use an outdoor grill on medium heat setting). Pour oil into pan and grill skewers for 4 minutes, on each side. Repeat until all skewers have been grilled.

Top chicken satay skewers with crushed peanuts and cilantro leaves.
spicy peanut sauce
Place all ingredients for peanut sauce into a blender and blend until smooth. (If sauce is too thick, blend some water into the sauce, ½ tablespoon at a time, until desired consistency has been achieved).

Pour mixture into a small bowl or ramekin, top with crushed peanuts (optional) and serve as dipping sauce for satay.
NOTES
**Makes 15 skewers (serving size is 3 skewers with 1/3 of peanut sauce)**
What to Serve with Chicken Satay
When served as an appetizer, its best to serve the skewers on their own with the dipping sauce to keep things simple. When using as the main course we love serving them with steamed jasmine or basmati rice and a simple cucumber salad (especially sunomono, a Japanese cucumber salad).
They're also delicious with Yum Woon Sen, a bright and refreshing glass noodle salad dish!
Cooking Tips for Chicken Satay
We love using a grill or grill pan to cook our satay because it really gives it a great char-grilled flavor that takes this dish over the top! If you don't have a grill or grill pan you can still cook them in a pan. If you have a cast iron skillet, it's the next best thing as you'll still get charred bits of chicken.
You can also broil the skewers for a few minutes on each side, but you'll need to keep a close eye on them to make sure they don't burn. The oven is also an option for cooking these skewers. If baking the chicken satay in the oven we recommend baking them at 400˚F for 15 to 20 minutes.
Calories:
464
kcal
Carbohydrates:
23
g
Protein:
30
g
Fat:
30
g
Saturated Fat:
14
g
Trans Fat:
1
g
Cholesterol:
108
mg
Sodium:
1491
mg
Potassium:
578
mg
Fiber:
3
g
Sugar:
14
g
Vitamin A:
71
IU
Vitamin C:
12
mg
Calcium:
58
mg
Iron:
3
mg
CUISINE:
filipino, indonesian, thai
KEYWORD:
bbq chicken skewers, peanut sauce