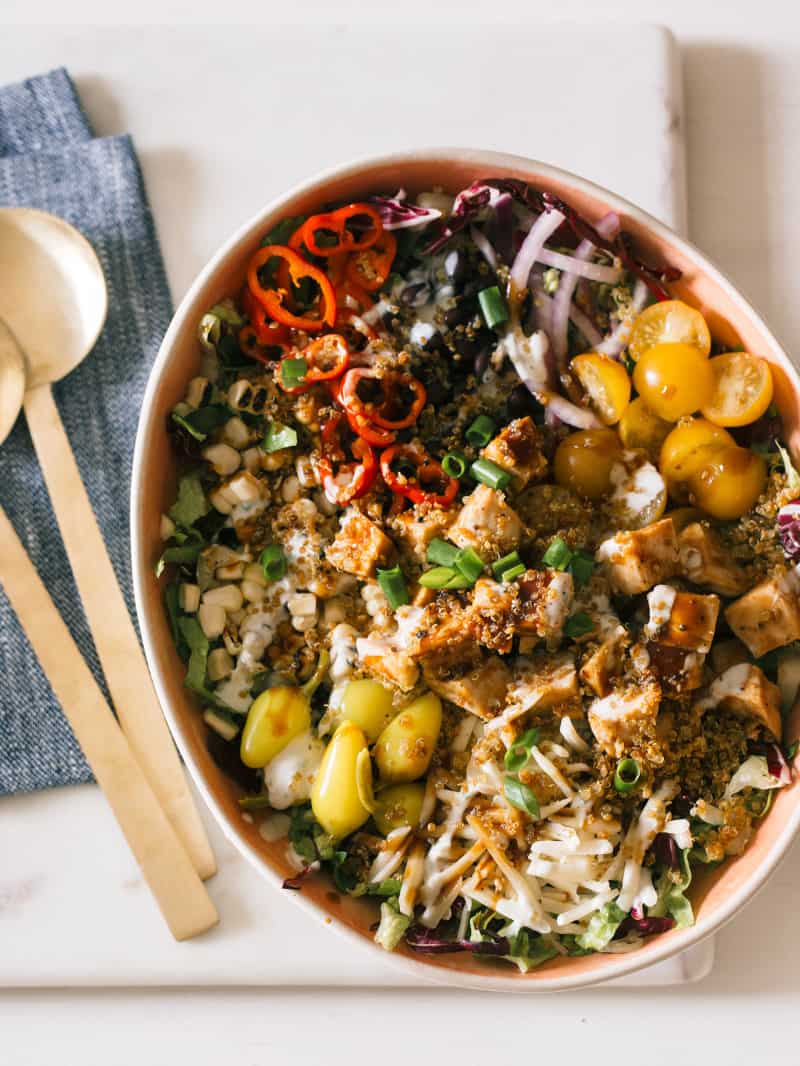 The weather in LA has just started to turn a little (too) hot. Which means the only food I really want to eat is stuff that won't make me feel like cannon ball rolling down the sidewalk. Summer staples for me end up being salads and seafood. One thing I love doing is making huge salads like this Loaded BBQ Chicken Salad with a Simple Honey BBQ Sauce with Greek Yogurt Ranch Dressing. It's super easy to pre portion out all your ingredients and make little salads as needed for lunch. This salad is also really impressive to bring to a BBQ or any other summer party. The simple honey BBQ sauce we used with the chicken gives this salad just a little sweetness, and then the green yogurt ranch dressing is just the right amount of creamy for this big salad. Yay summer salads! Enjoy! :)
♥ Teri

Loaded BBQ Chicken Salad with a Simple Honey BBQ Sauce, Greek Yogurt Ranch Dressing and Finished with Toasted Quinoa
Serves 3 to 4
Ingredients:
Toasted Quinoa:
2 teaspoons extra virgin olive oil (or coconut oil)
1/2 cup cooked quinoa
pinch salt
Greek Yogurt Ranch Dressing:
1 cup plain Greek yogurt
1/2 cup buttermilk
2 1/2 teaspoon garlic powder
2 teaspoons onion powder
1 teaspoon salt
1/2 teaspoon dry mustard
1/2 teaspoon black pepper
1 teaspoon spicy brown mustard
1 teaspoon fresh lemon juice
1 1/2 tablespoons thinly sliced chives
1 tablespoon minced parsley
Simple Honey-BBQ Sauce:
1 cup ketchup
1 cup distilled vinegar
1/2 cup plus 2 1/2 tablespoons honey
1/2 cup molasses
1 1/2 teaspoons Worchestershire sauce
2 teaspoon garlic powder
1 teaspoon onion powder
1 teaspoon smoked paprika
1/2 teaspoon dry mustard
1/2 teaspoon salt
1/2 teaspoon black pepper
1/4 teaspoon chile powder
1 head romaine, thinly sliced
1 head radicchio, finely chopped
3/4 cup black beans
1/2 cup shredded white cheddar
1/4 red onion, thinly sliced
10 cherry tomatoes, thinly sliced
5 sweet peppers, thinly sliced
2 ears yellow corn, charred and kernels removed from cob
2 green onions, thinly sliced
2 grilled (boneless, skinless) chicken breasts, cubed into bite sized pieces
Directions:
1. For toasted quinoa: Pour oil into a skillet and place over medium-low heat. Add quinoa and toast for 10-12 minutes, tossing occasionally. Remove from heat and set aside.
2. For Greek yogurt ranch: Place all ingredients except chives and parsley into a food processor and process until smooth. (if mixture is too thick to drizzle add 1-2 tablespoon more buttermilk). Transfer to a mixing bowl and fold chives and parsley into the mixture. Adjust seasonings, cover and refrigerate until ready to use.
3. For honey-bbq sauce: Place all ingredients into a medium saucepan and stir together. Place over medium heat and simmer for 20-25 minutes, stirring occasionally. Set aside and allow sauce to cool, about 1 hour.
4. To assemble: Pour 1/2 cup plus 1 tablespoon Greek yogurt ranch dressing into a large mixing bowl and top with romaine radicchio. Toss together until well combined. Transfer mixture to a large serving bowl.
5. Top dressed greens with corn, black beans, sweet peppers, sliced red onion, pepperonccinis (or sport peppers), shredded cheddar, and tomatoes.
6. Place chopped chicken into the same mixing bowl used for the greens and ranch and toss together with 1/2 cup honey-bbq sauce. Add chicken to salad.
7. Drizzle entire salad with additional bbq sauce and finish with the toasted quinoa. Serve.