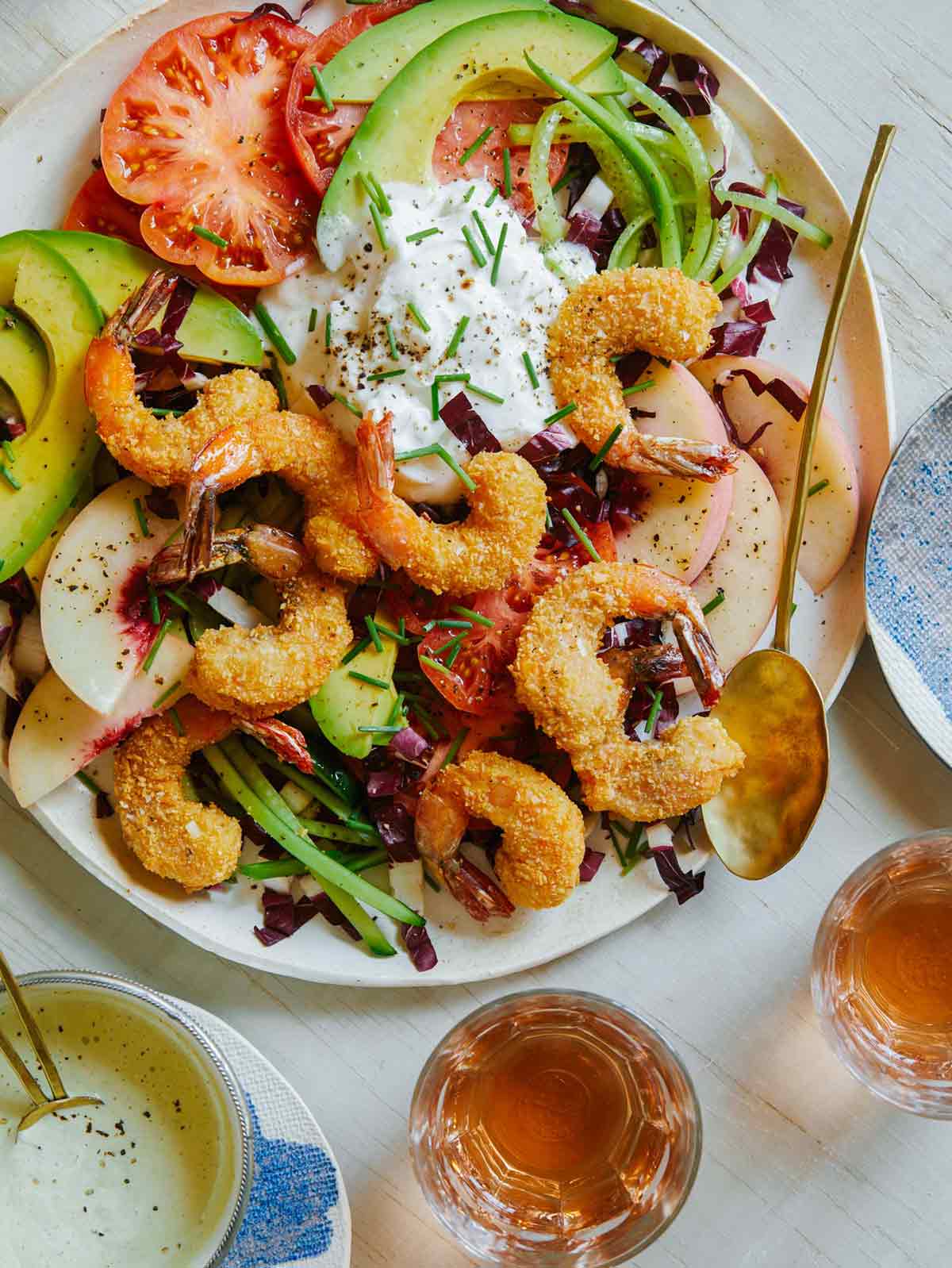 Big ole' platter salads are still going really strong in my household and today's recipe for our Coconut Shrimp Summer Salad with a Creamy Buttermilk-Chive Dressing is definitely a new favorite! I love that there is a lot of freshness as well as contrasting flavors happening here. We're still taking full advantage of all the super sweet, summer stone fruit that's currently everywhere, but this time paired it with equally as sweet heirloom tomatoes and then threw a little curve ball in there with light, crisp and bitter treviso! (or radicchio if that's more your jam or all you can find).
I used desiccated and unsweetened coconut for the shrimp, instead of the more familiar sweetened and shredded coconut, because I think it adds a better crunch to the shrimp, which is really why we fry things anyway, isn't it? :) I forgot to add corn to the salad, which I initially wanted to do, and while I bet it would make a killer addition, I don't think it's necessary. Enjoy! xx, Jenny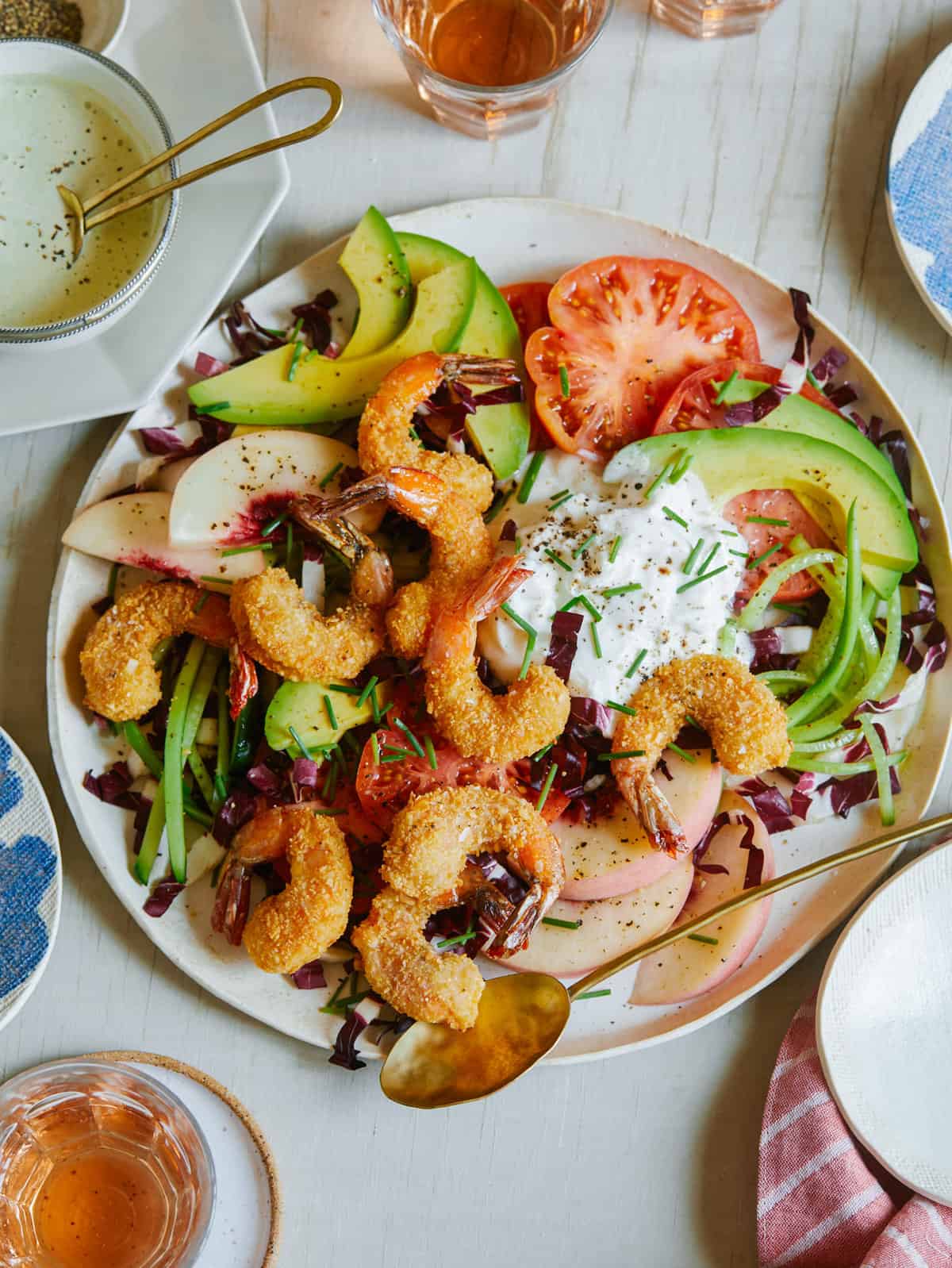 Hungry for more?
Subscribe to never miss a recipe.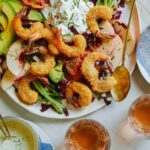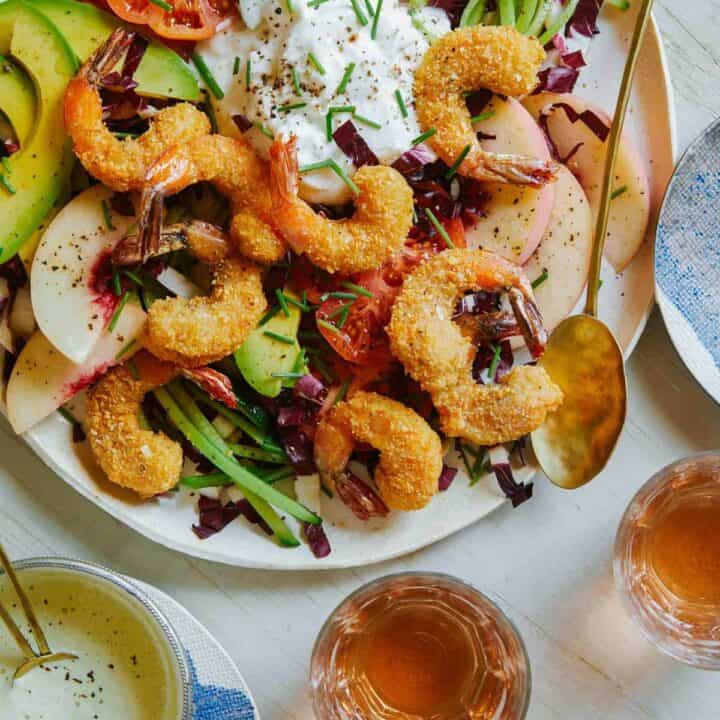 ---
Coconut Shrimp Summer Salad
INGREDIENTS
coconut shrimp
½

cup

all purpose flour

1

teaspoon

ground ginger

½

teaspoon

garlic powder

1

cup

unsweetened and desiccated coconut

½

cup

ground almond meal

1

large

egg, beaten

15

extra large

shrimp, peeled, deveined with tails intact

salt and pepper to taste

*oil for frying
creamy buttermilk and chive dressing
1

cup

buttermilk

2 ½

tablespoons

thinly sliced chives, divided

1

ounce

(2 tablespoons) grated Parmesan

1

tablespoon

Dijon mustard

1

tablespoon

extra virgin olive oil

½

lemon, juiced

1

garlic clove

salt and pepper to taste
salad
2

heads

treviso (or radicchio), thinly sliced

2

heirloom tomatoes, thinly sliced

1

Parisian cucumber, cut into thin strips, thinly sliced (resembling 'spaghetti')

1

avocado, thinly sliced

1

white nectarine, pitted and cut into 12 wedges

1

ball

burrata, drained

thinly sliced chives, for garnish
INSTRUCTIONS
For shrimp: Place flour, ginger and garlic powder into a shallow bowl and whisk together until evenly blended.

In another shallow bowl, combine coconut and almond meal and whisk together.

Lightly season shrimp with salt and pepper and toss together.

Holding each shrimp by the tail, dredge into the flour mixture and shake off any excess flour.

Next, dip each flour coated shrimp into the beaten eggs and finally into the coconut and almond mixture until fully and evenly coated.

Repeat steps 4 and 5 until all shrimp have been coated. Place coated shrimp onto a parchment-lined baking sheet, about ½ inch apart. Refrigerate for about 30 minutes.

Fill a large, heavy bottom skillet with 2 inches oil and preheat to 350˚F.

Once oil is hot, remove shrimp from the refrigerator and carefully add to skillet, in small batches, and fry for about 3 to 4 minutes on each side or until golden brown and shrimp has just cooked through.

Using a slotted spoon, drain onto a paper towel. Season with salt and pepper. Repeat until all shrimp has been fried.

For creamy buttermilk-chive dressing: Place all ingredients, except 1 tablespoon of thinly sliced chives, into the well of a blender and blend until smooth and creamy. Season with salt and pepper and pulse 2 to 3 times. Adjust seasonings and pour dressing into a small carafe.

To assemble: Spread sliced Treviso or radicchio and cucumber evenly onto a large platter and top with sliced tomatoes, nectarines and avocados. Add burrata to the platter and top with shrimp. Lightly season whole platter with salt and pepper, drizzle with dressing and finish with a sprinkle of sliced chives. Serve.
Calories:
575
kcal
Carbohydrates:
44
g
Protein:
22
g
Fat:
38
g
Saturated Fat:
17
g
Cholesterol:
121
mg
Sodium:
462
mg
Potassium:
1255
mg
Fiber:
12
g
Sugar:
12
g
Vitamin A:
1108
IU
Vitamin C:
39
mg
Calcium:
281
mg
Iron:
4
mg