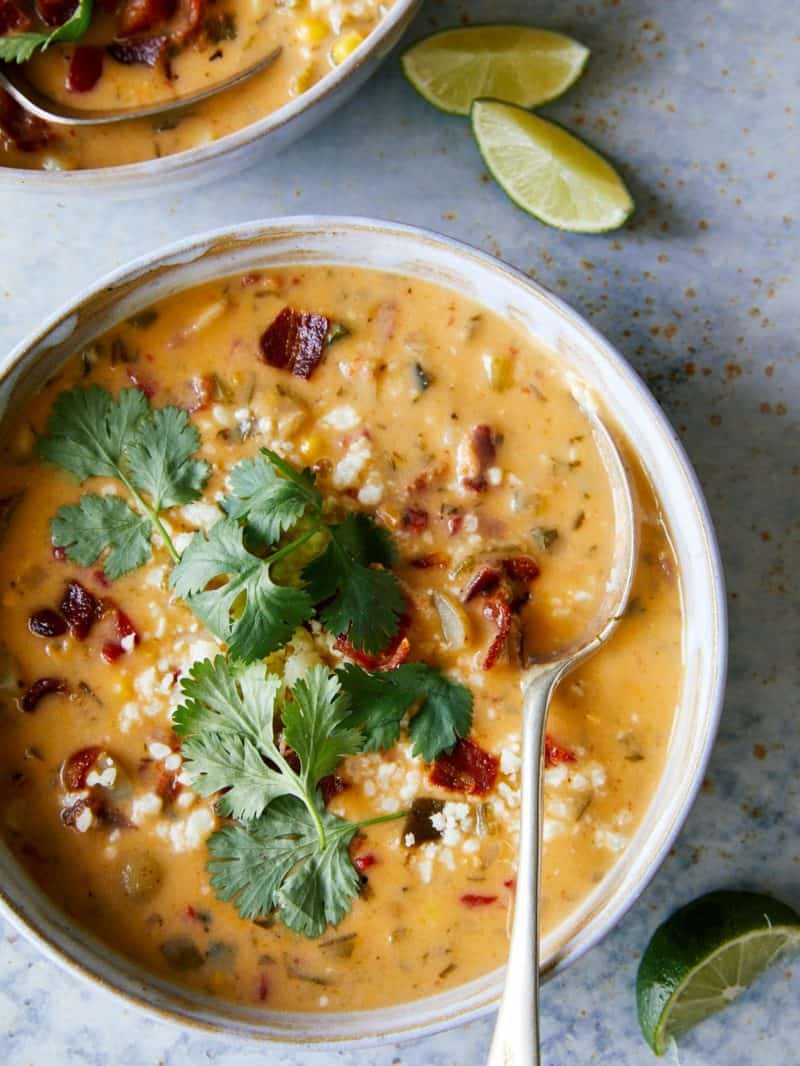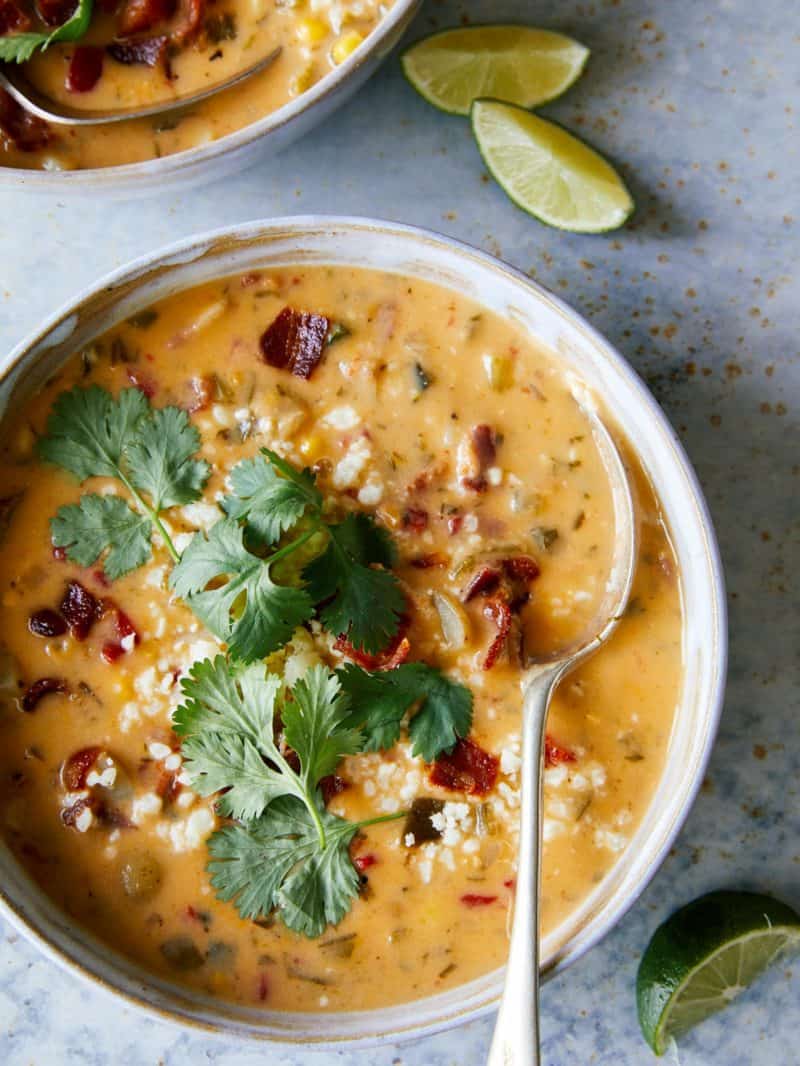 We are reposting this recipe because the corn is coming in!  I love corn, I love corn on the grill and I especially love this Roasted Corn Chowder recipe. It's such a great way to use up all that corn, and plus corn chowder is the best kind of chowder. Please give this recipe a go!
♥ Teri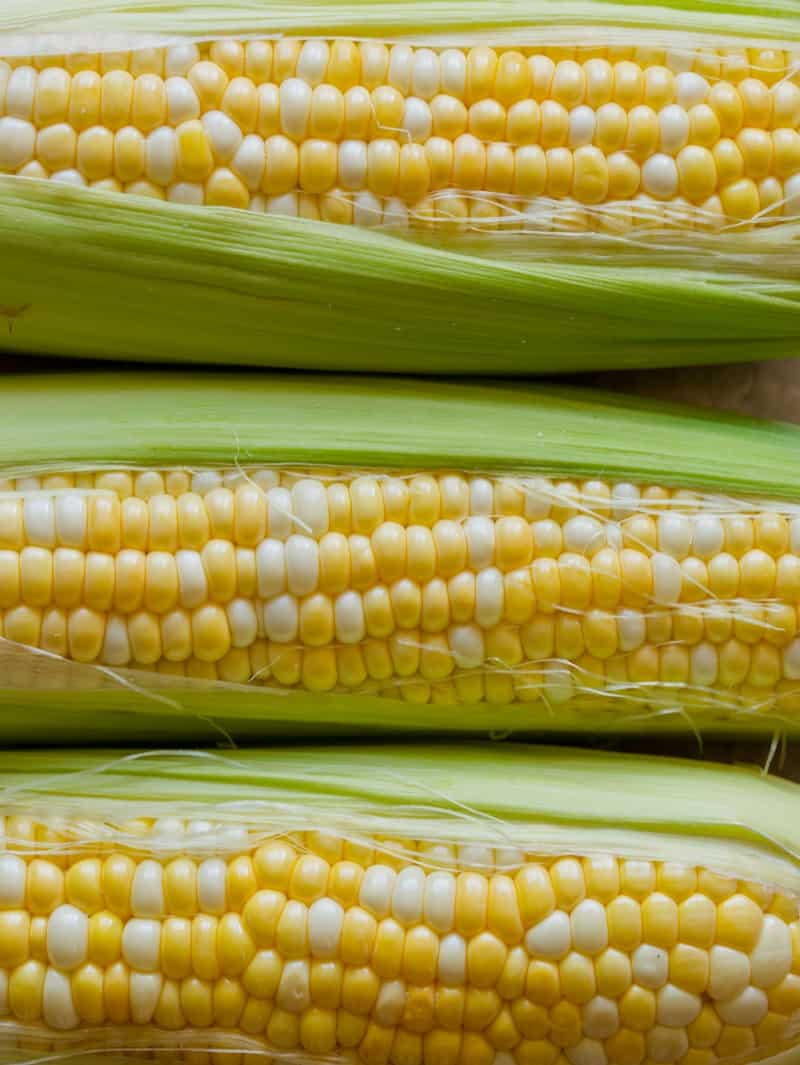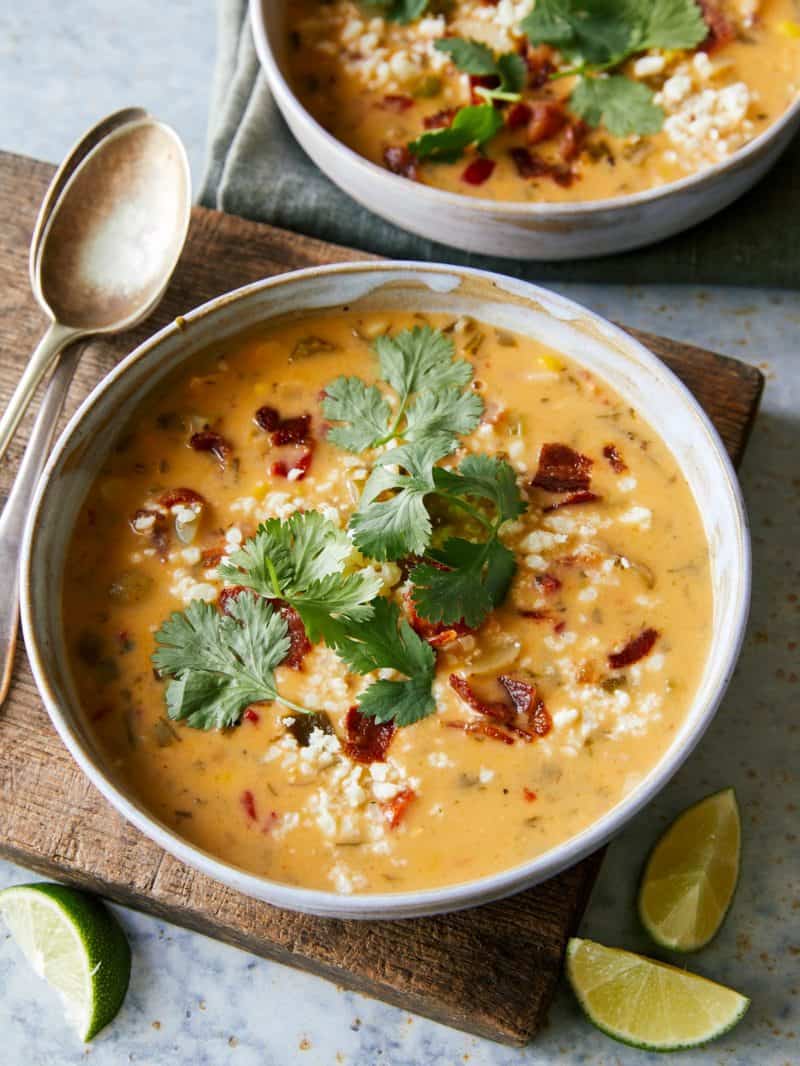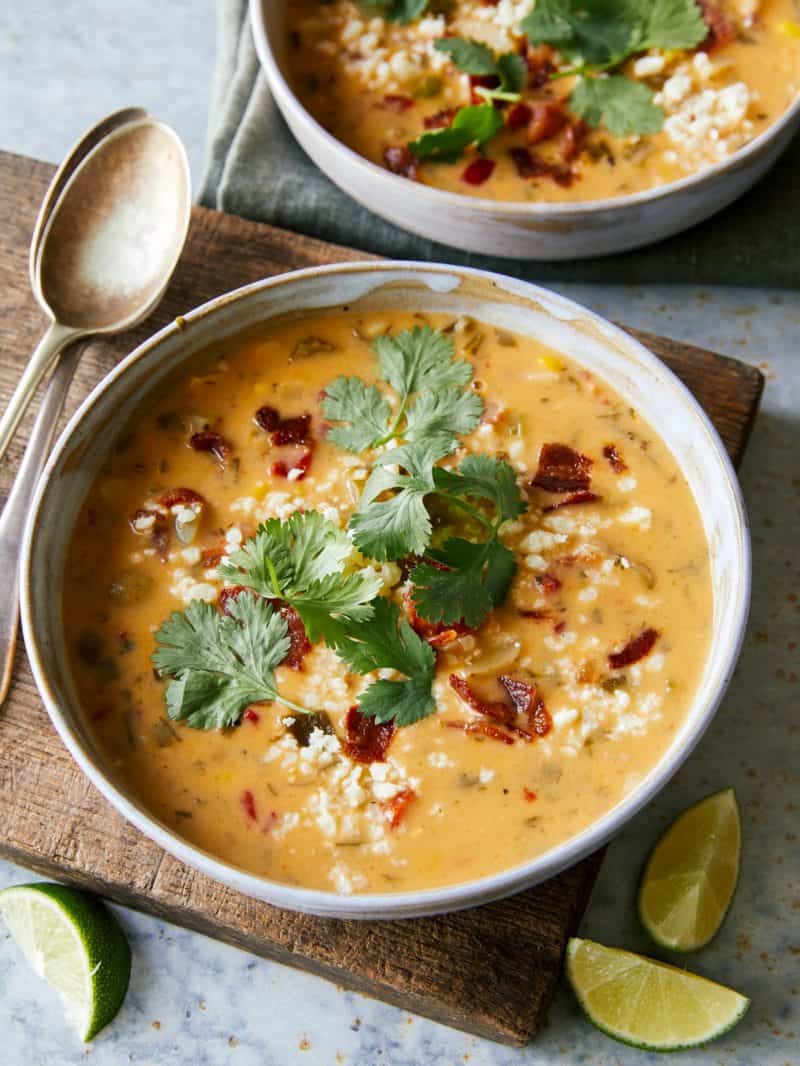 This recipe was originally posted on September 5th 2012.
Helloooo! It has been so freaking hot in Los Angeles the past few weeks it makes me angry to think about it. I have been lucky enough to have a break in work where I have some days off in a row. It's weird though; I don't know what to do with myself with all this free time. I have primarily been spending it drinking iced coffee in bed and powering through seasons and seasons of the West Wing. That show is good! Another show that I know everyone including myself loves in Breaking Bad. Did you see the second to last episode (I think) where the lawyer brings the bank lady BACON BANANA COOKIES?!?! We have a recipe for that. You should check it out. Anyway, what shows have you all been watching that maybe I am missing? I need better TV in my life.
When I am not watching TV, I am thinking about how much I hate this weather, and how much I want it to rain and be cold. I have been pining for scarves, wool coats, socks, and soups. Nothing is better in cold weather than a really bomb bowl of soup. Summer is almost over and I have to say I am so not sad to see it go. To celebrate the end of summer coming, we have Roasted Corn Chowder for you. It's probably my favorite kind of soup ever in the entire world.
♥ Teri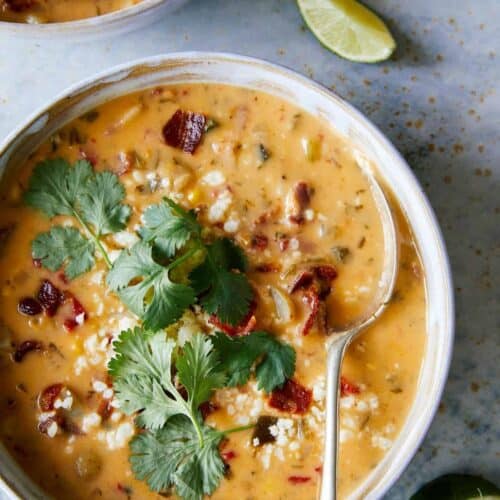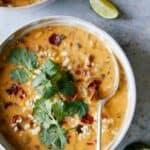 ---
Roasted Corn Chowder
Ingredients
2

ears corn, roasted and kernels removed from cob

1

quart

plus 1 cup chicken stock

4

rashers

bacon, diced

1

tablespoon

extra virgin olive oil

1

medium yellow onion, diced

2

garlic cloves, minced

2

roasted poblanos, diced

1 ½

roasted red bell peppers, diced

1

rib of celery, diced

6

baby new potatoes, diced

¼

cup

all purpose flour

3

tablespoons

tequila (anejo)

½

bunch

cilantro, minced

1

tablespoon

oregano, minced

½

lime, juiced

⅓

cup

heavy cream
garnishes
2

tablespoons

cotija cheese, crumbled

lime wedges

crumbled bacon
Instructions
Place ½ corn plus both cobs into a medium pot with the stock and simmer for 40 minutes. Remove cobs, puree until smooth and strain. Place corn infused stock back into the pot and set aside.

In a large pot render bacon, about 4 to 5 minutes. Remove from pan and drain onto paper towels.

Drain all but 1 tablespoon grease from pan, add olive oil and sauté onions, garlic, roasted peppers, celery, and potatoes. Sauté for 5 to 7 minutes or until the vegetables begin to soften. Stir in remaining corn kernels and season with salt and pepper.

Sprinkle vegetables with flour and stir for about 3 minutes. Continue to stir while adding the tequila to avoid any lumps forming. Next add the stock until fully incorporated. Allow the mixture to come to a hard simmer, about 5 minutes, or until the mixture thickens.

Reduce the heat to medium-low and stir in the herbs followed by the lime juice. Season with salt and pepper.

Stir in the cream and adjust seasonings. Top with a sprinkle of cotija cheese, extra lime wedges and serve.