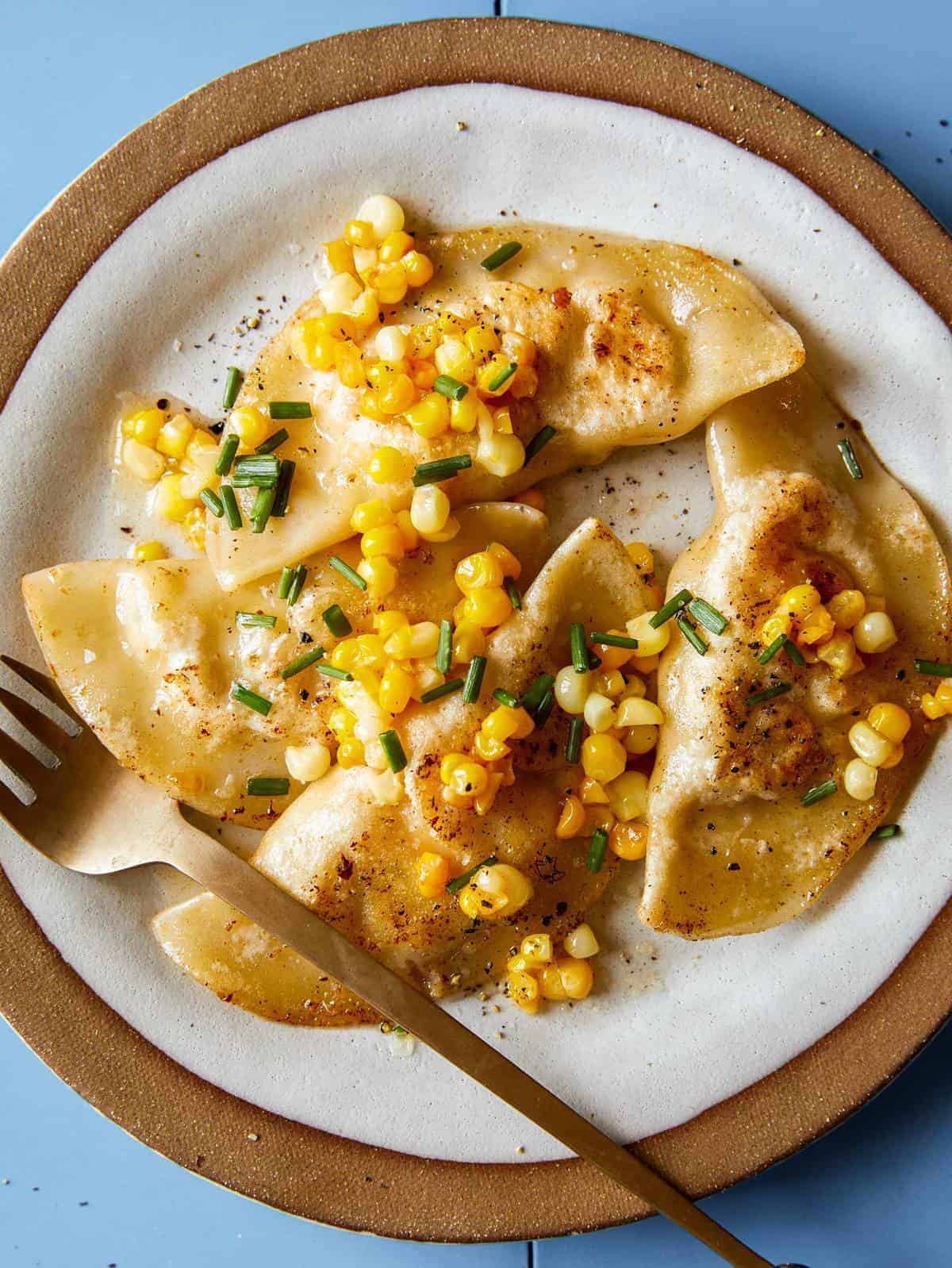 I used to give major side-eye to whenever I saw wontons being used as faux ravioli wrappers. It just didn't really seem right to me (pretty sure I was just being a brat). Well, turns out using wonton wrappers as ravioli wrappers and frying them up in some browned butter is actually DELICIOUS! They're also way more low maintenance than making your own pasta dough. This Creamy Shrimp and Corn Ravioli recipe is so simple and crazy delicious!
These make a bunch and also fit under the "great to freeze" category!  I've been very into figuring out easy freezer type meals lately and this recipe really works so well for that! These guys freeze SO well and you don't even need to thaw them, before sticking them in a pot of boiling water to cook them. I usually serve these creamy shrimp and corn ravioli along side a bowl of arugula tossed with a really easy balsamic vinaigrette. It's nice to have some light and slightly spicy greens next to the rich and creamy pasta. Enjoy!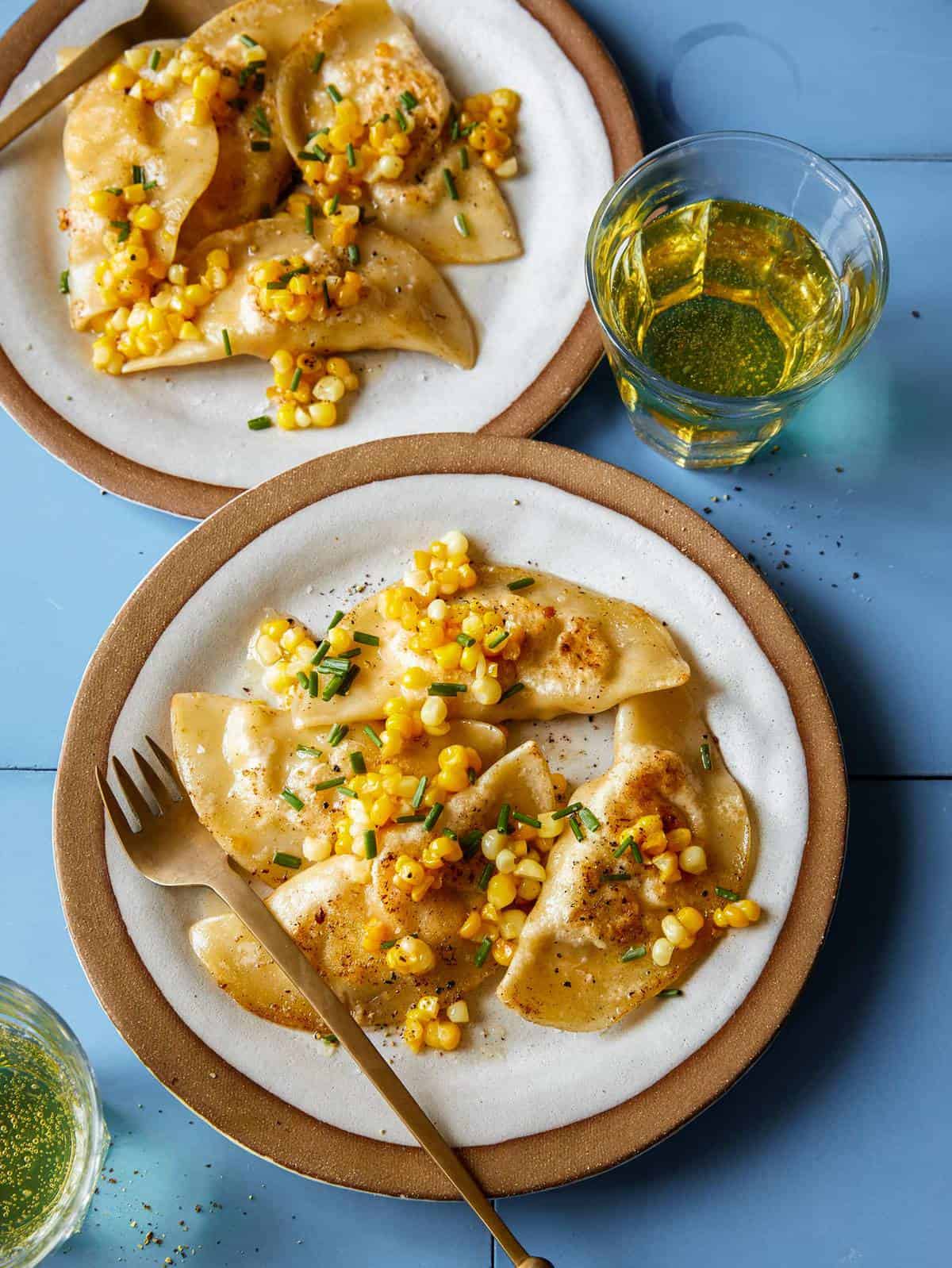 If you love corn recipes as much as we do, you might like some of our favorites!
Hungry for more?
Subscribe to never miss a recipe.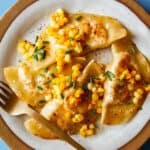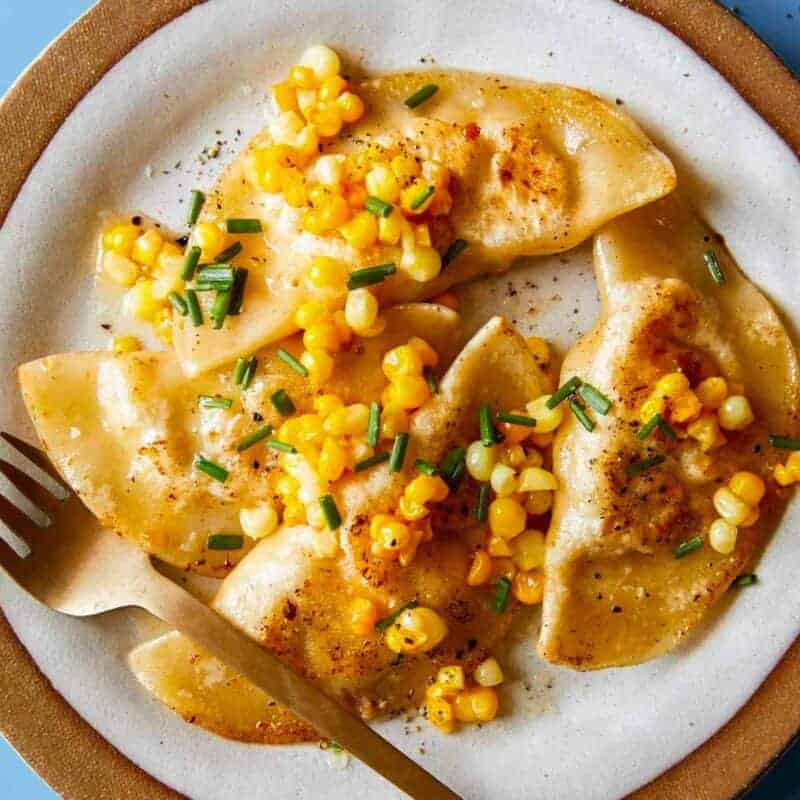 ---
Creamy Shrimp and Corn Ravioli
This Creamy Shrimp and Corn Ravioli is made with wonton wrappers which cuts down the time it takes to prepare this significantly! The wonton wrappers are filled with creamy and and corn making it a perfect summer dish.
INGREDIENTS
creamy shrimp and corn filing
2

tablespoons

unsalted butter

½

small shallot, minced

1

garlic clove, minced

1 ½

cups

corn kernels (from 3 ears), divided

12

large poached shrimp, diced

6

ounces

mascarpone, softened

2

ounces

whole milk ricotta

1

tablespoon

thinly sliced chives, plus more for garnish

1

tablespoon

minced tarragon

salt and pepper to taste
assembly
1

egg, well beaten

50

round wonton wrappers

4

tablespoons

unsalted butter

salt and pepper to taste
INSTRUCTIONS
Filling: Place a large skillet over medium heat and melt butter. Add shallot, garlic and corn and saute for 2 to 3 minutes. Season with salt and pepper, remove from heat and cool, reserving ⅓ of mixture.

Once corn mixture has cooled, combine all filling ingredients into a mixing bowl (except reserved corn mixture) and mix together. Refrigerate until ready to use.

Assemble: Lightly brush the edge of each wonton wrapper with the beaten egg and fill the center with 2 teaspoons filling. Carefully fold each ravioli in half, pressing as much air out of each one before sealing them shut. Transfer finished ravioli onto a parchment lined baking sheet. Once all ravioli have been made, transfer baking sheet to freezer and freeze all but 12 ravioli.

Fill a large pot with water and bring to a boil over medium-high heat. Once water comes to a boil, add a small handful of salt and 12, unfrozen ravioli.

Cook ravioli for 3 to 4 minutes or until they begin to float to the top of the pot. Using a slotted spoon, transfer ravioli to a large plate and set aside.

Place a large skillet over medium heat and melt butter until slightly browned with a nutty aroma.

Carefully slide ravioli into the browned butter. Cook pasta for about 2 minutes, coating each ravioli in the sauce. Add reserved corn mixture and toss together. Season with salt and pepper. Top with sliced chives and serve.
NOTES
*Makes 50 ravioli
*Once remaining ravioli are completely frozen, transfer to a resealable plastic bag, removing as much air out as possible, seal and store in freezer for up to 3 months.
Calories:
291
kcal
Carbohydrates:
27
g
Protein:
9
g
Fat:
17
g
Saturated Fat:
10
g
Cholesterol:
76
mg
Sodium:
296
mg
Potassium:
133
mg
Fiber:
1
g
Sugar:
2
g
Vitamin A:
585
IU
Vitamin C:
2
mg
Calcium:
75
mg
Iron:
2
mg
CUISINE:
Italian-american
KEYWORD:
ravioli, summer corn recipe