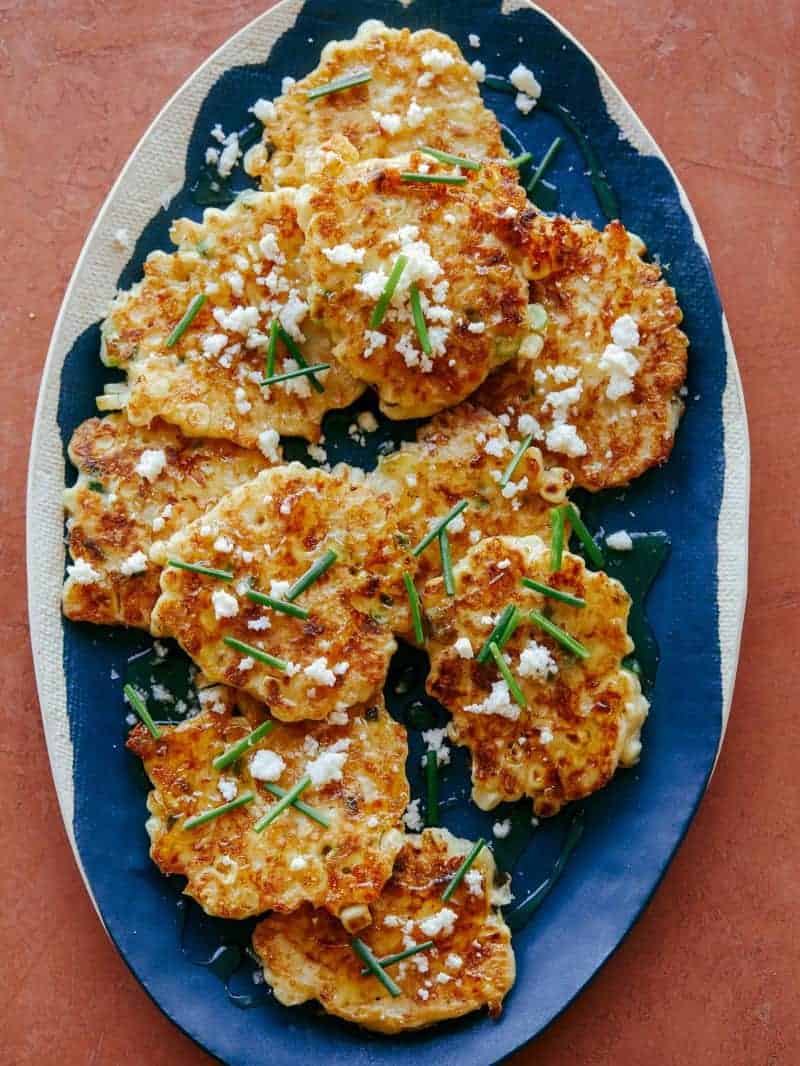 I love a really good corn cake. When the corn is perfectly cooked and snappy – and you pair that with honey and butter its like oh my gawd yes please. We made these little Cheesy, Buttery Jalapeno Corn Cakes for you because we want you to also experience that heavenly combo. File this recipe under appetizers and sides – because it can play both parts really well. Serve with a bunch of honey because that sweet and savory combo is perfection!
♥ Teri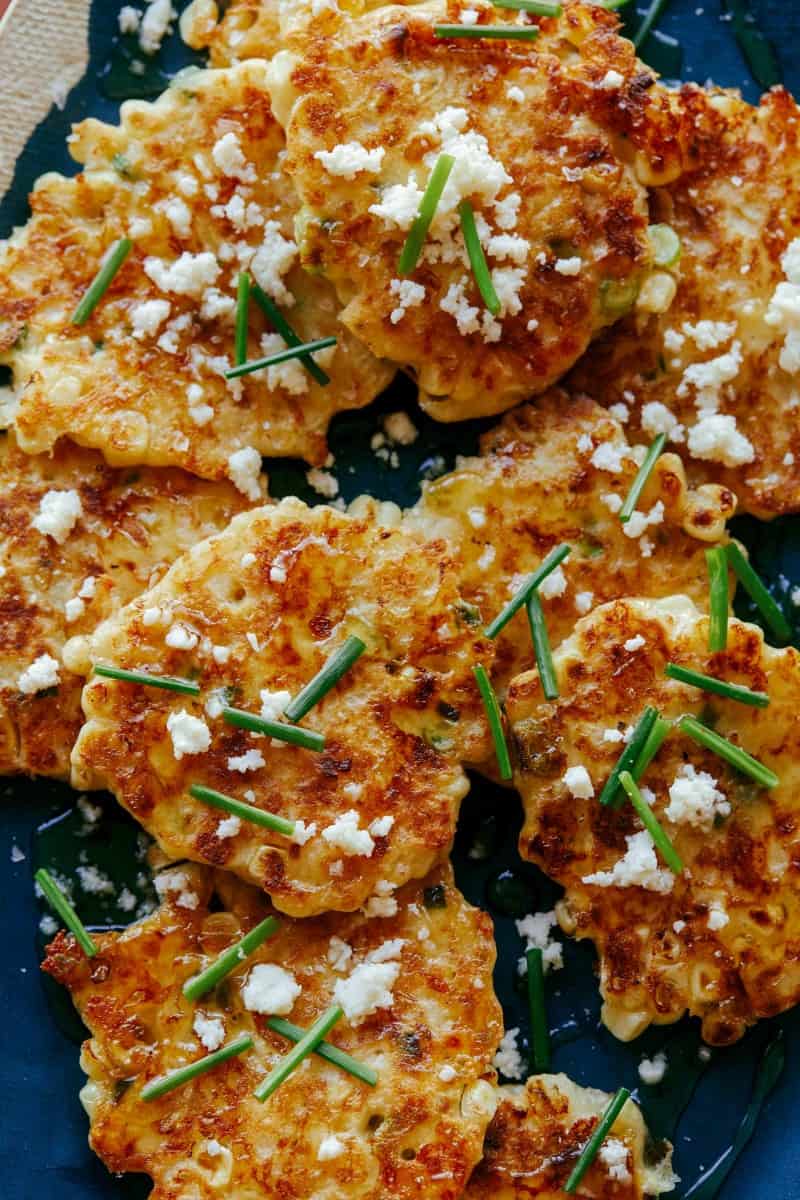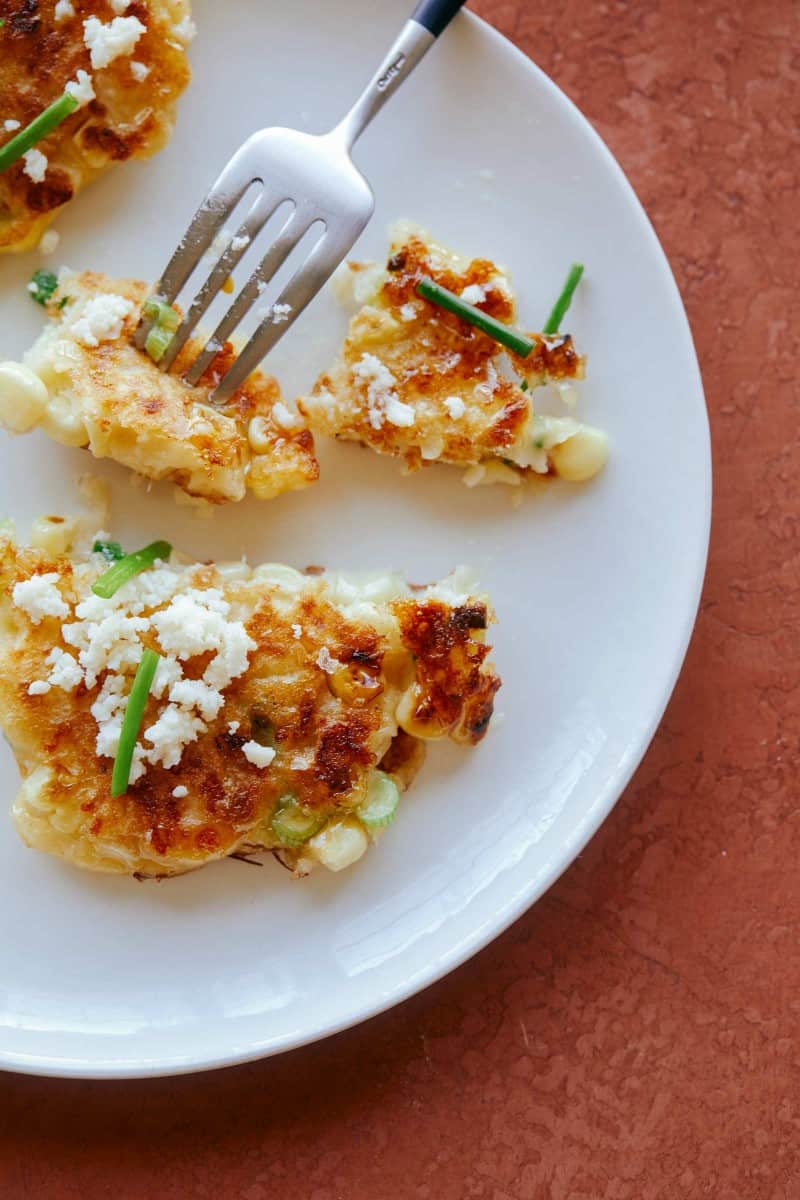 Cheesy, Buttery Jalapeno Corn Cakes

Makes 10 to 12

Ingredients:
1 cup all purpose flour
1 1/2 teaspoons baking powder
3/4 teaspoon salt
1/4 teaspoon cracked black pepper
2/3 cup seltzer water
kernels from 2 cobs of corn (about 1 1/3 cups)
1/2 cup crumbled queso fresco, plus more for garnish
1 jalapeno, seeded and finely diced
1 tablespoon thinly sliced chives, divided

4 tablespoons salted butter, divided
honey for drizzling

Directions:
1. In a mixing bowl whisk together flour, baking powder, salt, cracked black pepper. Pour seltzer water into the mixture and continue to whisk together. Fold in corn, queso fresco, jalapeno, and chives until thoroughly combined.
2. Place a cast iron skillet over medium heat and melt 1 tablespoon butter.
3. Pour 1/4 cup sized scoops into the hot skillet, a few at a time, and fry on each side for about 4 minutes or until golden brown and crisp. Remove from heat and lightly season with salt and pepper.
4. Repeat with more butter and batter until all the cakes have been made.
5. Transfer cakes to a platter and drizzle with honey and finish with a sprinkle of sea salt flakes, crumbled queso fresco and chives.