I love Broccoli Cheddar Soup. It's such a classic soup and it reminds me of childhood. I remember when I was in junior high going to Panera Bread for a quick dinner after tennis practice and the broccoli cheddar soup (in a bread bowl) always hit the spot! It's actually been forever since I've both been to Panera Bread and eaten this soup, so we have this Broccoli Cheddar Soup recipe for you guys today!
Tips and tricks for Broccoli Cheddar Soup Success
This Broccoli Cheddar Soup recipe is really simple but there are a couple important factors in making it successfully.
-It's important to remember that low and slow for adding the cheese is key. Remove the pot from the heat and add the cheese in small handfuls. Making sure the pot is off the heat will ensure your soup doesn't break with enough heat to melt the cheese.
-You also want to make sure the handful of shredded cheese fully melts into the soup before adding more. This will make sure the soup stays creamy and smooth. If you add the cheese too quickly you run the risk of your soup becoming gritty.
Reheating Broccoli Cheddar Soup
To reheat this broccoli cheddar soup, pour soup into a pot and place over medium-low to low heat. Stir soup occasionally to ensure it heats back up evenly. It's important that the soup comes back up to temperature slowly so that it stays thick, creamy and smooth. Reheating the soup too quickly can make the soup gritty and lose its body.
If you find that your soup still gets too thin after its been heated scoop 1/2 cup of the warm soup into a small bowl and whisk together with 1 1/2 teaspoons cornstarch. Pour mixture back into the pot, stir together and simmer until soup slightly thickens.
Can Broccoli Cheddar Soup Be Frozen?
I don't recommend freezing this recipe because the consistency will be pretty liquidy once it's melted and heated back up and the cornstarch slurry trick doesn't work quite as well for when the soups been frozen.
This soup is so simple, comforting and delicious. I highly recommend making it and pouring it into a crusty bread bowl because bread bowls are amazing. They're so freaking good when torn apart at the end to scarf down all the delicious soup that's soaked into it!
If you are looking for alternative ways to serve this soup other than bread, you can:
– Pour your soup over a baked potato
– Serve with a simple salad
– Pour over a chicken breast
– Serve with more mix-ins to make your soup more hearty. Like crumbled bacon or shredded chicken.
If you love hearty soup recipes, you might also like our Loaded Baked Potato Soup, or our Creamy Chicken and Farro Soup.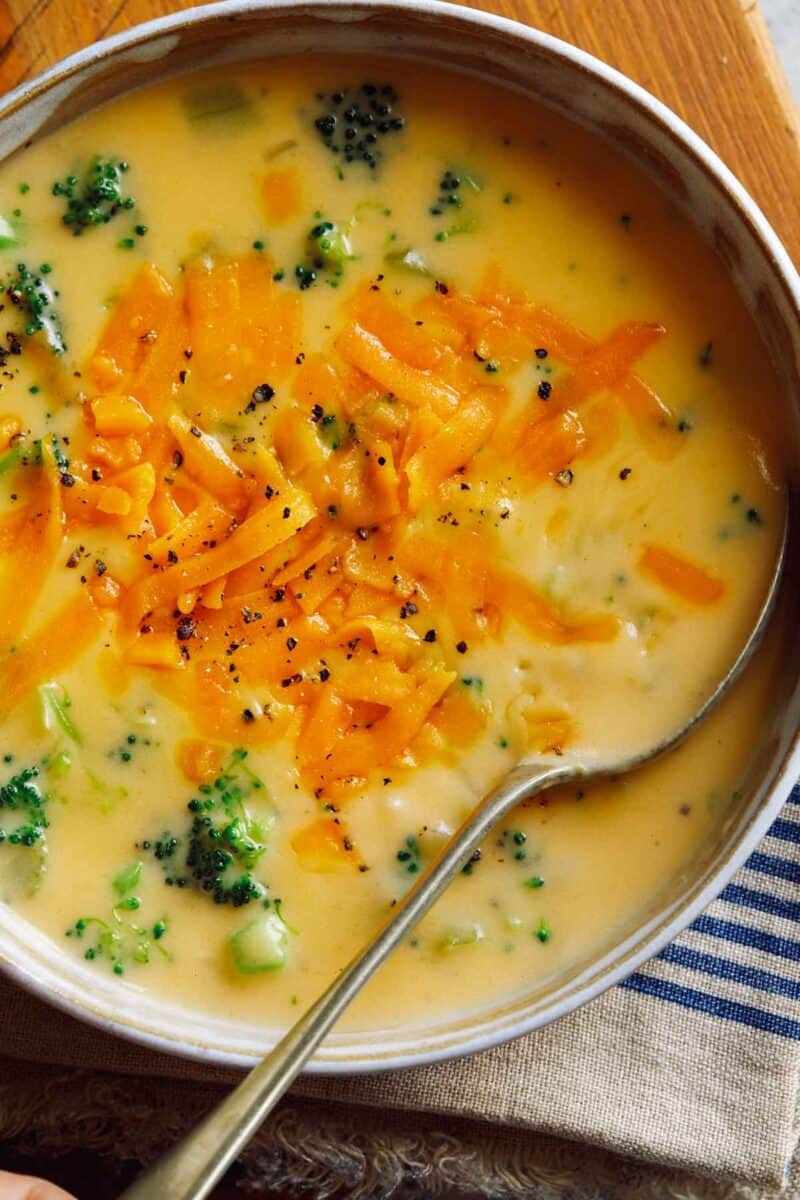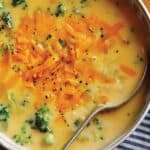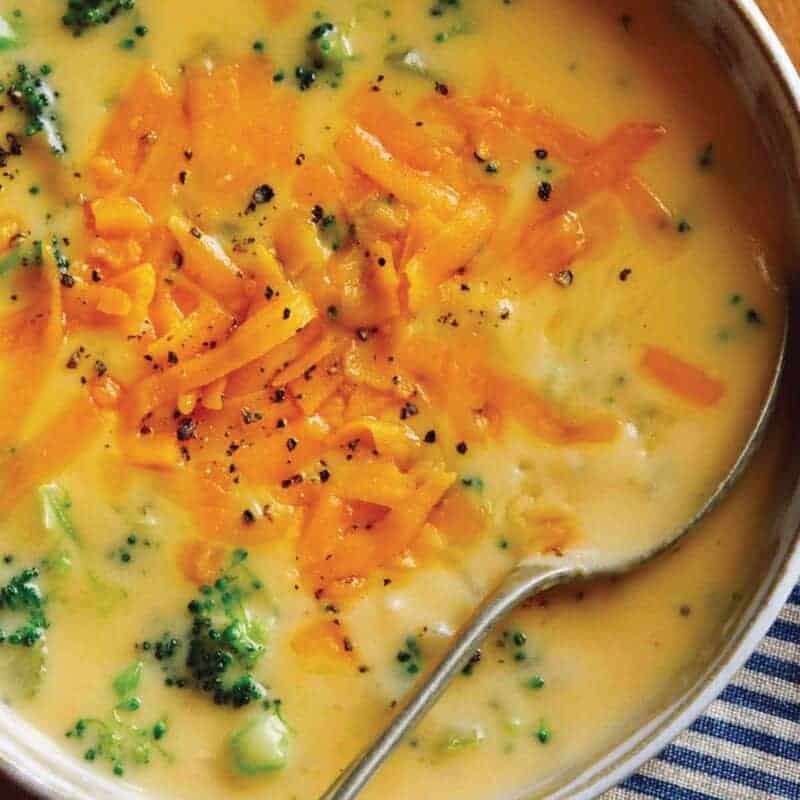 ---
Easy Broccoli Cheddar Soup
A delicious recipe for Easy Broccoli Cheddar Soup. A thick and creamy soup that we love to serve with some nice crusty bread. This soup is the ultimate comfort food!
INGREDIENTS
soup
5

tbsp

unsalted butter

½

onion

chopped

⅓

cups

all purpose flour

2

cups

chicken stock

1

celery stalk

finely diced

2½

cup

broccoli

chopped into bite sized pieces

2½

cups

whole milk

2

cups

shredded cheddar

salt and pepper to taste
Recipe instruction visual controls:
INSTRUCTIONS
Place large pot over medium heat and melt butter. Add onion and sweat, about 5 minutes.

Whisk in flour and cook for about 2 minutes.

Stir in chicken stock and season generously with salt and pepper.

Stir in celery and broccoli and bring to a boil, then reduce heat to medium-low. Let simmer until vegetables are tender, about 15 minutes.

Stir in milk and continue to simmer until soup is thick enough to just coat the back of a wooden spoon, 2 to 3 minutes. (soup should still have a 'soupy' texture)

Remove pot from heat and stir in cheddar in small handfuls, waiting until cheese melts to add more cheese.

Season with salt and pepper and top with more cheddar. Serve.
Calories:
445
kcal
Carbohydrates:
17
g
Protein:
21
g
Fat:
33
g
Saturated Fat:
20
g
Cholesterol:
97
mg
Sodium:
524
mg
Potassium:
414
mg
Fiber:
1
g
Sugar:
8
g
Vitamin A:
1263
IU
Vitamin C:
35
mg
Calcium:
547
mg
Iron:
1
mg