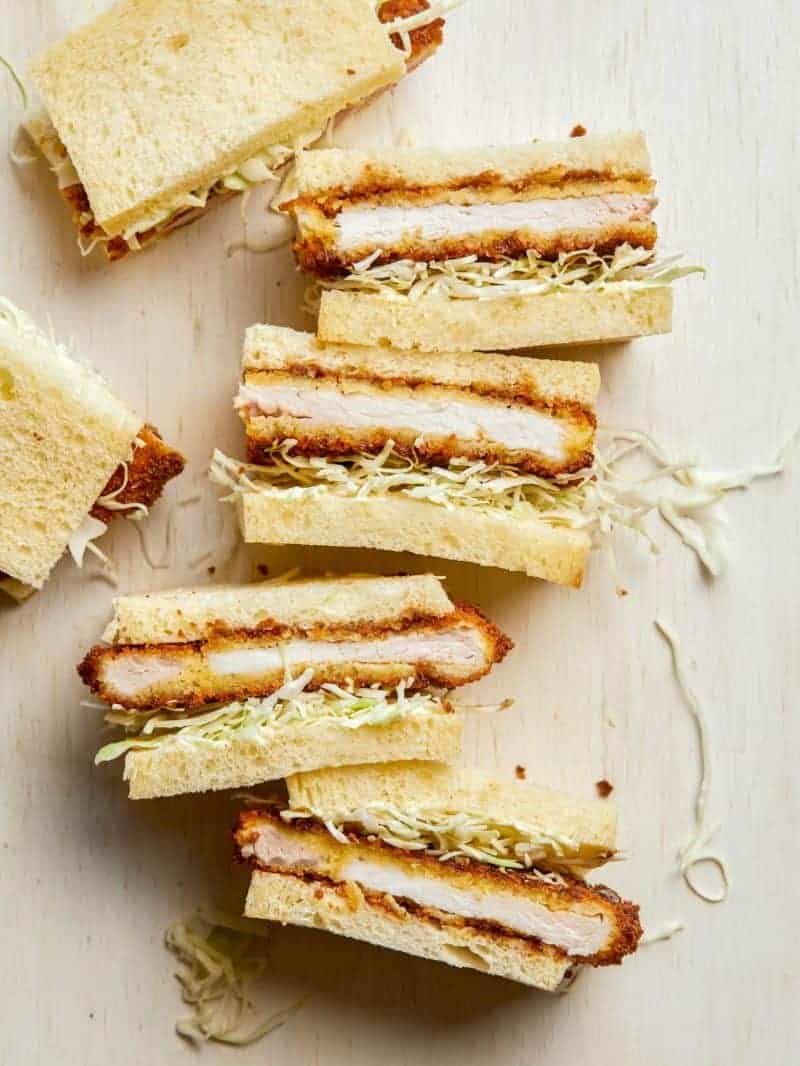 We have a recipe for you guy today for the ever popular Pork Katsu Sandwiches! Growing up, I remember going to Japanese restaurants and my family almost always ordering a shared plate of pork katsu, always over a bed of very finely shredded cabbage with a generous amount of katsu sauce drizzled over the top. I have no idea how something so simple could taste so good, but it's amazing. Crunchy but balanced from the pork ad cabbage, savory, slightly sweet from the sauce. Perfection. Especially eaten with a little bit of rice.
I'm not sure the first time I saw or ate a katsu sando, but remember thinking what a great idea this was. I know "deep frying" is a bit of a turn off for some people, but you're really just shallow frying with this recipe and it's pretty quick, so the "fry" smell usually subsides pretty quickly, especially with an open window and a good hood fan. If you're still not convinced and although it won't really be the same, you can go ahead and bake these guys. Just make sure to give the coated pork chops a spritz of oil or a brushing of butter on both sides so you get a nice browning on them. Enjoy! xx, Jenny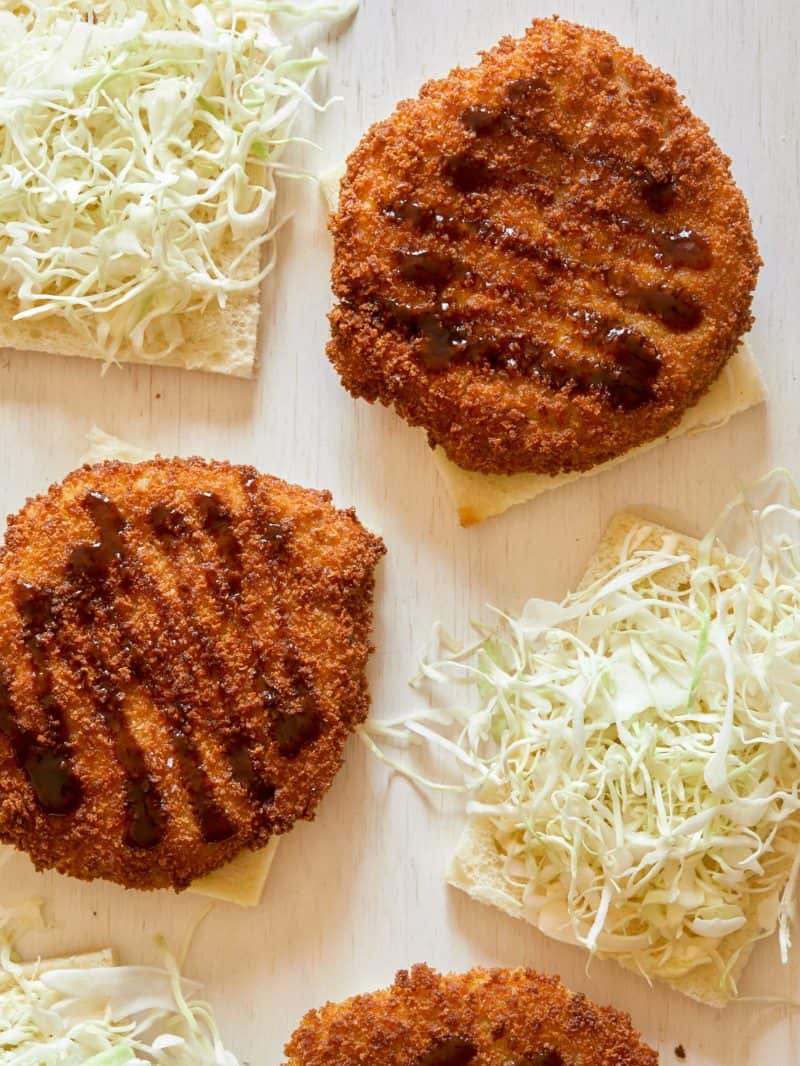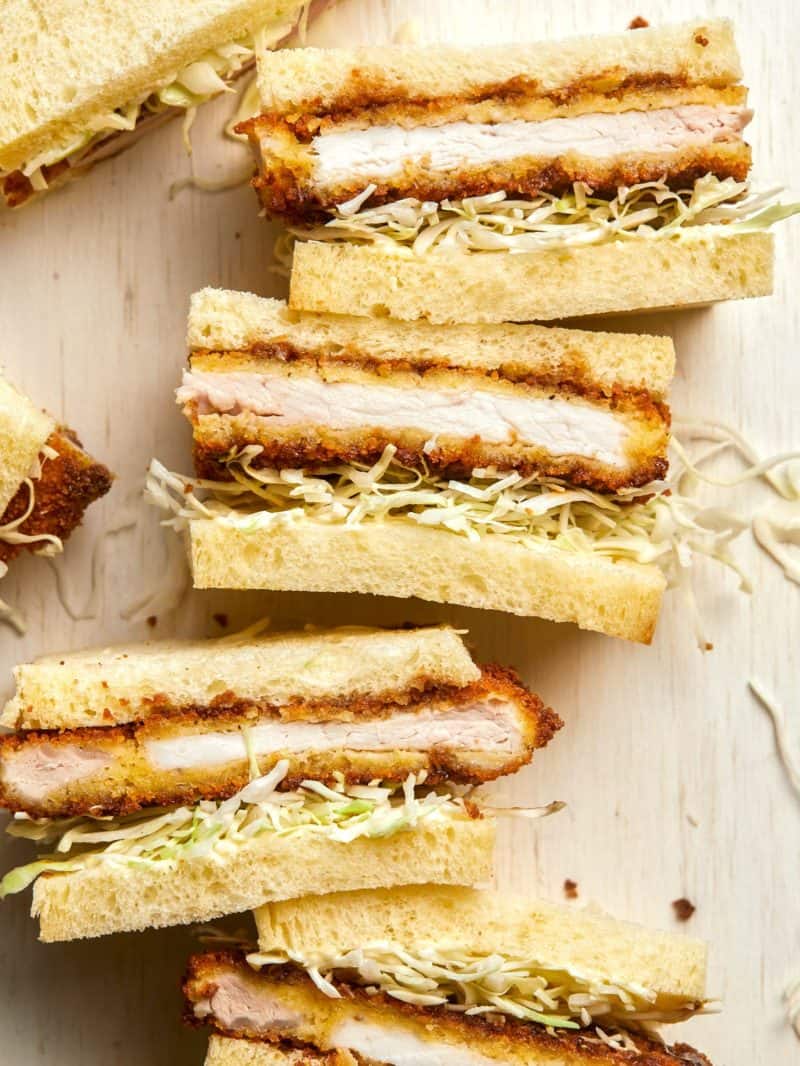 Pork Katsu Sandwiches

Makes 2

Ingredients:
pork katsu:
2 (4 ounce) boneless pork chops (about 1/2" thick)
2/3 cup all-purpose flour
1 large egg, beaten
1 cups panko breadcrumbs
1/4 cup Italian breadcrumbs
salt and pepper to taste
vegetable oil for frying

4 slices soft, milk bread, crusts removed (soft, white bread I fine)
1/3 cup katsu sauce
1/3 cup mayonnaise
1 heaping cup very finely shredded green cabbage

Directions:
1. Fill a pot, with tall sides, with about 1 1/2" oil and preheat to 325˚F.
2. Season each pork chop generously with salt and pepper, on both sides.
3. Dredge each pork chop in flour, until fully coated, and shake to remove any excess coating.
4. Next, dip each pork chop in the beaten egg until fully coated, then dredge into panko breadcrumb and Italian breadcrumb mixture until completely coated, shaking to remove any excess coating.
5. Transfer coated pork chops onto a baking sheet lined with a cooling rack and refrigerate for 30 minutes. (this step is optional, but will help the coating stay on the pork chops)
6. Remove pork chops from the refrigerator and carefully drop into the hot oil and fry for 3 1/2 to 4 minutes, until golden brown and pork has just cooked through.
7. Remove both chops from oil and transfer to a baking sheet with a cooling rack. Season with salt.
8. spread nayo over skices of bread + drizzle katsu sauce over each slice. Top two of the slices each with 1/2 cup shredded cabbage.
9. Place a fried pork over each pile of cabbage and top with remaining slice of bread.
10. Gently press down on the sandwiches while slicing each in half and serve.