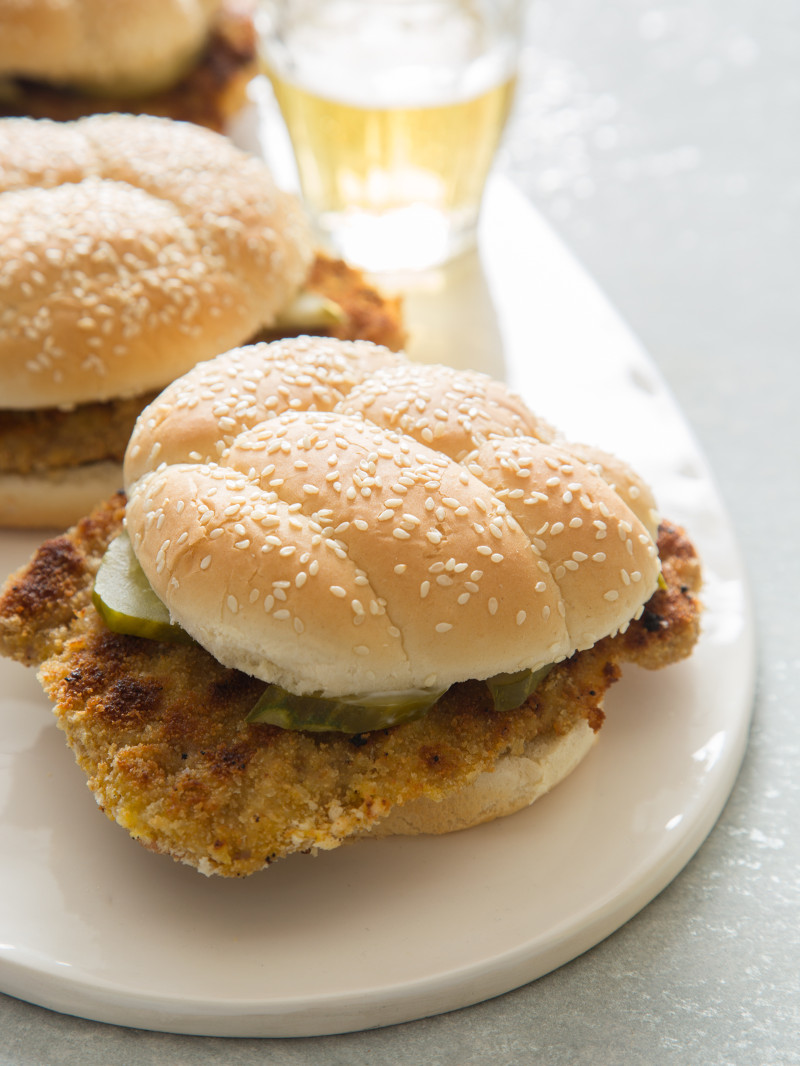 When I think about pork tenderloin, my mind doesn't usually go to sandwiches, especially ones that are breaded and panfried. The exception is this glorious pork tenderloin sandwich, which is actually inspired by my "In-N-Out of the the midwest", Culver's. If you're not familiar's with Culver's it's basically a better Dairy Queen (because they specialize in frozen custard!) with a much more extensive savory menu…including the most perfectly squeaky fried cheese curds! Growing up, I went to Culver's all the time, especially in the summer.
Aside from the fried cheese curds, one of my favorite savory menu items is the pork tendeloin sandwich. It might seem a little random and lackluster, but the breading is what does it for me…the cracker crumb coating is SO GOOD. It makes the sandwich light and crispy and just super yummy overall. While you can have your sandwich as loaded as you want, (and I normally do), I like to keep things super simple with this guy and just lightly toast the bun with a healthy amount of butter a light schmear of mayo and a handful of pickles.
I don't make this sandwich often, maybe once or twice a year, but when I do, I'm immediately transported back to my roots growing up (outside of my mom's Korean cooking, lol)…oh and frying up a batch of cheese curds to enjoy with your pork tenderloin sandwich, doesn't hurt either…I mean, you've already gone through the trouble of frying up the pork, what's a little more oil and a little more frying, ya know? ☺ Enjoy! xx, Jenny
---
Pork Tenderloin Sandwich
INGREDIENTS
pork
4

(6 ounce) boneless pork tenderloin, pounded until 1/4" thin

1

cup

all purpose flour

3

large

eggs, well beaten

1 ½

cups

plain cracker crumbs

I like to use saltines or oyster crackers

salt and pepper to taste

frying oil
assembly
¼

cup

(1/2 stick) unsalted butter, softened

4

sesame burger buns

½

cup

mayonnaise

½

heaping cup

pickle chips

⅛

small

red onion, thinly sliced
INSTRUCTIONS
For pork: Generously season the pounded pork tenderloin with salt and pepper on both sides.

Dredge each pork piece in the flour and shake off any excess.

Then dip each flour covered pork piece into the beaten eggs, until fully covered.

Finish each pork piece by dipping them in the breadcrumbs until fully coated, shaking off any excess.

Season each coated pork piece with salt and pepper. Set aside.

Fill a large skillet with about ½ inch of oil and set over medium-high heat.

Carefully place two of the breaded pork piece into the skillet and lower the heat to medium. Pan fry for 4 to 5 minutes or until browned and crisp.

Flip and continue to pan fry for another 3 to 4 minutes or until each pork cutlet is well browned and just cooked through. Remove from the skillet, onto a cooling rack and lightly season with salt and pepper.

Repeat with remaining breaded pork, adding more oil as needed.

For buns: Spread butter onto each cut side of each bun and toast, butter side down, in a clean skillet. Once toasted to a golden brown, remove from heat.

To assemble: Spread a generous amount of mayo onto each cut side of each bun. Top the bottom halves of each bun with a pork cutlet and top with pickle chips and thinly sliced red onions, if using. Gently press the tops of each bun onto each sandwich and serve.