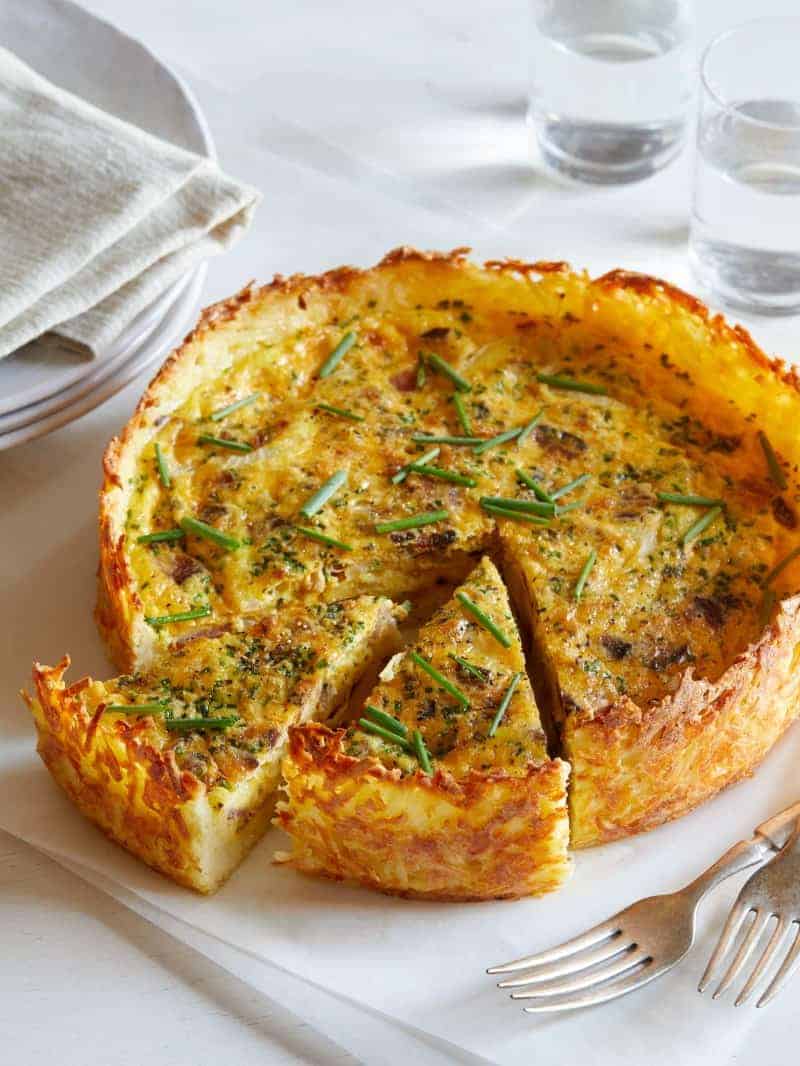 Happy Friday! What a yummy breakfast / brunch project we have for you this weekend! This Bacon, White Cheddar and Chive Quiche with a Hash Brown Crust! The hash brown is actually really easy to make, and actually really crispy. So it's a really great texture to add to the custardy quiche. This quiche has all your favorite breakfast things in one dish, and makes it a super good option when you're having people over. :)
♥ Teri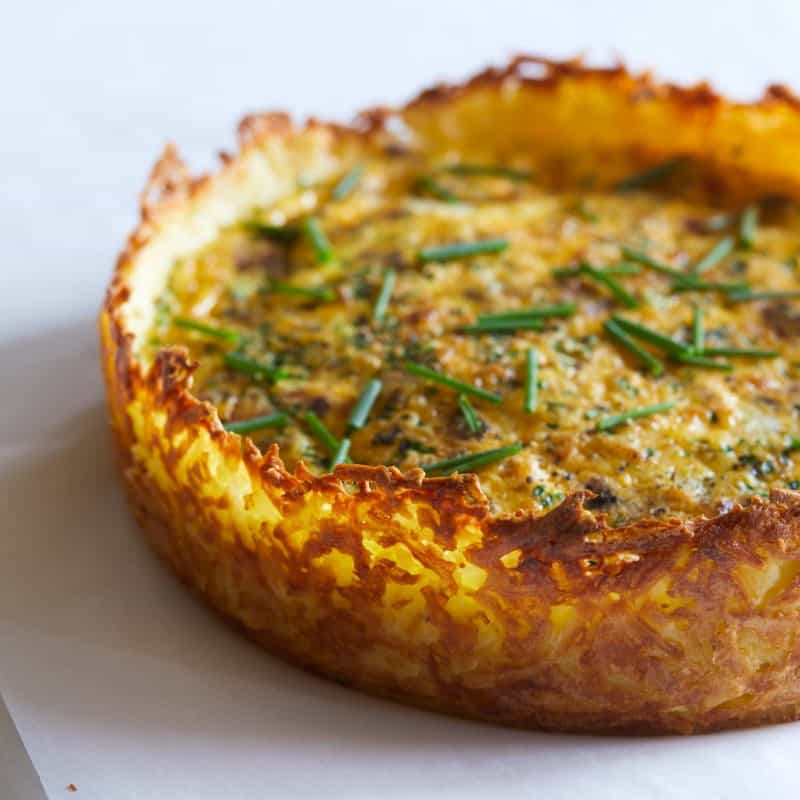 Bacon, White Cheddar and Chive Quiche with a Hash Brown Crust

1 (9inch) quiche

Ingredients:
hash brown crust:
20 ounces frozen hash browns, thawed
1/2 cup shredded white cheddar
1/2 teaspoon salt
1/4 teaspoon cracked black pepper
filling:
2 tablespoons unsalted butter
1/2 onion, thinly sliced
6 large eggs, lightly beaten
1/2 cup heavy cream (or whole milk)
4 rashers crispy cooked bacon, crumbled
1 cup shredded white cheddar cheese
1 tablespoon thinly sliced chives, plus more for garnish
salt and pepper to taste

Directions:
1. Squeeze as much liquid from the thawed hash browns as possible and place into a large mixing bowl. Add cheddar, salt and pepper and stir together.
2. Lightly grease a 9" spring form pan with cooking spray and evenly press the hash browns mixture into the bottom and sides of the pan.
3. Place the pan in the freezer and freeze for at least 1 hour.
4. Preheat oven to 425˚F.
5. Place frozen crust until the oven and par-bake for 15 minutes. Remove from oven and slightly cool.
6. In a skillet melt butter over medium heat. Add onions and lightly caramelize for 10 to 15 minutes. Season with salt and pepper. Set aside.
7. In a large mixing bowl, combine eggs and cream. Whisk together until light and fluffy. Add remaining ingredients, including caramelized onions and stir together until mixed up. Season with salt and pepper.
8. Pour filling mixture into the par-baked crust and place into the oven.
9. Lower oven temperature to 375˚F and bake the quiche for 25 to 30 minutes or until the eggs have just set.
10. Remove quiche from oven and score the perimeter with a paring knife. Loosen springform pan from sides of quiche and place quiche back into the oven for an additional 10 to 15 minutes. (this will help the crust get crisp on the sides)
11. Remove quiche form oven and cool for 10 minutes.
12. Slice quiches into wedges, top with sliced chives and serve.