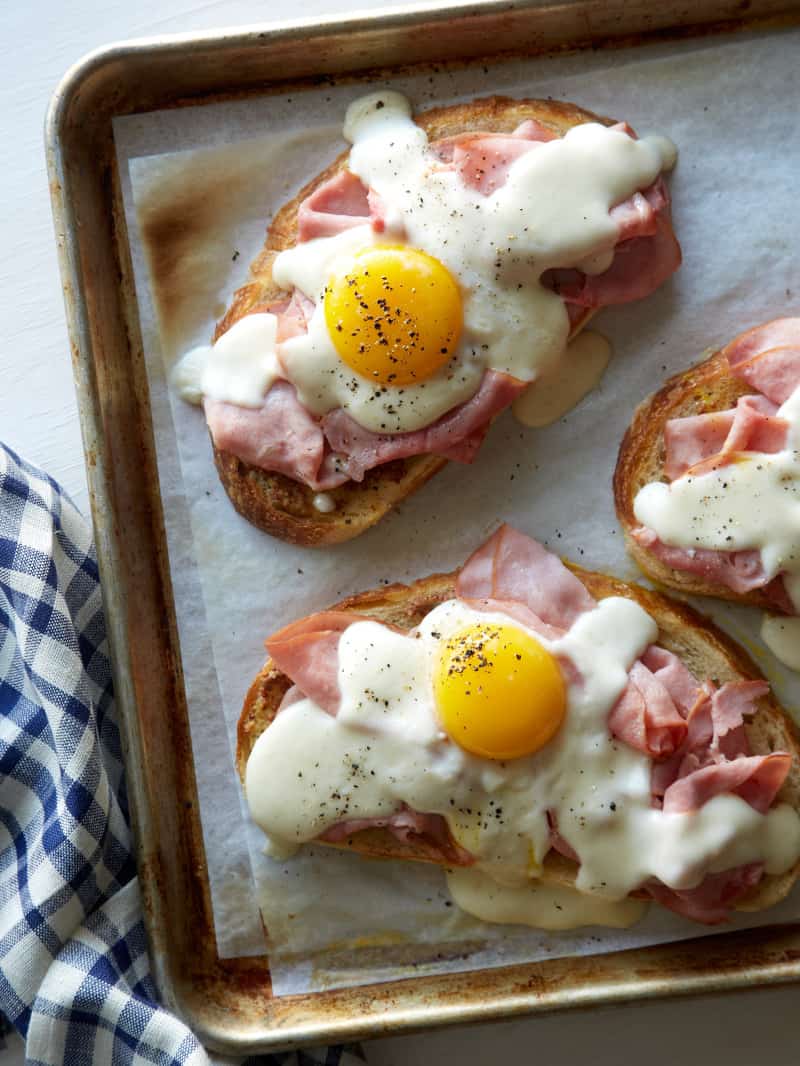 Hi! It's Friday yay, and to me that means making something amazing on the weekend. Usually lots of cookies, or a more intense dinner than I would prepare during the week. Sometimes – it's delicious brunch / breakfast situations like this one. Crunchy toast with ham and egg and mornay sauce is like omg how can you not make this. Pin this and save it for one of those hell weeks where you need something indulgent to look forward to. Or just make it this weekend like I will be doing. :)
♥ Teri
This was originally posted on September 26th 2016 with the entry below:
We're finally (kind of) getting some cooler weather in LA and I'm so excited. Yes, we're still experiencing random 80˚F+ weather on some days, but on the days I wake up to a cool and familiar breeze it makes my heart beat just a little faster with excitement! While I love the different things summer bring, like outdoor bbq's and lazy days at the beach, I really just LOOOOVE autumn. I love cozy clothes, cozy food, cozy everything and today we have one of my favorite cozy (and super indulgent) meals, this Croque Madame Toast.
Okay fine, I basically made an open-faced croque madame, but sometimes you just want to ditch the extra slice of bread and get down to the really good stuff, ya know? Plus this is a quick and easy way to make croque madame for multiple people at the same time! I love eating a meal like this on a Sunday morning, while binge watching some good Netflix and then taking a long nap. Sometimes you just need one of those days.
Now that I'm officially married (as of yesterday!), yay! I'm planning on locking myself in my house for a few day, sans phone, take a few of these toasts to my face and catch up on allll of my shows….and sure, the new husband can even particiate too if he wants, HA! :) Enjoy! xx, Jenny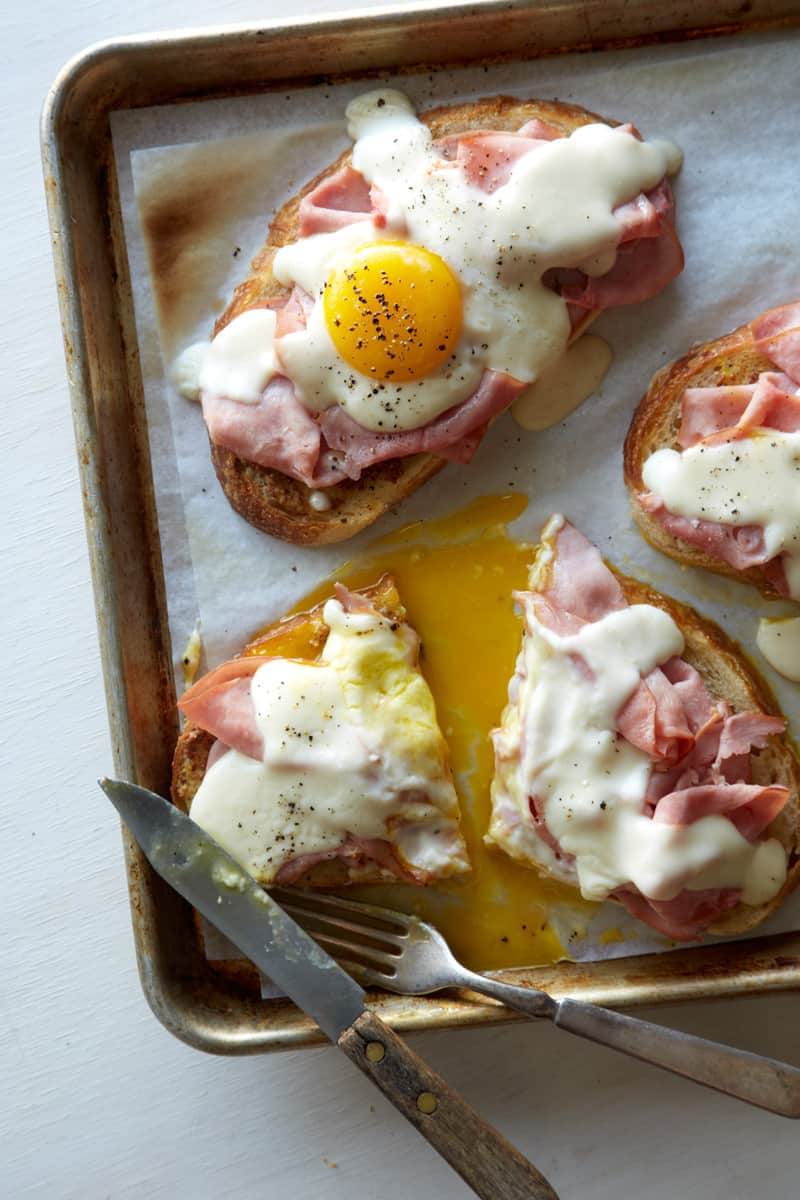 Croque Madame Toast

Makes 3

Ingredients:
mornay sauce:
1 tablespoons unsalted butter
1 tablespoon all-purpose flour
1/2 cup plus 2 tablespoons whole milk
1/2 teaspoon dry mustard
1/2 teaspoon ground ginger
1/3 cup shredded gruyere cheese
3 tablespoons grated Parmesan cheese
Salt and cracked black pepper to taste

3 slices sourdough bread, lightly buttered and toasted
3 tablespoons whole grain prepared mustard
6 ounces smoked ham, thinly sliced
3 large egg yolks

Directions:
1. For the sauce: Melt the butter in a small saucepan over medium heat. Add the flour and stir over the heat for 2 to 3 minutes to cook off the raw flour taste. Add the milk in a steady stream while whisking, then continue to cook and whisk until the mixture thickens enough to coat the back of a spoon. Whisk in the mustard, ginger, gruyere, and parmesan. Continue to cook and stir until the cheeses melt and the sauce is smooth, 3 to 4 minutes. Season to taste with salt and pepper. Set aside.
2. Preheat broiler. Spread whole grain mustard onto one side of the toast slices. Top slices of the toast with the ham.
3. Transfer the ham-topped toasts to a baking sheet and top each with a 1/2 cup of the mornay sauce.
4. Carefully create a well atop each toast, with the ham and mornay sauce and drop each yolk into each well.
5. Broil the toasts until the sauce is hot and bubbling, but the yolk is still soft, 3 to 4 minutes. Lightly season with salt and pepper and serve immediately.