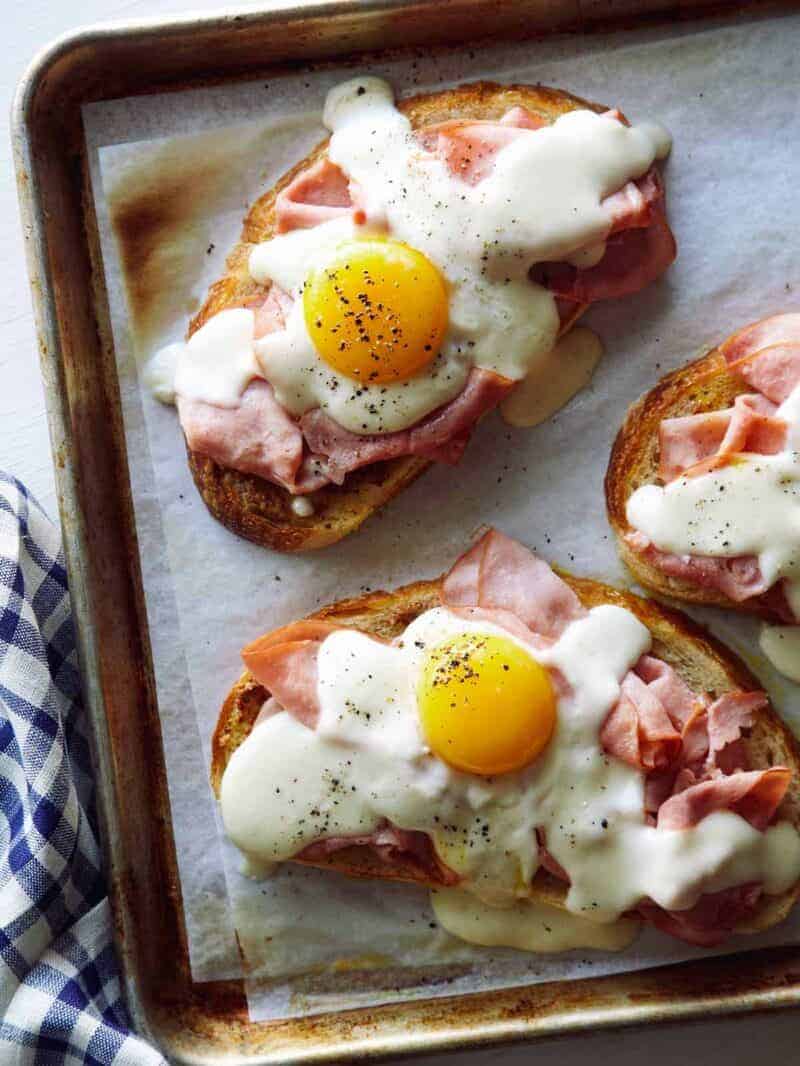 Today we have this beautiful creamy and delicious Croque Madame recipe. This is a riff off the traditional recipe, as we made them into toasts and just used egg yolks. You can definitely just make a fried egg instead and that is just as good!
What is a Croque Madame?
It's a delicious french sandwich typically eaten for breakfast or brunch, but people do eat it during all times of the day. The sandwich is made with a toasted piece of crusty bread spread with whole grain mustard, then topped with thinly sliced ham, a soft creamy cheese and then another piece of toasted bread to close the sandwich. That is then smothered with a mornay sauce, and topped with a fried egg or poached egg, here we have opted just for the egg yolk.
What is the difference between Croque Monsieur and Croque Madame?
The only difference between the two sandwiches is the that the Madame gets topped with a fried or poached egg while the monsieur does not. All the other components of the sandwich remain the same.
How to make a Croque Madame sandwich:
This recipe is actually very easy to make. Here is a step by step:
1. Make the Mornay Sauce
2. Toast the bread
3. Spread toasts with mustard
4. Top with Ham
5. Pour Mornay Sauce over each toast
6. Top each toast with an egg yolk
7. Broil for a couple more minutes
8. Enjoy!
If you love this recipe, try our Croque Madame Flatbreads!

We love using gruyere in this recipe, but you can substitute with comté or swiss, or any other great melting cheese with a mild flavor that you love! If you leave near a Trader Joe's, they have an excellent, well priced cheese section.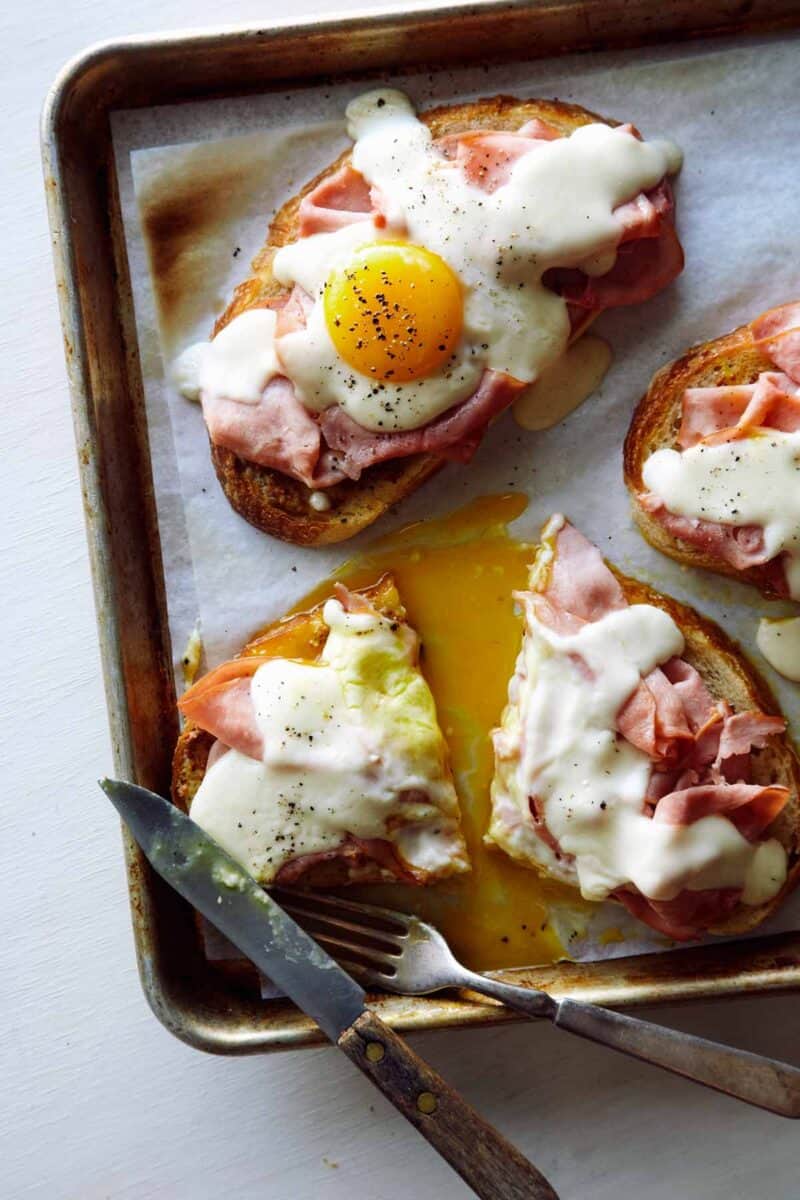 Hungry for more?
Subscribe to never miss a recipe.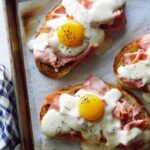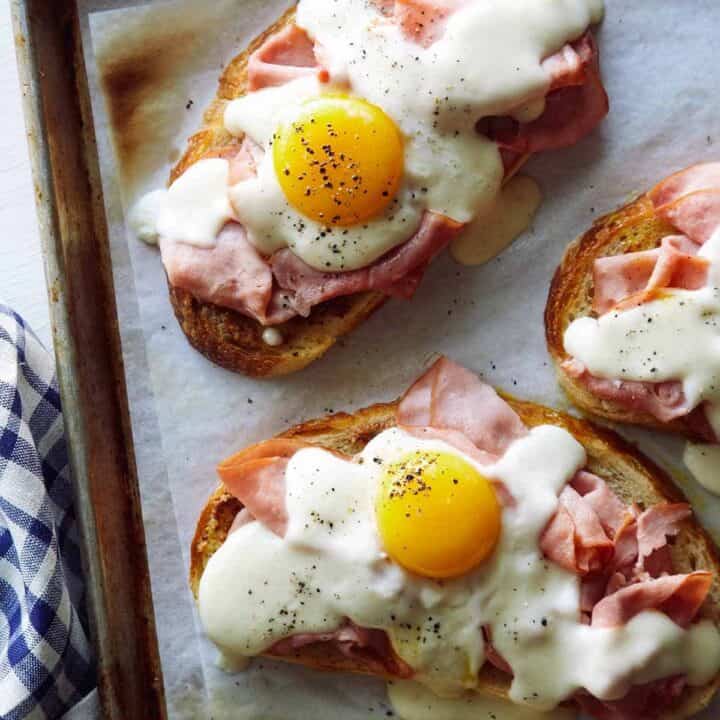 ---
Croque Madame Toast
A recipe for Croque Madame toast. Toasted bread smeared with mustard and topped with thinly sliced ham and creamy cheese with a mornay sauce and an egg!
INGREDIENTS
mornay sauce
1

tablespoon

unsalted butter

1

tablespoon

all-purpose flour

½

cup

plus 2 tablespoons whole milk

½

teaspoon

dry mustard

½

teaspoon

ground ginger

⅓

cup

shredded gruyere cheese

3

tablespoons

grated Parmesan cheese

Salt and cracked black pepper to taste
assembly
3

slices

sourdough bread, lightly buttered and toasted

3

tablespoons

whole grain prepared mustard

6

ounces

smoked ham, thinly sliced

3

large

egg yolks
INSTRUCTIONS
mornay sauce
Melt the butter in a small saucepan over medium heat. Add the flour and stir over the heat for 2 to 3 minutes to cook off the raw flour taste. Add the milk in a steady stream while whisking, then continue to cook and whisk until the mixture thickens enough to coat the back of a spoon. Whisk in the mustard, ginger, gruyere, and parmesan. Continue to cook and stir until the cheeses melt and the sauce is smooth, 3 to 4 minutes. Season to taste with salt and pepper. Set aside.
assembly
Preheat broiler. Spread whole grain mustard onto one side of the toast slices. Top slices of the toast with the ham.

Transfer the ham-topped toasts to a baking sheet and top each with a 1/2 cup of the mornay sauce.

Carefully create a well atop each toast, with the ham and mornay sauce and drop each yolk into each well.

Broil the toasts until the sauce is hot and bubbling, but the yolk is still soft, 3 to 4 minutes. Lightly season with salt and pepper and serve immediately.
NOTES
Notes:
Cheese Substitutions:
Gruyere can be replaced with other cheese such as swiss, comte, fontina, gouda, or even white cheddar. 
Fried Egg Substitution:
Melt 1 tablespoon of butter (per egg) into a non-stick skillet over medium-high heat. Once butter has melted, crack eggs into the skillet and fry until the edges have browned and crisped, the whites have set but the yolks are still runny. Remove from skillet and place over mornay sauce. 
Closed Sandwich Assembly:
To make a full sandwich spread mustard onto toast and top with ham. Spread an additional piece of toast with mustard and gently press over ham. Pour mornay sauce over sandwich and place under broiler for 1 minute, until cheese sauce is bubbling and slightly browned. Top with fried egg and season with black pepper. 
Calories:
458
kcal
Carbohydrates:
42
g
Protein:
28
g
Fat:
20
g
Saturated Fat:
9
g
Cholesterol:
246
mg
Sodium:
1339
mg
Potassium:
339
mg
Fiber:
2
g
Sugar:
4
g
Vitamin A:
610
IU
Calcium:
314
mg
Iron:
4
mg
KEYWORD:
croque madame, egg, toast
COURSE:
Breakfast, brunch