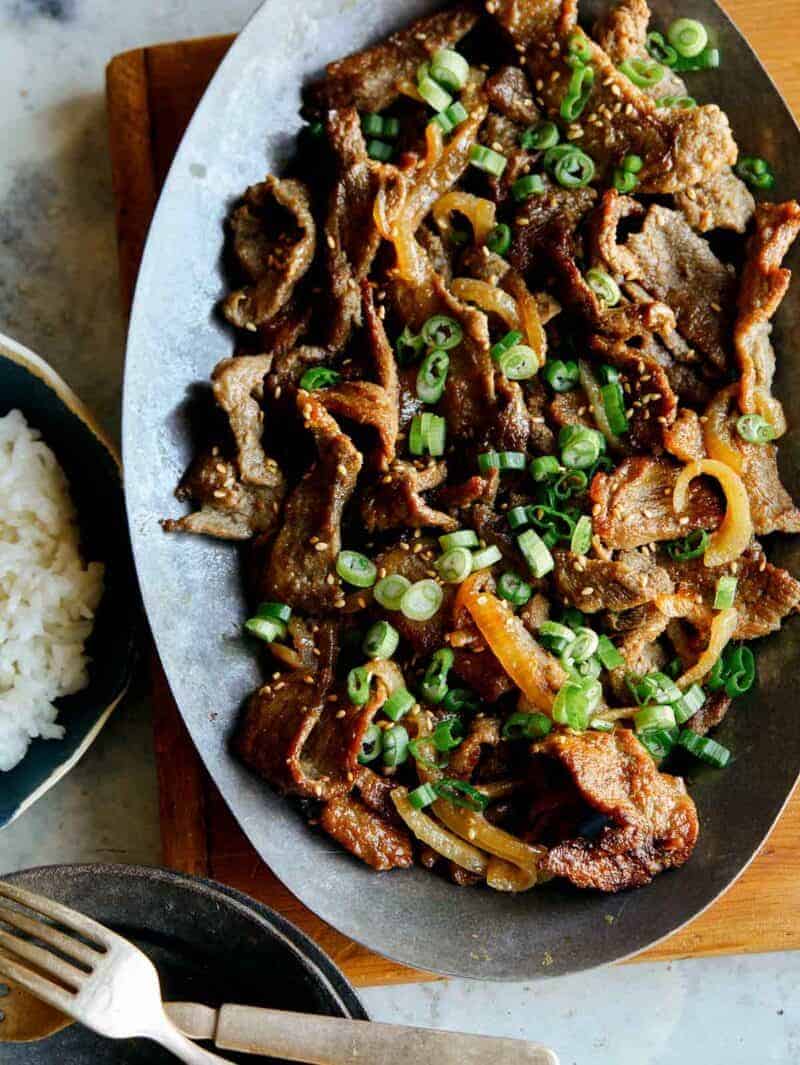 Korean Beef Bulgogi is something my mom made for dinner frequently while I was growing up. It was one of my favorite Korean recipes my mom would make for my family. My mom's Korean Beef Bulgogi recipe is something I still look forward to when my family is able to get together. Since my parents live in Chicago, and I live in LA, I eventually had to learn to make it myself. The recipe I use is the same recipe my mom has always used and it's my favorite – it's simple, quick and really delicious.
xx, Jenny
What is bulgogi?
Bulgogi is a popular Korean BBQ dish (literally translating to "fire meat") made of thinly sliced marinated beef ribeye or sirloin. The beef is marinated in a blend of soy sauce, sesame oil, garlic, ginger, sugar, and black pepper. It's marinated for a few hours which flavors and tenderizes the meat.
Can bulgogi be Frozen?
Yes, our Korean Beef Bulgogi recipe can be marinated and frozen (uncooked) ahead of time for up to 2 months.
Grilling vs Pan/Skillet Frying
Bulgogi can be both cooked on a grill or in a pan/skillet. If using a pan or skillet natural juices will release and gather in the pan, which is often enjoyed with the cooked beef. If using a grill, there will be a distinct 'char-grilled' flavor. The flavors will be slightly different depending on how the beef is cooked, but equally delicious nonetheless.
I usually buy steak and thinly slice it myself, although you can find thinly pre-sliced beef at local Asian markets. If you do decide to slice it yourself make sure not to skip out on the first step of partially freezing the beef first. Partially freezing the beef makes it way easier to slice very thin and even pieces. The addition of the Asian pear (or apple) isn't 100% necessary. I like incorporating it because it adds a really nice and subtle sweetness to the beef. It also helps to tenderize the beef, giving it a nice texture once its cooked.
More Korean recipes you will love: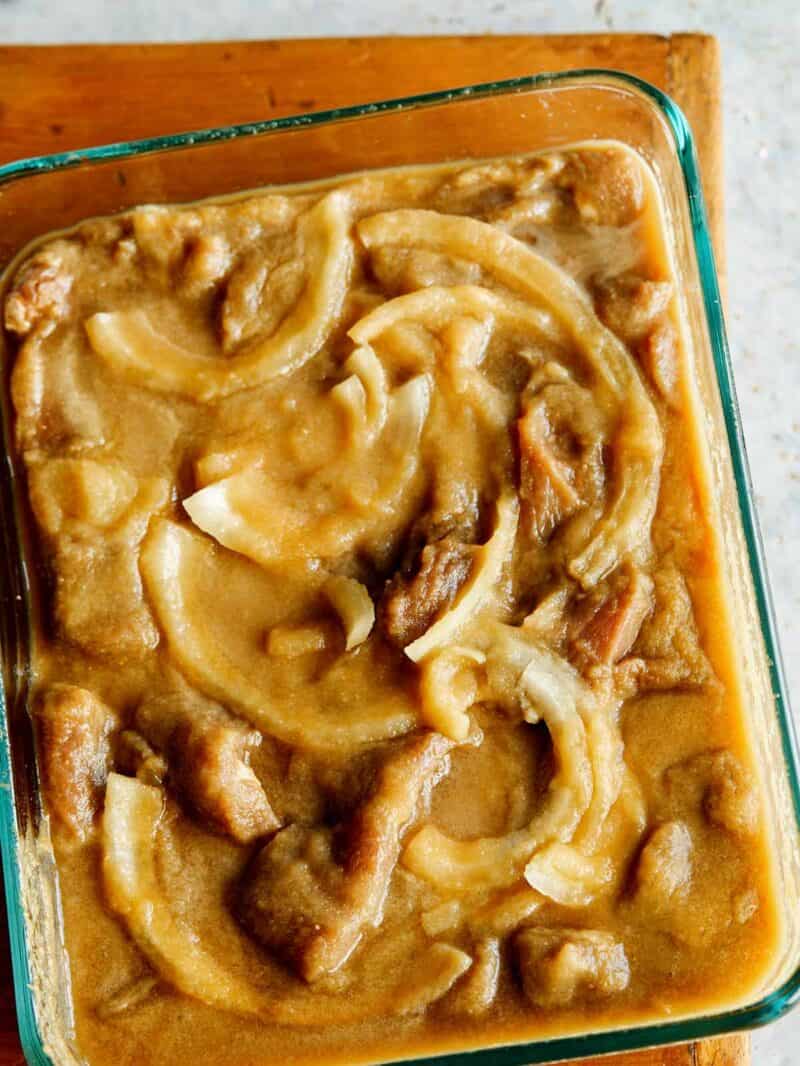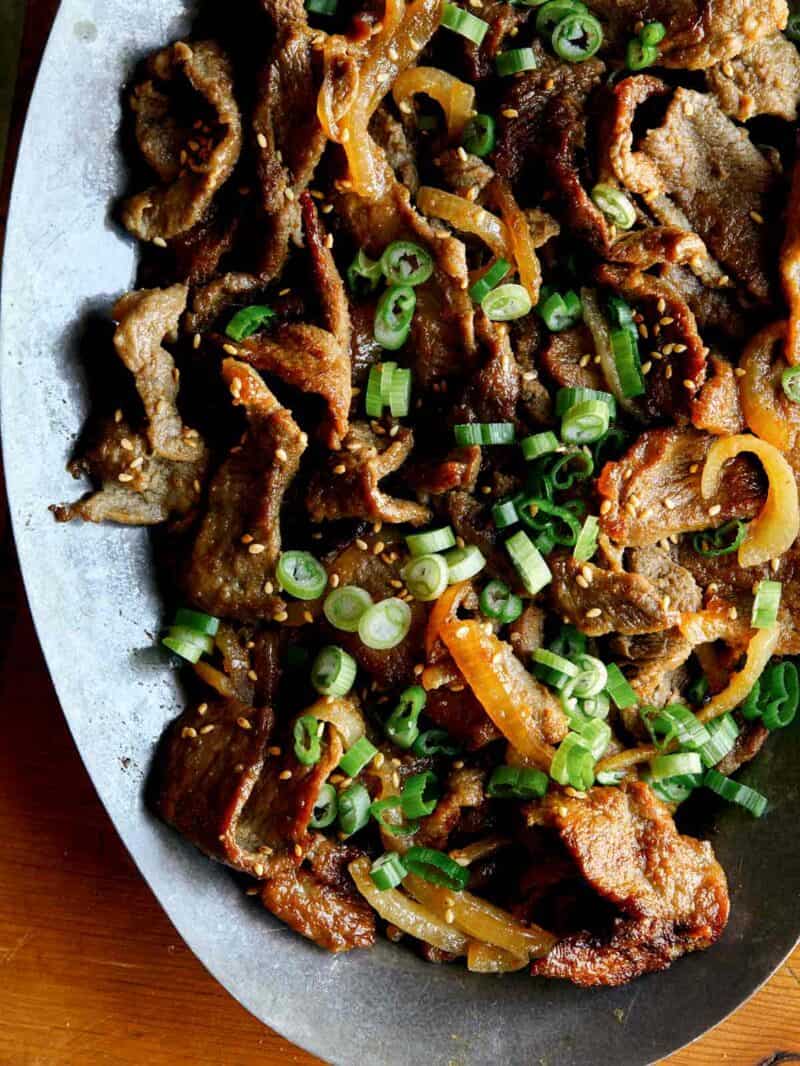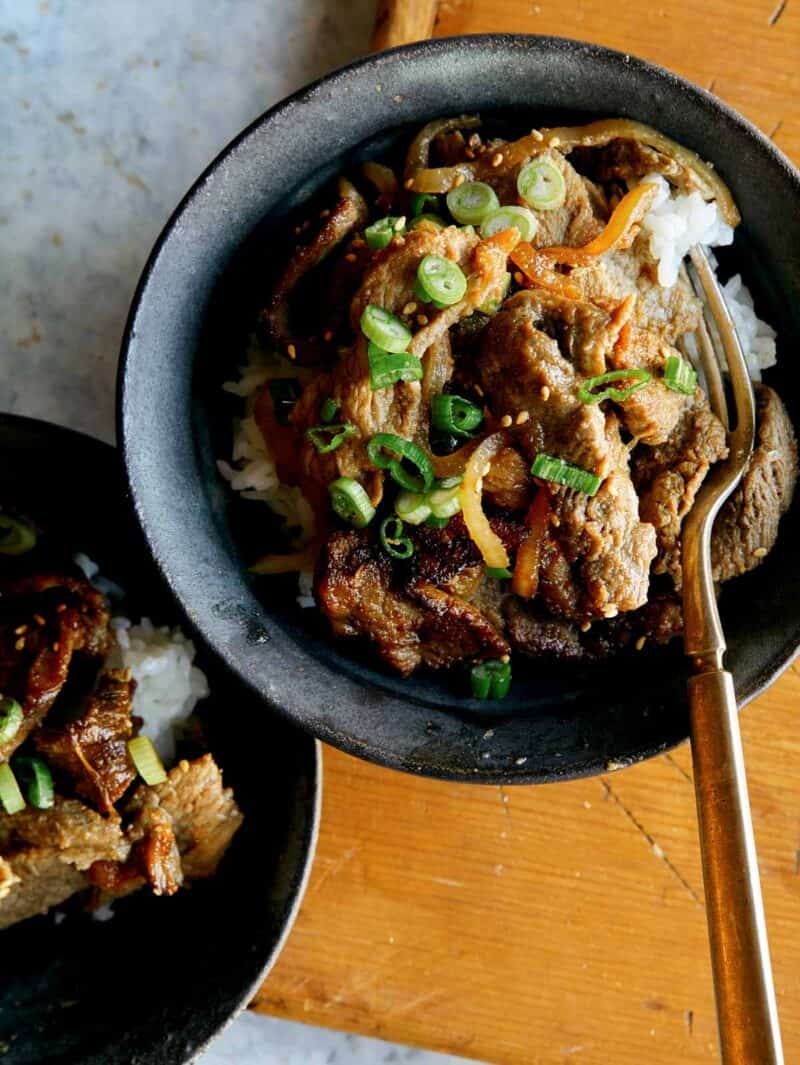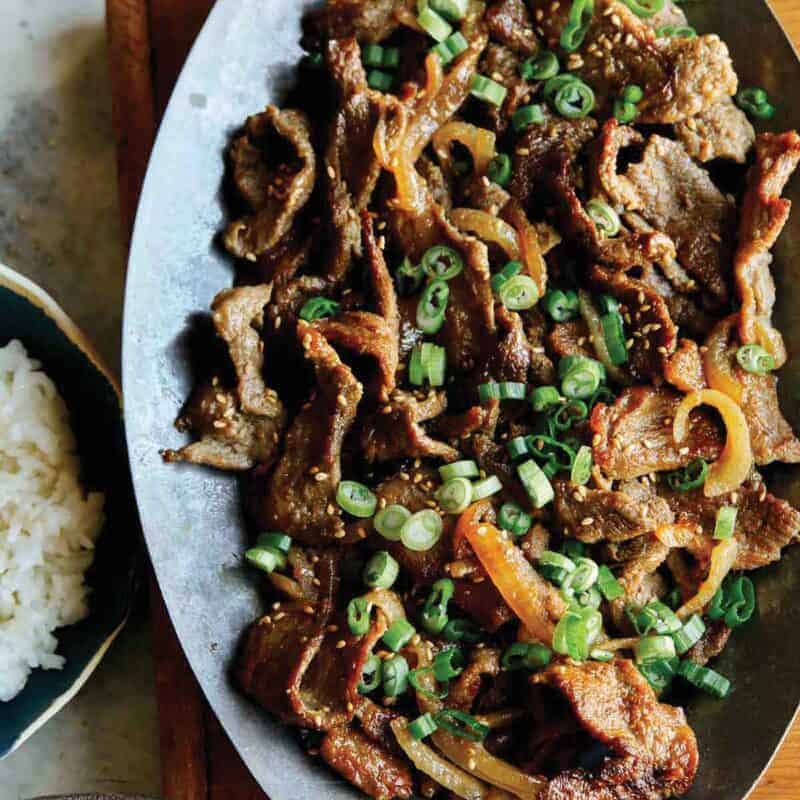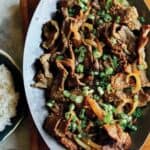 ---
Korean Beef Bulgogi Recipe
This Korean Beef Bulgogi recipe is packed full of flavor. The beef is thinly sliced and sits in a marinade for a few hours which produces an amazing flavor and tender meat.
INGREDIENTS
beef
1½

pounds

boneless ribeye

½

yellow onion

thinly sliced

2

tbsp

vegetable oil

2

green onion

sliced into 2 inch pieces
beef marinade
6

tbsp

soy sauce

2

tbsp

brown sugar

2

tbsp

mirin

(rice wine)

1

tbsp

sesame oil

¼

tsp

cracked black pepper

1

small Asian pear

peeled cored and chopped (or 1 sweet apple such as gala)

½

yellow onion

chopped

2

garlic cloves

1

tsp

minced ginger
garnish
1

green onion

thinly sliced

1

tsp

toasted sesame seeds
INSTRUCTIONS
beef
Place beef in the freezer and partially freeze, about 20 minutes. Remove from freezer and using a sharp knife, thinly slice. Place beef, thinly sliced onion and green onion into a mixing bowl and toss together.
marinade
Place all marinade ingredients into a blender and blend until smooth. Pour marinade over beef and onion mixture and mix together until all beef is well and evenly coated. Cover beef and refrigerate for at least 6 hours and up to 24 hours.

Place a large skillet over medium-high heat. Once skillet is hot add half vegetable oil and swirl to coat.

Add half beef and onion mixture and cook for 4 to 6 minutes, stirring beef as needed until cooked through, remove from heat. Add remaining oil to skillet followed by remaining beef and onion and repeat until beef has just cooked through and sliced onions just begin to soften. Remove from heat.

Top beef with remaining green onion and sesame seeds and serve with rice.
NOTES
To Freeze: Once beef has been marinated for a few hours, place into a ziploc bag, removing all the air, and seal. Freeze for up to 2 months. When ready to use, thaw beef completely and drain any excess liquid. Cook in skillet with oil, over high heat, for 4 to 6 minutes before serving. 
Calories:
338
kcal
Carbohydrates:
55
g
Protein:
7
g
Fat:
11
g
Saturated Fat:
6
g
Sodium:
1580
mg
Potassium:
204
mg
Fiber:
2
g
Sugar:
14
g
Vitamin A:
114
IU
Vitamin C:
6
mg
Calcium:
43
mg
Iron:
1
mg