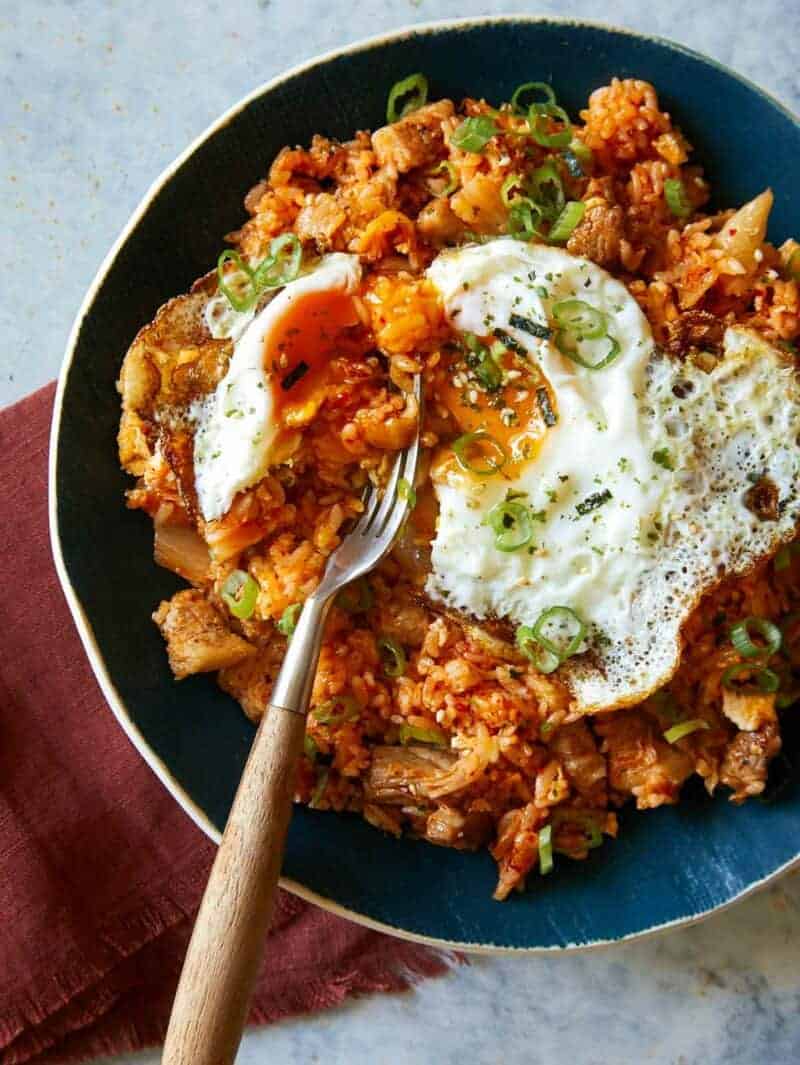 Whenever I'm in the mood for a taste of home I make this Kimchi Fried Rice recipe. I just flew back from Chicago, after spending a whole week at home with my family and I'm still craving my mom's home cooking.
What is Kimchi?
Kimchi is a salted and fermented vegetable side dish. It's an everyday staple in Korean cuisine. Napa cabbage and Korean radish are the most common and widely known vegetables used to make kimchi, but there are hundreds of different types of kimchi, made from a variety of vegetables.
Some examples are cucumbers, burdock, perilla leaves, lotus root, eggplant, green onions. There are dozens of different types and styles of kimchi made from Napa cabbage and Korean radishes alone. It is truly an extremely diverse dish.
Commonly Used Ingredients in Kimchi
Brining salt (which has a large grain size from table salt) is used to begin the salting and fermentation process of most kimchi. Other common ingredients are gochugaru (Korean chili powder), ginger, garlic, green onions, and salted seafood (such as tiny shrimp, oysters, and cod gills), that are all used to flavor different types of kimchi. The different types of kimchi made and ingredients used are associated with different regions throughout Korea.
What makes fried rice 'fried rice'?
Cooking rice in a wok or pan with high heat and a little oil fries the rice. The dish is finished when the grains of rice break apart.
What is gochujang?
Gochujang is a Korean fermented hot chili paste made from a Korean hot pepper. It can be found at Korean grocery stores or the international aisle of most grocery stores. Chung-Jung Won Is my favorite brand to use.
Napa Cabbage Kimchi
For this recipe of Kimchi and Pork Fried Rice I used the common and popular spicy fermented Napa cabbage variety that is precut (vs the whole leaves of quartered Napa cabbage). It caramelizes very well when sautéed, making it perfect for this type of dish.
You can also find this type of kimchi at all Korean grocery stores, some international grocery stores as well as some local grocery stores. The kimchi itself has so much flavor to it that you don't need much else to bring this dish together.
Why we like Pork Belly with Kimchi Fried Rice
The addition of spicy marinated pork belly adds a nice, rich and filling component to the overall dish. You can omit the pork belly and the egg if you prefer a vegetarian style kimchi fried rice.
Pork belly is different from bacon and it's important not to interchange the two in this recipe. Pork belly is bacon before it's cured and smoked, therefore the flavor is much more simple. If you use bacon the end result will be salty and you won't have the nice chunks of meat throughout the dish you get from pork belly.
How to make Kimchi Fried Rice:
This Kimchi Fried Rice recipe is really simple, and all it takes are 7 easy steps:
Marinate the pork: Place all pork marinade ingredients into a bowl, then add the pork and mix. Marinate for at least 30 minutes.
Cook the pork: add vegetable oil to the skillet and cook pork for 4-5 minutes.
Cook the eggs for the rice: add the remaining vegetable oil to the skillet followed by the lightly beaten eggs. As the eggs cook gently break them apart into big pieces in the skillet. Add to cooked pork.
Cook kimchi: add sesame oil to the skillet and then add the kimchi and soy sauce. Cook until kimchi begins to caramelize and 4-5 minutes.
Add rice: add rice to kimchi in skillet and stir until well coated. Then add pork and egg mixture. Continue to cook until rice begins to char around the edges.
Add green onions and sesame seeds. Remove from heat.
Top with remaining green onions and a fried egg if you prefer.
If you love this recipe, we also used this fried rice recipe to make these Kimchi Fried Rice Balls! You might also like our other Korean inspired recipes: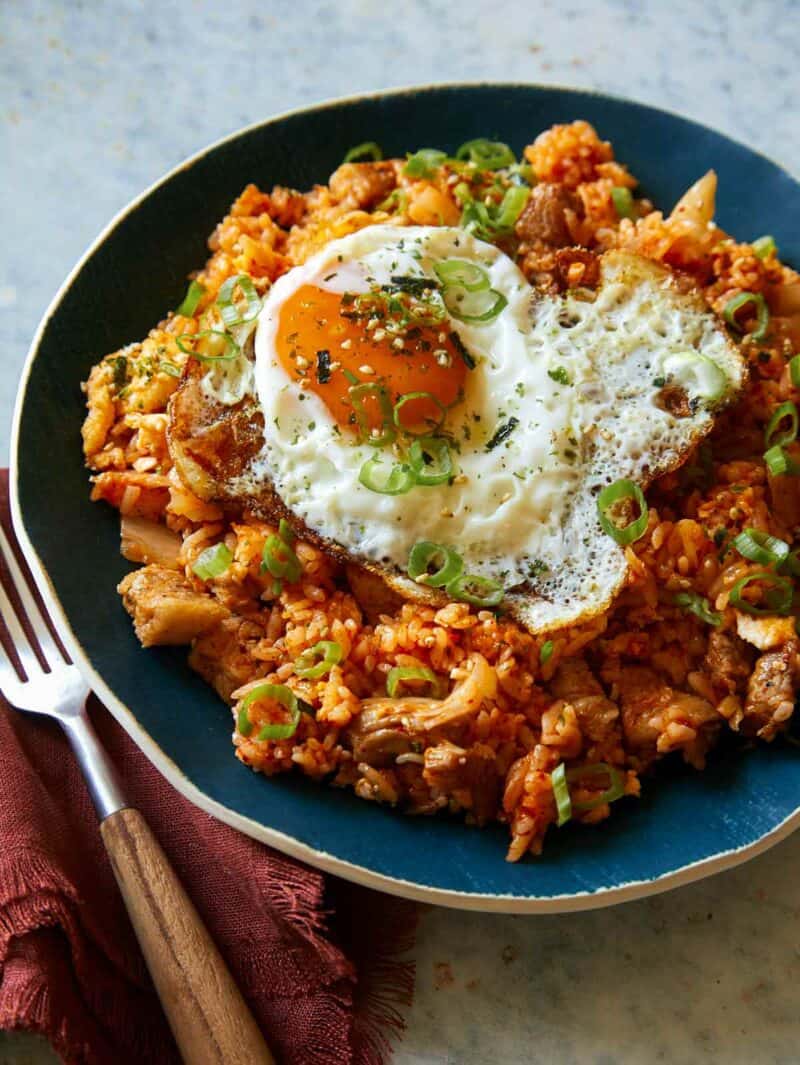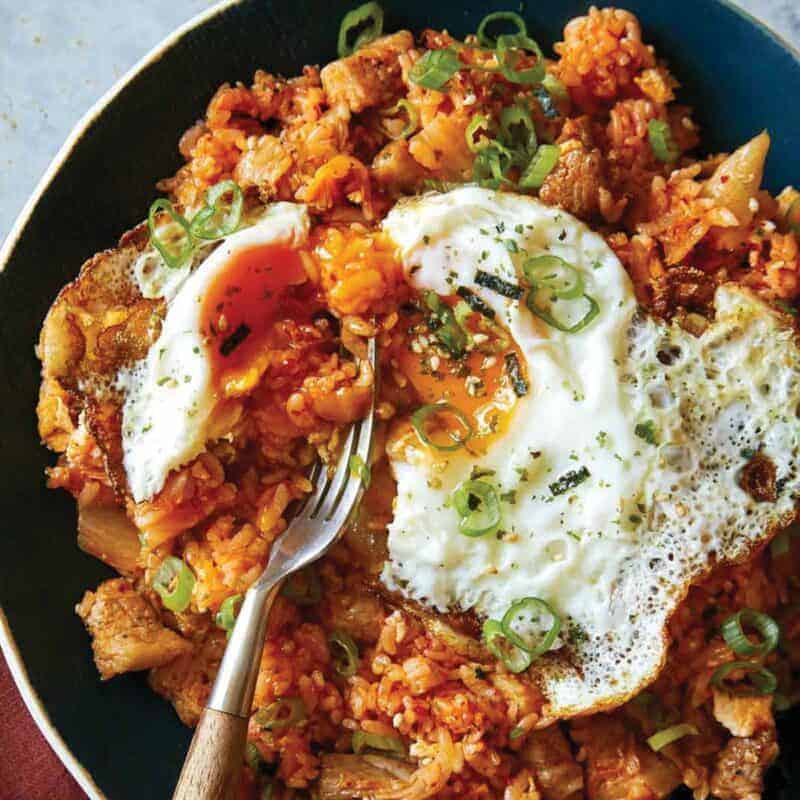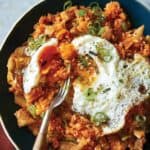 ---
Kimchi Fried Rice
This easy Kimchi Fried Rice recipe is a delicious meal on its own, especially topped with a fried egg. It also makes for a tasty side dish alongside some Korean Beef Bulgogi.
INGREDIENTS
marinated pork belly
1

tbsp

gochujang

(Korean Chili Paste)

1

tbsp

soy sauce

(low sodium)

1

tsp

sesame oil

1

tsp

ginger

minced

1

garlic clove

8

oz

dried pork belly
Kimchi Fried Rice
1½

tbsp

Vegetable oil, divided

1

tbsp

sesame oil

2

eggs

lightly beaten

1½

cups

kimchi

chopped

3

tbsp

soy sauce

low sodium

3

green onions

thinly sliced and divided

2½

cups

steamed rice

2

tsp

toasted sesame seeds
Fried Egg
1

tbsp

vegetable oil

1

large egg
INSTRUCTIONS
Place all pork marinade ingredients into a mixing bowl and whisk together. Add pork and mix together. Set aside and allow pork to marinate for 30 minutes.

Pour 1 tablespoon vegetable oil into a wok or large skillet over high heat. Add pork and saute for 4 to 5 minutes or until browned and just cooked through. Remove from skillet and set aside.

Pour remaining vegetable oil into skillet followed by beaten eggs. As eggs cook, gently but quickly cook, stir and break apart into large pieces. Remove from heat and add to cooked pork belly.

Pour sesame oil into skillet. Add kimchi and soy sauce and saute until kimchi begins to caramelize, 3 to 4 minutes. Add rice and stir together until rice is well coated. Add pork belly and eggs back to the skillet and toss together until evenly distributed through rice mixture. Continue to cook until rice begins to char around edges, about 4 to 5 minutes, then toss together again.

Stir 2 sliced green onions and sesame seeds and remove from heat.

Top with remaining green onion and serve hot.
Fried Egg
Place a nonstick skillet over medium-high heat. Once skillet is hot add oil and swirl to coat.

Crack egg into a small bowl or ramekin and pour into skillet. Fry egg for 4 to 5 minutes or until the white has set with crisp edges and yolk is still runny. Season with salt and pepper and slide over fried rice. Serve.
NOTES
The key to delicious kimchi fried rice is the caramelized kimchi and the crispy edged rice.
To achieve the caramelized kimchi, it's important that the temperature of the stove is on high heat and that the skillet is hot before the kimchi is added. 
To achieve the crispy rice, only stir the rice around every few minutes once it's added to the hot skillet. Allowing the rice to sit undisturbed in the skillet, over the high heat, will allow the bottom of the rice to toast up and create a delightful crisp texture. 
Calories:
610
kcal
Carbohydrates:
31
g
Protein:
14
g
Fat:
47
g
Saturated Fat:
20
g
Cholesterol:
164
mg
Sodium:
1074
mg
Potassium:
263
mg
Fiber:
1
g
Sugar:
1
g
Vitamin A:
268
IU
Vitamin C:
3
mg
Calcium:
50
mg
Iron:
2
mg
KEYWORD:
easy, fried egg, rice
COURSE:
dinner, Side Dish