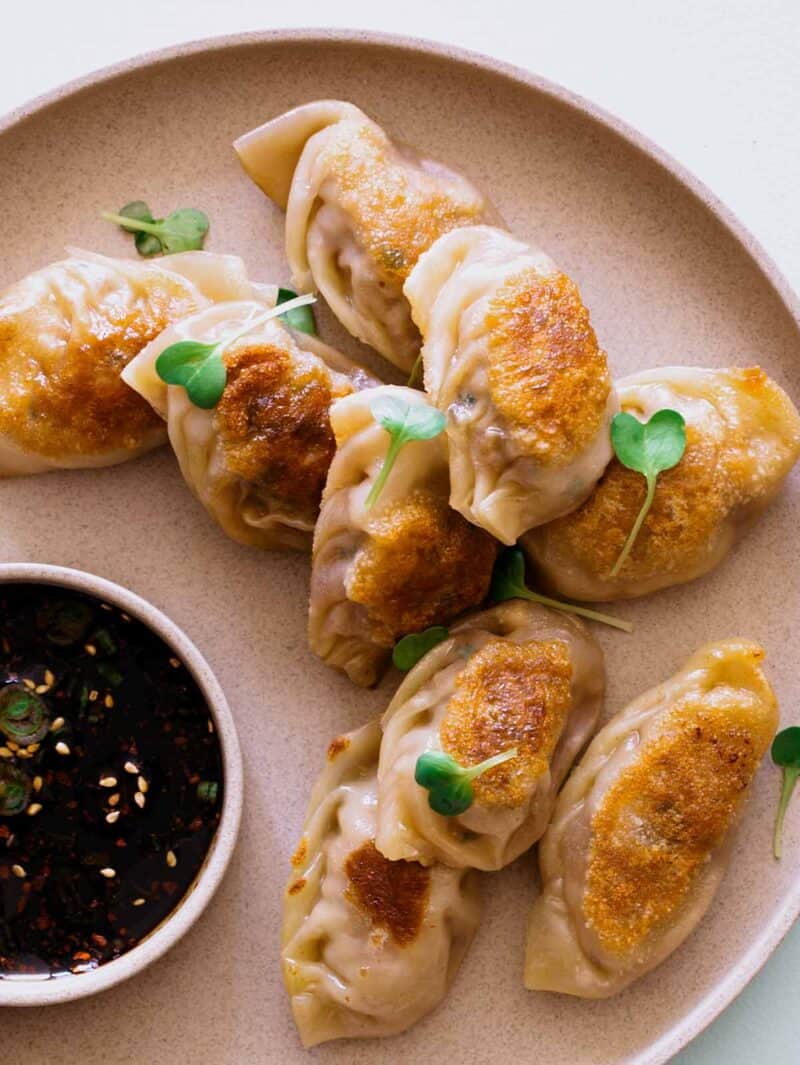 Our Potsticker recipe is sort of a mixed bag of Asian ingredients, but the dipping sauce is very Korean. Choganjang is a Korean condiment generally made of 3 parts soy sauce and 1 part vinegar. It's typically used as a savory seafood pancake dipping sauce, but also great to use for dipping potstickers.
What is a potsticker?
Potstickers are dumplings that are typically steamed before being finished with a bit of pan frying. They are so many things to stuff them with, such as beef, chicken or pork and vegetables like sautéed cabbage and mushrooms. They are commonly made in the shape of half circles, similar to European perogies. All potstickers are dumpling, but not all dumpling are pot stickers. The cooking method of frying, then steaming makes them potstickers.
Why are they called potstickers?
When you are pan frying potstickers, if you cook them for too long they will stick to the 'pot'! We generally like to use a nonstick pan when we cook our potstickers which ensures they'll lift from the pan easily.
Can you freeze potstickers?
Yes, they freeze very well. We love freezing our potsticker recipe for an easy dinner later.  We recommend that you line a baking sheet with a piece of parchment then place uncooked potstickers onto the baking sheet about 1/2 inch apart (they shouldn't touch one another). Next, pop them into the freezer for a couple of hours. Once they are completely frozen you can transfer them into an airtight bag like a ziplock. They will keep frozen for up to three months.
How do you cook potstickers?
Potstickers are usually pan-fried by adding oil to a hot pan and searing the pot stickers. Some water is added to the pan and quickly covered to allow the pot stickers to steam and cook through. Pot stickers can also just be steamed, but as mentioned above those are generally called dumplings.
Gluten free wonton wrappers
You can find a really great recipe for gluten-free wonton wrappers here.
Potsticker sauce
Traditionally potstickers are served with a sauce that is contains soy sauce, rice wine vinegar and brown sugar. We are serving ours with a more traditional Korean sauce called Choganjang, which is three parts soy sauce and one part vinegar. We like to add Korean chile powder, garlic green onions, and sesame seeds to our sauce as well for added flavor.
Potsticker tips and tricks
It's important that all the air is pressed out of the filled wrapper before tightly sealing the sides together to prevent the potstickers from bursting when they're cooked. This is best achieved by starting at one end of the wonton wrapper and carefully pressing the seal to the other end, while removing any air out.
Be careful not to overstuff the wrappers with filling which can also make the potstickers burst while cooking them.
Make sure to remove the skillet from the heat before adding the water to steam the potstickers. This will help to prevent any of the oil in the pan from spattering up and possibly catching on fire from the stovetop flames.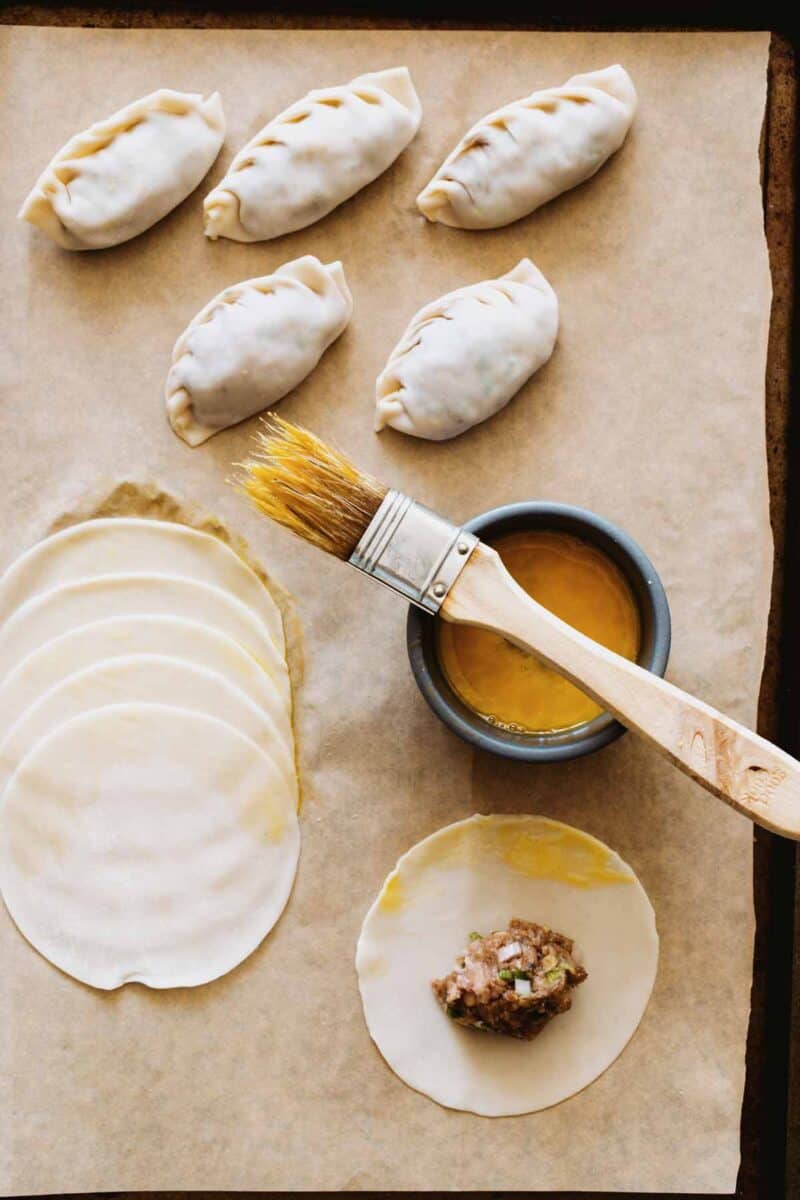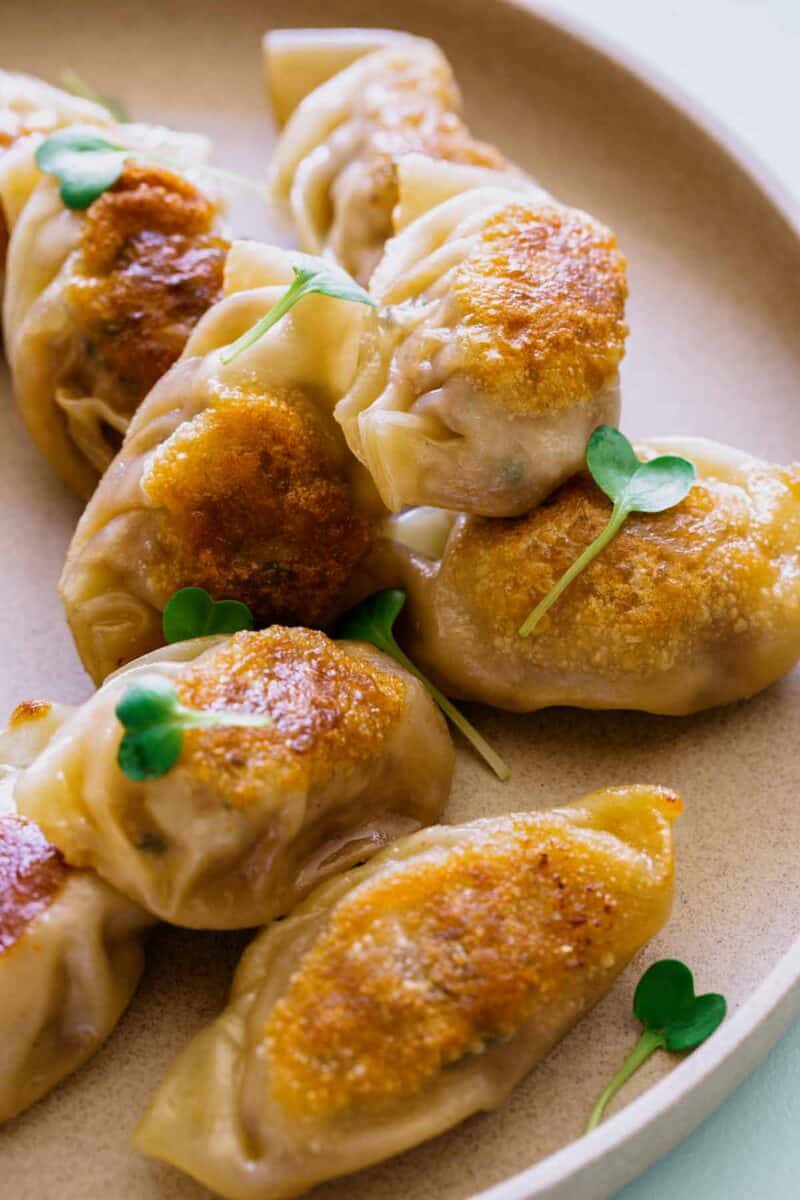 If you like these potstickers you might also like our Pork and Shrimp Dumplings recipe, or our Shanghai Soup Dumplings.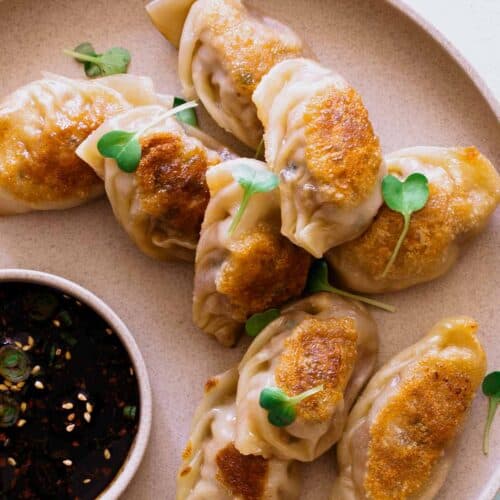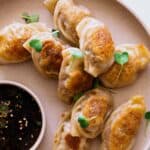 ---
Pot Stickers
A classic potsticker recipe made with pork. Pan seared for a delicious crispy texture. You can easily make a big batch of these and freeze them for later.
Ingredients
pork filling
12

ounces

ground pork

1

baby bok choy, diced

6

water chestnuts, diced

2

green onions, thinly sliced

2

garlic cloves, minced

2

teaspoons

minced fresh ginger

2

teaspoons

soy sauce

1

teaspoon

sesame oil

1

teaspoon

salt

½

teaspoon

cracked black pepper

1

egg, lightly beaten
assembly
1

egg, lightly beaten

30

round wonton wrappers

4

tablespoons

vegetable oil, divided
choganjang
⅓

cup

soy sauce

2

tablespoons

rice wine vinegar

2

teaspoons

sesame oil

1 ½

teaspoons

gochujaru (Korean chili powder)

2

garlic cloves, minced

1

green onion, thinly sliced

1

teaspoon

toasted sesame seeds
Instructions
Place all filling ingredients into a bowl and mix together until well combined. Set aside.

Brush perimeter of a wonton wrapper with the remaining egg and fill center with 1 heaping tablespoon of pork filling. Seal and crimp together.

Set dumplings aside and repeat until all wrappers have been used.

Heat a large, heavy bottom skillet over medium heat and add 2 tablespoons oil.

Add 5 to 6 pot stickers to pan and pan fry for 3 to 4 minutes. Flip pot stickers and continue to fry for 2 minutes.

Add 2 to 3 tablespoons water to the pan and cover for 2 to 4 minute or until the wonton wrappers have softened and steamed and the filling has finished cooking through.

Remove from heat and repeat until all pot stickers have been cooked. Serve immediately with choganjang.

Choganjang:Place all ingredients into a small bowl and whisk together. Serve with pot stickers.
Calories:
403
kcal
Carbohydrates:
26
g
Protein:
17
g
Fat:
26
g
Saturated Fat:
13
g
Cholesterol:
99
mg
Sodium:
1509
mg
Potassium:
272
mg
Fiber:
2
g
Sugar:
1
g
Vitamin A:
1125
IU
Vitamin C:
11
mg
Calcium:
67
mg
Iron:
3
mg