This Sesame Chicken recipe is my  go-to when I am craving Chinese take out. As much as I love cooking, I also love taking a break and ordering takeout. One of my favorite takeout meals is from my local Chinese restaurant. I love getting a variety of dishes to share with my husband and one of our favorite things to order is Sesame Chicken. I love the sticky, sweet and salty sauce that generously coats each, juicy piece of chicken.
What's the difference between sesame chicken and orange chicken?
Both chicken dishes are dredged and fried, but they differ slightly in their sauces. Sesame chicken has the addition of sesame seeds to the sauce, as well as a larger amount of soy sauce. Orange chicken has the addition of orange zest in the sauce.

How do you make sesame chicken?
Combine Sauce Ingredients. First all the sauce ingredients are combined into a mixing bowl and set them aside.
Prepare chicken and batter. Next, the cubed chicken is generously seasoned with salt and pepper. The batter ingredients are then combined into another mixing bowl and whisked together.
Dredge chicken. The oil is preheated in a large wok or pot and the chicken is dredged into the batter.
Fry the chicken. The battered chicken is then transferred to the hot oil and fried until they're just cooked through and the coating is crispy. This may have to be done in batches to prevent overcrowding in the oil, which will prevent the pieces of chicken from crisping up.
Heat sauce. Once all the chicken has been fried, the oil is discarded and the sauce ingredients are added to the wok (or into a clean skillet) over medium-high heat.
Toss chicken and sauce together. Once the sugar has dissolved and the sauce has thickened the chicken is quickly added back to the pan and tossed with the sauce until evenly coated.
Garnish and eat! The sesame chicken is finished with a sprinkle of toasted sesame seeds, and green onion. Serve with rice.

Is sesame chicken gluten-free?
Sesame chicken is generally not gluten free because there is flour in the frying batter. For a gluten free version, you can replace the flour with gluten free flour.
Healthy Sesame Chicken recipe variation
For a healthier version of sesame chicken you can omit the batter all together and pan fry the cubed chicken with a fraction of the oil. Once the chicken has cooked through, add the sauce ingredients and allow the sauce to thicken and coat the chicken. The sauce won't stick to the chicken as well and the texture will be different, but the delicious flavors will all be there.

Can you freeze and reheat sesame chicken?
To freeze: Batter and fry chicken. Once the fried chicken has cooled, place the chicken onto a baking sheet, making sure the pieces aren't touching one another. Once the pieces are frozen, transfer the chicken into a resealable bag. The sauce should be placed in a saucepan and heated until sugar dissolves. Pour sauce into an airtight container and freeze.
To reheat: Thaw sauce before using. Pour a thin layer of oil into a hot skillet and re-fry frozen chicken pieces (be careful of oil spatter). Remove chicken and drain oil. Add sauce to skillet and simmer until slightly thickened. Add chicken and toss together until well coated.
I think the sesame seeds play an important role in this dish, as it adds a lightly nutty flavor overall. I really like using this brand of toasted sesame seeds. Sesame chicken is one of my husbands' favorite dinners to make at home. It's really simple and delicious. He equally loves our delicious Honey-Garlic Cauliflower version, which is similar but vegetarian friendly! Enjoy! xx, Jenny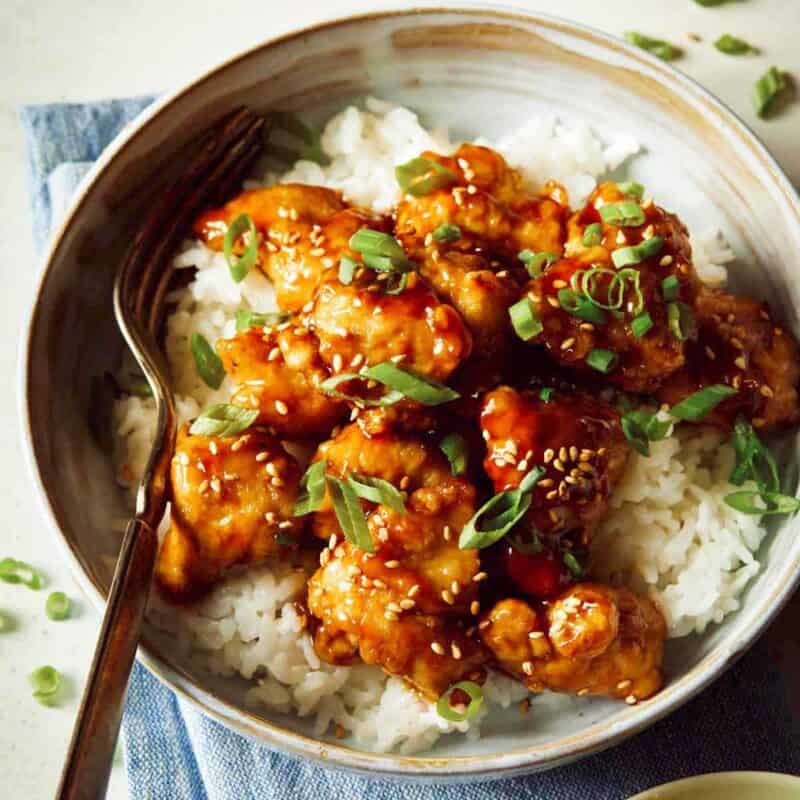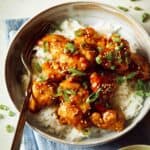 ---
Sesame Chicken recipe
This Sesame Chicken recipe is truly better than takeout! Our Sesame Chicken is sweet, salty, sticky, delicious and really easy to put together. It's a great meal to enjoy on the weekend, but easy enough to make during the week, and makes great leftovers!
INGREDIENTS
Sweet and Sticky Sesame Sauce
½

cup

light brown sugar

¼

cup

soy sauce

¼

cup

rice vinegar

4

tsp

cornstarch

¼

cup

water

1

tbsp

sesame oil

1

tbsp

toasted sesame seeds

2

garlic cloves

minced
Crispy Chicken
6

boneless skinless chicken thighs

cubed into bite sized pieces (about 1 1/2 pounds)

¼

cup

cornstarch

½

cup

all purpose flour

2

large eggs

1

cup

cold seltzer water

salt and pepper to taste
garnish
2

tsp

toasted sesame seeds

1

green onion

thinly sliced
INSTRUCTIONS
Place all sauce ingredients into a mixing bowl and whisk together.

Preheat oil, in a wok or tall sided pot, to 350˚F.

Toss cubed chicken thighs generously in salt and pepper.

Batter: In a mixing bowl whisk together cornstarch and flour. Whisk in eggs and seltzer water until a smooth batter forms.

Add seasoned chicken cubes to batter and stir to coat.

In small batches remove chicken from batter, allowing excess to drip off and transfer to hot frying oil.

Frying: Fry coated chicken for 4 to 5 minutes or until crispy and cooked through. Transfer fried chicken to a baking sheet lined with a cooling rack (or lined with paper towels) and repeat until all chicken has been fried.

Drain oil from wok and place over medium-high heat (or place a clean, large skillet over medium-high heat). Add sauce to wok or skillet and stir together until sugar dissolves and sauce thickens, 1 to 2 minutes.

Assemble: Add chicken to sauce and quickly toss together until all chicken is fully and evenly coated.  Top with more toasted sesame seeds and sliced green onions and serve with steamed rice.
Calories:
394
kcal
Carbohydrates:
34
g
Protein:
26
g
Fat:
17
g
Saturated Fat:
8
g
Cholesterol:
162
mg
Sodium:
677
mg
Potassium:
360
mg
Fiber:
1
g
Sugar:
18
g
Vitamin A:
126
IU
Vitamin C:
1
mg
Calcium:
60
mg
Iron:
2
mg
KEYWORD:
chicken, take out