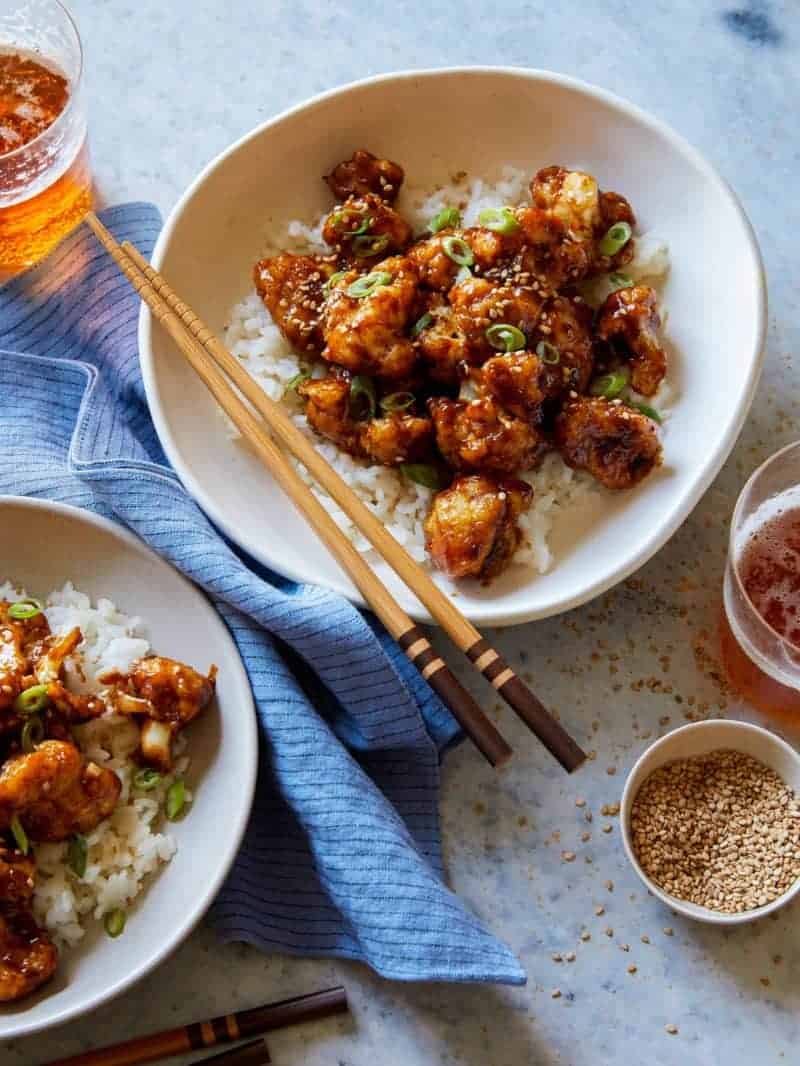 We're starting this week off with a very satisfying meatless dish, our Honey-Garlic Cauliflower over Steamed Rice! I'm just going to say this now, this dish isn't really considered 'healthy', even though it's cauliflower based. This is just my take on Chinese takeout style 'sesame chicken', just swapping out for cauliflower; so yes, there will be frying involved and yes some starch, but I promise this dish is really worth it. The flavor and texture really nails the Chinese takeout vibe and I'm all for it!

I already know some of you will ask if you could skip the dredging and frying and just cook the cauliflower up in a skillet with the sauce….the answer is yes and no. Yes you can totally do that and it will still taste delicious, but also no because then you're basically just making stir-fry and you're really going to be missing out on the great, crispy, saucy texture you would get with properly dredged and coated cauliflower. This recipe os also very simple and comes together within 30 to 35 minutes from start to finish and that's not bad, especially when frying's involved! Enjoy! xx, Jenny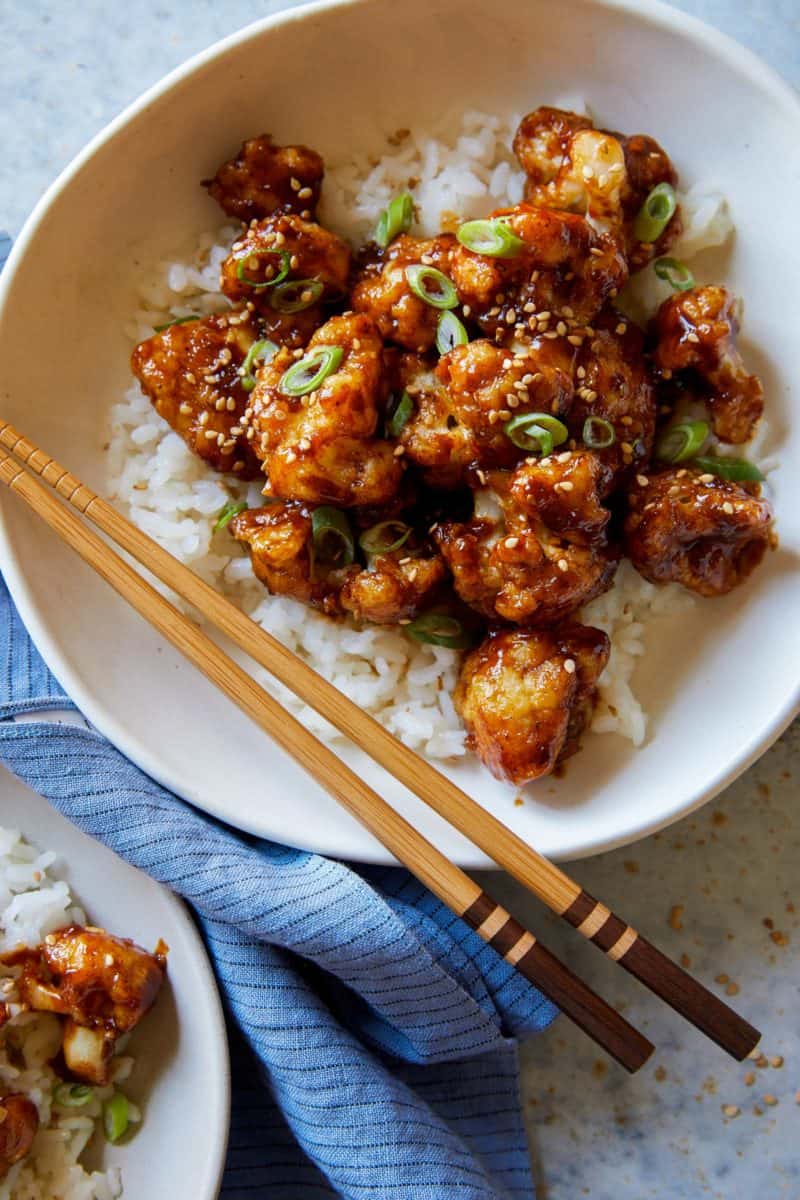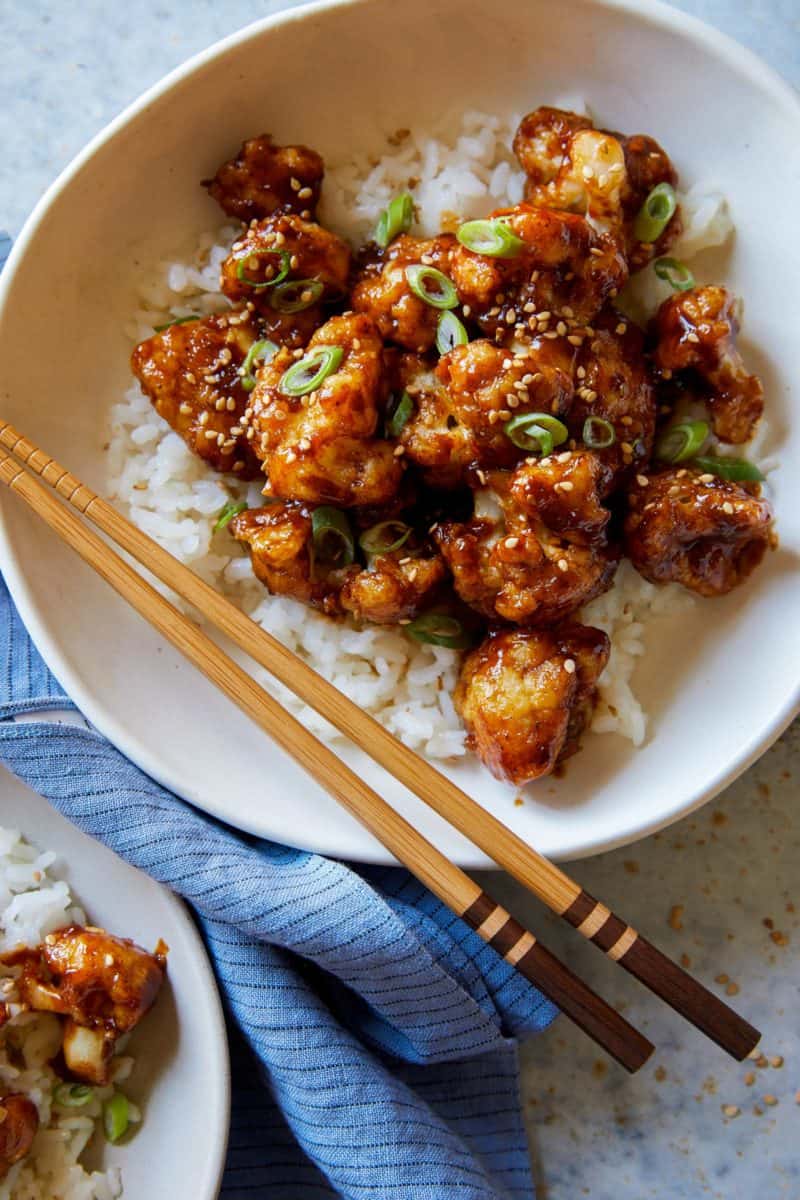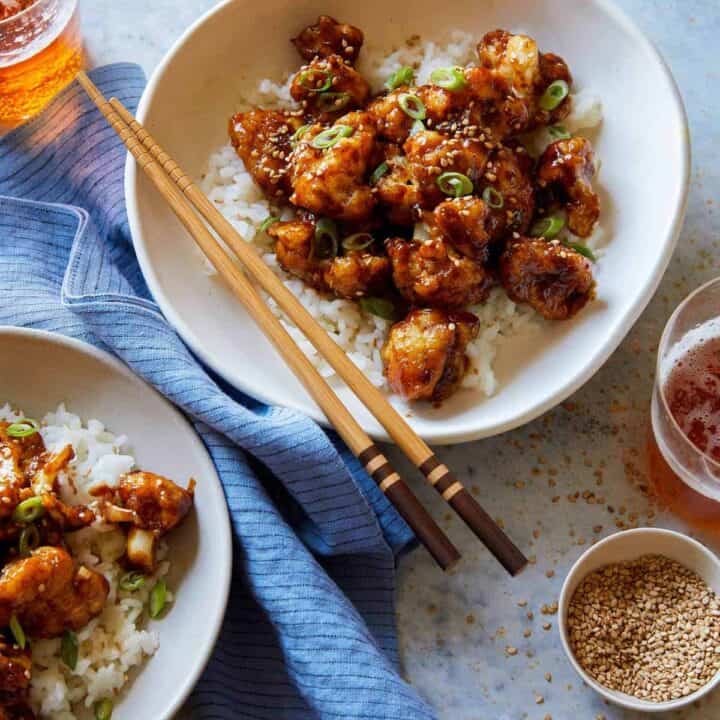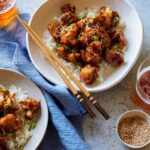 ---
Honey-Garlic Cauliflower over Steamed Rice
INGREDIENTS
1

medium

head cauliflower, stem and outer leaves removed and cut into bite sized florets

1 ½

tablespoons

sesame oil

3

garlic cloves, minced and divided

2

teaspoons

ginger, minced and divided

2

tablespoons

sesame oil, divided

¼

cup

mirin

3

tablespoons

hoisin sauce

2

tablespoons

oyster sauce

2 ½

tablespoons

soy sauce

2 ½

tablespoons

honey

1

tablespoon

sambal chile paste/sauce

¼

teaspoon

white pepper

2

large

eggs, beaten

1

cup

cornstarch

or tapioca starch

oil for frying

sliced green onion, garnish

toasted sesame seeds, garnish

steamed rice, for serving
INSTRUCTIONS
In a large bowl toss together cauliflower, 1 tablespoon sesame oil, 1 minced garlic clove, and 1 teaspoon minced ginger. Lightly season with salt and pepper. Set aside.

In a sauté pan, whisk together remaining garlic, ginger, sesame oil, mirin, hoisin, oyster sauce, soy sauce, honey, sambal, white pepper, and 2 tablespoons water.

Simmer sauce over medium-low heat until slightly thickened. Remove from heat and keep warm.

Place a wok or tall pot over medium-high heat and add about 3 inches oil. Heat oil to 350˚F.

Working in small batches, toss a few cauliflower florets in cornstarch until fully covered. Shake florets well to remove any excess cornstarch. Dip each floret into the beaten eggs, then dredge again in cornstarch. Shake florets very well again to remove any excess coating. (you really want a thin, light and crispy exterior and thick clumps of starch will prevent that)

Again, working in small batches, carefully fry florets for 3 to 4 minutes or until the florets have a crispy coated exterior and tender interior.

Transfer fried cauliflower to a cooling rack sitting atop a baking sheet. Repeat steps 6 and 7 until all florets have been fried.

While the last batch of florets fry, place sauce back over the stove and simmer over medium-low heat.

Add fried cauliflower to sauce and quickly but carefully toss together until all cauliflower is fully and evenly coated.

Scoop cauliflower over plates of steamed rice and top with a sprinkle of sesame seeds and sliced green onion. Serve immediately.
Calories:
547
kcal
Carbohydrates:
83
g
Protein:
11
g
Fat:
21
g
Saturated Fat:
4
g
Cholesterol:
124
mg
Sodium:
1686
mg
Potassium:
702
mg
Fiber:
5
g
Sugar:
28
g
Vitamin A:
180
IU
Vitamin C:
94
mg
Calcium:
75
mg
Iron:
2
mg