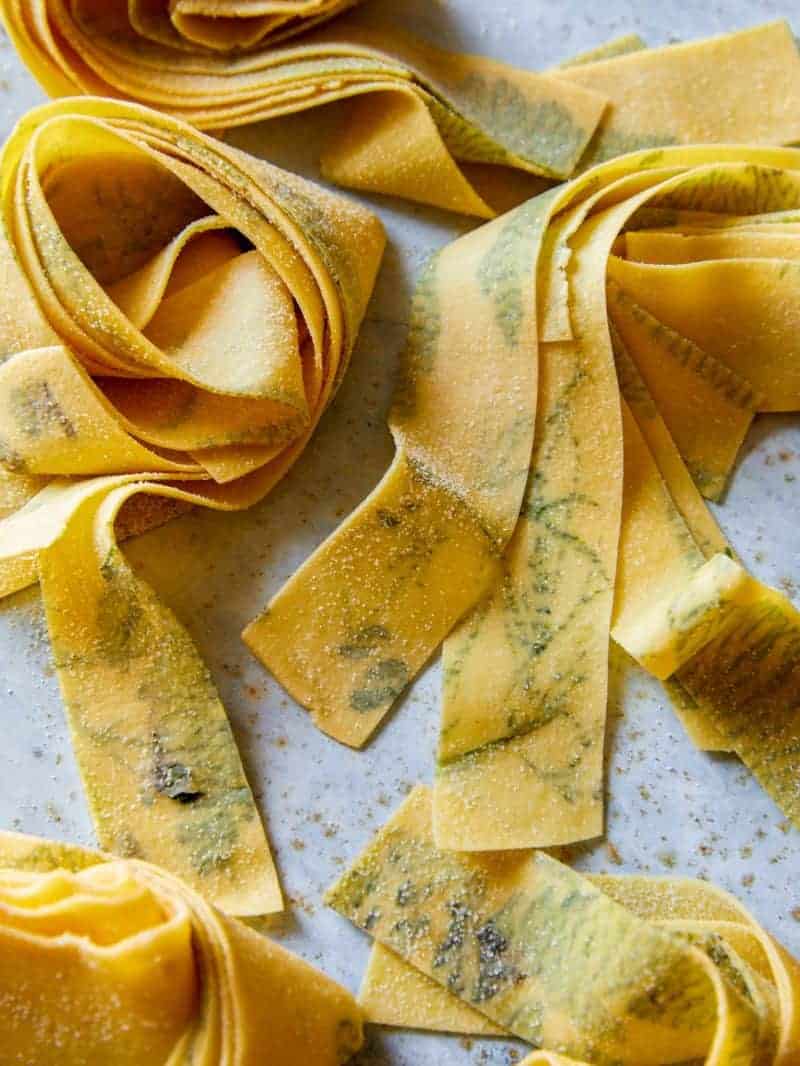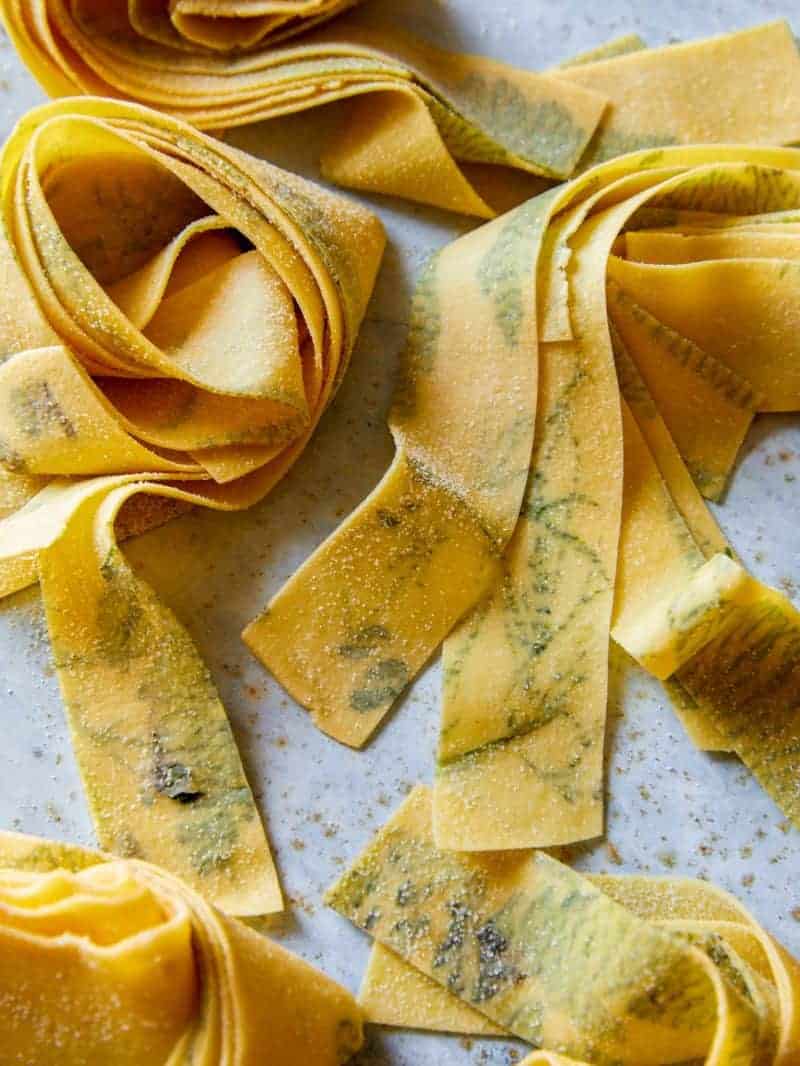 It's finally almost spring!! More importantly, it's almost daylight savings time (lol)! Seriously though, aside from the bummer of losing an hour of life during the spring daylight savings, I LOVE when this time comes around. I can't wait for longer days! Wintertime gets to be a bit of a bummer when it's pitch black outside, I check the time thinking it's 9pm, when in reality it's more like 6pm. 

This time of year also gets me in the mood to make bright, fresh, pretty food again and not just cozy stuffs. So today we have our Herb Laced Pappardelle in a Light Walnut Cream Sauce. I really LOVE making fresh pasta. It's fun and kind of therapeutic for me. Infusing herbs and edible flower petals to fresh is also something I love to do. Not only are you adding little bits of flavor to your pasta, but it ups the gorgeous factor by 1000! It also takes practically zero additional effort to add herbs (or edible flower petals) to your fresh pasta. I made an herb and floral laced ravioli last year and it was one of my favorite dishes to create!

I made a super quick walnut cream sauce for the pappardelle, because I really wanted the pasta to standout. I love the added texture and mild flavor the walnuts adds to the dish. The basil leaves added at the end really add a lovely punch of freshness to the overall dish. Simple and clean flavors. Yum. Hope you guys enjoy this one! xx, Jenny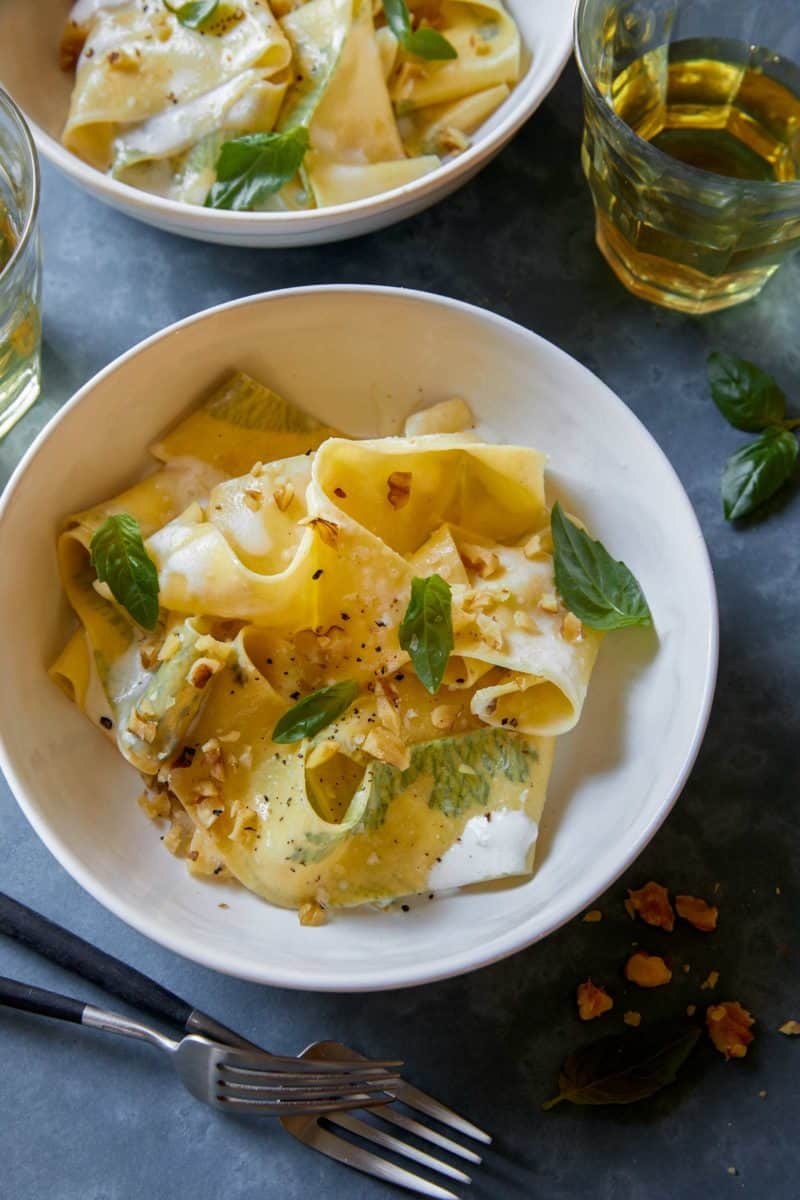 Hungry for more?
Subscribe to never miss a recipe.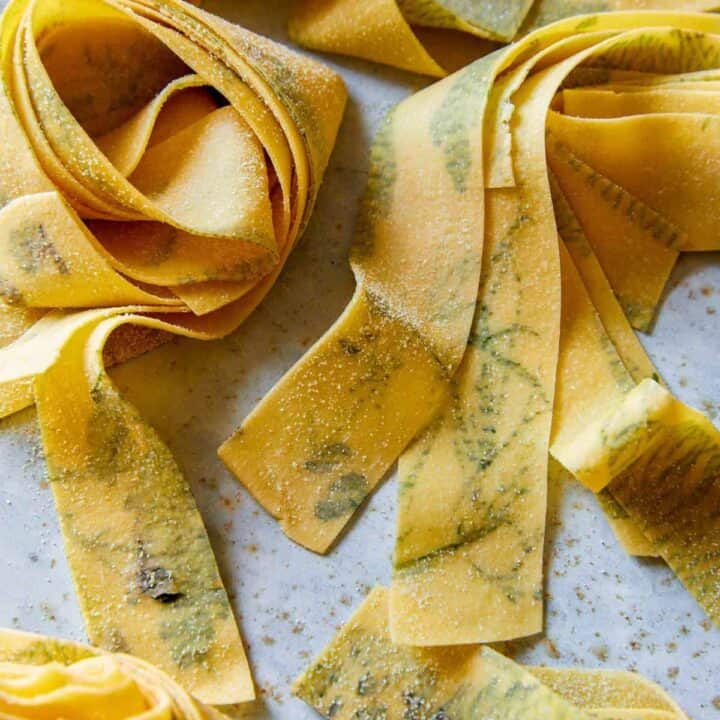 ---
Herb Laced Pappardelle in a Light Walnut Cream Sauce
INGREDIENTS
herb-laced pasta dough
2

eggs

1 ½

cups

all-purpose flour, plus more for dusting

¼

cup

semolina flour, plus more for dusting

1

tablespoon

extra-virgin olive oil

1 to 2

tablespoons

water, as needed

1 to 1 ½

cups

loosely packed, soft herb leaves such as thyme, parsley, dill, oregano, tarragon, etc.
walnut cream sauce
2

tablespoons

unsalted butter

2

tablespoons

shallot, minced

1

garlic clove, minced

⅔

cup

dry white wine

or unsalted chicken or vegetable stock

1

cup

half and half

½

cup

crushed walnuts, plus more for garnish

2

tablespoons

freshly grated Parmesan

salt and pepper to taste
INSTRUCTIONS
For dough: In a mixing bowl combine flours and whisk together. On a clean work surface or in a bowl place 1 ½ cups of flour mixture in a mound. Make a well in the center of flour and crack eggs into well, followed by oil.

Using a fork gently whisk eggs and oil together while slowly incorporating flour. Once flour and eggs are combined, add more flour little by little to form a ball that is no longer sticky to touch.

If dough is dry add water, 1 teaspoon at a time. Knead dough until dough feels smooth and tight, but still bounces back when gently pressed. Roll dough into a ball and cover with a damp towel for at least 20 minutes before using (to allow the glutens to rest).

Sprinkle ap flour over a clean surface and roll dough until very thin (almost paper thin).

Sprinkle herbs over one side of rolled pasta, making sure each leaf is laying as flat as possible.

Carefully fold herbless pasta side of dough over the side with herbs and gently roll dough together until dough and herbs infuse into one another and you can see the herbs through the pasta.

Trim ends of dough and cut into long 1 inch wide (and anywhere from 12 to 18 inch long) strips of pappardelle. Sprinkle semolina over a clean baking sheet and lay pappardelle over semolina, in a single layer. Sprinkle with more semolina, loosely cover with a damp towel and refrigerate until ready to use.

To dry pasta: Hang pasta with a pasta dryer (or with clean clothing hangers) in a cool, dry area until pasta is fully dry (may take longer to dry due to the moisture in the herb leaves. It's important to keep an eye on your pasta as it dries to make sure it's drying properly and not developing mold). Pack into fully sealable bags and containers until ready to use (lasts for up to 6 months).

For pappardelle in a light walnut cream sauce: Place a large pot of water over high heat and bring to a boil. Add a small handful of salt and pappardelle and boil until al dente, about 4 to 5 minutes, stirring occasionally.

As the pasta cooks, place a large skillet over medium heat and melt butter over medium heat.

Add shallot and garlic, season with salt and pepper and saute for 2 to 3 minutes.

Deglaze pan with white wine and simmer until skillet is almost dry.

Add half and half and continue to simmer until sauce has reduced by half, about 3 to 4 minutes.

Stir in Parmesan and walnuts and simmer for 1 minute or until mixture is creamy and able to coat the back of a wooden spoon.

Using tongs, add pasta directly from the pot to the skillet (the pasta transfer will add some pasta water to the skillet and slightly thin the sauce out) and gently toss together. Adjust seasonings.

Top pappardelle with more crushed walnuts and fresh basil leaves. Serve.
Calories:
545
kcal
Carbohydrates:
51
g
Protein:
14
g
Fat:
29
g
Saturated Fat:
10
g
Cholesterol:
121
mg
Sodium:
102
mg
Potassium:
315
mg
Fiber:
3
g
Sugar:
2
g
Vitamin A:
1002
IU
Vitamin C:
3
mg
Calcium:
146
mg
Iron:
4
mg