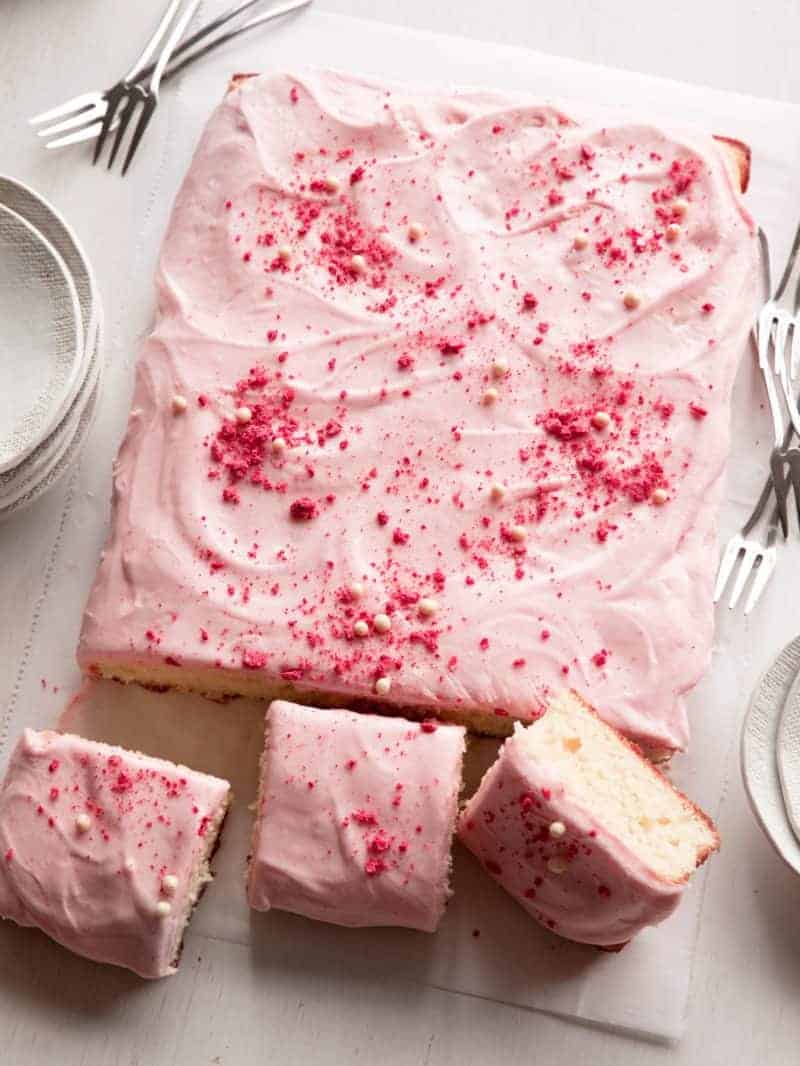 Happy spring, everyone! Not only is it officially spring, but the weather in LA has been really gorgeous lately! We're celebrating the awesome weather and the start of spring with our first sheet cake recipe! A Vanilla Bean Sheet Cake with Strawberry Frosting! I love a good sheet cake and couldn't believe we haven't done one for the blog yet! Crazy! So today's the day! This cake is light fluffy, delicious and really simple to make! I used freeze-dried strawberries in this frosting bc I really wanted a nice, strong flavor of real strawberry and the flavors in the freeze-dried strawberries and nice and concentrated they get the job done! Enjoy! xx, Jenny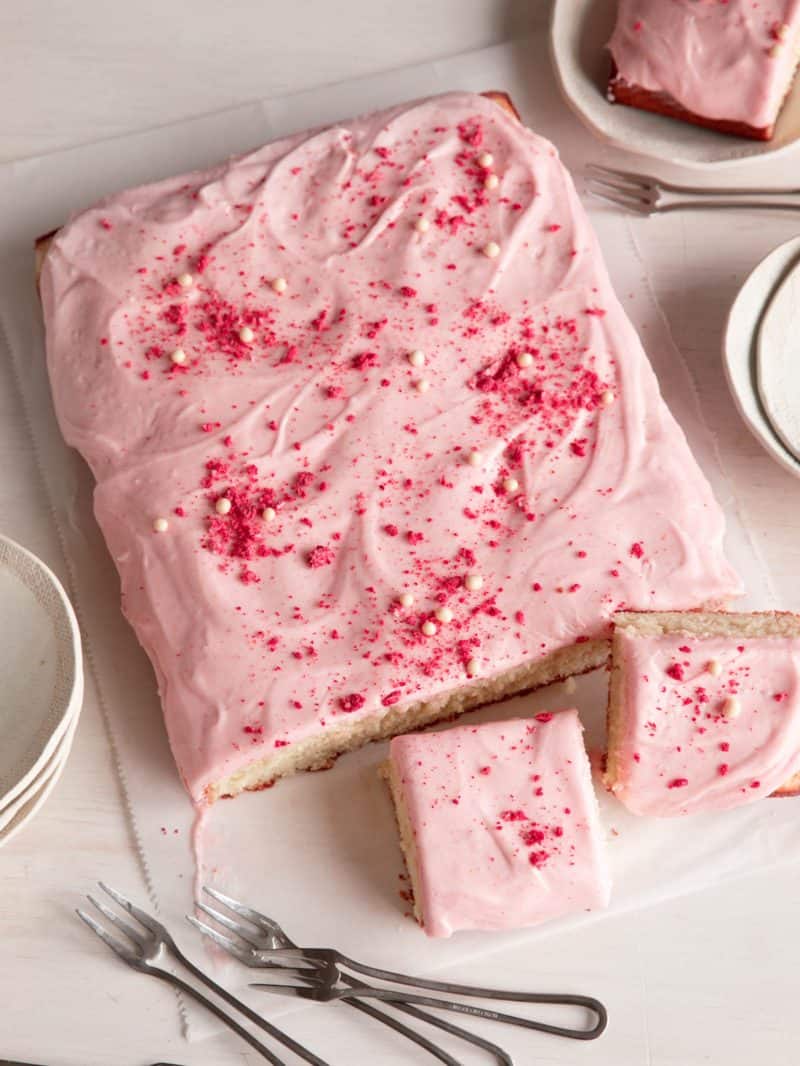 Vanilla Bean Sheet Cake with Strawberry Frosting

Makes 1 (9"x 13")

Ingredients:
cake:
3 1/2 cups all-purpose flour
4 teaspoons baking powder
1 teaspoon kosher salt
1 cup (2 sticks) unsalted butter, softened
2 cups sugar
3 large eggs, room temperature
2 teaspoons vanilla paste or 1/2 vanilla bean
1 1/2 cups whole milk
strawberry frosting:
1/4 heaping cup freeze-dried strawberries
2 cups powdered sugar
1 cup (2 sticks) unsalted butter, softened
2 to 3 tablespoons whole milk
pinch salt
garnish:
roughly crushed freeze-dried strawberries
white chocolate crispy balls, optional

Directions:
1. Preheat oven to 350˚F.
2. Lightly grease a 9"x 13" baking pan and line with parchment (so longer sides of pan have a couple inches of overhang on each side).
3. In a large bowl whisk together flour, baking powder and salt. Set aside.
4. In the bowl of a stand mixer, cream together butter and sugar , with the paddle attachment, until light and fluffy.
5. Scrape down sides of bowl and with motor running add eggs, one at a time, until incorporated. Stir in vanilla.
6. Add 1/3 of the flour mixture and 1/3 of milk to the butter mixture and mix. Continue adding flour and milk in thirds until fully incorporated and batter is smooth, making sure not to over mix.
7. Pour batter into prepared baking dish and bake for 30 to 35 minutes or until golden brown on top and a toothpick come out clean when inserted into the center of the cake.
8. Place cake onto a cooling rack and cool completely. Once cooled, lift cake out by the parchment paper. Peel parchment paper from cake and transfer cake to a platter or cutting board.
9. For frosting: Place freeze-dried strawberries and powdered sugar into a food processor and pulse until smooth.
10. Cream butter in a mixing bowl of a stand mixer until light and fluffy. Add powdered sugar mixture to butter, with motor running until fully incorporated. Scrape down sides of bowl, add milk and beat together until smooth.
11. To assemble: Scoop frosting onto top of cake and spread evenly over the top with a spatula. Sprinkle with crushed freeze-dried strawberries and white chocolate crispy balls, if using. Slice and serve.