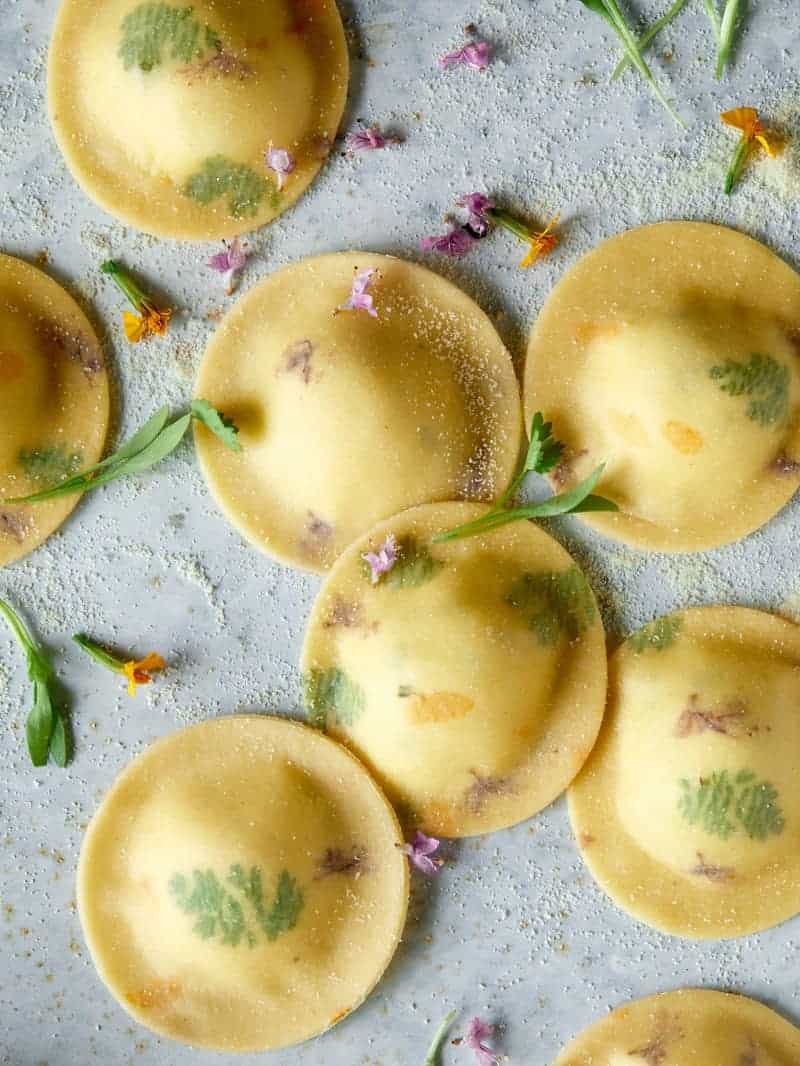 I love today's recipe, our Floral Laced Ravioli with Cheesy Herb-Ricotta Filling. It's both simple and satisfying in flavor, but still a gorgeously worthy dish to serve to guests. This ravioli is so fun and appropriate for the spring season; this is definitely the best time to see a number of herbs beginning to bud delicate little flowers. It does take a little bit of effort to put together, but in the end is really worth it! You can also double this recipe and freeze any (uncooked) ravioli that you don't use the first time around. They freeze really well, in an airtight container, for up to two months. Enjoy! xx, Jenny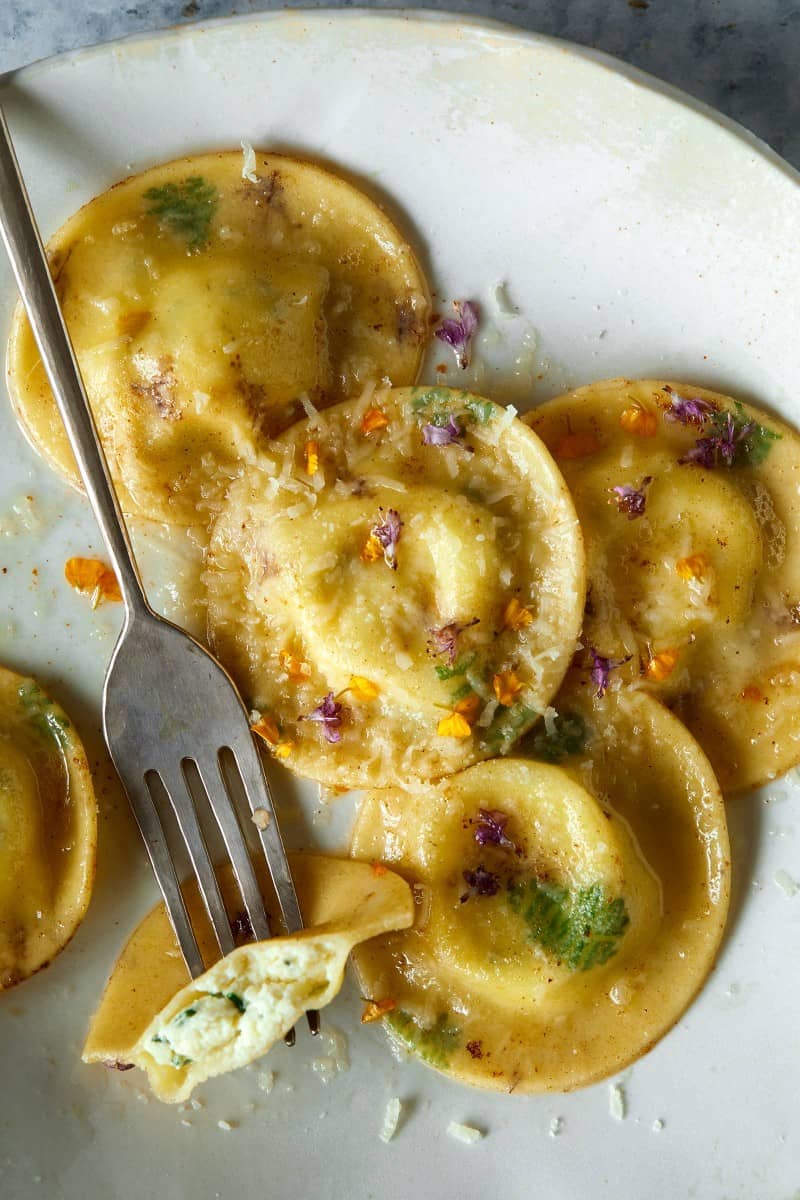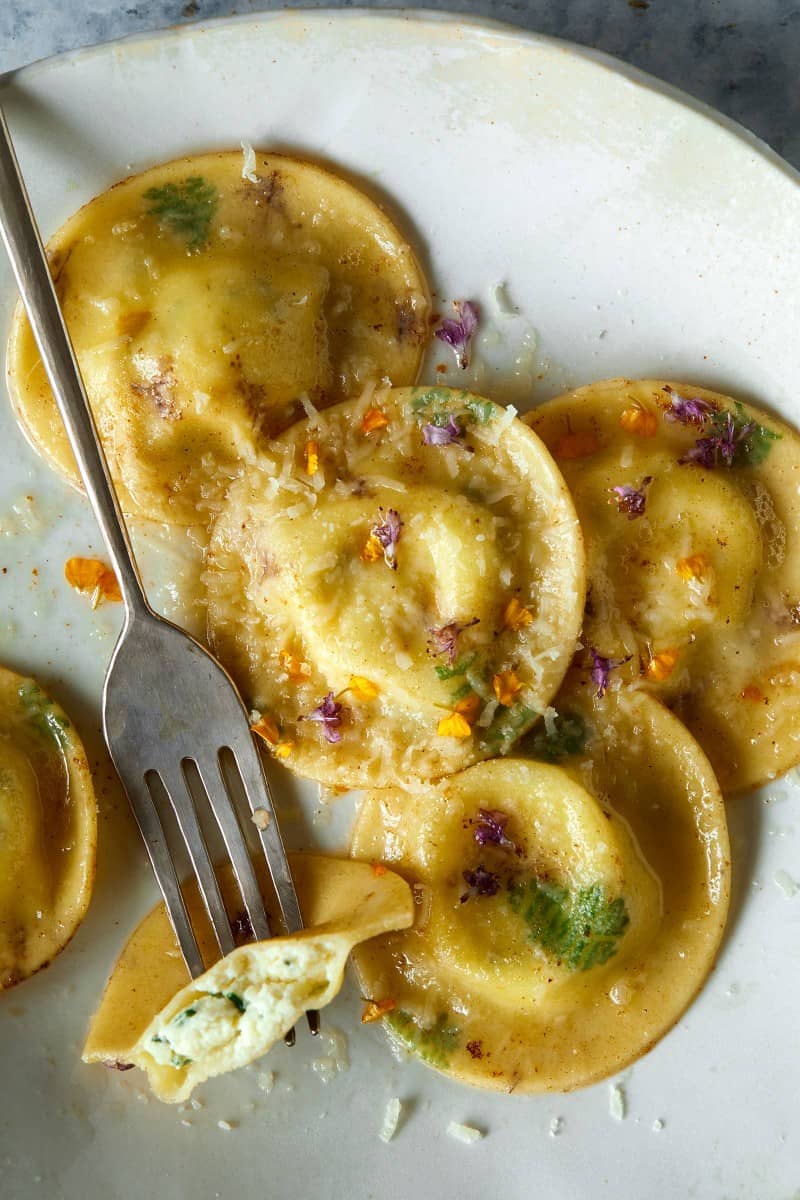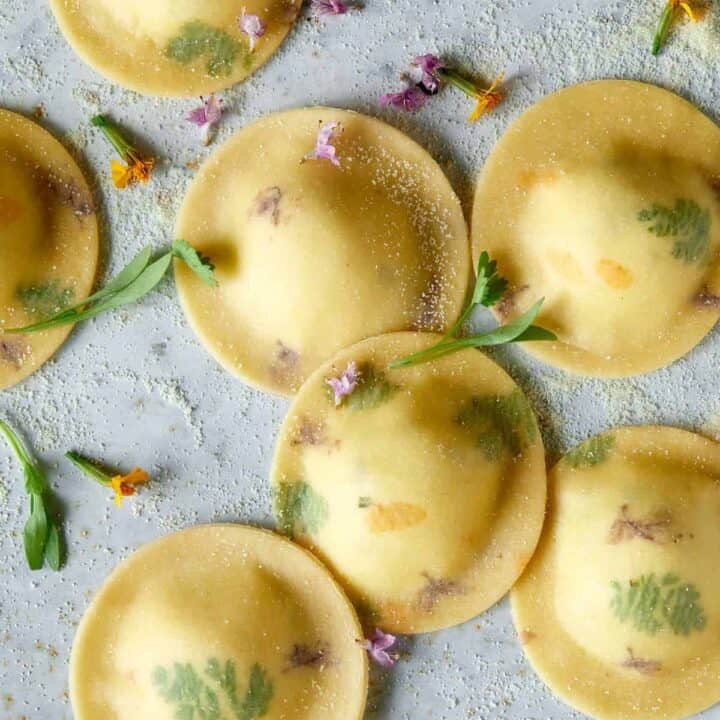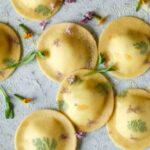 ---
Floral Laced Ravioli with Cheesy Herb-Ricotta Filling
INGREDIENTS
Herb-ricotta filling
8

ounces

whole milk ricotta

2

ounces

grated Asiago cheese

1

ounce

grated Parmesan cheese

1

garlic clove, minced

2

tablespoons

thinly sliced chives

1

tablespoon

minced thyme

1

tablespoon

minced basil leaves

salt and pepper to taste
pasta
semolina flour for sprinkling

1

large

egg plus 1 tablespoon water, beaten together

variety soft herb flowers and soft herb leaves

½

cup

(1 stick) unsalted butter

salt and pepper to taste
garnish
fresh herb flowers

grated Parmesan
INSTRUCTIONS
Filling: Place all filling ingredients into a mixing bowl and mix together until completely combined. Season with salt and pepper, cover and refrigerate until ready to use.

Laced pasta dough: Lightly flour a clean surface, roll pasta dough into a paper thin sheet, 24" by 24" in size, and cut it into 6, 4" wide strips. Top one third of the strips with two rows of herb flowers and leaves and top each with another sheet of pasta.

Roll sheets together until paper thin and herbs have been encased in the dough. Gently toss the pasta with semolina and cover with plastic wrap until ready to use.

To assemble : Spread out pasta sheets onto a clean surface and brush away any excess semolina. Place tablespoon-size dollops of filling every 2 inches along the length of the pasta sheets that aren't covered in herbs., making 12 mounds per strip (24 total).

Brush the egg wash all over the pasta surrounding each mound. Carefully lay a second sheet of pasta over the top and gently press around each mound of filling to release any air bubbles and seal the ravioli. Use a 2 ½ inch round cutter centered around the mound of filling to cut out the 12 ravioli, per strip.

Bring a generous amount of salted water to a boil in a large stockpot. Carefully add half of the ravioli and boil for 3 minutes, just enough to cook them through.

While Ravioli cooks, place large skillet over medium heat and add half butter. Melt and toast butter until lightly browned and it beings to have a nutty fragrance.

Using a slotted spoon, transfer ravioli from boiling water to the skillet with browned butter. Lightly season wit salt and pepper. Transfer ravioli to a platter and top with herb flowers and grated Parmesan. Finish with sea salt.

Repeat steps 6 through 8 with remaining ravioli and butter and serve.