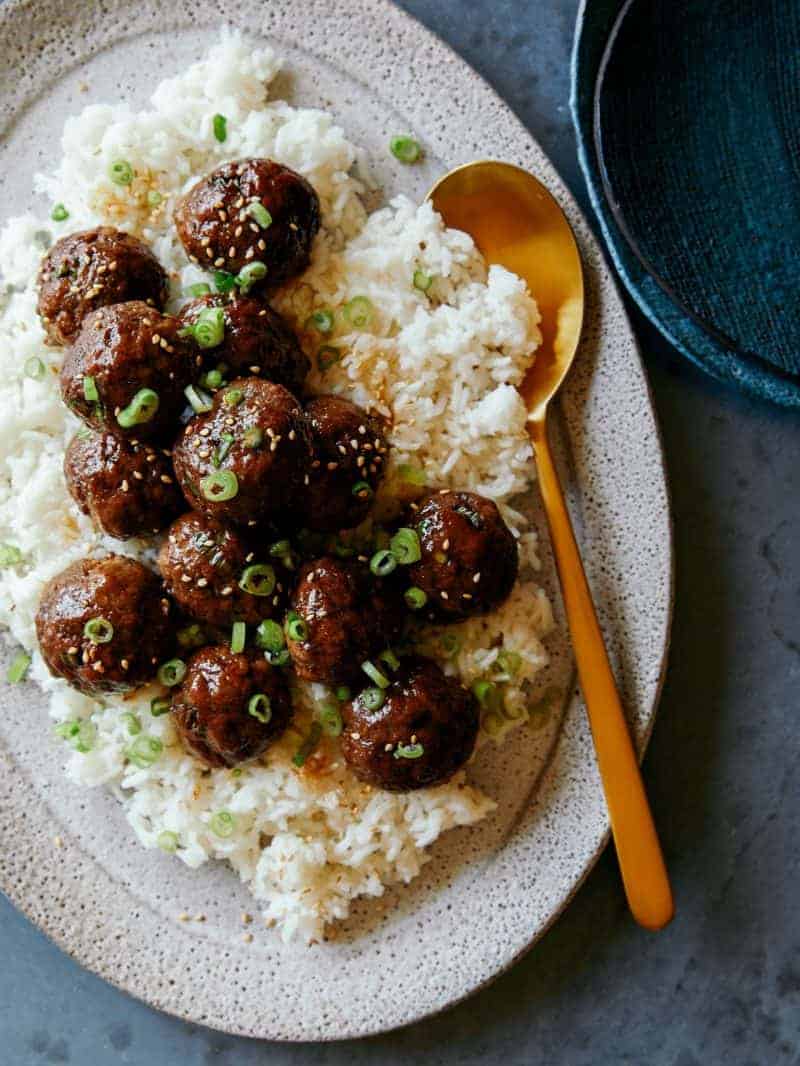 I love this recipe Jenny created, not only because I freaking love meatballs, but because these reheat so well, so you can make em once and then have enough for another dinner some other weeknight. These also make a great appetizer recipe on their own too! These Korean BBQ meatballs have that sweet and savory thing going on which really caramelize in the oven. I hope you guys love them as much as I do!
♥ Teri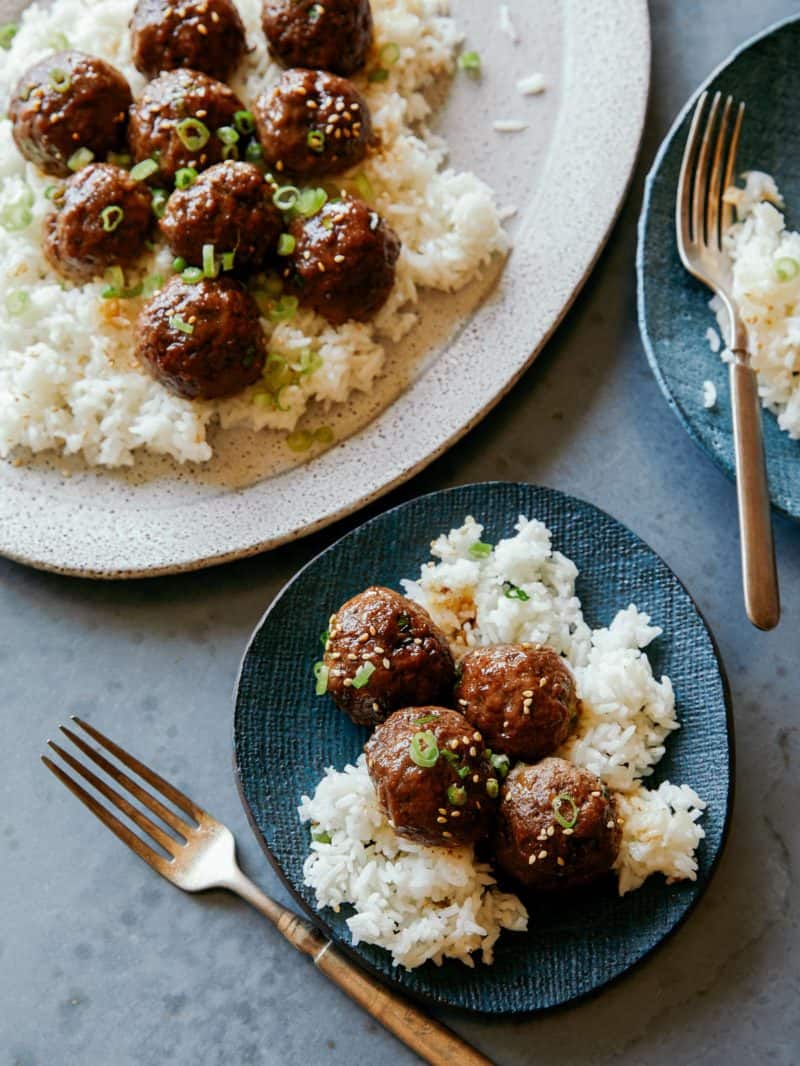 Korean BBQ Meatballs over Rice

Makes ~24

Ingredients:
garlic-soy glaze:
1/2 cup (low sodium) soy sauce
2 1/2 tablespoons light brown sugar
2 minced garlic cloves
1/2 teaspoon minced ginger
bbq marinade:
1/4 cup light brown sugar
1/4 cup low sodium soy sauce
1 tablespoon mirin (optional)
1 teaspoon sesame oil
¼ small Asian pear, peeled, cored and chopped
1/4 yellow onion, chopped
2 garlic cloves
1 teaspoon fresh ginger, minced
1 green onion, thinly sliced (plus more for garnish)

1 pound ground beef
salt and pepper to taste

toasted sesame seeds, for serving
steamed white or brown rice, for serving

Directions:
1. Preheat oven to 375˚F.
2. Place all glaze ingredients into a small saucepan and simmer for 10 minutes. Remove from heat and set aside until completely cooled and thickened.
3. Place all marinade ingredients into a blender and blend until smooth.
4. In a mixing bowl, pour marinade ingredients over ground beef and lightly season with salt and pepper. Mix everything together until evenly combined.
5. Line a rimmed baking sheet with foil. Roll beef mixture into 24 even sized balls and place onto prepared baking sheet, 1/2 inch apart.
6. Bake meatballs for 12 to 15 minutes or until just cooked through.
7. Remove meatballs from oven and brush each one with cooled glaze.
8. Place baking sheet until broiler and broil glazed meatballs for 30 seconds to 1 minute.
9. Remove meatballs from broiler and brush with more glaze.
10. Pile meatballs over a platter of steamed rice and finish with sliced green onions and toasted sesame seeds.