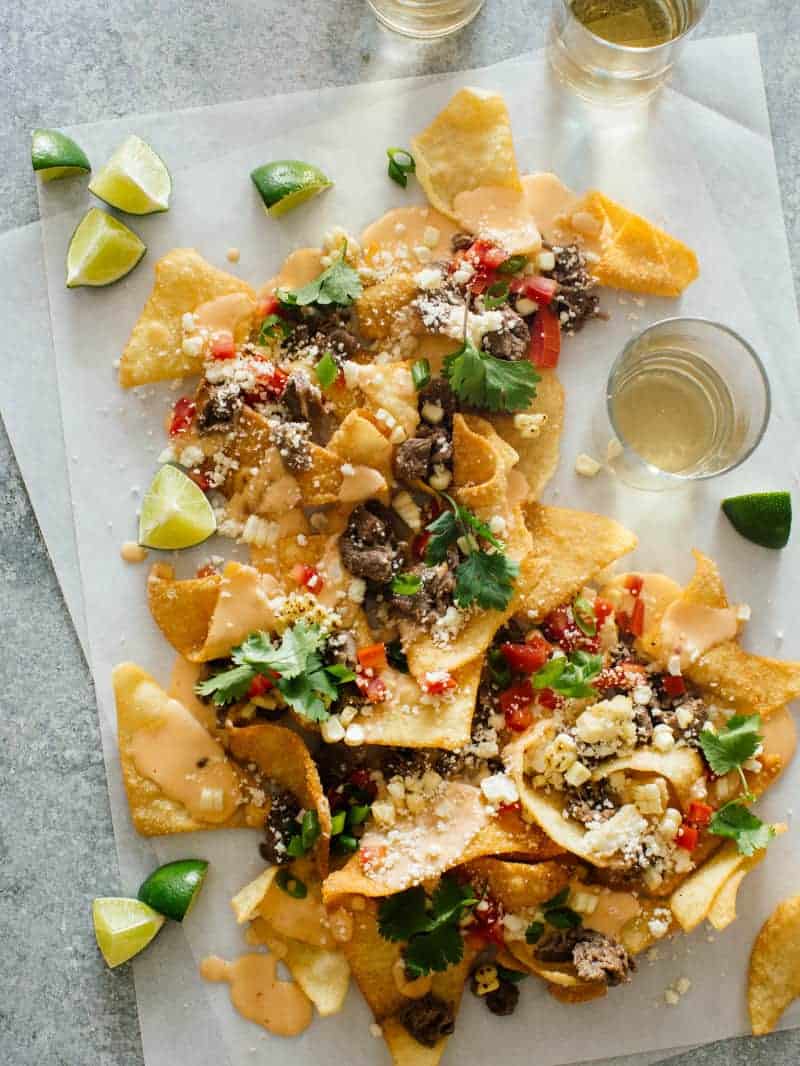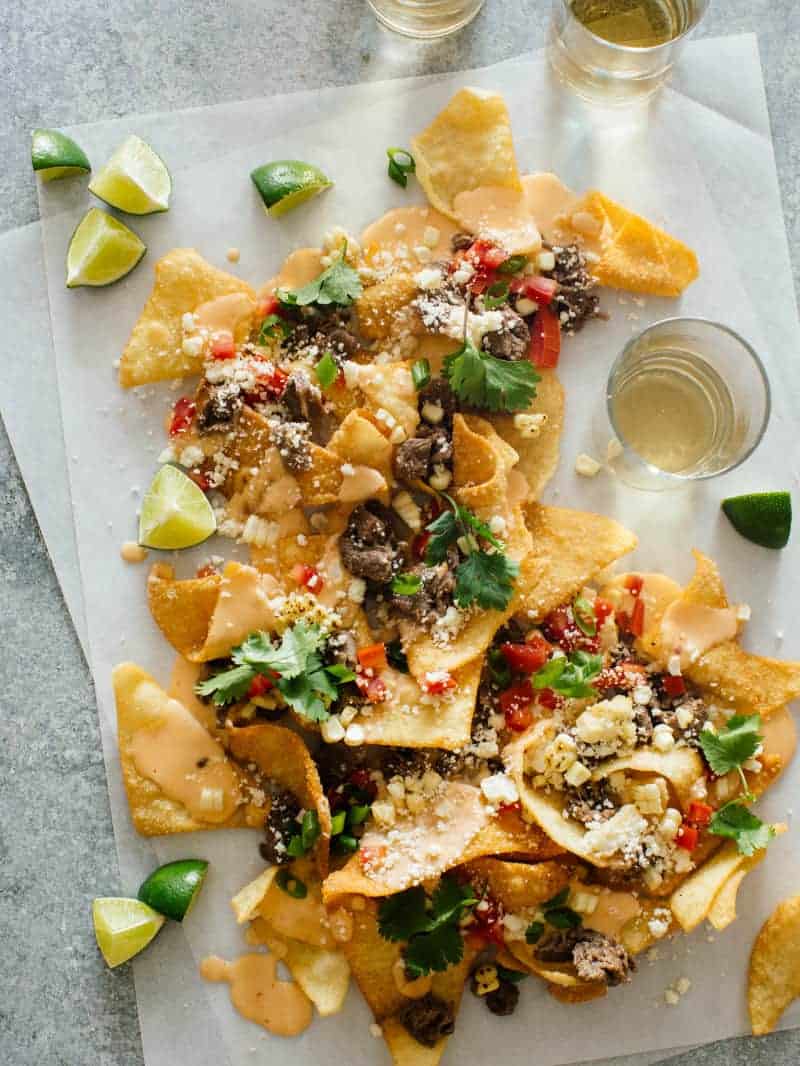 These nachos are so good. I think I may have eaten the whole plate when we shot this. If you're looking for a new and different nacho recipe, this is the one. If I watched sports, or made food for other people to watch sports, I would be making this. If I could eat all the calories ever and not get fat, I would eat this at least a couple times a week. It's that good. The crispy wontons with the beef and the cheese sauce are next level delicious. My mouth is watering while writing this. Please make these, or please make these for me. Thank you!
♥ Teri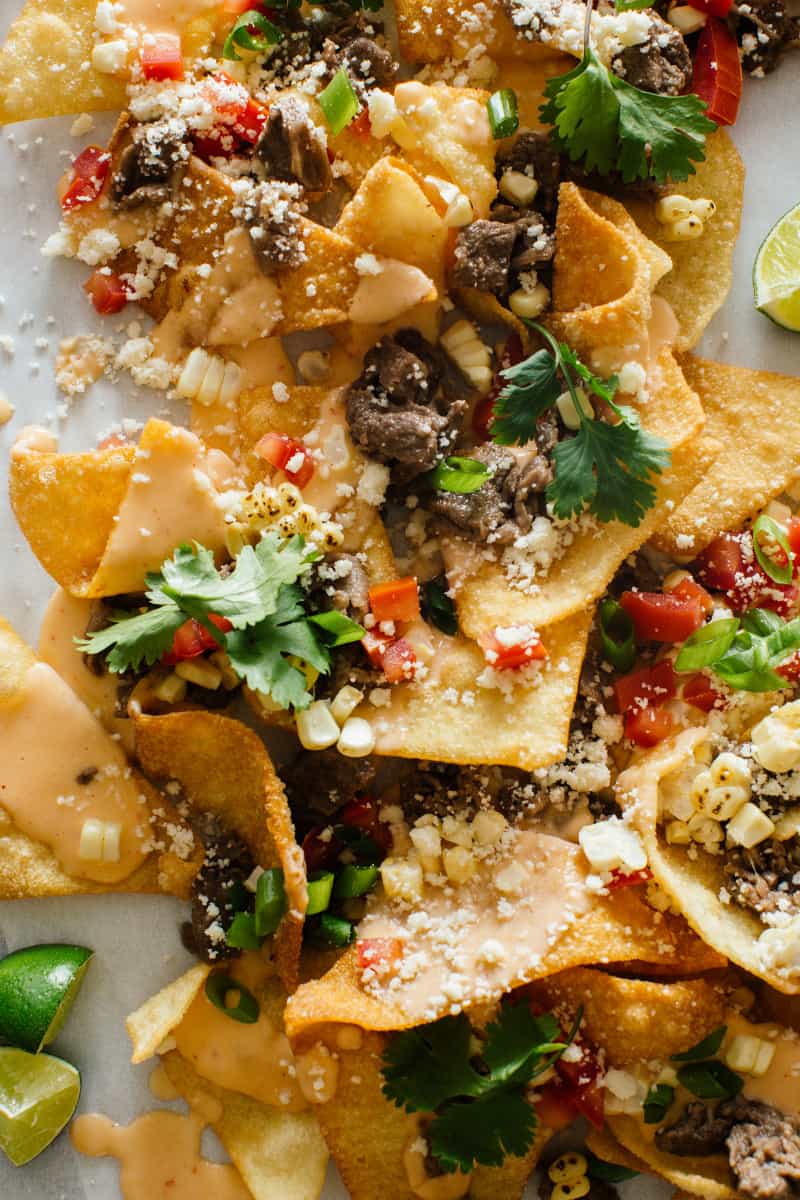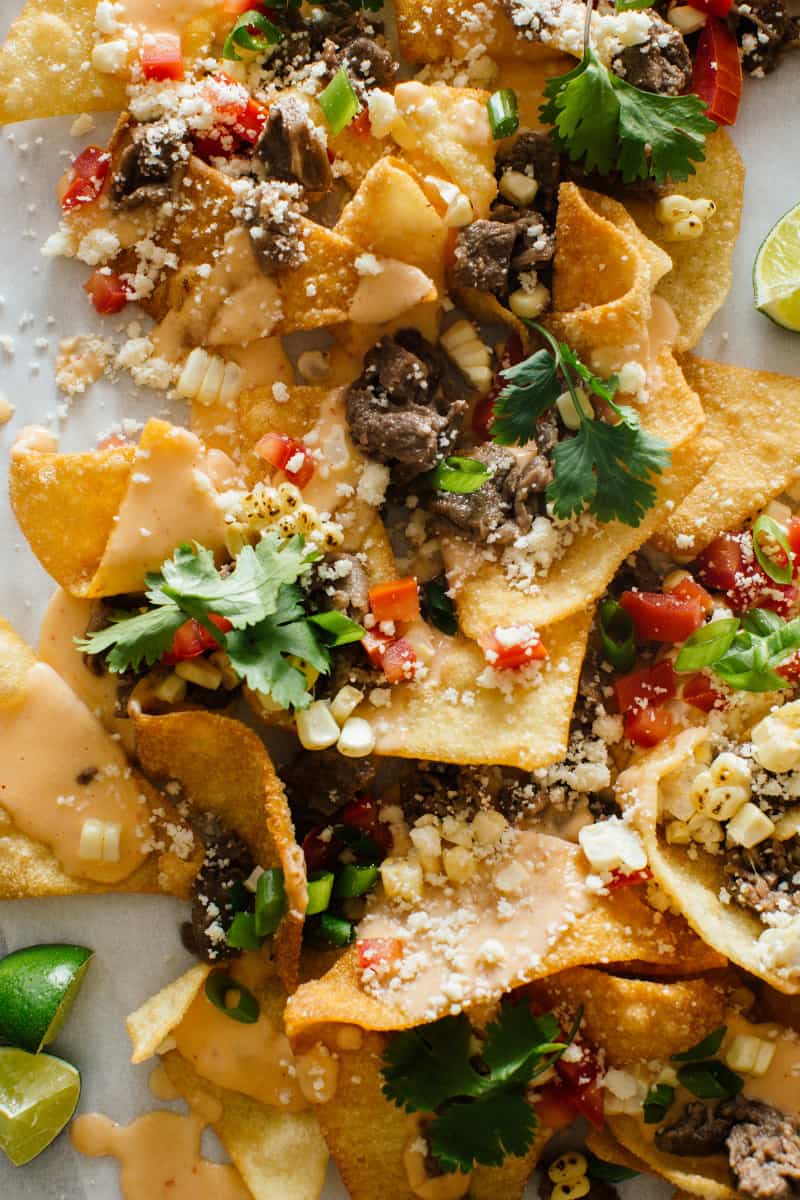 ---
Korean BBQ Nachos
INGREDIENTS
40

(2.5") square sheets wonton wrappers, halved diagonally
kimchi cheese sauce
2

tablespoons

unsalted butter

2

tablespoons

all purpose flour

1

cup

whole milk

½

cup

kimchi juice

1 ⅓

cups

shredded white cheddar
assembly
1 ½

cups

cooked bulgogi, chopped

2

roma tomatoes, seeded and diced

⅔

cup

charred corn

½

cup

crumbled queso fresco

1

green onion, thinly sliced

¼

bunch cilantro, chopped

oil for frying
INSTRUCTIONS
For the fried wonton chips: Fill a tall pot with 2 inches of frying oil and place over medium-high heat. Once the oil reaches 350˚F, add a handful of cut wontons, stirring the wontons as they're added to the oil to prevent them from sticking to one another. Fry the wontons for 3 to 4 minutes or until golden brown and crispy. Drain onto paper towels and sprinkle with salt. Repeat in batches until all of the wontons have been fried.

For the cheese sauce: Melt butter in a saucepan over medium heat. Add flour and whisk together for 2 to 3 minutes. Add milk and kimchi juice and stir together until no lumps remain and the mixture has thickened enough to coat the back of a wooden spoon. Reduce the heat to low and add the cheese a little at a time whisking after each addition. Continue to cook and whisk the sauce together until all of the cheese has been incorporated and evenly melted. Season with salt and pepper. Remove from heat.

To assemble: Place wonton chips onto a large platter, in a single layer. Top with a generous drizzle of cheese sauce, the bulgogi, tomatoes, corn, queso fresco, green onion, and cilantro. Serve immediately.