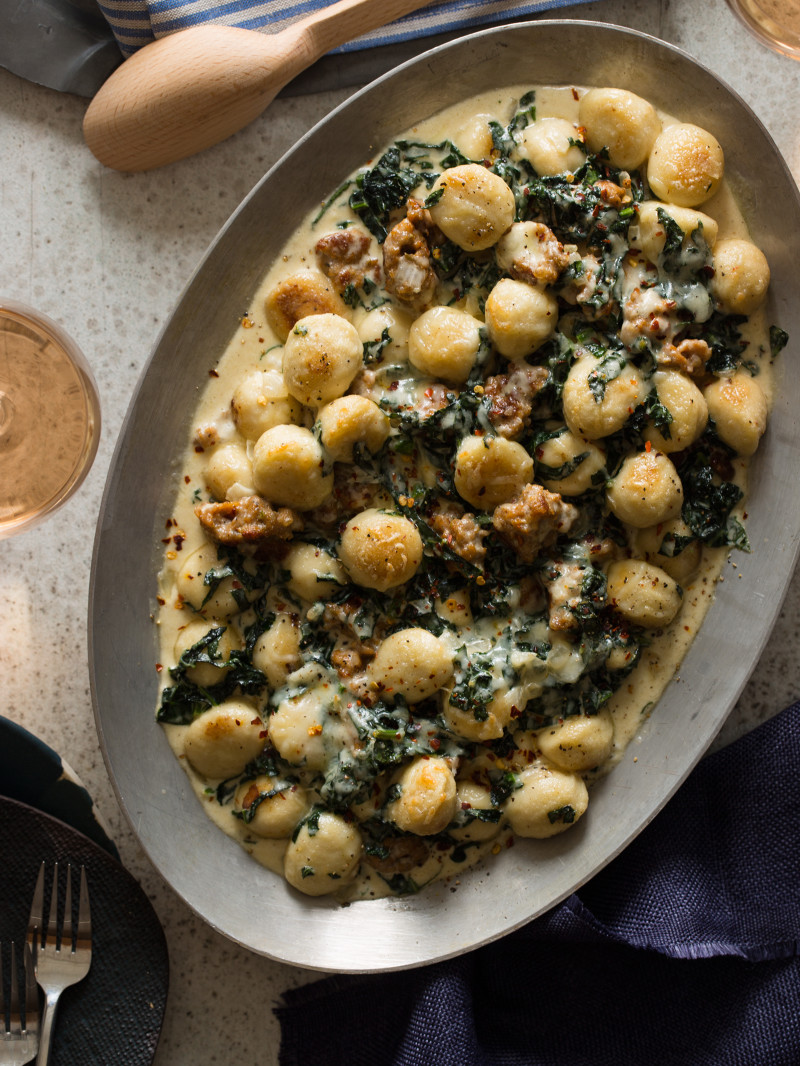 I thought we would re post this recipe because it's perfect for fall, and I love baked gnocchi, and sausage. :)

This is basically like super fancy casserole. Delicious pasta, but in this case gnocchi which is pasta only with potato, and then cream and kale (for health), and sausage. So this is just so good. Everything in it is good. Baked pasta is also bomb because you get that crispy crust that is just the best. It's like when you get brownies, some people want the edges the crispy parts, and some people just want the center. Well this recipe is for the people who want the crispy edges of the brownies. Also, because potatoes and pasta are just a carb lovers pairing in heaven and thats why gnocchi exists. So you should be making this. :)
♥ Teri
Sausage and Kale Baked Gnocchi
Serves 5 to 7
Ingredients:
1 recipe basic gnocchi
3 1/2 tablespoons extra virgin olive oil, divided
1/2 pound mild Italian sausage
1 bunch dino kale
1 shallot, minced
2 garlic cloves, thinly sliced
1 1/2 cups heavy cream
2 ounces grated Parmesan cheese
salt and pepper to taste
garnish:
crushed red pepper flakes
Directions:
1. Make gnocchi according to the recipe directions. Refrigerate rolled gnocchi for 1 hour.
2. Preheat oven to 375˚F.
3. Fill a large pot with water and bring to a boil. Add a small handful of salt (about 3 tablespoons) and add the gnocchi.
4. Once the gnocchi float to the surface remove from the pot and transfer to a large platter. Set aside.
5. In a large skillet, add 2 tablespoons oil and place over medium-high heat. Add sausage and brown for 3 to 4 minutes, breaking up into bite-sized pieces.
6. Add kale and continue to sauté for an additional 3 to 4 minutes. Transfer mixture into a mixing bowl and set aside.
7. Pour remaining oil into the skillet and add gnocchi to the pan. Lightly brown for 2 to 3 minutes and then transfer gnocchi into the same bowl as the sausage and kale.
8. Add shallots, garlic and cream into the skillet and simmer over medium heat. Once the mixture has reduced by 1/3 add the Parmesan and stir. Season with salt and pepper. Add the gnocchi mixture and continue to simmer over low heat for 1 minute. Transfer mixture to a shallow baking dish and bake for 15 to 20 minutes or until mixture has thickened.
9. Remove from heat, top with crushed pepper flakes and serve.