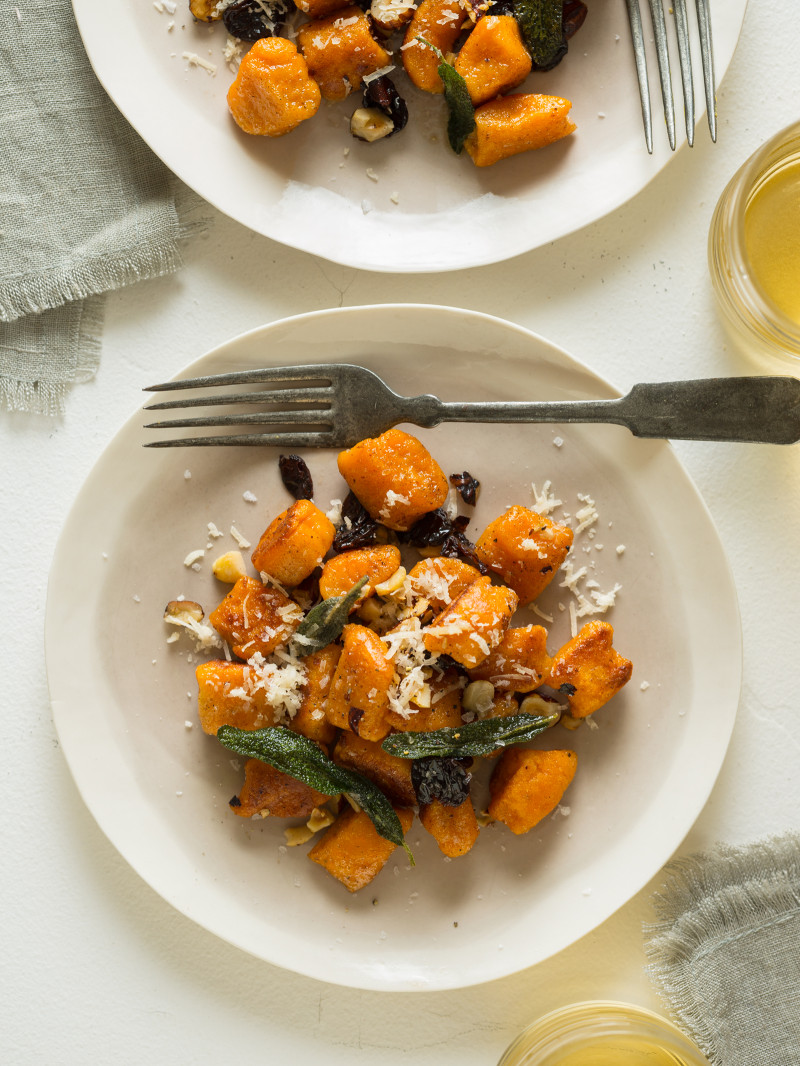 I really love this recipe for Sweet Potato Gnocchi with Fried Sage, Dried Cherries and Toasted Hazelnuts! I love the balance of the rich and slightly sweet gnocchi against the nutty browned butter and the sweet earthiness of the cherries. You can use dried cranberries to be a little more "with the season", but I personally prefer the dried cherries because they're not nearly as tart and their sweetness is slightly more subtle than that of dried cranberries.
I also love recipes like this because you can make loads of gnocchi and freeze them in portioned out baggies for another meal…or three! I know big roasts and lavish meals are all the rage during the holidays, but I know some people are just enjoying a marvelously low key holiday season and a dish like this would be perfect for a low key, no nonsense vibe.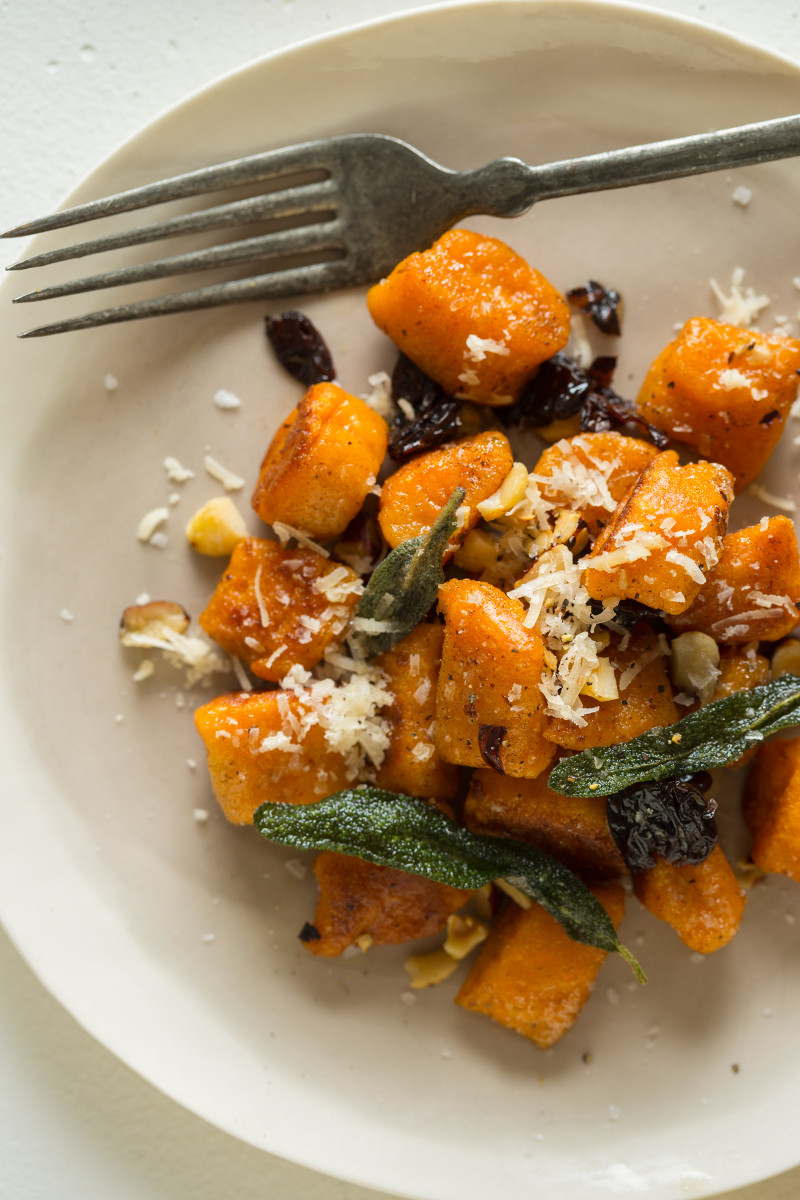 More Sweet Potato Recipes You Will Love
Hungry for more?
Subscribe to never miss a recipe.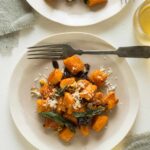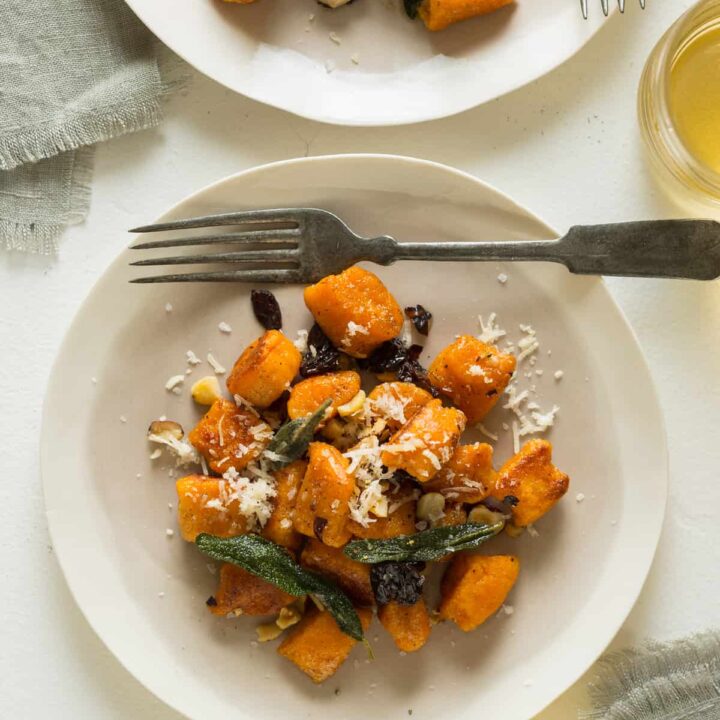 ---
Sweet Potato Gnocchi with Fried Sage Dried Cherries and Toasted Hazelnuts
INGREDIENTS
sweet potato gnocchi
½

pound

(about 2 medium) sweet potatoes, scrubbed clean

¼

pound

(about 1 small) russet potatoes, scrubbed clean

1

large egg yolk

½

cup

grated Parmesan cheese

1 ¼ to 1 ½

cups

all purpose flour (plus more for dusting)

1

teaspoon

salt

½

teaspoon

cracked black pepper
assembly
6

tablespoons

unsalted butter

16

sage leaves

⅔

cup

dried bing cherries, coarsely chopped

½

cup

toasted and crushed hazelnuts

grated Parmesan, optional
INSTRUCTIONS
Using a fork, prick holes all over each potato.

Place the potatoes directly onto the center rack of the oven and bake for 50 minutes to an hour or until completely fork tender.

Allow potatoes to cool for about 30 minutes. Peel and rice (using a potato ricer) onto a clean surface. **If you don't have a ricer, gently grate potatoes on the fine setting of your box grater.

Create a well in the center of your potato pile and fill with egg yolk, cheese, salt, pepper, and ½ of the flour. Sprinkle the remaining flour over the entire pile.

Beat egg mixture with a fork, incorporating more and more of the potato and flour from the sides into the mixture and you mix.

Continue to mix together until a crumbly and uneven pile forms. Using your hands, gently begin kneading the dough together until a smooth ball forms (adding 1 teaspoon of extra flour at a time, as needed); make sure not to overwork the dough.

Lightly sprinkle the surface with flour and divide the ball of dough into 8 even sizes. Loosely cover all but one piece with a kitchen towel or lightly wet paper towel. Roll the reserved piece into an 18" long rope (about ½" thick) and cut out 20 equal pieces.

Roll each piece through a gnocchi paddle to create ridges or just use the back of a fork.

Repeat until all the dough has been used.

Scatter gnocchi onto two lightly flour baking sheets (make sure they're not touching), lined with parchment, cover with paper towels and refrigerate for 1 hour. **You can also freeze any excess of gnocchi you have for a later time! Freeze on the baking sheet before bagging up to ensure they don't stick and freeze together!

Bring a large pot of water to a boil. Season with a handful of salt.

Add gnocchi to the boiling water, in batches, removing them as soon as they float to the surface. Repeat until all gnocchi have been boiled.

Place a large skillet over medium heat and melt butter. Lightly season with salt and pepper.

Gently fry sage leaves in batches and drain on a paper towel, set aside.

Increase the temperature to the skillet and toast butter until lightly browned with a nutty aroma. Add the cherries to the skillet and sauté for 1 minute. Add half of the gnocchi and continue to sauté for an additional 3 to 4 minutes. Season with salt and pepper. Stir in half of the hazelnuts and sauté for 1 minute.

Top with Fried Sage, remaining hazelnuts and grate Parmesan, if using. Serve.
Calories:
394
kcal
Carbohydrates:
43
g
Protein:
10
g
Fat:
21
g
Saturated Fat:
9
g
Cholesterol:
70
mg
Sodium:
542
mg
Potassium:
312
mg
Fiber:
4
g
Sugar:
9
g
Vitamin A:
6306
IU
Vitamin C:
3
mg
Calcium:
141
mg
Iron:
2
mg
CUISINE:
Italian-american
KEYWORD:
gnocchi, sweet potato recipe