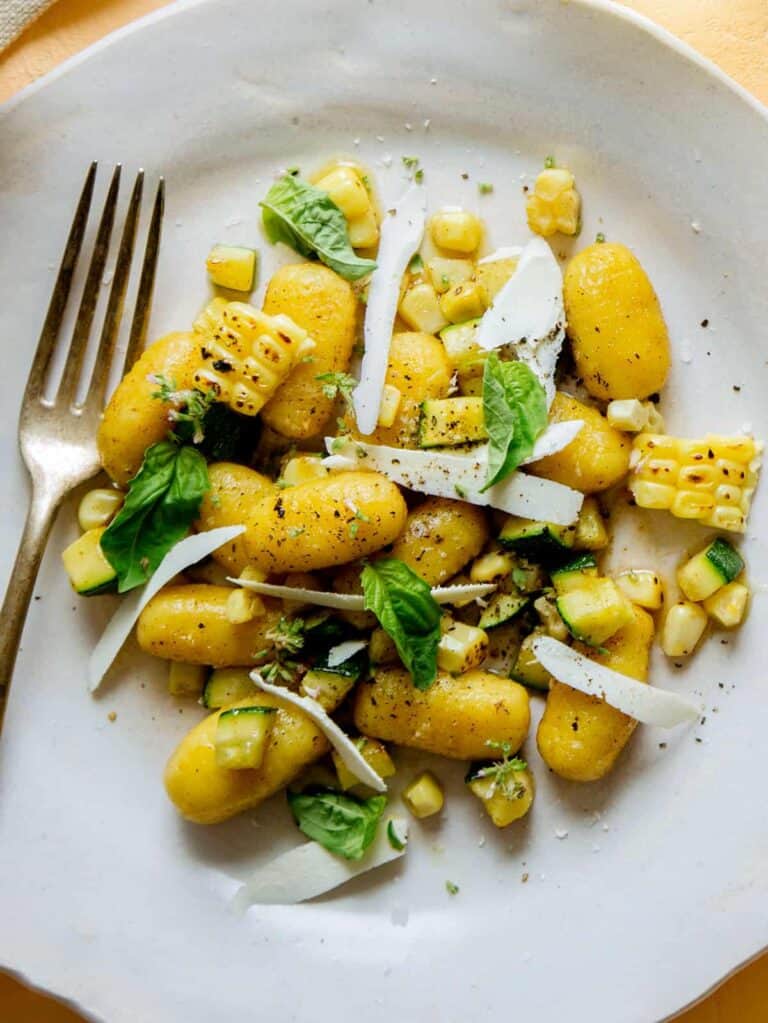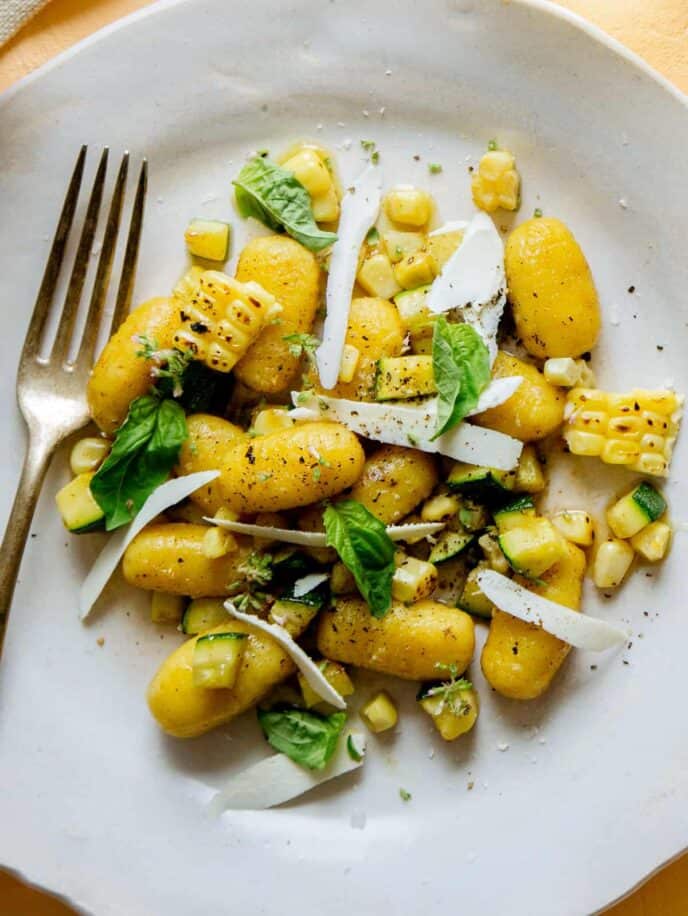 So this summer has been crazy hot here in LA and the humidity has been out of control! I'm originally from Chicago and this sticky, hot weather is all too familiar. I just really hate wet heat. Yuck. Unfortunately I'm not the type of person (aka a normal human being) that's willing to not use my oven or stovetop just because of the heat, BUT I do get a little more strategic about my cooking when the weather gets this hot. For example, for today's summer gnocchi, I baked the potatoes early in the morning or late at night, when my apartment is the coolest, then I made and formed the actual gnocchi during the day and stuck them in the freezer (they freeze SO WELL). Then I waited until the early evening, when the weather was starting to cool down, opened up all my windows and doors, to ensure a nice air flow going through my apartment and quickly, but carefully cooked up this tasty little number! I know the method seems both tedious and cray, but I promise it's not that intense and it's what keeps me cooking through the blistering heat! Do you guys have weird "summer's here, but I don't want my face to melt of while cooking" tips to help you cook through the hot summer months?!
Now onto this glorious gnocchi! I love a good gnocchi; light, fluffy, pillowy, and soft. I think this recipe hits that mark pretty well and don't mind the seemingly millions of steps included, that's mainly for gnocchi making newbies. I just want to make sure no panic ensues with making this dish. :) Also, because it's summer we've incorporated sweet corn and zucchini. I love fresh corn and you'll notice that aside from the charring, corn barely hits the heat before the dish is plated. Why? I think fresh, raw (sweet) corn is one of the best tasting things in the world! If you prefer your corn cooked through a little more, feel free to saute them for a couple minutes before pulling them from the heat. This dish is perfect for both entertaining or quite nights in and the recipe makes quite a bit of gnocchi, so you'll have plenty to freeze and use for future occasions! Enjoy! xx, Jenny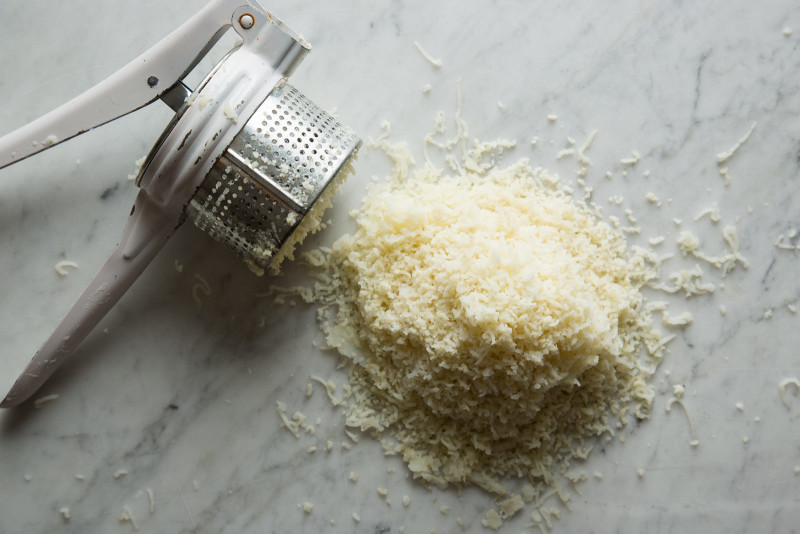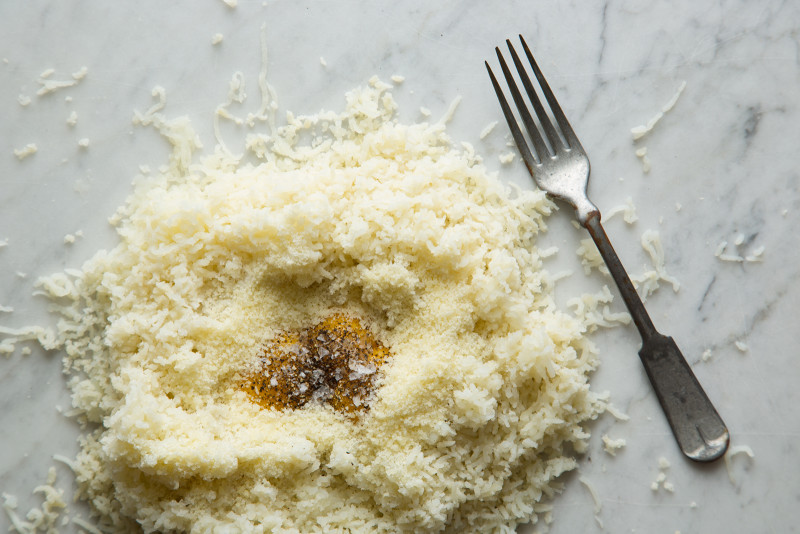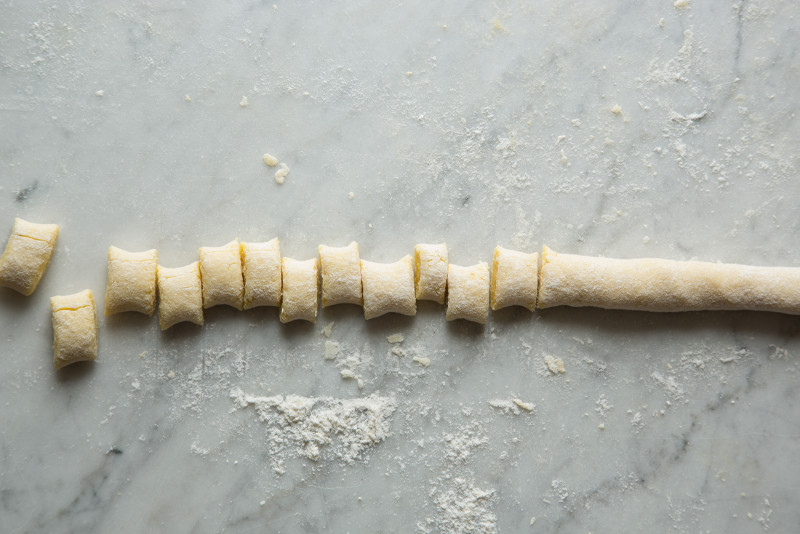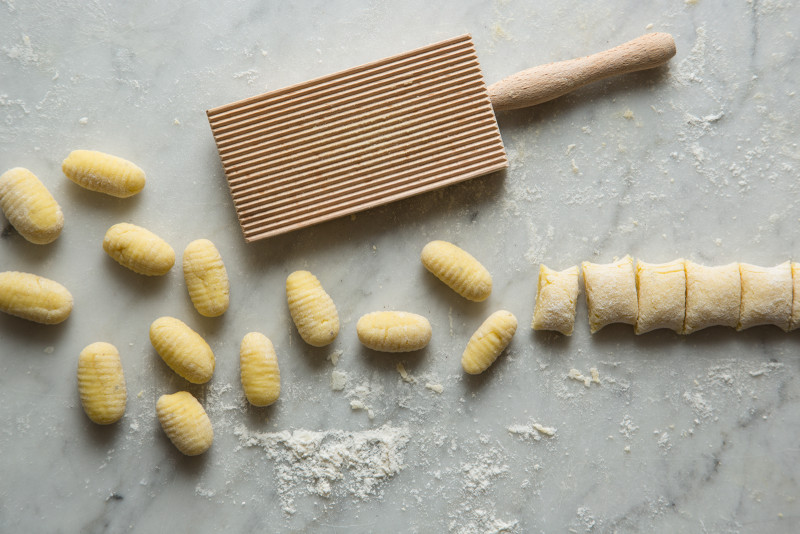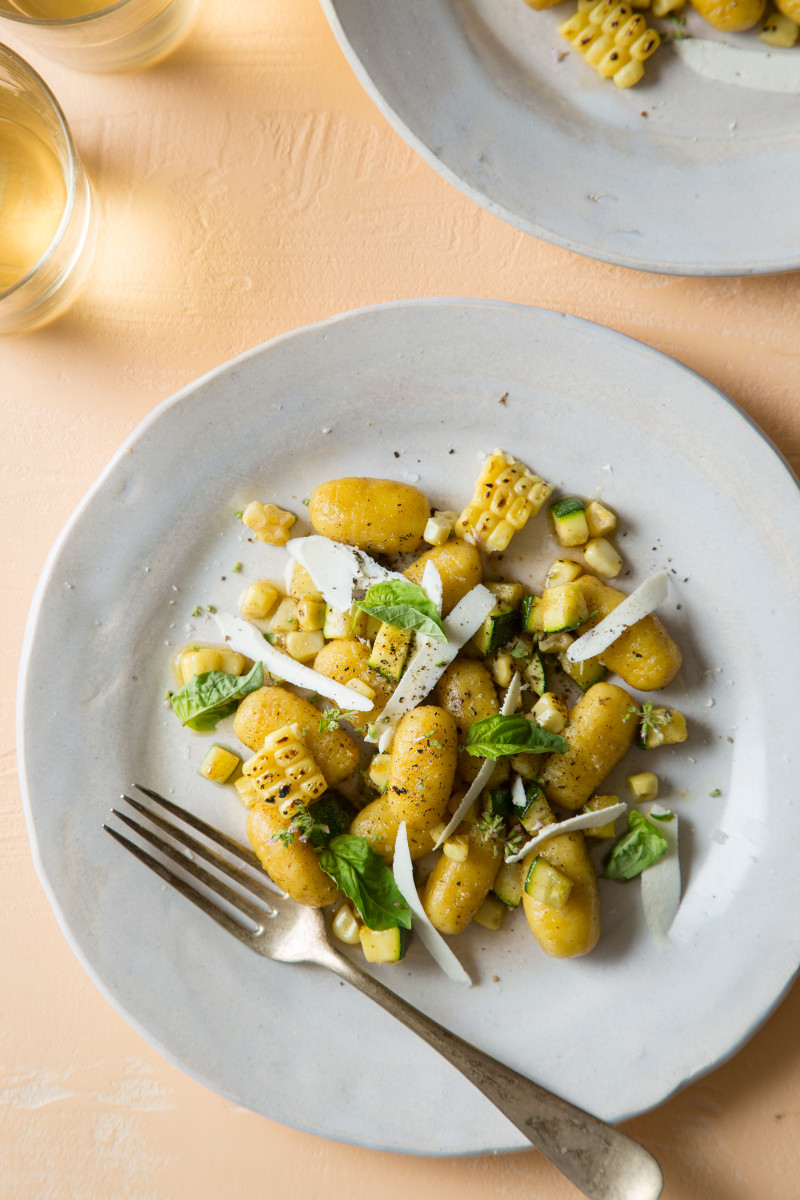 Here are some more corn recipes: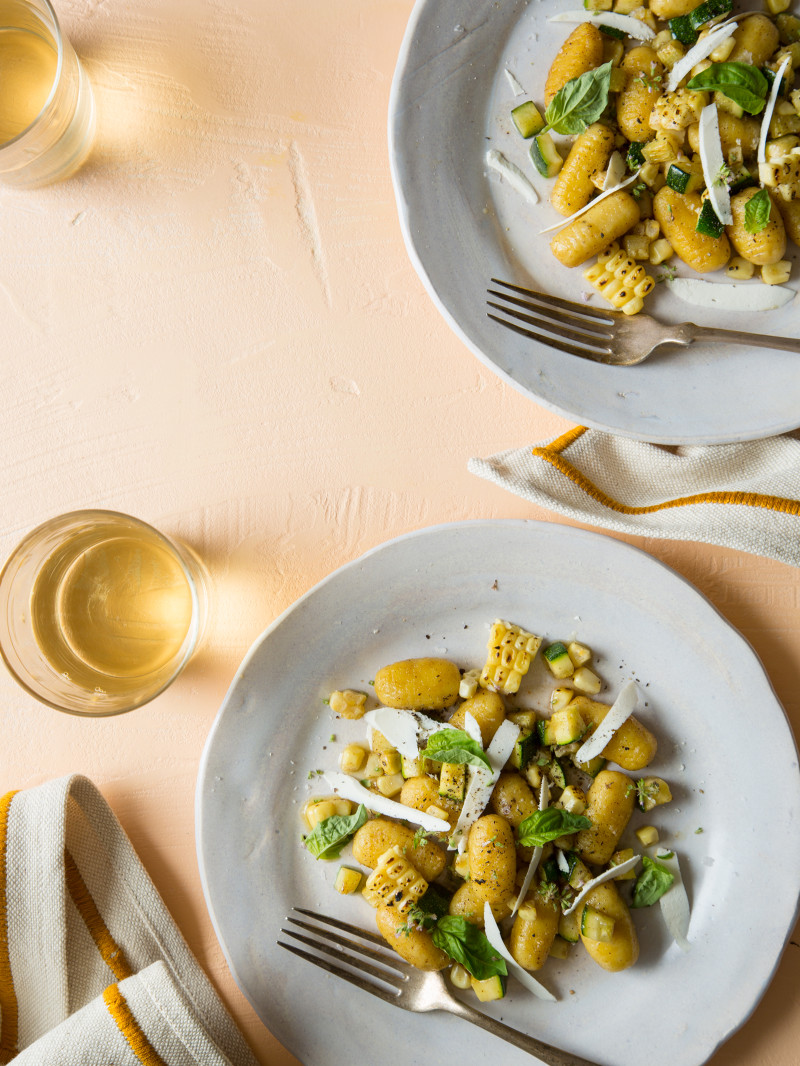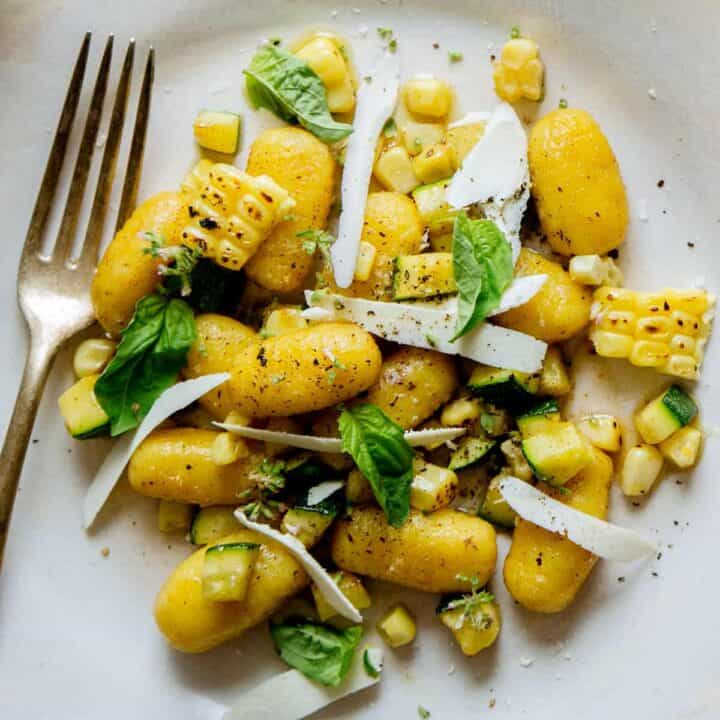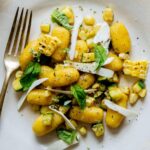 ---
Summer Gnocchi (with Charred Sweet Corn and Zucchini)
INGREDIENTS
gnocchi
½

pound

(about 2 medium) russet potatoes scrubbed clean

2

large

egg yolks

½

cup

grated Parmesan cheese

⅔

cup

all purpose flour (plus more for incorporating if needed and dusting)

½

teaspoon

salt

¼

teaspoon

cracked black pepper
Charred Sweet Corn and Zucchini
6

tablespoons

unsalted butter

1

medium

zucchini, diced

2

ears sweet corn, slightly charred and removed from the cob
garnish
fresh thyme leaves

fresh sweet basil leaves

shaved ricotta salata
INSTRUCTIONS
Using a fork, prick holes all over each potato.

Place the potatoes directly onto the center rack of the oven and bake for 50 minutes to an hour or until completely fork tender.

Allow potatoes to cool for about 30 minutes. Peel and rice (using a potato ricer) onto a clean surface. **If you don't have a ricer, gently grate potatoes on the fine setting of your box grater.

Create a well in the center of your potato pile and fill with egg yolks, cheese, salt, pepper, and 1/2 of the flour. Sprinkle the remaining flour over the entire pile.

Beat egg mixture with a fork, incorporating more and more of the potato and flour from the sides into the mixture and you mix.

Continue to mix together until a crumbly and uneven pile forms. Using your hands, gently begin kneading the dough together until a smooth ball forms (adding 1 teaspoon of extra flour at a time, as needed); make sure not to overwork the dough.

Lightly sprinkle the surface with flour and divide the ball of dough into 8 even sizes. Loosely cover all but one piece with a kitchen towel or lightly wet paper towel. Roll the reserved piece into an 18" long rope (about ½" thick) and cut out 20 equal pieces.

Roll each piece through a gnocchi paddle to create ridges or just use the back of a fork.

Repeat until all the dough has been used.

Scatter gnocchi onto two lightly flour baking sheets (make sure they're not touching), lined with parchment, cover with paper towels and refrigerate for 1 hour. **You can also freeze any excess of gnocchi you have for a later time! Freeze on the baking sheet before bagging up to ensure they don't stick and freeze together!

Bring a large pot of water to a boil. Season with a handful of salt.

Add gnocchi to the boiling water, in batches, removing them as soon as they float to the surface. Repeat until all gnocchi have been boiled.

Place a large skillet over medium heat and melt butter. Continue to cook until butter begins to brown and releases a nutty aroma. Lightly season with salt and pepper.

Bring the heat up to medium-high and sauté the zucchini for 3 to 4 minutes. Add gnocchi and continue to sauté for 3 to 4 minutes or until gnocchi begins to toast and zucchini has softened. Lightly season with salt and pepper.

Add charred corn, toss together and quickly remove from heat.

Transfer gnocchi to a serving platter and top with fresh thyme, basil and ricotta salata. Adjust seasonings and serve immediately.
NOTES
*Serves 4 (1/2 recipe of gnocchi)
**For charred corn:
Place the ears of corn onto a baking sheet and set under a broiler for 3 to 4 minutes, turning every 30 seconds, until the corn is lightly charred all over.
Calories:
299
kcal
Carbohydrates:
24
g
Protein:
7
g
Fat:
21
g
Saturated Fat:
12
g
Cholesterol:
97
mg
Sodium:
258
mg
Potassium:
379
mg
Fiber:
2
g
Sugar:
4
g
Vitamin A:
822
IU
Vitamin C:
13
mg
Calcium:
91
mg
Iron:
1
mg