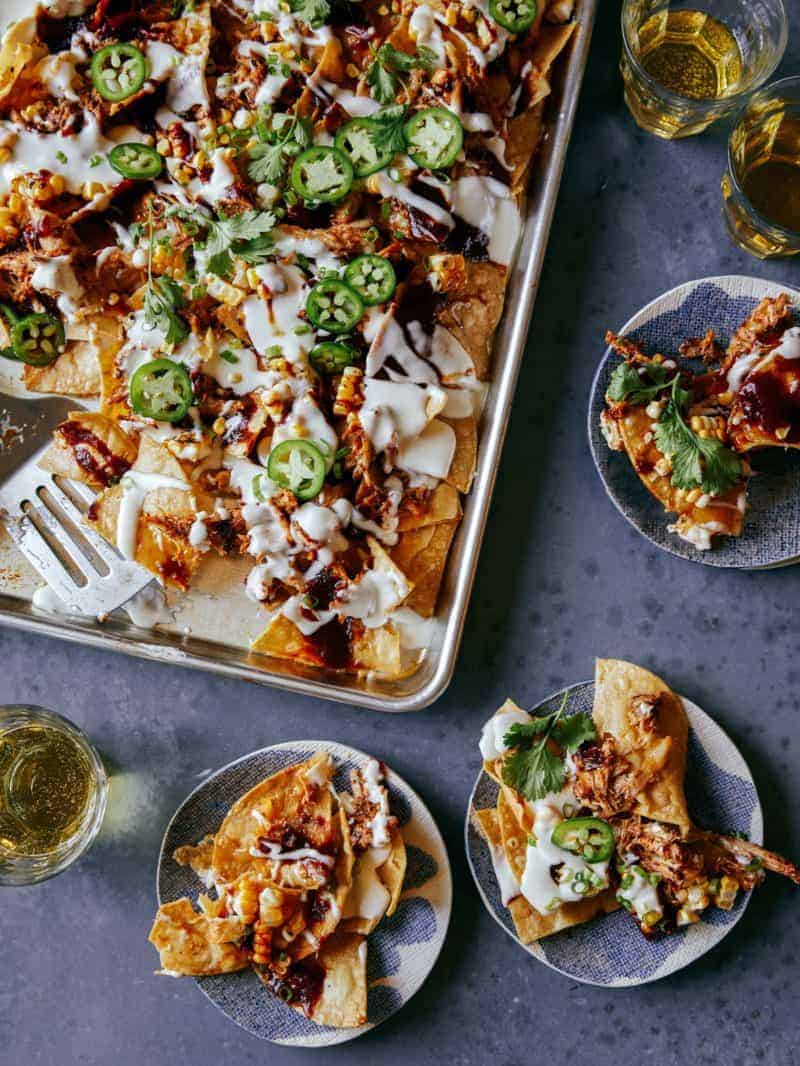 Whenever I am in a nachos mood I go to the internet and search for nacho inspiration. So that is what we have for you today. Major nacho inspiration. I love using a sheet pan because you can spread the chips out evenly, and make sure that all the chips get their fair share of toppings. It's always a bummer to come across a chip in your nachos with nothing on it.
These Chipotle Chicken Nachos are really yummy, and they have so many toppings that it's totally filling, and perfect for a movie watching night. Jenny also made this amazing queso sauce. It's so freaking good. It's creamy and cheesy and all the things you would ever want in a cheese sauce. Don't worry though, we also have cheddar cheese on these because you can never have enough cheese. See the recipe below for all the details. ♥ Teri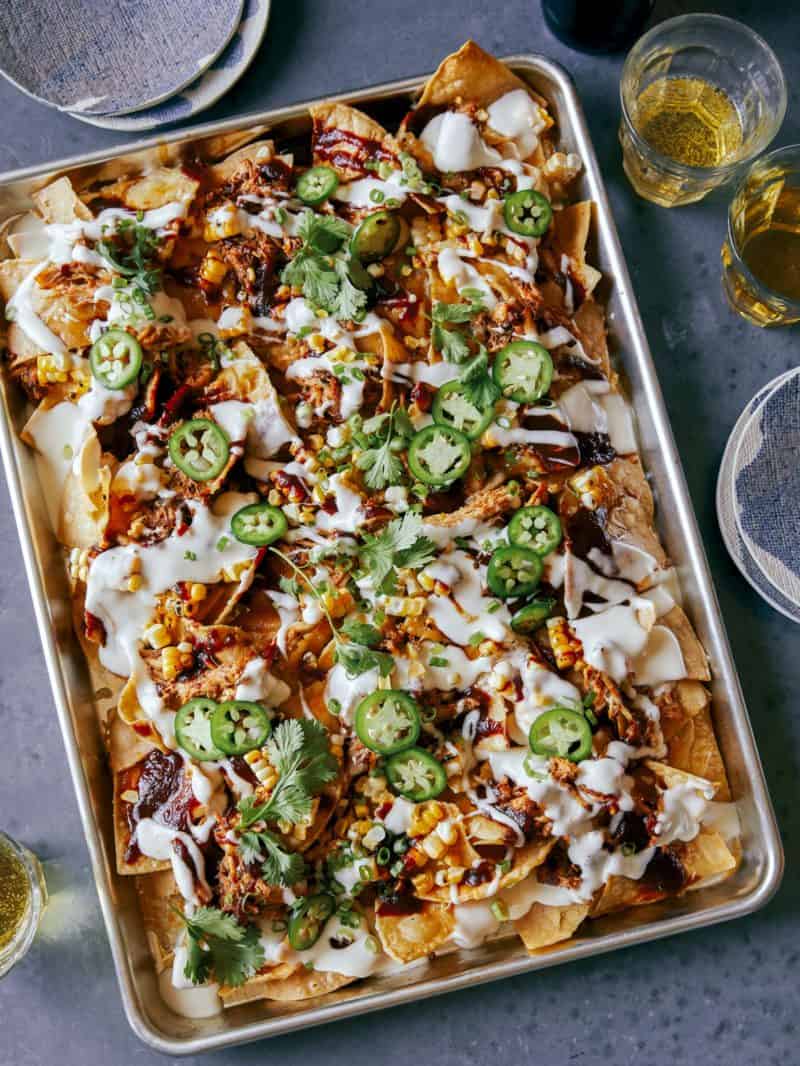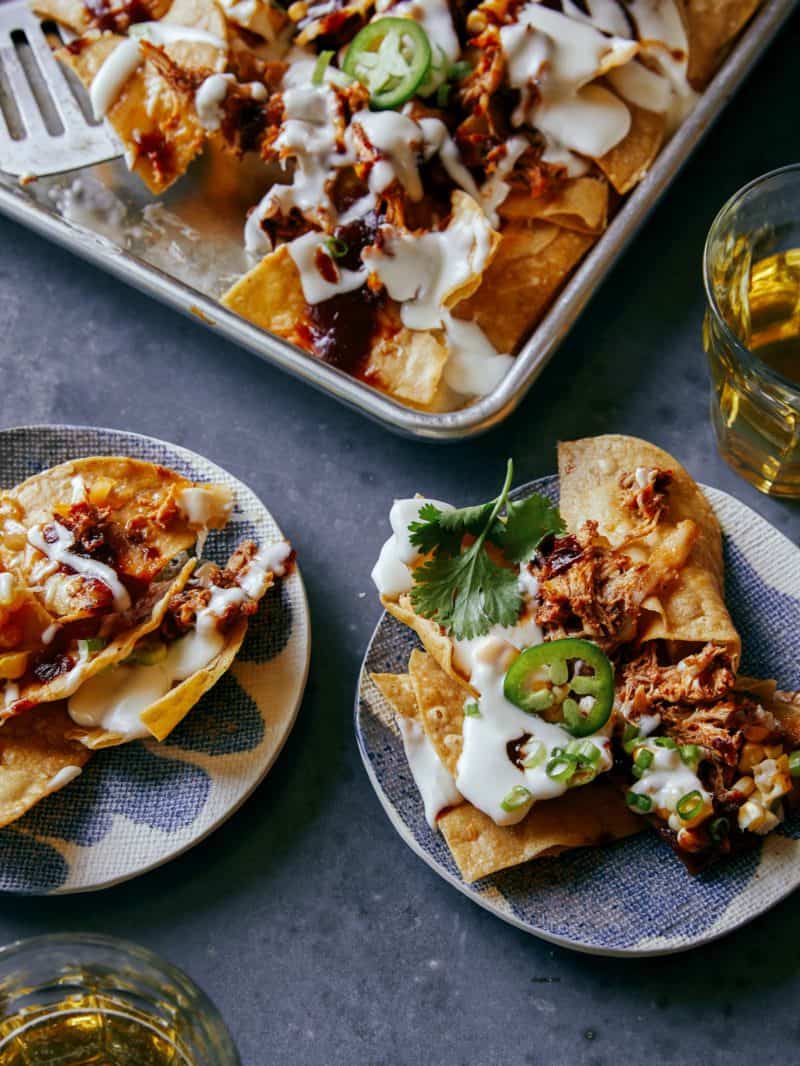 Sheet Pan Chipotle Chicken Nachos

Serves 7 to 9

Ingredients:
chipotle chicken:
2 tablespoons extra virgin olive oil
1 shallot, minced
1/2 cup diced chipotles in adobe sauce
3 1/2 tablespoons honey
3 heaping cups cooked, shredded chicken
queso sauce:
3 1/2 tablespoons unsalted butter
3 tablespoons flour
1 1/2 cups milk
1 pound shredded white cheddar cheese, divided
salt and pepper to taste

8-10 heaping cups thick tortilla chips
1 pound shredded white cheddar cheese
kernels from 2 ears blistered corn
thinly sliced jalapenos
cilantro leaves

Directions:
1. Preheat oven to 350˚F.
2. chipotle chicken: Place a large skillet over medium heat and add oil.
3. Add shallot and saute for 2 to 3 minutes. Add chipotle in adobe and honey and stir together. Simmer for 3 to 4 minutes.
4. Remove from heat and fold in chicken until evenly coated. Lightly season with salt and pepper. Set aside.
5. queso sauce: Place saucepan over medium heat and melt butter. Once butter has melted, whisk in flour. Continue to whisk until no lumps remain, 1 to 2 minutes.
6. Add milk to saucepan and whisk until no lumps remain. Continue to whisk together until mixture thickens enough to coat the back of a spoon.
7. Remove mixture from heat, season with salt and pepper and stir in (1 pound) shredded cheddar a small handful at time, until all cheese has been added and sauce is smooth. Set aside.
8. Assemble: Spread tortilla chips onto a sheet pan in a single layer. And evenly sprinkle with half of shredded cheese, chipotle chicken, remaining shredded cheese and then corn kernels.. Place sheet pan in oven for 6 to 7 minutes or until cheese has just melted.
9. Remove sheet pan from oven and drizzle cheese sauce over pan. Top with sliced jalapenos and cilantro leaves. Serve.