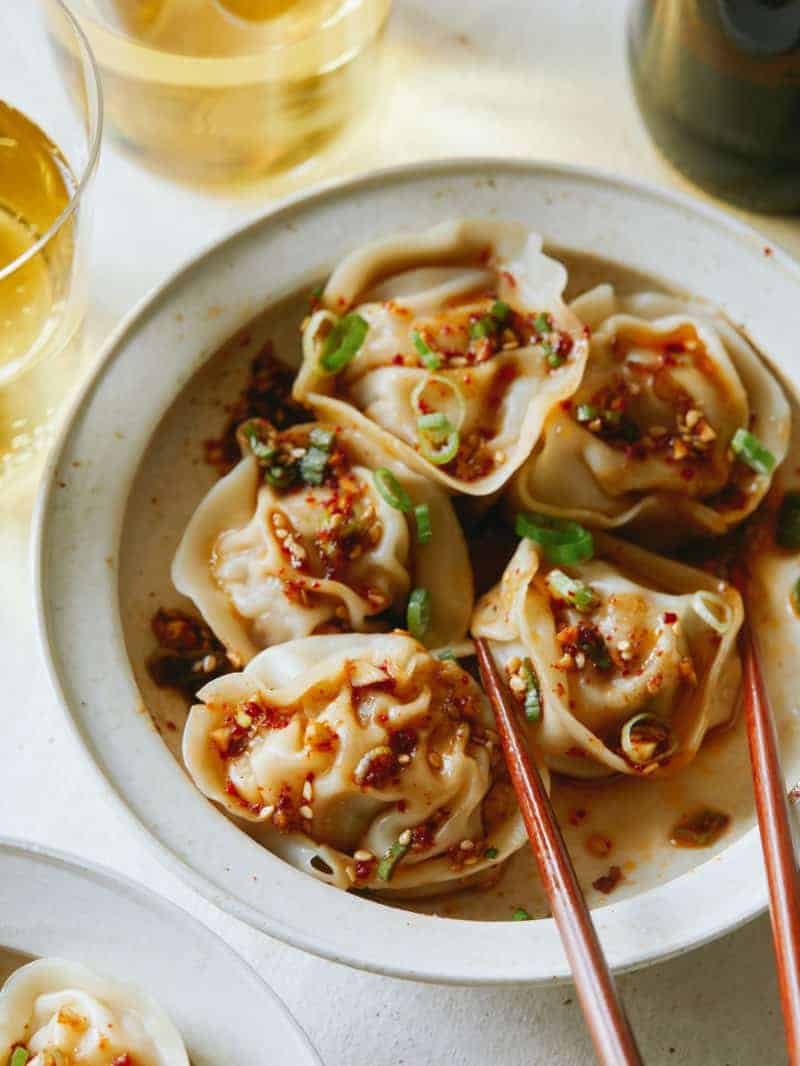 We're staring this week off with dumplings! Dumplings, pot stickers, momos, etc…whatever you want to call them, they're delicious. I think I could eat dumplings every single day and never get sick of them. There's SO much you can do with them from deep frying to pan frying to steaming to boiling; plus there are SO many different flavor and filling combinations you can create! The filling we're using today is so simple, but packed with tons of flavor.
The chile-soy dipping (or drizzling) sauce we're using is a classic Korean style dumpling sauce (or 'ganjang' in Korean). It's my favorite dumpling sauce that I grew up with and it's so so delicious. The only tricky ingredient to find might be the Korean Chile powder (gochugaru), but if you can't find it cayenne pepper makes a fine substitute.
If you don't have a steamer, that's okay! You can boil these guys in a little bit of broth instead and drain them using a slotted spoon with equally delicious results. These dumplings also freeze incredibly well. Once they're folded up, just place them onto a parchment lined baking sheet, 1/4 to 1/2 inch apart and freeze them. Then once they're completely frozen pop them into a resealable bag and you'll have dumplings ready to go the next time you're having a craving! Enjoy! xx, Jenny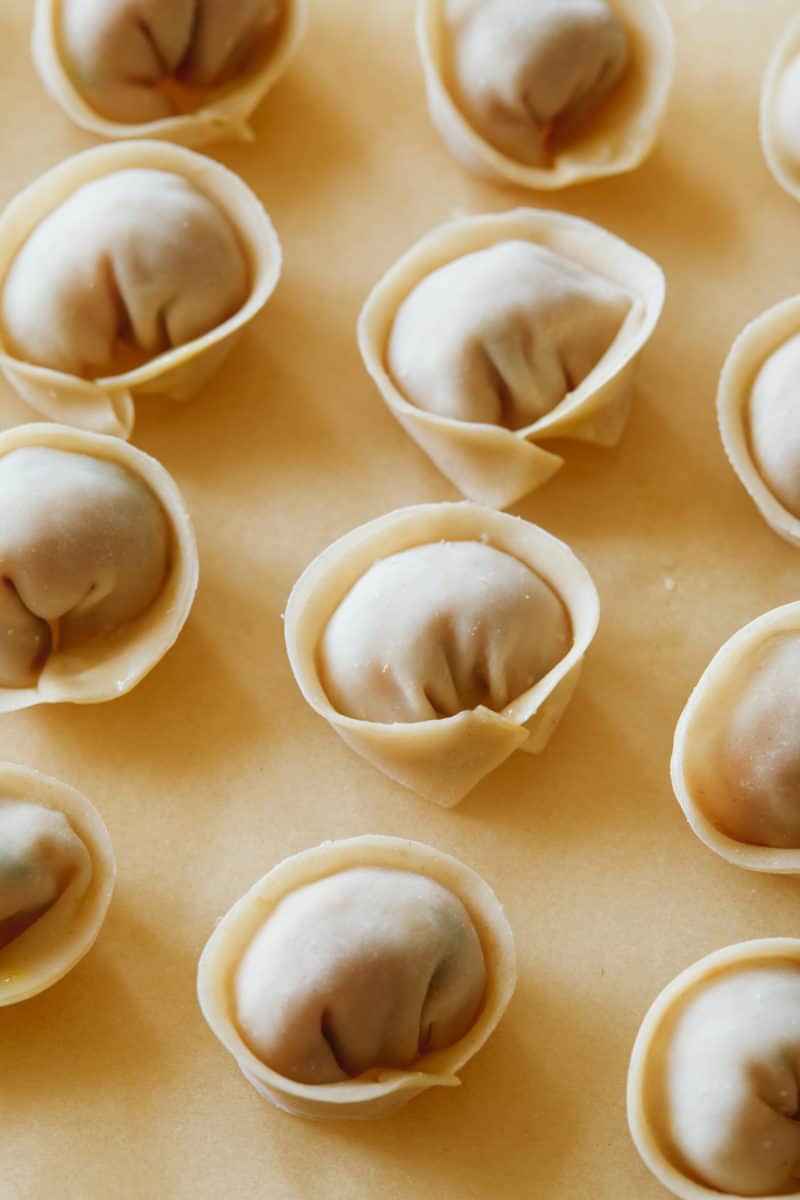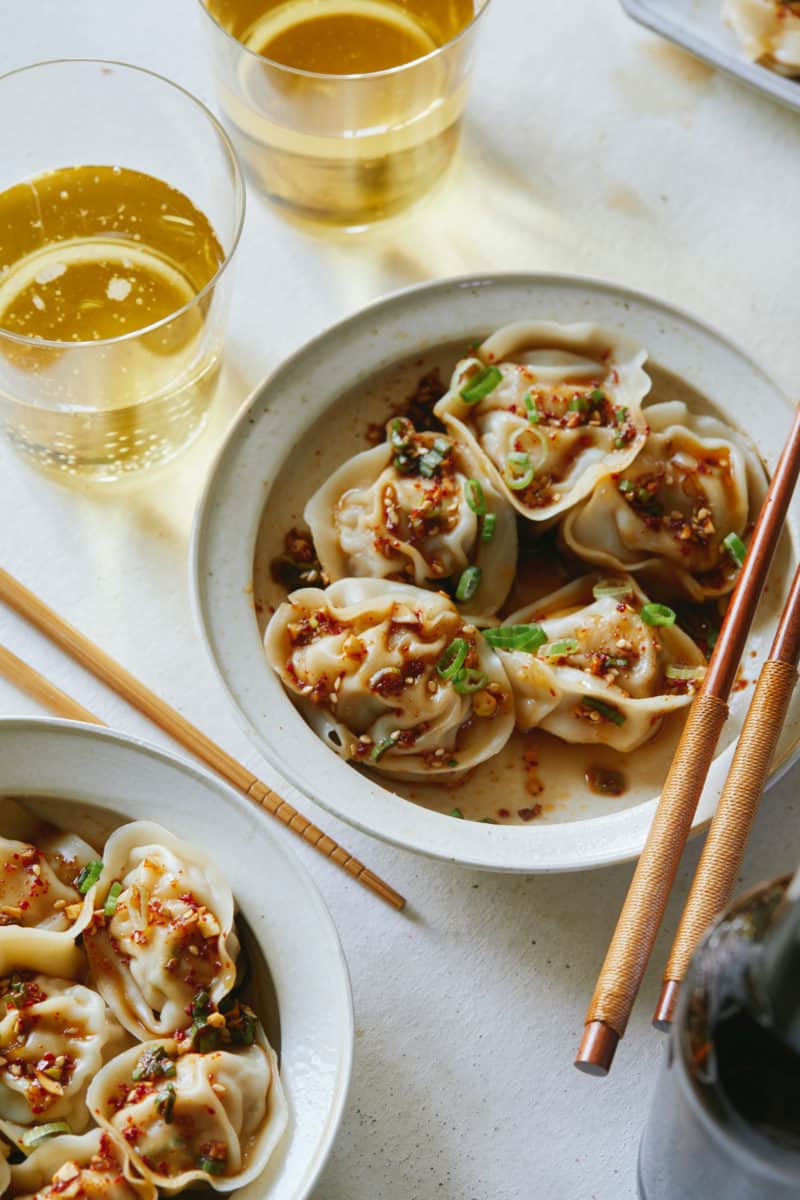 Pork and Shrimp Dumplings

Makes 40

Ingredients:
sauce:
1/2 cup soy sauce
3 tablespoons sesame oil
3 garlic cloves, minced
2 to 2 1/2 teaspoons Korean red pepper powder (gochugaru)
1 1/2 teaspoons minced ginger
2 green onions, thinly sliced
filling:
1/2 pound ground pork
1/2 pound finely chopped shrimp
2 teaspoons sesame oil
1 teaspoon grated ginger
1 garlic clove
1 green onion, thinly sliced
1 1/2 teaspoons salt
1/2 teaspoon black pepper

1 large egg, beaten
40 round wonton wrappers

Directions:
1. For sauce: In a small mixing bowl, whisk together all sauce ingredients. Set aside.
2. For filling: In a large mixing bowl, combine ground pork, shrimp, sesame oil, ginger, garlic, green onion, salt and pepper. Mix together until everything I evenly combined.
3. In a small bowl combine egg and 1 tablespoon water. Whisk together.
4. Brush the edge of a wonton wrapper with egg wash and fill the center with 1 1/2 tablespoons filling.
5. Fold dumpling in half, making sure to get rid of any air pockets before completely sealing. You should have a half circle at this point. Dip one corner of dumpling in egg wash. Bring both corners into the center of dumpling and seal together.
6. Repeat steps 4 and 5 until all filling and wrappers have been used.
7. Place a pot of water over high heat and top with a bamboo steamer. Line steamer with a steamer liner or leaves of green cabbage.
8. Add a few dumplings to the steamer about 1/2 inch apart. Cover and once water is boiling, steam dumpling for 7 to 9 minutes or until dumplings have cooked through completely. Transfer dumplings to a shallow bowl and repeat.
9. To serve: Drizzle sauce over steamed dumplings and serve with more sauce on the side.

**If you want to create pretty pleats on your dumplings, like we did, you can watch this short video we grabbed from youtube to see how it's done.