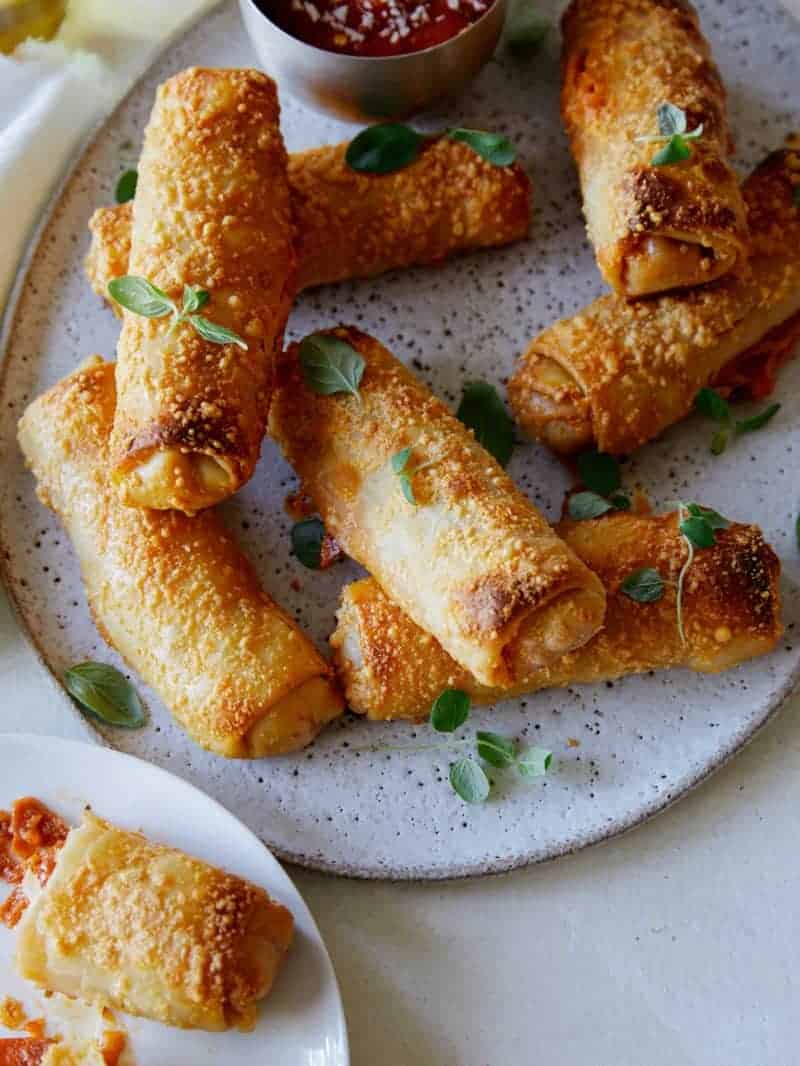 Im excited about this one! We basically stuffed egg rolls with pizza filling. We had initially though that we would make them fried, but we ended up baking them because we know it's so much easier for everyone. You can definitely change up the filling if you like something different, but I personally love pepperoni. My favorite thing about this recipe is the ease of using the egg roll wrappers, and how crispy and chewy they get after baking. So freaking good. Bookmark this one!
♥ Teri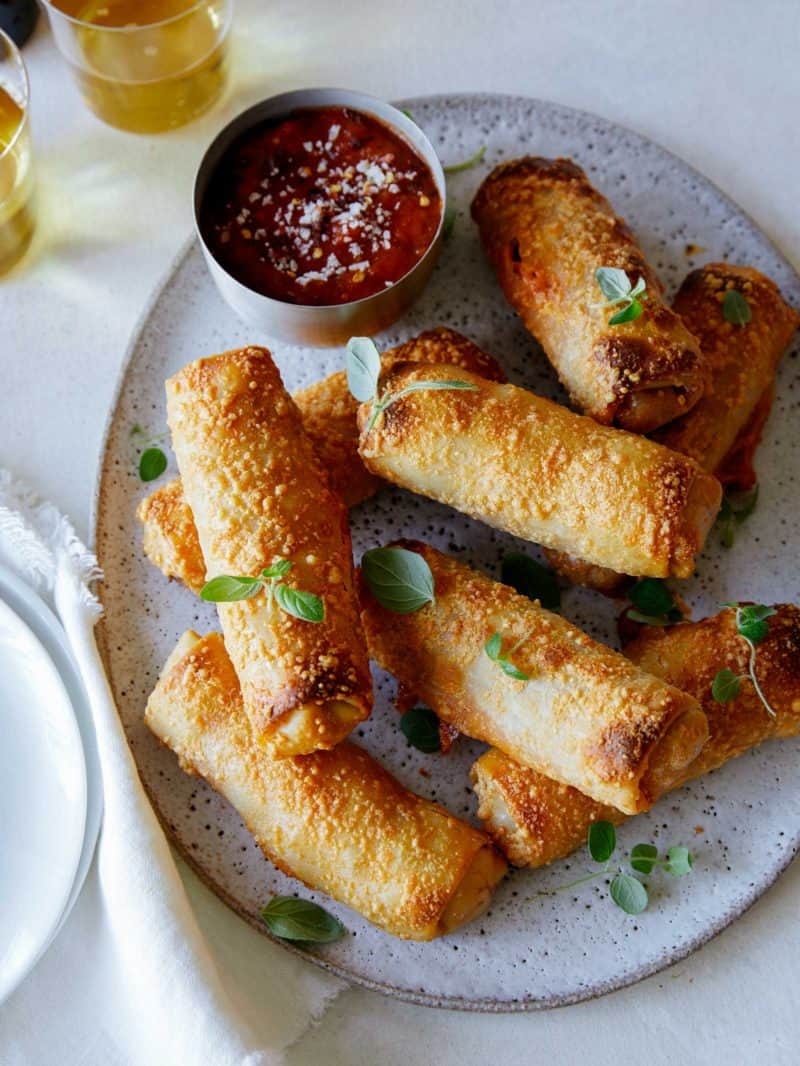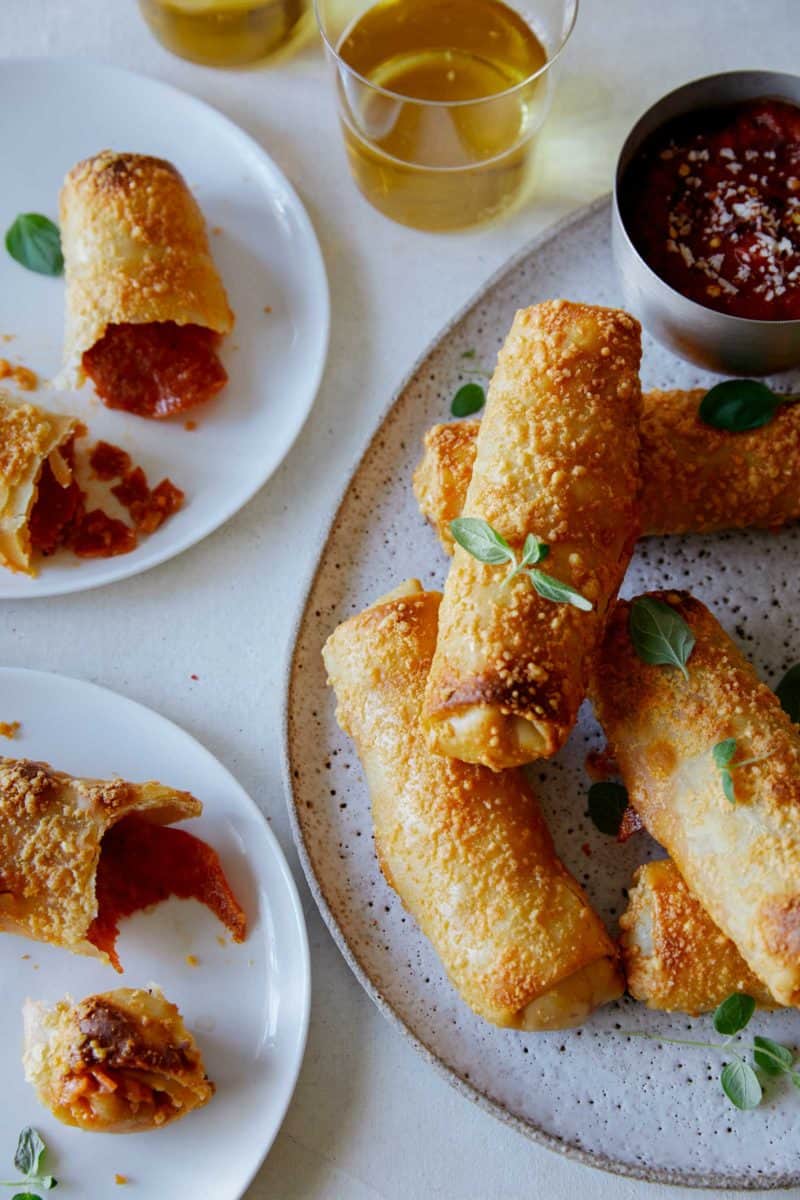 Crispy Baked Pepperoni Pizza Egg Rolls

Makes 12

Ingredients:
filling:
12 ounces thinly sliced pepperoni, divided
1 3/4 cups heaping cups grated Parmesan, divided
1 heaping cup shredded mozzarella
1 cup store-bought marinara sauce, plus more for serving
2 tablespoons minced oregano

1 egg, beaten
24 egg roll wrappers
1/2 cup (1 stick) unsalted butter, melted and cooled

Directions:
1. Chop 8 ounces (2/3's) pepperoni and transfer to a mixing bowl. Add 1/4 cup Parmesan, mozzarella, marinara, and oregano to pepperoni and mix together until completely combined.
2. To assemble: Stack two egg roll wrappers together and brush with beaten egg. Scoop 1/3 cup of filling onto the stacked wrappers and form into a log. Top 'filling log' with a few slices of remaining pepperoni. Fold in sides of wrappers, then tightly roll until sealed.
3. Repeat step 2 until all egg rolls have been rolled up.
4. Brush each egg roll with melted butter and roll in remaining Parmesan. Shake off any excess Parmesan transfer egg rolls to a parchment lined baking sheet, 1 inch apart.
5. Place egg rolls in freezer for at least 30 minutes (and up to 3 months).
6. Preheat oven to 375˚F.
7. Remove egg rolls from freezer and bake egg rolls for 25 to 30 minutes or until golden brown.
8. Remove egg rolls from oven and cool for 7 to 10 minutes. Serve with a side of marinara sauce for dipping.