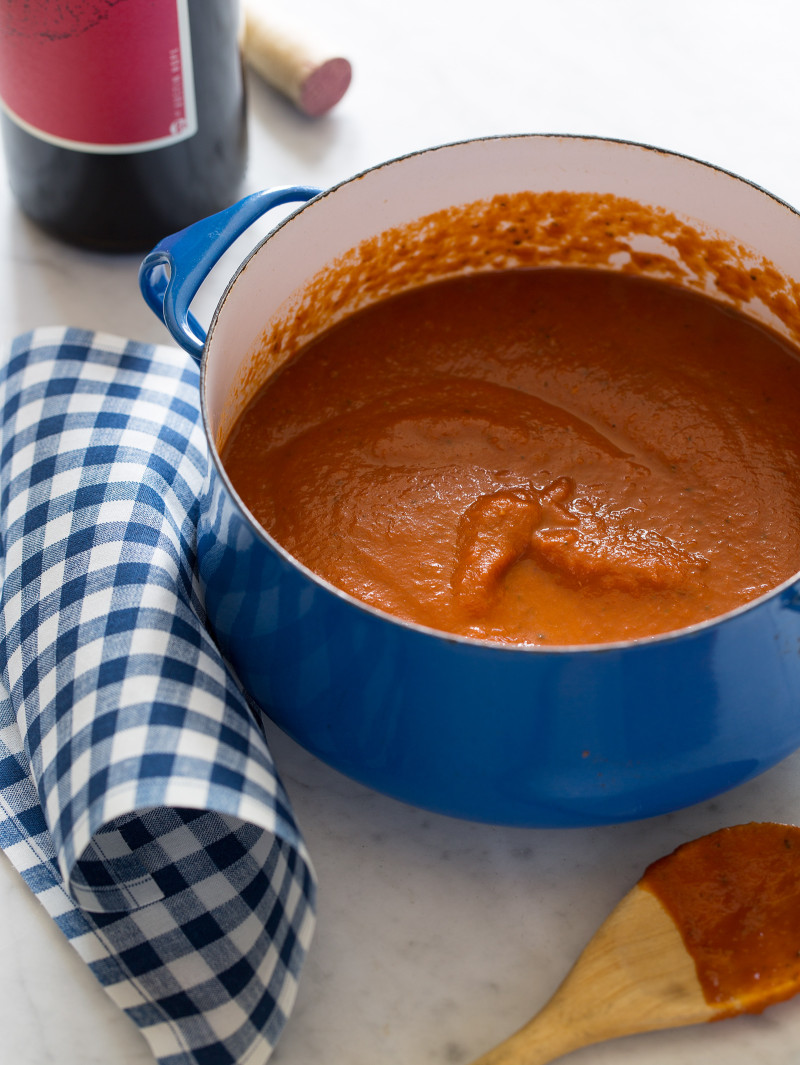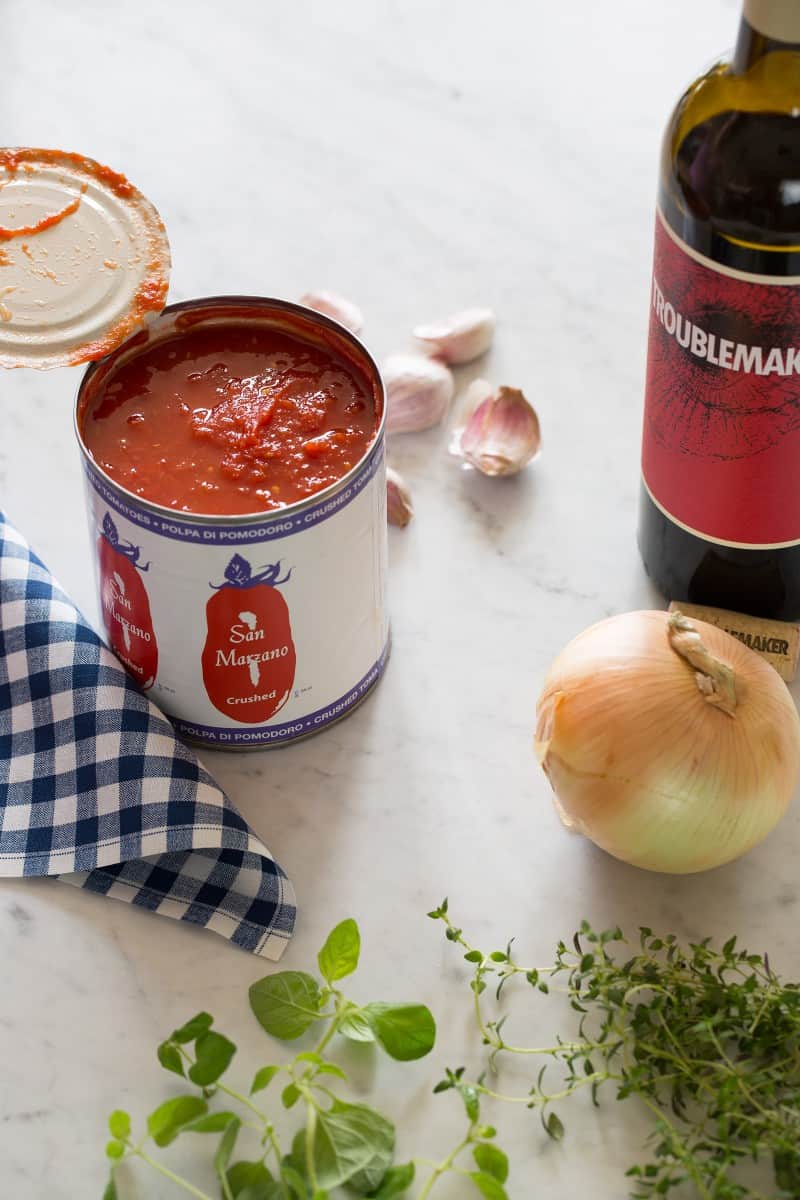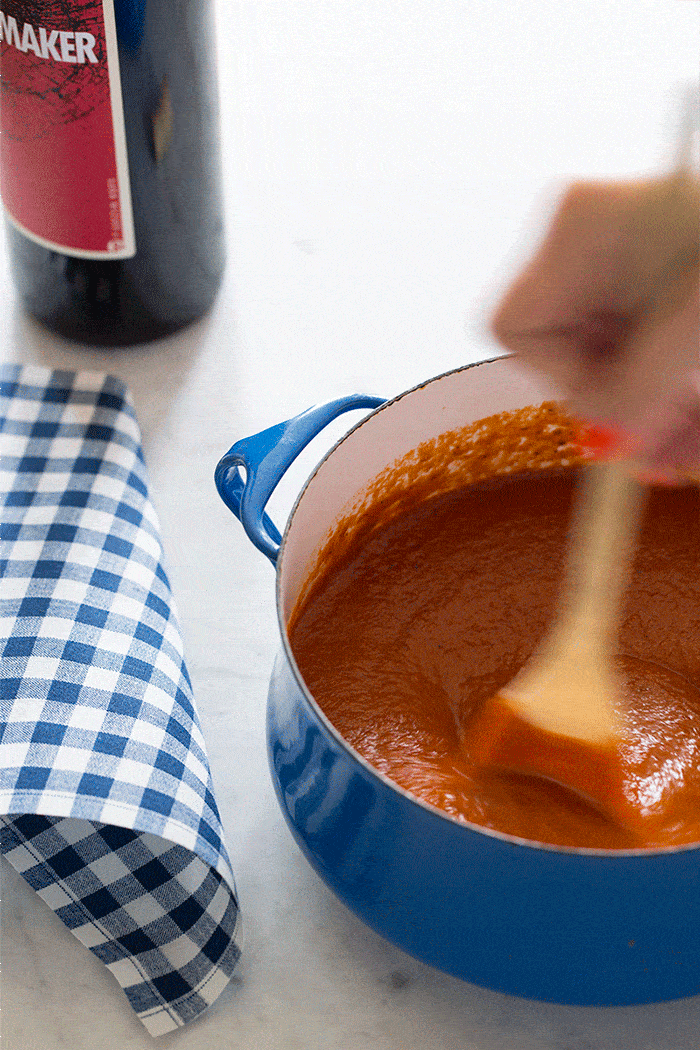 Hi Guys! Today we have what we think is our best ever, marinara sauce! It's so simple and delicious and only requires a few ingredients. One thing that makes our basic marinara sauce so awesome is that we use Troublemaker wine, by Hope Family Wines in Paso Robles, California. This wine is great because it's a blend of multiple types of red including: Syrah, Grenache, Mourvedre, Petite Syrah and Zinfandel. The multi-vintage blend makes for a rich and bold wine that is fruit forward with notes of black cherries, raspberries and vanilla. It has a slightly smoky and black pepper finish to it that pleasantly lingers in the mouth. It's a wonderful wine to use for cooking as well and I love it in our marinara sauce. It adds an element of depth to the deliciously simple sauce.
We also use marjoram in our sauce, instead of the typical oregano. I love the scent and flavor of marjoram and I like to call it the cousin of oregano. It has a mild, sweet pine and citrus flavor, that doesn't overpower the tomatoes. This marinara sauce is so simple to make and you can seriously pour this stuff on anything! I love using it in my lasagnas, as a base for a complex red sauce and even as a dipping sauce for garlic bread, fried ravioli and more! Stay tuned to see what we decide to do with this yummy marinara sauce, this Friday! Enjoy! xx, Jenny
Marinara Sauce
Makes 3 to 4 cups
Ingredients:
2 1/2 tablespoons extra virgin olive oil
1 medium yellow onion, chopped
5 garlic cloves, chopped
3/4 cup Troublemaker (red) wine (or another full flavored, fruity/smoky red wine of your choice)
2 tablespoons fresh minced marjoram
1 tablespoon fresh minced thyme
1 (28 ounce) can crushed tomatoes
salt and pepper to taste
Directions:
1. Pour oil into a medium pot and place over medium heat. Add onion and sauté for 8 to 10 minutes. Season with salt and pepper.
2. Add garlic and sauté for 2 to 3 minutes.
3. Deglaze the pan with wine and simmer until the liquid has reduced by 1/2.
4. Stir in remaining ingredients and lower heat to medium-low. Simmer sauce for 30 minutes and adjust seasonings.
5. Pour sauce into a blender and blend until smooth. Pour sauce back into the pot and simmer for 5 minutes. Serve or can until ready to use.