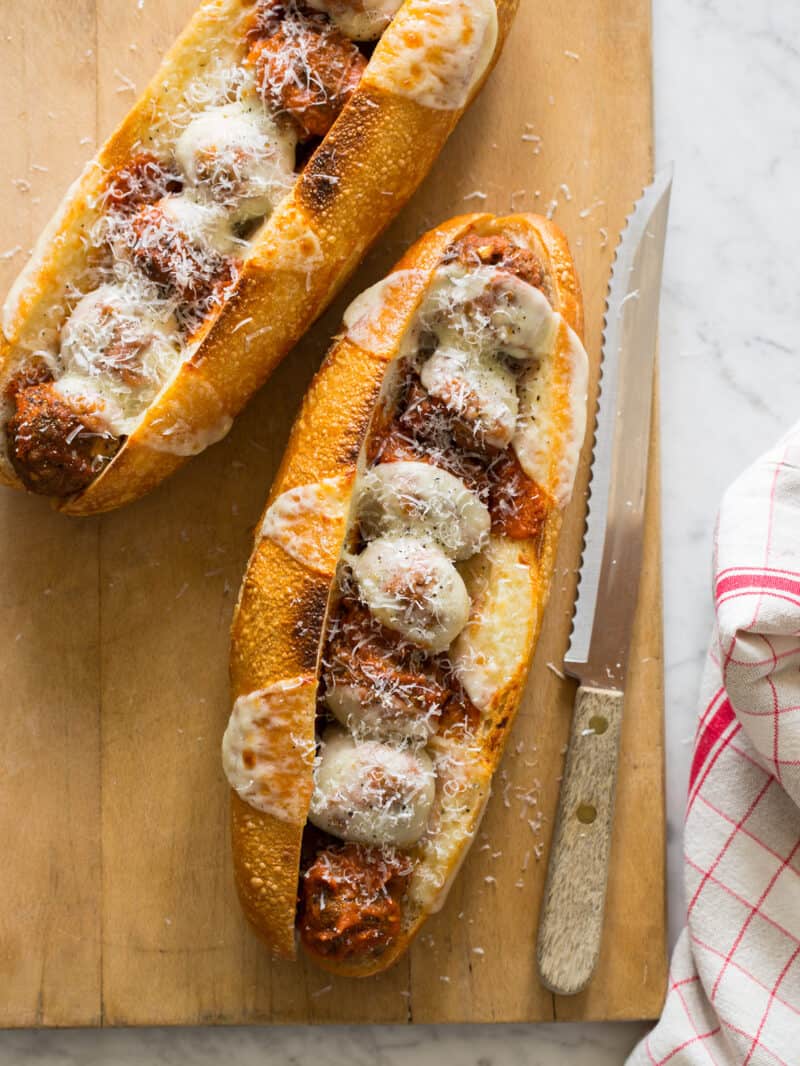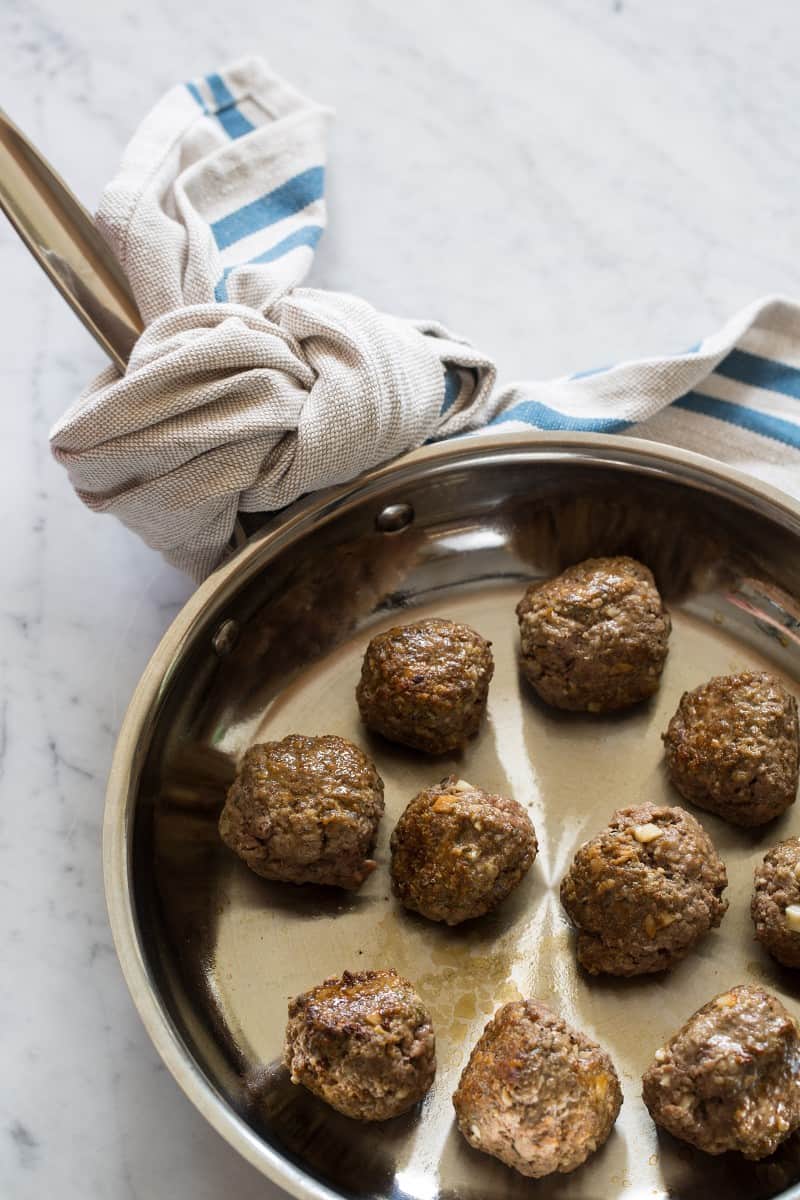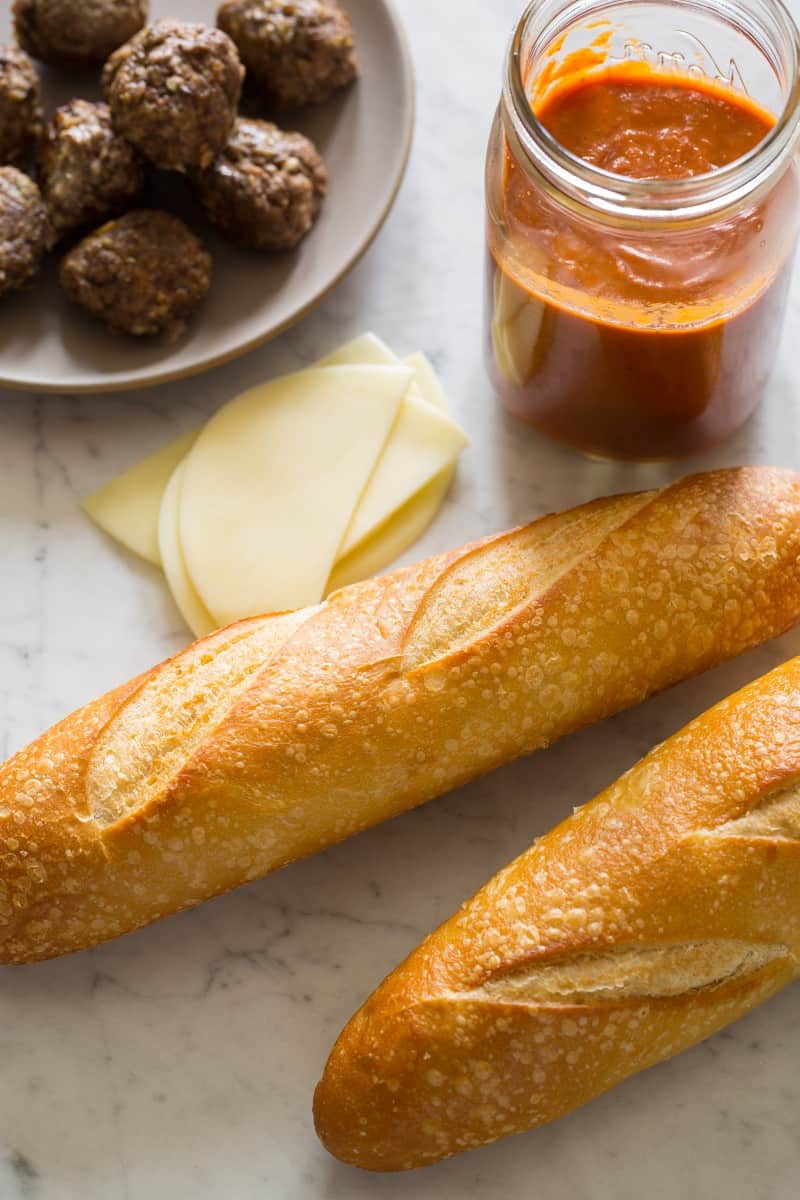 Hi Guys! We're finishing the week with a couple of huge meatball subs, using our marinara sauce from Wednesday. I LOVE a good meatball sub and have been pretty obsessed with the one at Bay City Deli in Santa Monica for the past 4 years. It's so freakin' good. One thing I'm not a fan of is waiting in line for an hour just to order the sub. The solution, make one myself. (in dire times like these, finding another suitable location could take days, if not weeks to find….meh, maybe I'm being a tad bit dramatic..and now I ramble…whatever)
ANYWAY, we used an awesome beef blend from Flannery Beef. (also my favorite website to order and send fabulous meat gifts to loved ones!) They offer a really fun, "build a burger' on their website. You customize your own ground beef blend, up to 4 different kinds, and they freshly grind your handpicked blend for you before shipping it off! Everything is super fresh and it's fun to be able to pick and choose your burger blend to you own liking and taste.
Last week we offered a few picnic recipes, along with a fun picnic roundup and I think this sub would be a perfect addition. The way the marinara sauce just soaks into the soft, butter baguette, yet is secured by the toasted crust makes for a perfect traveling sandwich. While this sub is awesome piping hot, I've been just as happy eating it straight from the fridge…sort of like cold pizza…it's all good. I hope everyone has an awesome weekend filled with lots of meatball "sub-age"! Enjoy! xx, Jenny
Check out these other yummy sandwich recipes: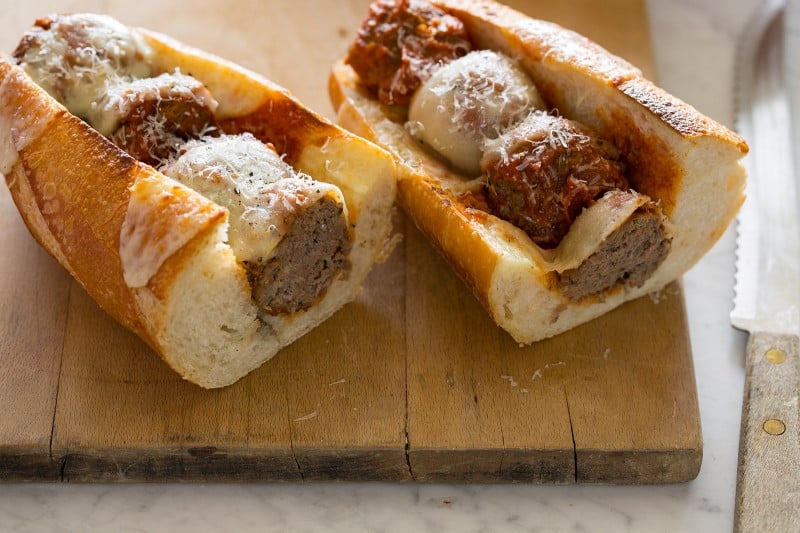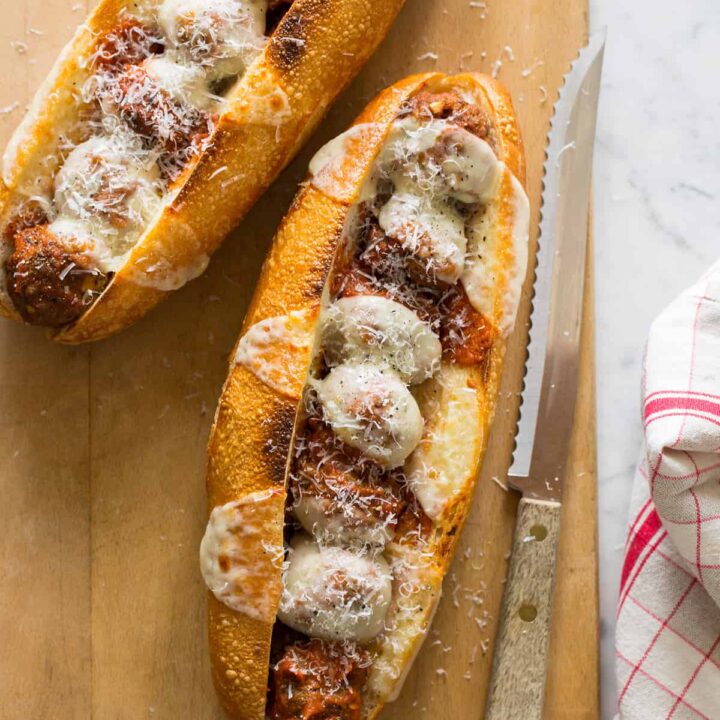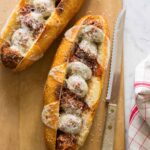 ---
Mega Meatball Sub
INGREDIENTS
meatballs
2

pounds

Bryan Flannery Prime Ground Beef Blend (or ground beef of your choice)

⅓

cup

oat flour

or 1/3 cup breadcrumbs

1

egg, lightly beaten

3

garlic cloves, minced

1

shallot, minced

1 ½

tablespoons

minced oregano

1

tablespoon

minced basil

1

tablespoon

minced thyme

2 ½

teaspoons

salt

1

teaspoon

cracked black pepper
assembly
3

tablespoons

extra virgin olive oil

6

slices

provolone cheese, cut in half

2

cups

marinara sauce

2

(12") sourdough or French baguettes, split in half, buttered and toasted

3

tablespoons

grated Parmesan cheese
INSTRUCTIONS
Place all ingredients into a large mixing bowl and stir together until just combined.

Using meat mixture, roll 4 tablespoon sized meatballs (about 2 ounces each) until all the mixture has been used.

Add oil to a heavy bottom skillet and place over medium-high heat. Add meatballs to skillet (in two batches as to not overcrowd the pan) and brown on all sides, 2 to 3 minutes.

Add all meatballs back into skillet and place in oven until meatballs just cook though, 6 to 8 minutes.

Remove meatballs from oven and drain as much excess grease from skillet. Pour marinara sauce over meatballs and simmer for 5 minutes.

To assemble: Spoon a small amount of marinara sauce into each split baguette. Fill each with meatballs and top with more sauce. Finish with slices of provolone and broil on high for 2 to 3 minutes or until cheese has melted and is bubbling. Top with more marinara if desired, cracked black pepper and freshly grated Parmesan. Serve immediately.
Calories:
1225
kcal
Carbohydrates:
80
g
Protein:
64
g
Fat:
71
g
Saturated Fat:
26
g
Cholesterol:
225
mg
Sodium:
3340
mg
Potassium:
1311
mg
Fiber:
7
g
Sugar:
7
g
Vitamin A:
1014
IU
Vitamin C:
13
mg
Calcium:
464
mg
Iron:
11
mg