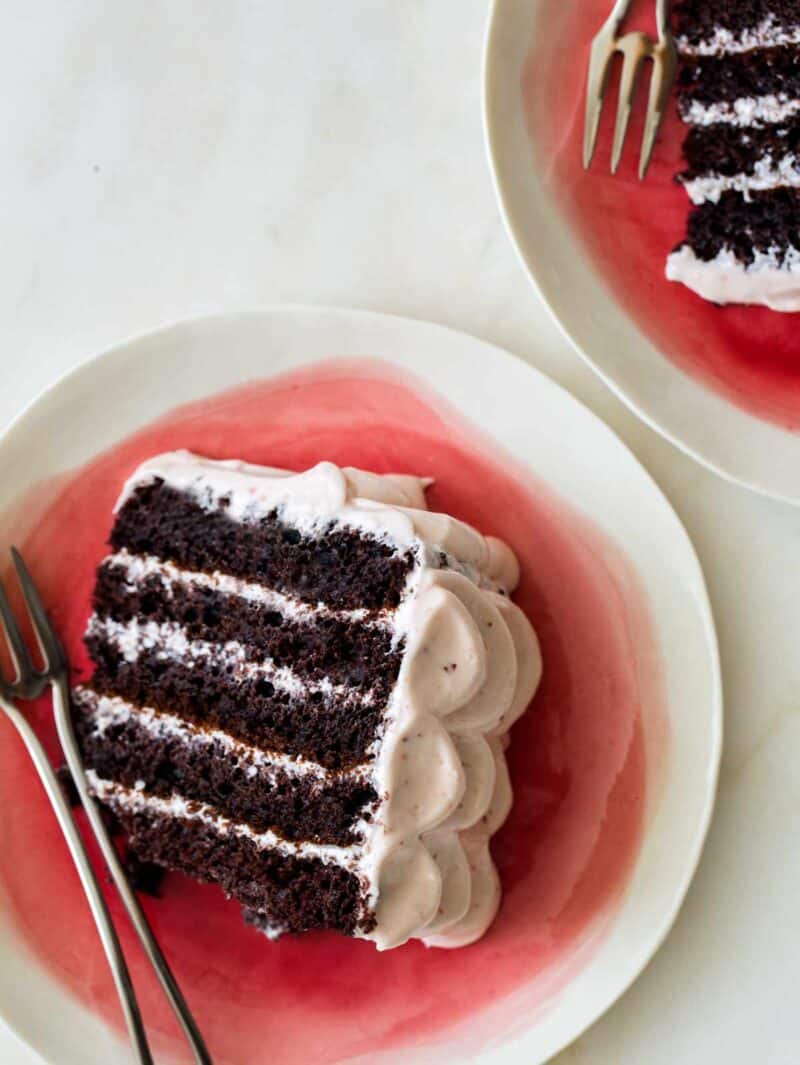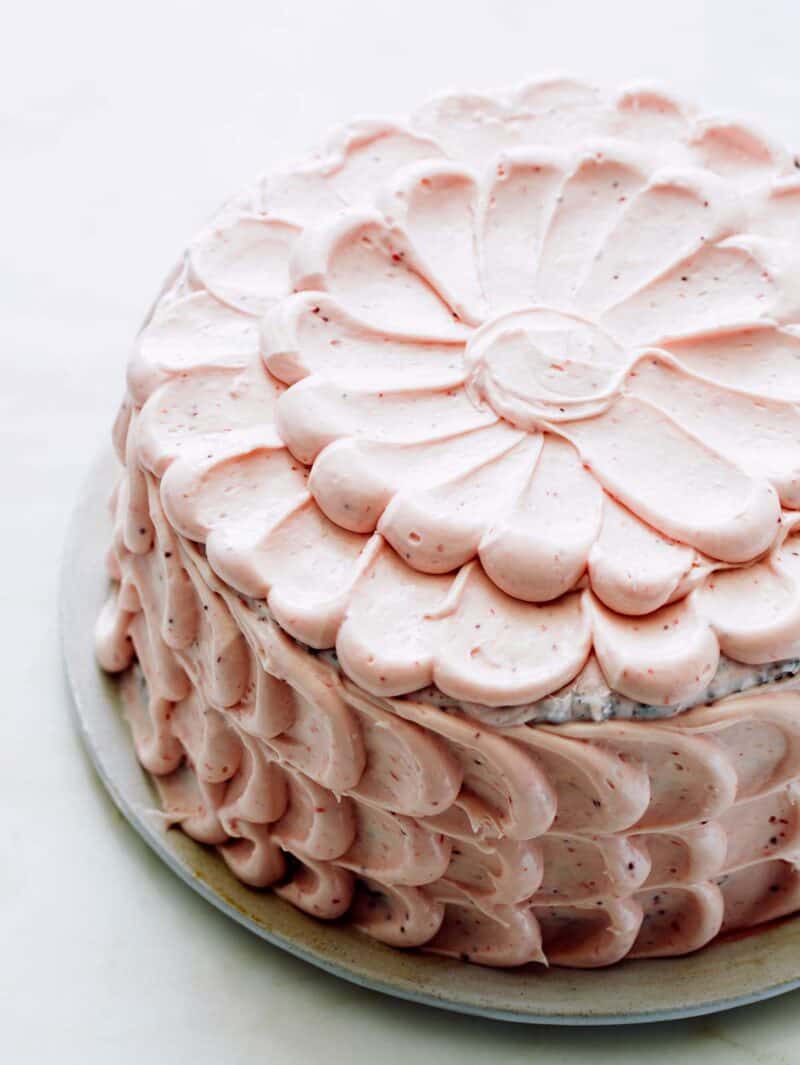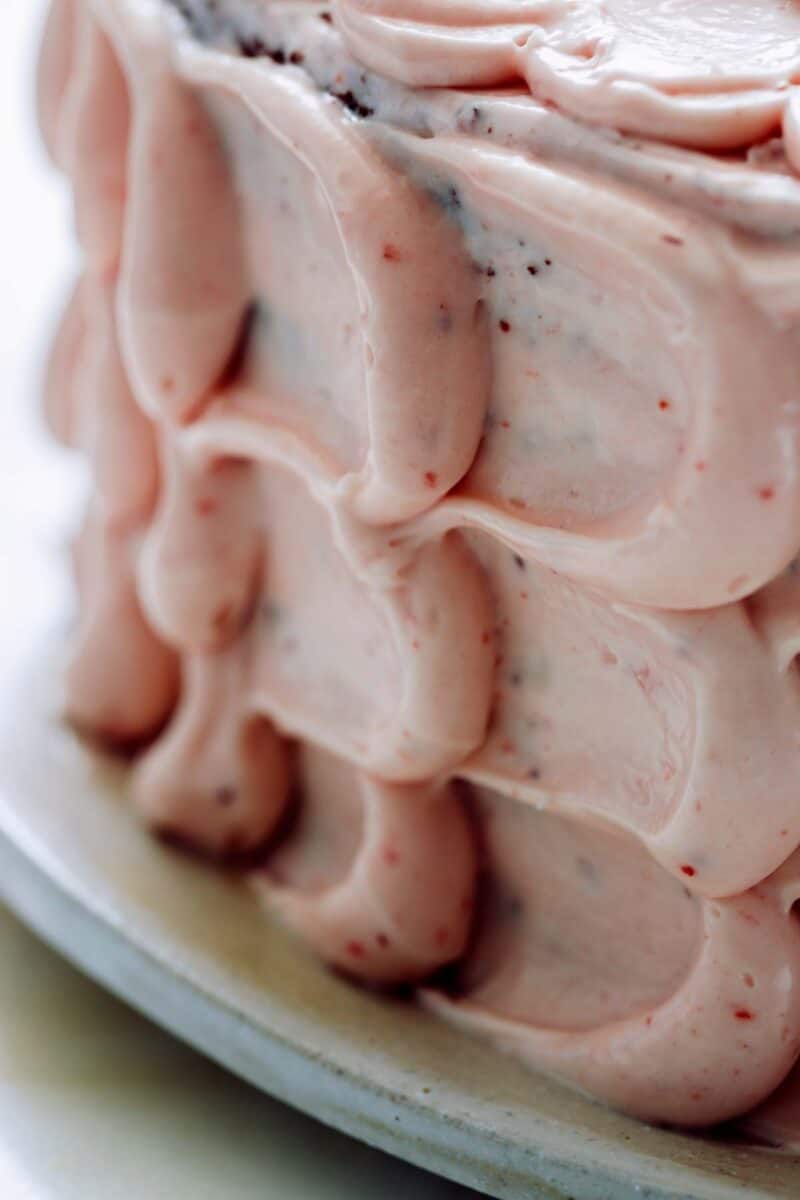 Hi Guys! Guess what? Spoon Fork Bacon turns 2 today! We're celebrating with a classic cake, devil's food. We've been craving something rich and decadent and this cake really hit the spot. My favorite part about it though is the real fruit frosting! With berry season coming to an end, I've been trying to do what everyone has been doing, jamming fresh berries (and stone fruit) into everything I possibly can. I love that you can really taste the strawberries in this frosting and that it's pretty easy to whip up. One piece of advice, don't add more of the strawberry puree into the frosting until the previous amount has been fully incorporated into the mixture. The consistency becomes a little gritty and wet if you rush this.
Thank you all so much for your wonderful support throughout the last two years. Teri and I have had so much fun creating beautiful and delicious recipes/images for you all and look forward to continue banging out awesome stuff! Your comments/likes/pins/tweets…(all of it!) really help to drive our creativity and we appreciate the honest feedback!
Anyway, we hope everyone has an awesome weekend (we're taking tomorrow off!), doing fun things with loved ones! Enjoy! xx, Jenny
**Another small tip for the frosting is to add 1 tablespoon of milk powder to the puree before incorporating it into the butter and sugar. This will help to absorb some of the moisture without taking away the pink color!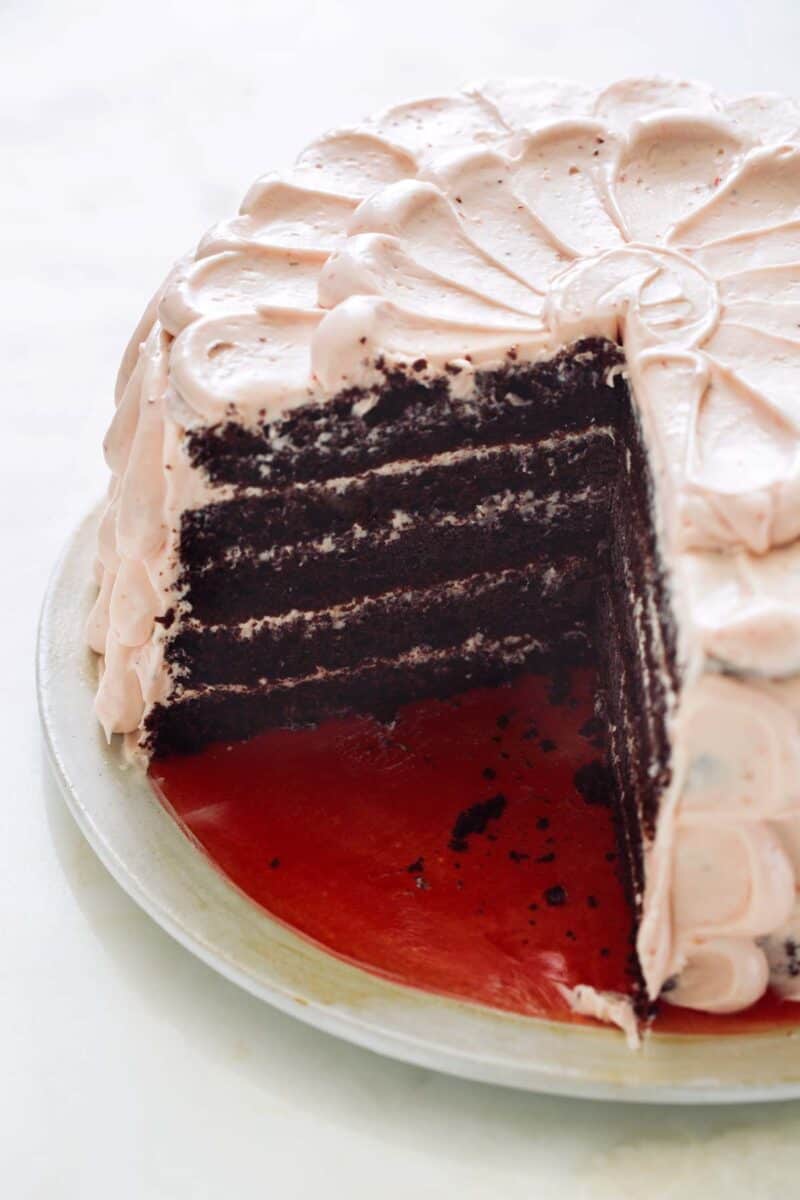 More cake recipes you might like: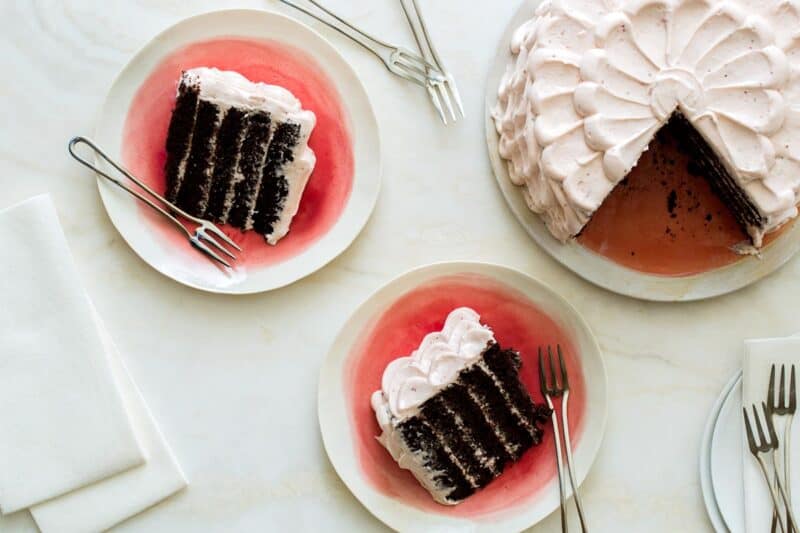 Hungry for more?
Subscribe to never miss a recipe.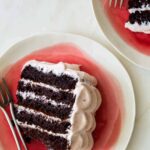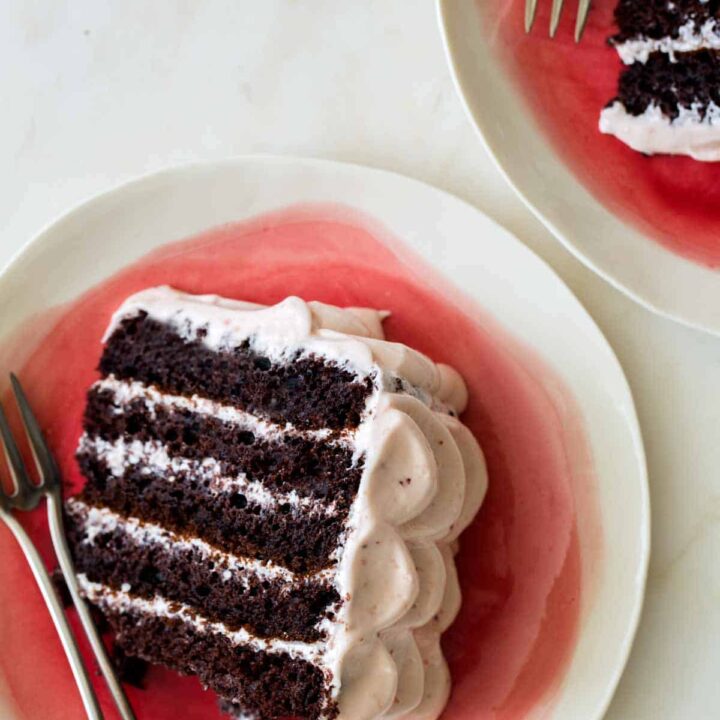 ---
Devils Food Cake with Real Strawberry Frosting
INGREDIENTS
devils food cake
1

cup

boiling coffee

¾

cup

unsweetened cocoa powder

1

cup

vegetable oil

2

large eggs

2

egg yolks

½

cup

sour cream

1

teaspoon

vanilla extract

2

cups

all purpose flour

1 ¼

cup

light brown sugar

¾

cup

superfine sugar

granulated is fine

1 ¼

teaspoon

baking soda

½

teaspoon

salt
real strawberry frosting
1

cup

fresh chopped strawberries

½

lemon, juiced

1 ½

cups

(3 sticks) unsalted butter, softened

5 ½

cups

powdered sugar

1 ½

teaspoons

vanilla extract
INSTRUCTIONS
Preheat oven to 350˚F. Lightly grease three, 8" round cake pans and line each with parchment paper. Set aside.

Cake: In a mixing bowl combine coffee and cocoa powder and whisk together until dissolved.

In another mixing bowl combine oil, eggs, egg yolks, sour cream, and vanilla extract. Whisk together. Once the cocoa mixture has cooled whisk it into the oil mixture.

In a medium mixing bowl combine the remaining ingredients and whisk together. Add the flour mixture into the oil mixture and stir until just combined.

Divide batter between the cake pans and bake for 30 to 35 minutes or until a toothpick comes out clean when inserted into the center of the cake.

Cool cake layers in pans, on cooling racks. Once completely cooled, slice each layer in half (widthwise), creating six, thin, even layers of cake.

Place layers in the refrigerator for at least an hour to chill.

Frosting: Puree strawberries in a blender until smooth and strain through a fine sieve. Simmer puree and lemon juice for 15 to 20 minutes or until reduced by ⅓. Cool completely.

In a stand mixer fitted with a paddle attachment beat butter and 1 cup powdered sugar.Scrape down sides of bowl and add ½ strawberry puree followed by 1 cup powdered sugar. Beat until well combined.

Add remaining strawberry puree and 1 cup powdered sugar and beat until well combined. Add remaining sugar, ½ cup at a time until desired consistency and flavor has been achieved.

To assemble:Place 1 cake layer onto a cake plate and top with a thin layer of frosting. Repeat until all layers have been stacked. Frost a thin layer of frosting around the side and top of cake to crumb coat. Place cake in refrigerator for 1 hour.

Fit a piping bag with a #12 piping tip and fill with frosting. Starting from the bottom, pipe a column of dots, about the size of a nickel or quarter.

Using a small off-set spatula, drag the frosting to either the left or right in the center of each dot, then repeat the dots and dragging until the entire side of the cake has been decorated. Next, pipe the top of the cake, working from the outside in.
Calories:
703
kcal
Carbohydrates:
111
g
Protein:
5
g
Fat:
29
g
Saturated Fat:
18
g
Cholesterol:
126
mg
Sodium:
243
mg
Potassium:
203
mg
Fiber:
3
g
Sugar:
90
g
Vitamin A:
852
IU
Vitamin C:
10
mg
Calcium:
57
mg
Iron:
2
mg