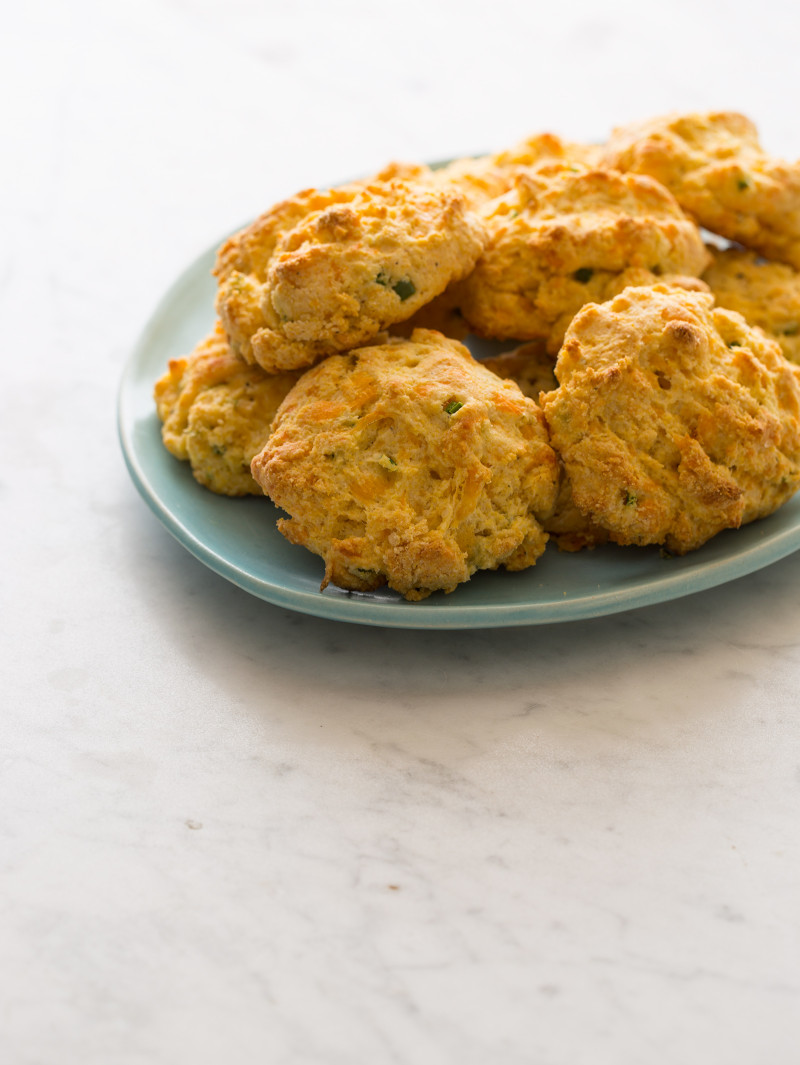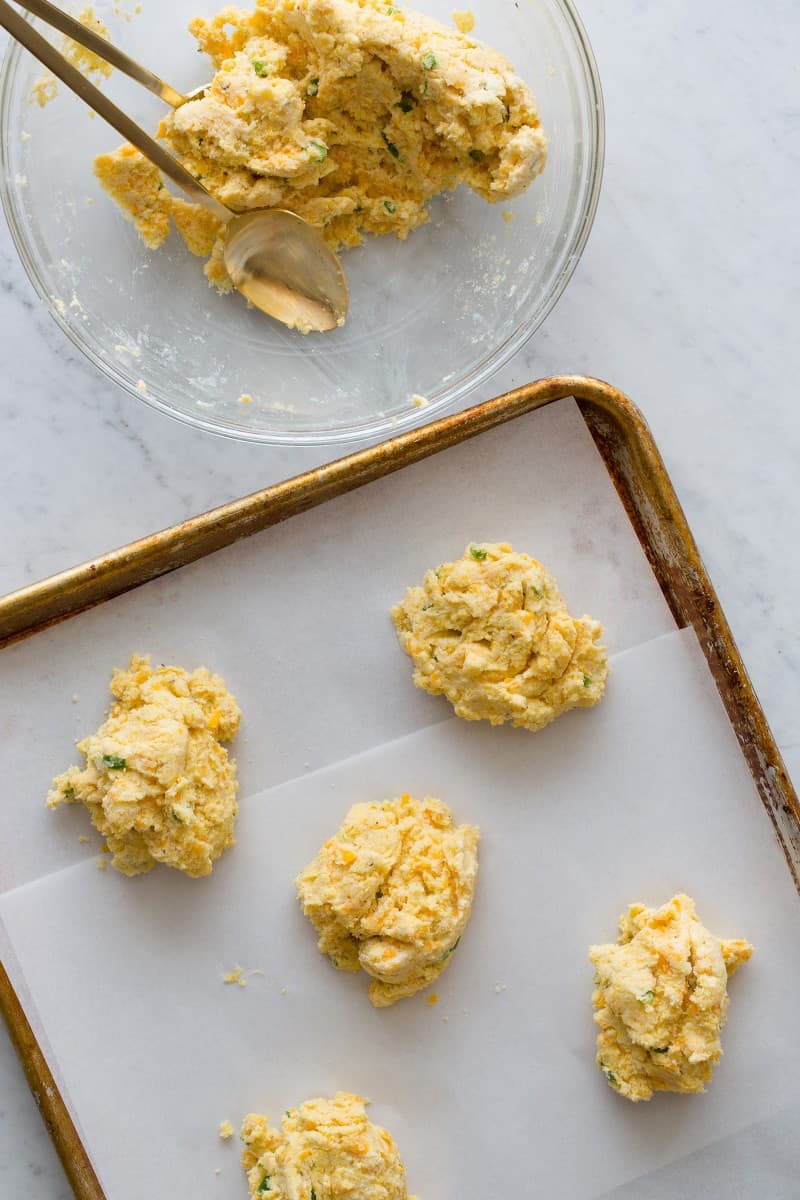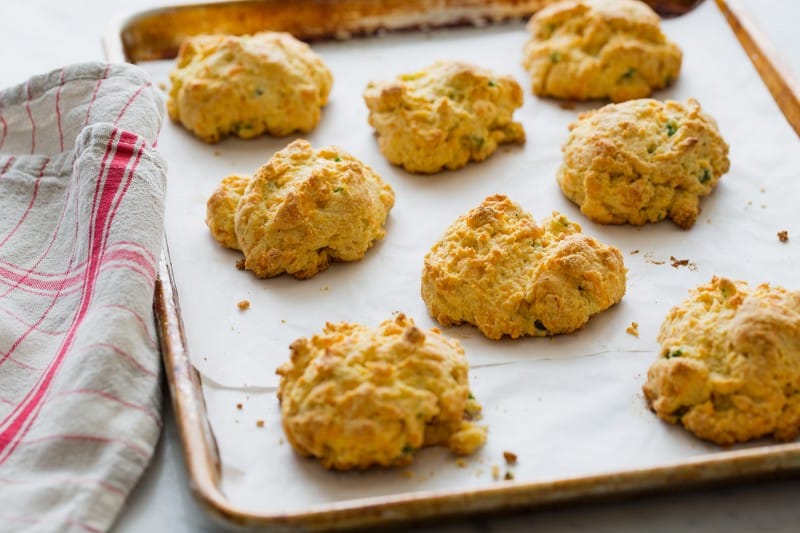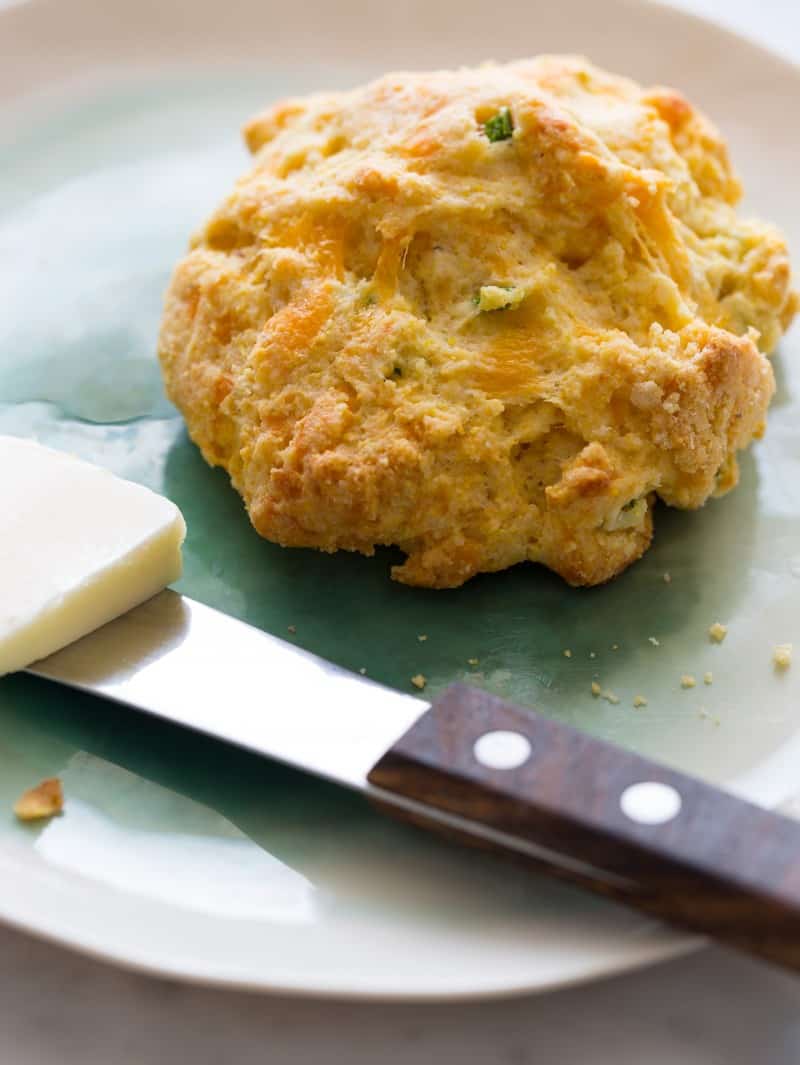 Hi Guys! Today we have these jalapeno and cheddar cornmeal biscuits! I love a jalapeno-cheddar combo, cornmeal and biscuits so these little guys just made sense to me. I usually like replacing some or all of the butter in biscuit recipes with healthier options like greek yogurt and mashed sweet potatoes, but sometimes you just need a fatty biscuit. So today here you go, a cheesy, crusty, fatty biscuit!
The addition of cornmeal to the mix is nice because it changes the texture. Giving you a crispier crust, but still leaves the inside buttery and soft. The perfect biscuit. You can scale the cheddar and jalapeno up or down to your liking, but as the boyfriend noticed you get the taste of jalapenos in this recipe without the heat, so if you're not a spicy type of person these biscuits should still be okay.
You can use these guys to build delicious breakfast sandwiches or use them to dunk into hot (or cold) soup or eat them the way I like best, slightly warmed with a drizzle of honey….as I stand hovered over my kitchen sink devouring biscuit after biscuit, but I digress. I hope everyone has a great holiday weekend! xx, Jenny
Jalapeno and Cheddar Cornmeal Biscuits
Makes 10 to 12
Ingredients:
1 1/4 cup all purpose flour
3/4 cup yellow cornmeal
2 1/2 teaspoon baking powder
1/2 teaspoon baking soda
2 teaspoon superfine sugar
1 1/2 teaspoons salt
1/2 teaspoon cracked black pepper
1/2 cup (1 stick) cold unsalted butter, cut into small cubes
1 cup grated cheddar cheese
1 large jalapeno, seeded and diced
3/4 cup buttermilk
1/4 cup (1/2 stick) unsalted butter, melted
Directions:
1. Preheat oven to 400˚F.
2. Place flour, cornmeal, baking powder, baking soda, sugar, salt, and pepper into a large mixing bowl and whisk together.
3. Cut in butter with a pastry knife or using your fingers until a fine grainy texture forms.
4. Fold in cheddar, jalapeno and buttermilk until a dough forms.
5. Scoop 1/4 cup sized balls of dough and drop onto a parchment lined baking sheet, about 1 inch apart.
6. Bake biscuits for 15 minutes. Remove from oven and brush tops with melted butter. Place back into oven and bake for an additional 5 to 10 minutes.
7. Remove from oven and allow to cool slightly. Once cool enough to handle, serve.