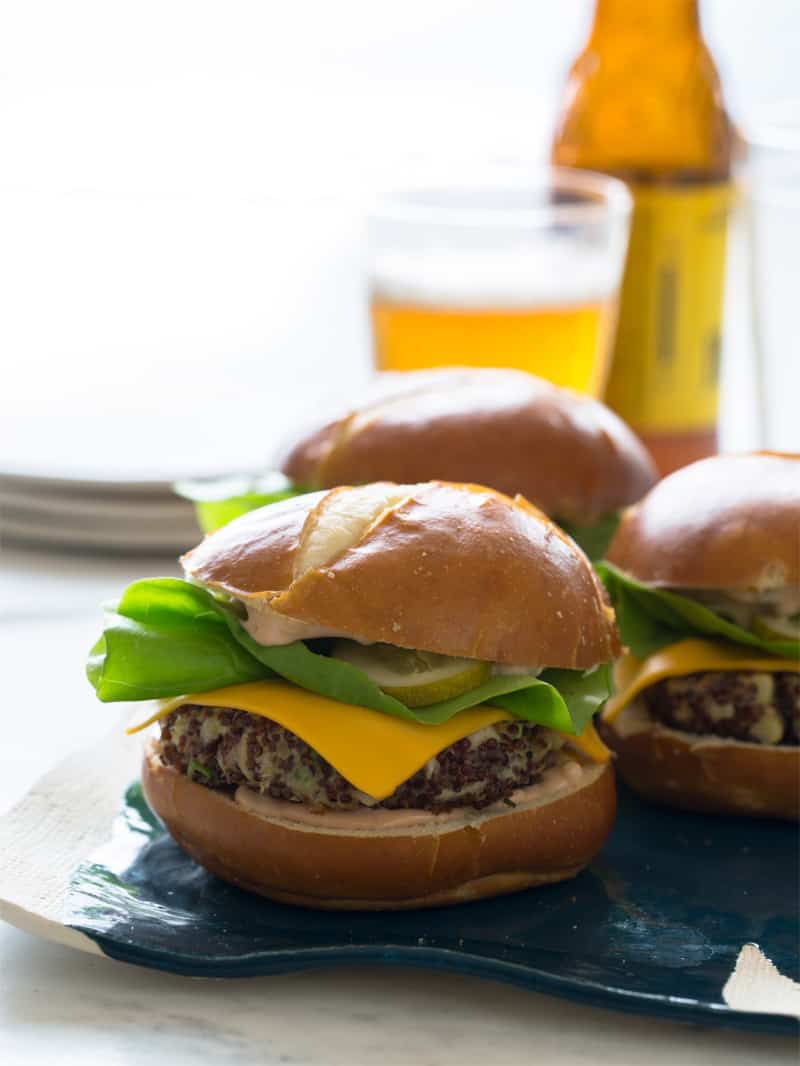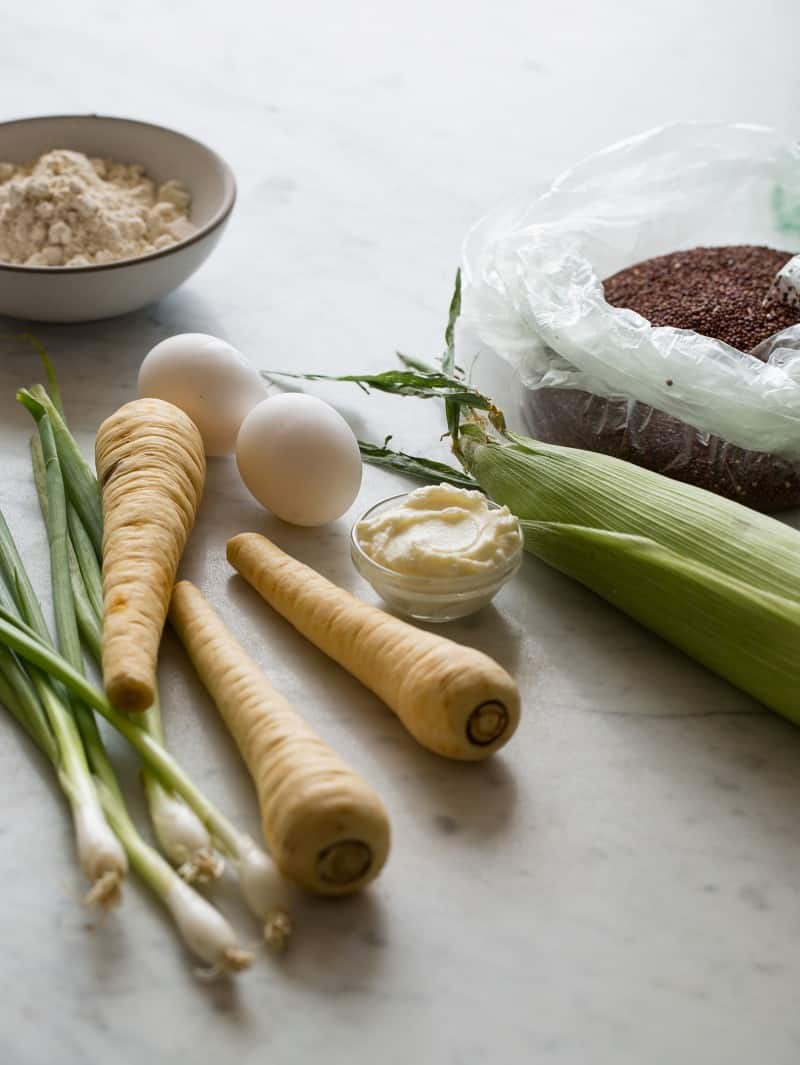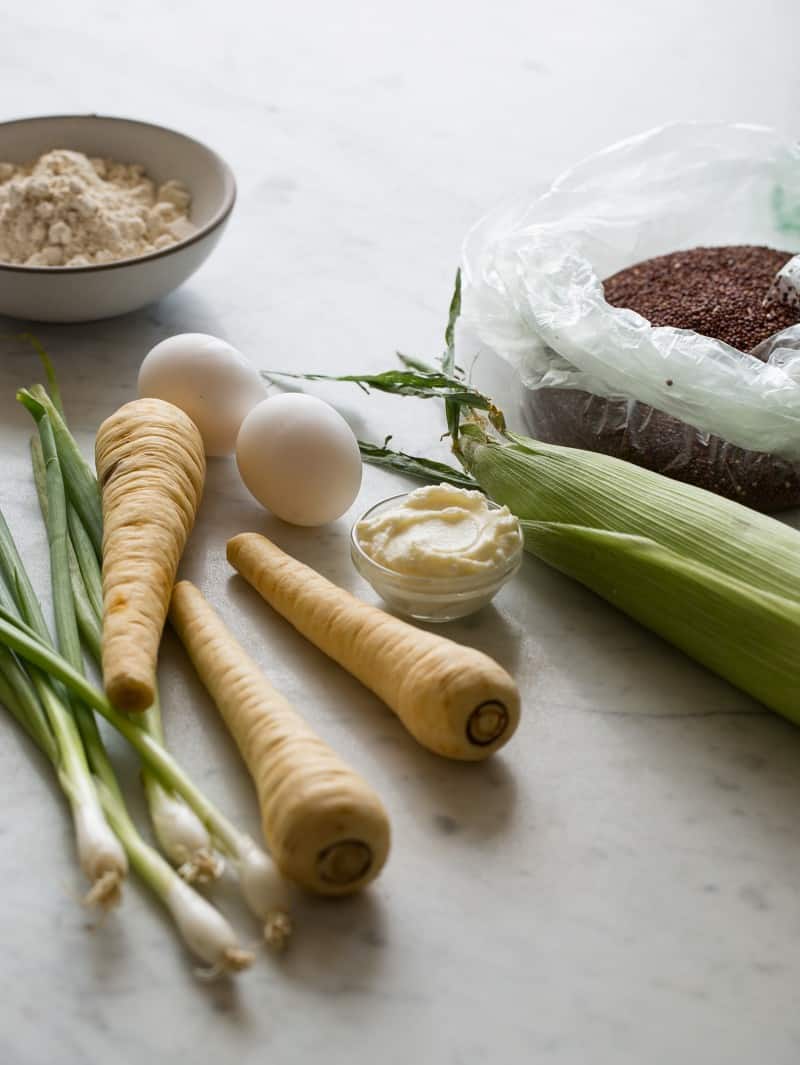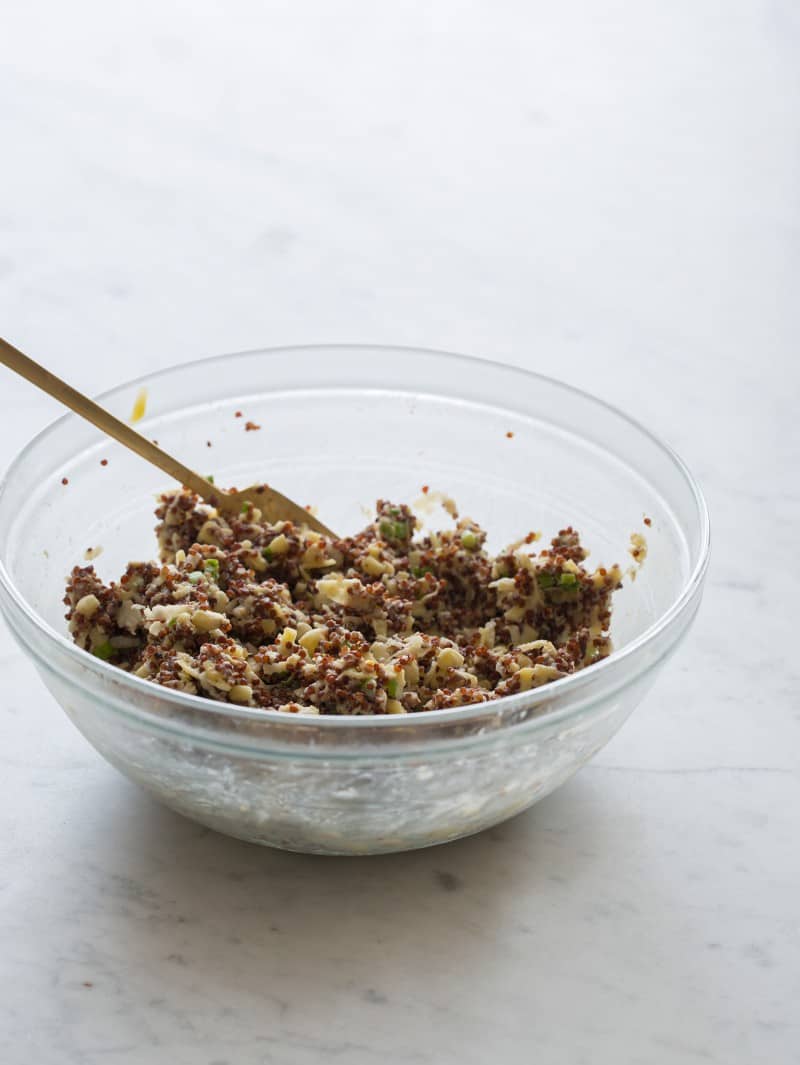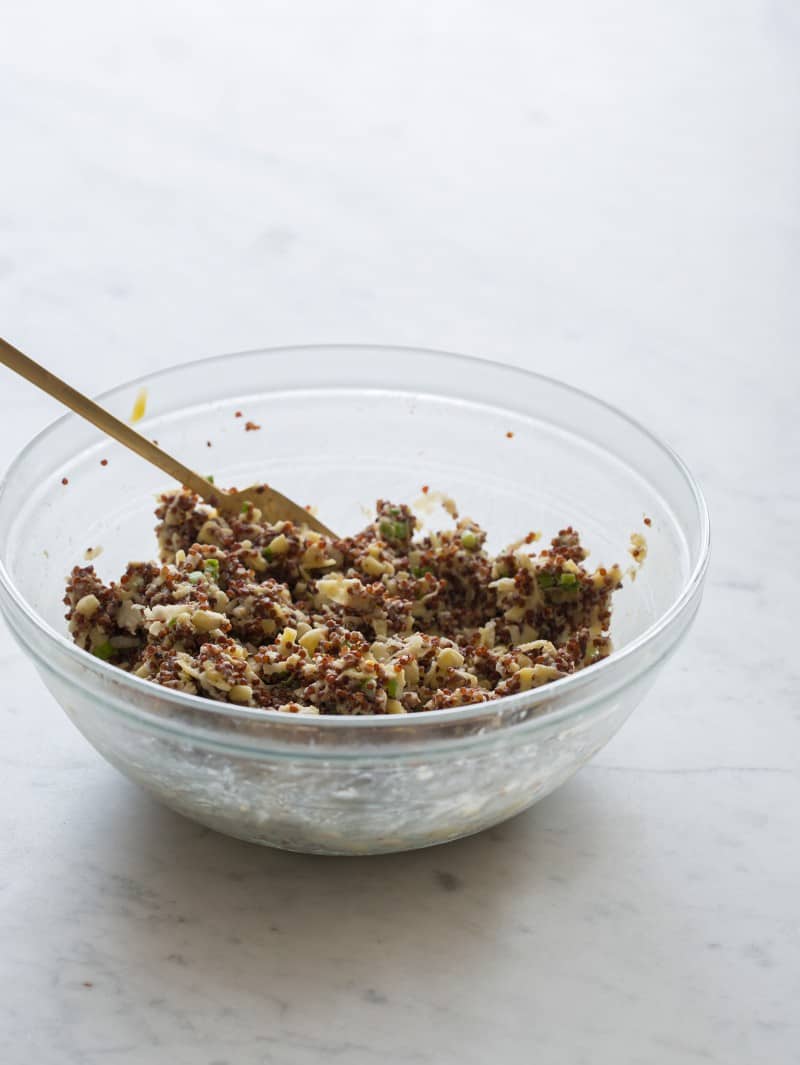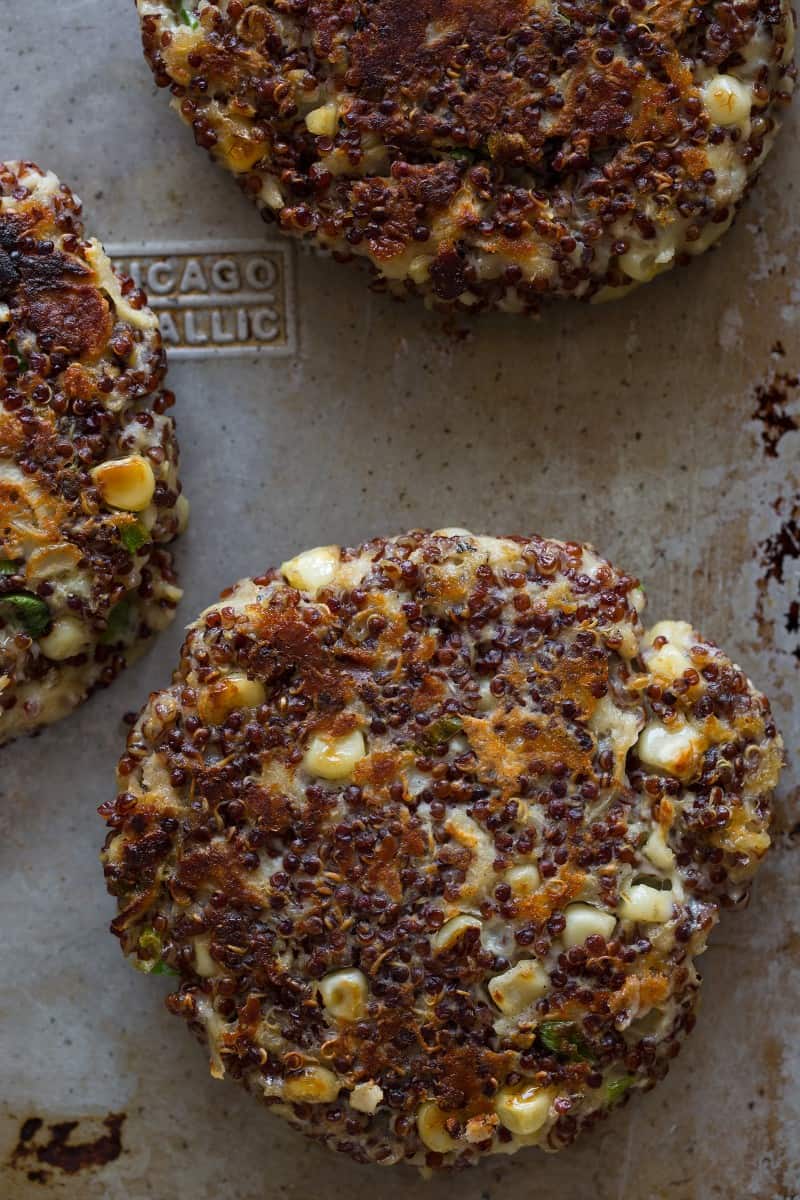 Hi Guys! Is anyone participating in fantasy football? I am. I know, it's weird. I feel weird about it. This is my first time ever and I really have no idea what I'm doing. (boyfriend may have even picked all my players for me during the draft…that's cool, right?) Truth is some old college friends and I decided to start a league together this year. Even though I know absolutely nothing about football and this whole fantasy thing is super confusing to me, I love that I'm doing it with my most vulgar, sh*t talking, hilarious, loud, witty group of girlfriends. It really makes this "game" a lot more interesting and reminds me how lucky I am to have such amazing women in my life.
Anyway, because football season is here I thought something fun like burgers would be appropriate, but since I've been trying to add a little more health and dietary balance into my life they would have to be veggie burgers…delicious Big Veg Quinoa Burgers. Although the name of this burger is a play off the not so delicious Big Mac, the inspiration is really the In-N Out burger, special sauce and all! I really, really love these patties and was super excited that it got the double thumbs up from my not so veggie patty friendly boyfriend. They're a real mouthful and totally filled with lots of flavor. We used pretzel buns here because I like the heartiness, but swap it out for whichever you like. I'm also a huge fan of eating this burger protein style, wrapped in crisp, cold lettuce… so freakin' good, you guys! If you want to get even more healthy, you can skip out on the basic thousand island dressing, but I personally thinks it gives it burger that slight In-N-Out taste.
These Big Veg Quinoa Burgers are really easy to throw together (especially once the quinoa has cooked and cooled), but I've got to say that allowing them to sit in the refrigerator for a while will make them hold together better when you cook them up. Happy football season, everyone! (I'm totally just to pretend like I know what I'm doing) Enjoy! xx, Jenny
More veg friendly burgers and sandwiches: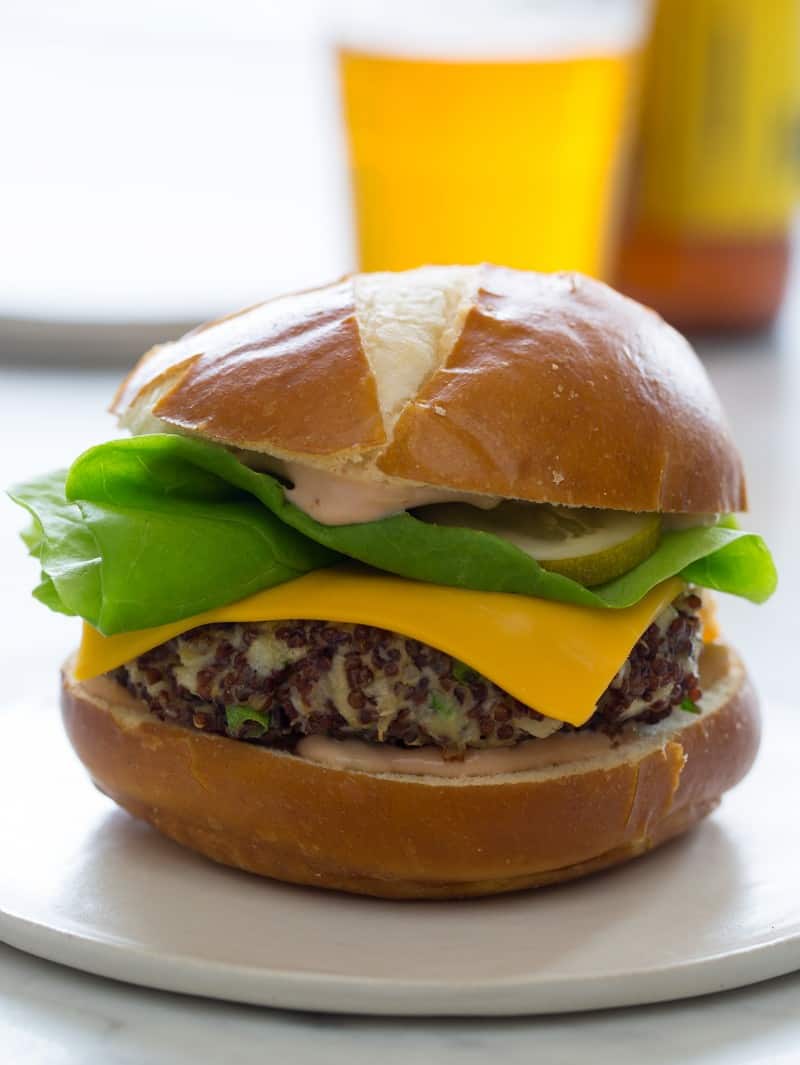 Hungry for more?
Subscribe to never miss a recipe.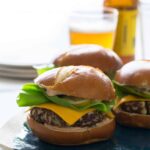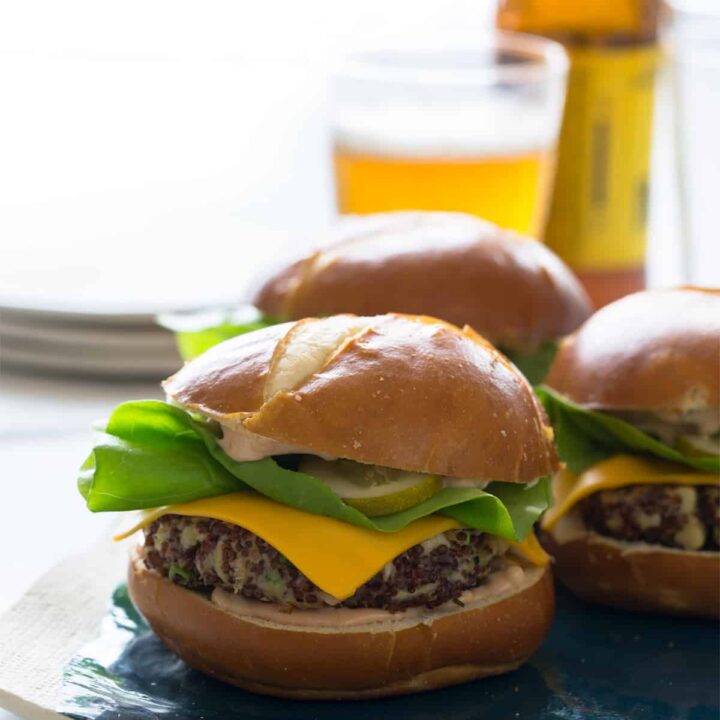 ---
The Big Veg Quinoa Burger
INGREDIENTS
quick and easy thousand island dressing:
½

cup

ketchup

3

tablespoons

mayonnaise

2 ½

tablespoons

finely diced pickles

pinch

smoked paprika
quinoa patties
2

cups

cooked and cooled red quinoa (about 2/3 cup dry)

¾

cup

shredded white cheddar

¼

cup

ricotta cheese

1

egg plus 1 egg white, lightly beaten

1

parsnip, peeled and grated

1

corn on cob, kernels removed

1

green onion, thinly sliced

1

garlic clove, minced

3

tablespoons

oat flour

½

teaspoon

smoked paprika

¾

teaspoon

salt

¼

teaspoon

cracked black pepper

2 ½

tablespoons

vegetable oil
assembly
4

pretzel buns (or sesame buns), split and toasted

4

slices

American (or mild cheddar) cheese

4 to 8

leaves butter lettuce

12 to 16

pickle chips
INSTRUCTIONS
For dressing: Place all ingredients into a small bowl and whisk together. Cover and refrigerate until ready to use.

For patties: Place all ingredients into a large mixing bowl and stir together until thoroughly combined. Cover and refrigerate for at least 2 hours. Divide mixture into four equal amounts and form into patties.

Pour half of oil into a cast iron skillet or nonstick pan and place over medium-high heat. Add patties, two at a time and sear for 4 to 5 minutes.

Flip patties and continue to cook for 3 to 4 minutes. Add cheese to each patty, 1 to 2 teaspoons of water and cover with lid for 30 seconds to 1 minute or until cheese melts. Remove cooked patties and repeat with remaining patties.

To assemble: Spread dressing onto each bun and top with quinoa patty. Add Top with lettuce, pickles and finally the bun tops. Gently press and serve.
Calories:
580
kcal
Carbohydrates:
46
g
Protein:
19
g
Fat:
36
g
Saturated Fat:
19
g
Cholesterol:
96
mg
Sodium:
1586
mg
Potassium:
615
mg
Fiber:
6
g
Sugar:
12
g
Vitamin A:
1440
IU
Vitamin C:
11
mg
Calcium:
466
mg
Iron:
3
mg