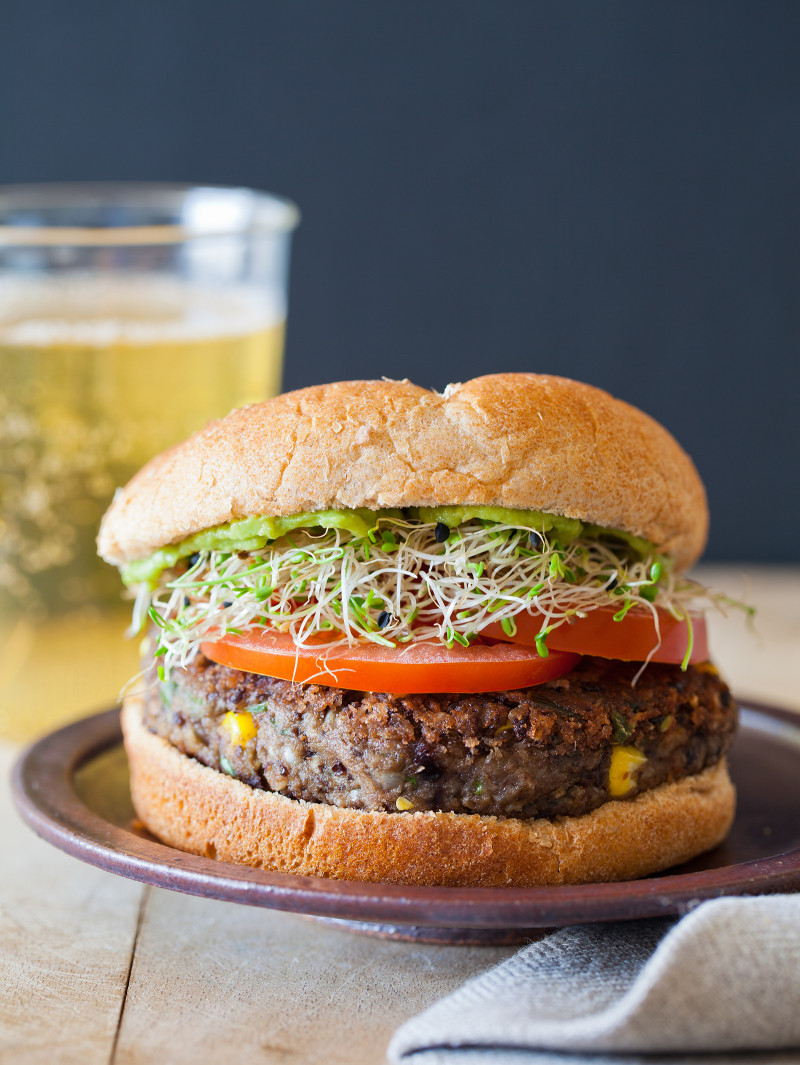 Fourth of July is right around the corner and I'm in the midst of figuring out my menu. I love to grill and bbq for this summer holiday, but that also usually means a pretty meat heavy occasion. So I do our best to accommodate the needs of my vegetarian friends because it's always a bummer to see them picking away at the one or two dishes that were prepared without meat/animal products which usually ends up being some sort of salad or crudite platter, which is fine but not really fine, you know?
I always like to provide a great vegetarian friendly alternative, so for this 4th of July we're going back to one of our favorite veg burgers, this Spicy Black Bean Burger! I love the flavor and texture this burger provides, plus it's super satisfying. I'm a big meat gal myself, but there have also been many occasions where I've opted for a veg patty over a beef one.
This recipe is simple and delicious and you can really dress it up however you want. We've added a simple guacamole, sliced tomatoes and alfalfa sprouts to ours, but for this holiday I'm thinking slices of cheese, grilled or caramelized onions, roasted garlic aioli, crisp lettuce, and maybe even potato chips stuffed inside are in order! :) If you're not totally sold on the black bean base we have a couple other options for you, including a quinoa burger and falafel burger, both so different but so tasty!
Do you guys have any vegetarian friendly dishes you love to grill up? I would absolutely love to hear about them. Enjoy! xx, Jenny
Hello! Something you all probably don't know about me is that long ago I was a vegetarian….FOR 3 YEARS! Crazy, right?! It was when I was in high school, after watching a rather inhuman and disturbing video in class. I swore off meat until one day, three years later, I walked into Panera Bread, bought and ate an asiago, roast beef sandwich and that was that :) Still to this very day I love my fair share of meatless dishes. Veggie burgers are always great and I've tried them so many ways, with lentils, mushrooms, tofu, tempeh, etc. My favorite type of meatless burger is a good, full flavored black bean burger. We have one here for you all today, studded with corn (because corn is awesome) and loaded with spices. These burgers are great, but still rather soft and delicate and should be handled gently while cooking them. These are great with just about any topping and condiment of your choice, plus they're super easy to make and really fill you up. Enjoy!
xx Jenny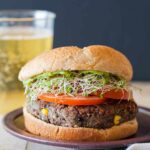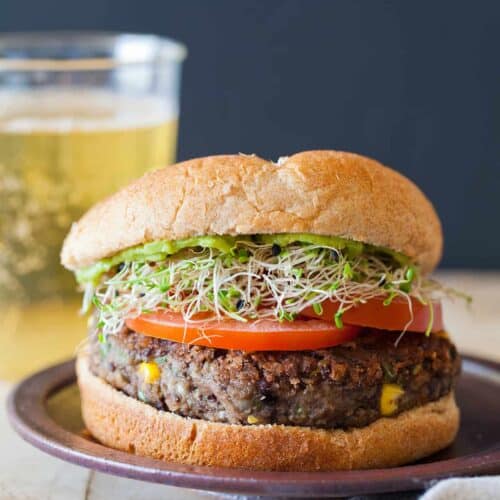 ---
Spicy Black Bean Burgers
INGREDIENTS
burger patties
½

yellow onion, chopped

1

jalapeno, seeded and chopped

3

garlic cloves

1

(14.5 ounce) can black beans, drained

½

cup

plus 2 tablespoons rolled oats

1

ear yellow corn, kernels and milk removed from husk

1

green onion, thinly sliced

2

teaspoons

cumin

½

teaspoon

curry powder

¼

teaspoon

cayenne pepper

¼

cup

plain breadcrumbs

salt and pepper to taste
assembly
3

tablespoons

vegetable oil

4

whole wheat burger buns
optional toppings/condiments
sprouts

tomatoes

guacamole

avocados

cheese

lettuce

onions

caramelized onions

ketchup

mustard

mayonnaise

pickles
Recipe instruction visual controls:
INSTRUCTIONS
Place onion, jalapeno and garlic in a food processor and pulse 5 or 6 times.

Add beans, oats, corn, green onion, cumin, curry powder, and cayenne. Season with salt and pepper and pulse 8 times. Scrape downs sides of the bowl and pulse an additional 5 to 8 times (depending on desired texture).

Place mixture into a mixing bowl, cover with plastic wrap and place in the refrigerator for at least two hours.

Remove chilled mixture from refrigerator and stir in breadcrumbs. Adjust seasonings.

Pour oil into a heavy bottom skillet and place over medium. Form mixture into four equal patties. Cook patties for 5 to 7 minutes on each side or until a crust develops and the patties are heated through.

Remove patties from heat and place onto burger buns. Assemble burger with toppings and condiments of your choice and serve.