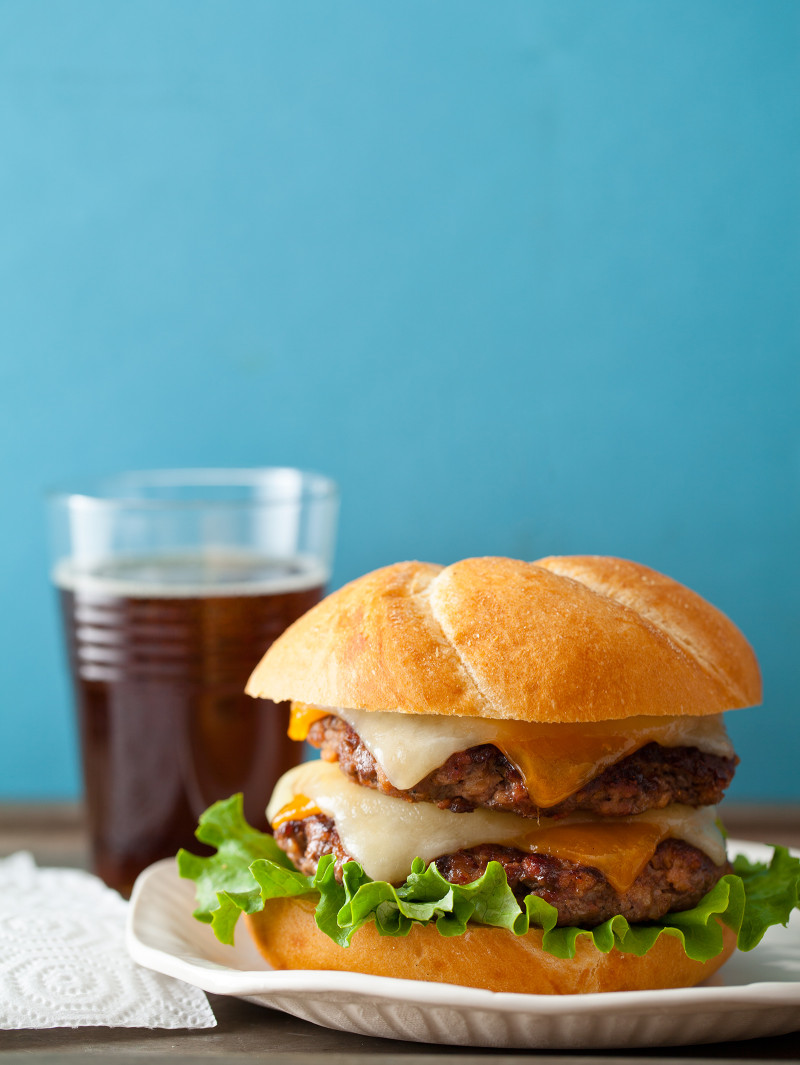 Hi All! So we're ending this week with a little something called the 50/50 burger. I had this burger for the first time at this place called Slater's 50/50: Burgers by Design. It's a burger place that acts sort of like a pub/sports bar. They have a great selection of burgers and beers to accompany them. Anyway, this burger is awesome. When I make this I like to use applewood smoked bacon with a hint of sweet maple. The type of bacon you use is important because it's what flavors your burgers. I do recommend that you actually grind the bacon and not just chop it up bc it'll mix and allow the fat to distribute more evenly which is so important when it comes time to cooking the patties. I also ground my own sirloin, but you certainly don't have to….don't have a meat grinder at home? It's okay, you can ask your local butcher or go to a specialty market and they're usually pretty good about doing it for you. If you have no choice, you can throw it in the food processor…but make sure the bacon is partially to almost fully frozen, if not the fat will probably get stuck in the blade and not actually grind up (the bacon should be partially frozen when using any method including a meat grinder and mincing with a knife).
I love things like burgers because you can make them however you want and dress it exactly how you like it. I highly recommend you all go make this burger this weekend (and have it with a few cold beers, of course) it's simple, easy and burgers are awesome…especially this one! :)
xx Jenny
We love burger recipes, so check out some of our other favorites:
Check our our entire recipe collection full of burger and sandwich recipes: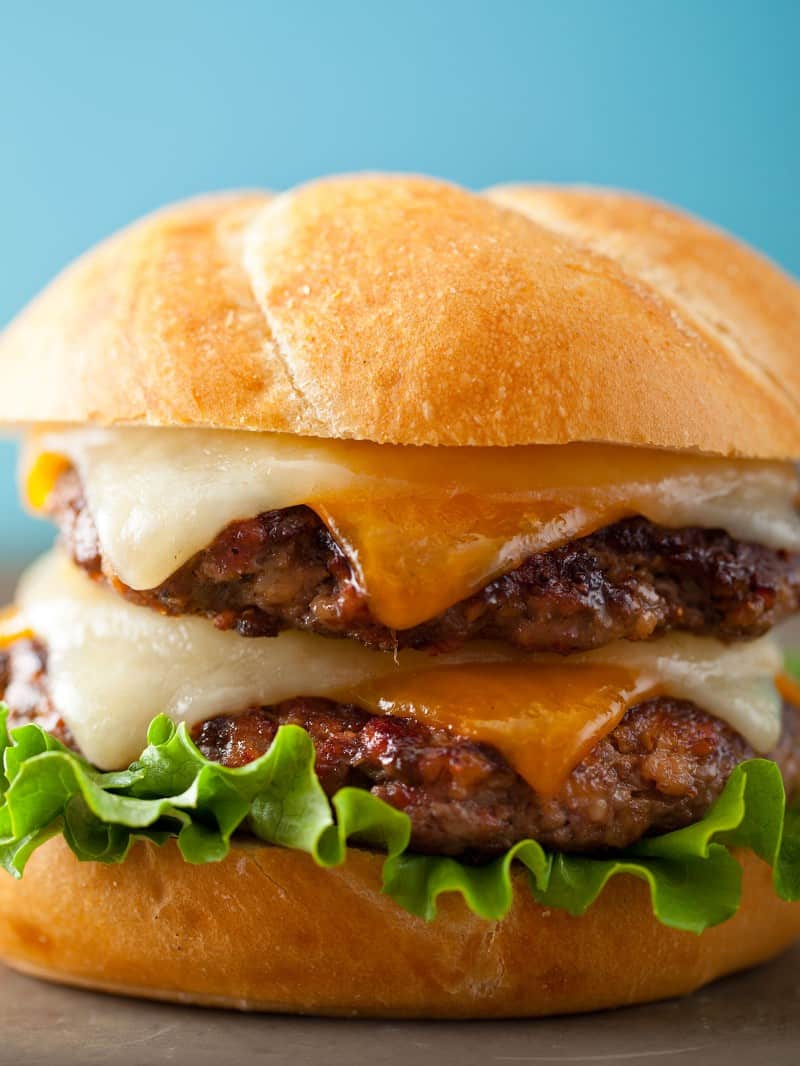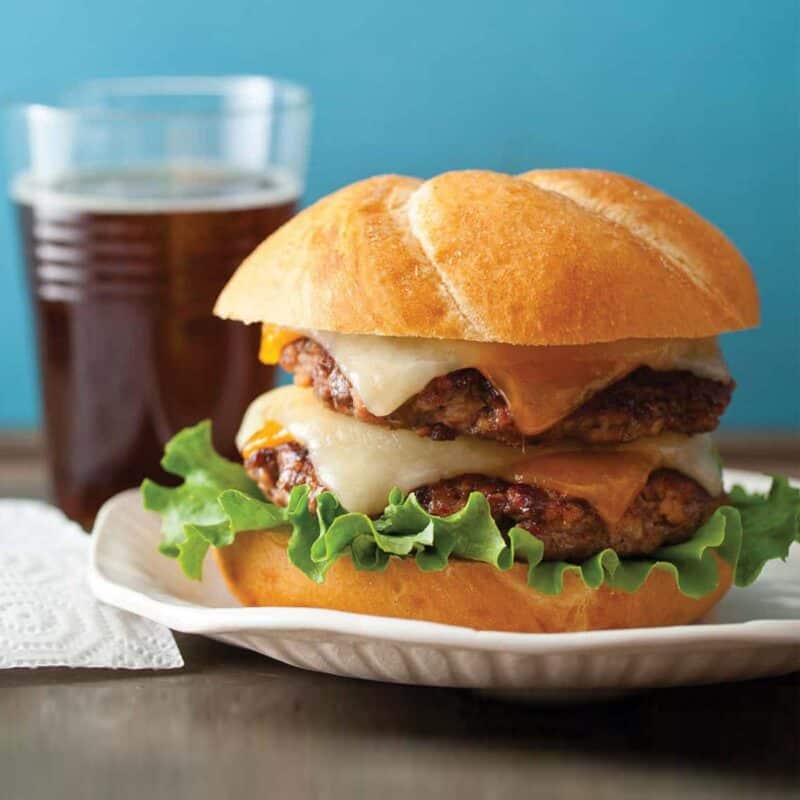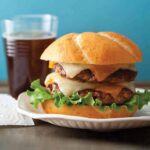 ---
Double 50/50 Burger
INGREDIENTS
patties
½

pound

lean ground sirloin

(or ground beef of your choice)

½

pound

ground bacon

salt and pepper to taste

vegetable oil for grilling
assembly
3

toasted hamburger buns or Kaiser rolls

6

slices

cheddar cheese

6

slices

Jack cheese
optional
pickles

relish

avocado

tomatoes

lettuce

onions

bacon

mayonnaise

mustard

ketchup

thousand island
INSTRUCTIONS
Place beef and bacon into a large mixing bowl and season with salt and pepper. Mix together until fully combined.

Form six equal patties and place in the refrigerator between parchment to chill.

Heat a grill pan over medium-high heat and brush the surface with vegetable oil.

Place patties onto the grill pan (three at a time) and grill for 5 to 7 minutes on each side.

About two minutes before the patties are done, place a piece of cheddar and jack cheese over each patty and allow cheese to melt before removing and placing onto a clean surface. Repeat with the remaining patties and cheese.

To assemble: Stack two patties onto one another and place on a bun. Add any remaining toppings and condiments of your choice and serve.