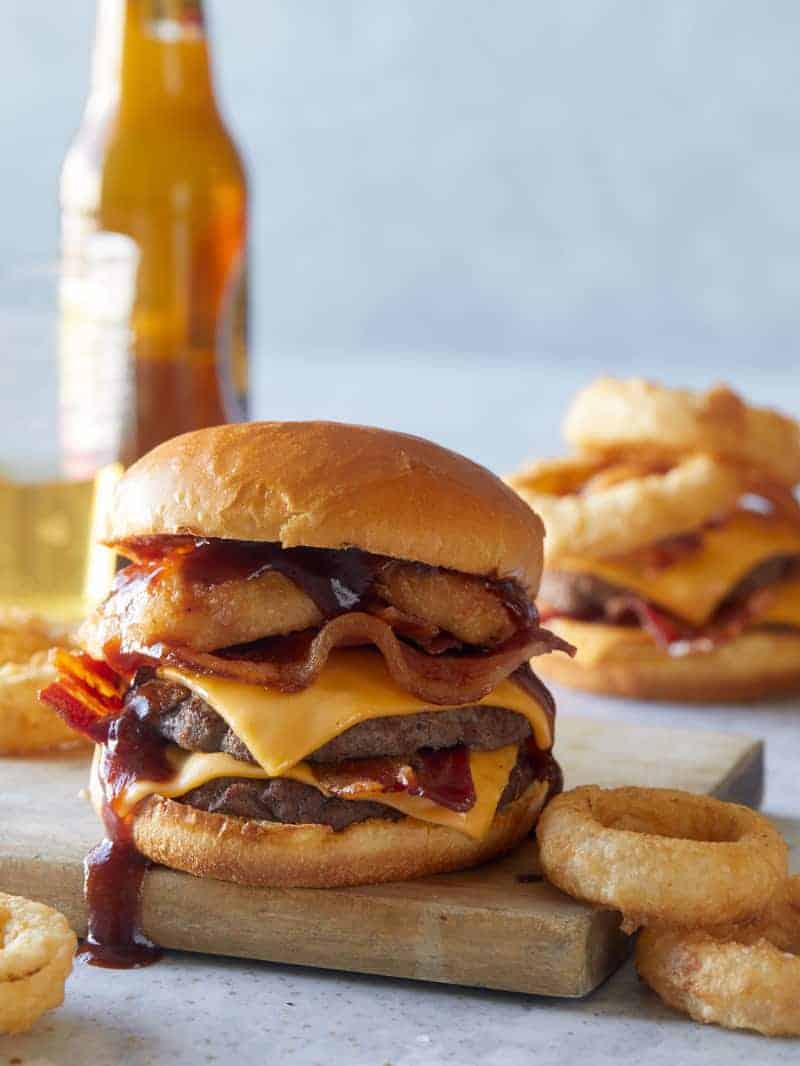 Labor Day weekend is right around the corner and we're keeping things a little more simple this year. We have these Western Bacon Double Cheeseburgers and they're pretty darn tasty! It's definitely more of an indulgent burger, but with all the right stuff. My husband is especially a big fan of the onion rings in the burger, but duh right? These are actually his favorite burgers in general, but also no surprises there, lol. I usually like to add some lettuce to this, just for a little bit of freshness, but that's totally not needed. Enjoy! xx, Jenny
Bacon Western Double Cheeseburger

Makes 4

Ingredients:
2 tablespoons unsalted butter, softened
4 brioche burger buns, split in half crosswise
1 pound lean ground beef, divided into 8 (2 oz) portions
2 tablespoons unsalted butter, softened
8 slices American (or cheddar) cheese
16 slices crispy cooked bacon
8 to 12 beer battered onion rings, plus more for serving
homemade or store-bought BBQ sauce of choice
salt and pepper to taste

Directions:
1. Lightly butter each bun and set aside.
2. Form each 2 ounce portion beef into thin (bun sized) patties and generously season all sides with salt and pepper.
3. Turn grill on medium-high(~400˚F) and brush grates with oil.
4. Once grill is hot, place beef patties onto grill and sear for 2 to 3 minutes.
5. Flip patties and sear on other side for 2 to 3 minutes.
6. Top each patty with a slice of American cheese and close grill lid for 1 minute.
7. Remove patties from grill, stacking half the patties onto the other half of patties (so you have 4 stacks with 2 patties each) and transfer to a platter. Scrape grill grates clean.
8. Place buns onto grill, buttered side down, and grill for 30 seconds. Remove from grill and set aside.
9. To assemble: Stack each burger bun with bbq sauce, two patties with cheese, 4 slices of crispy cooked bacon, 2 to 3 onion rings, more bbq sauce, and the tops of each burger bun. Serve.