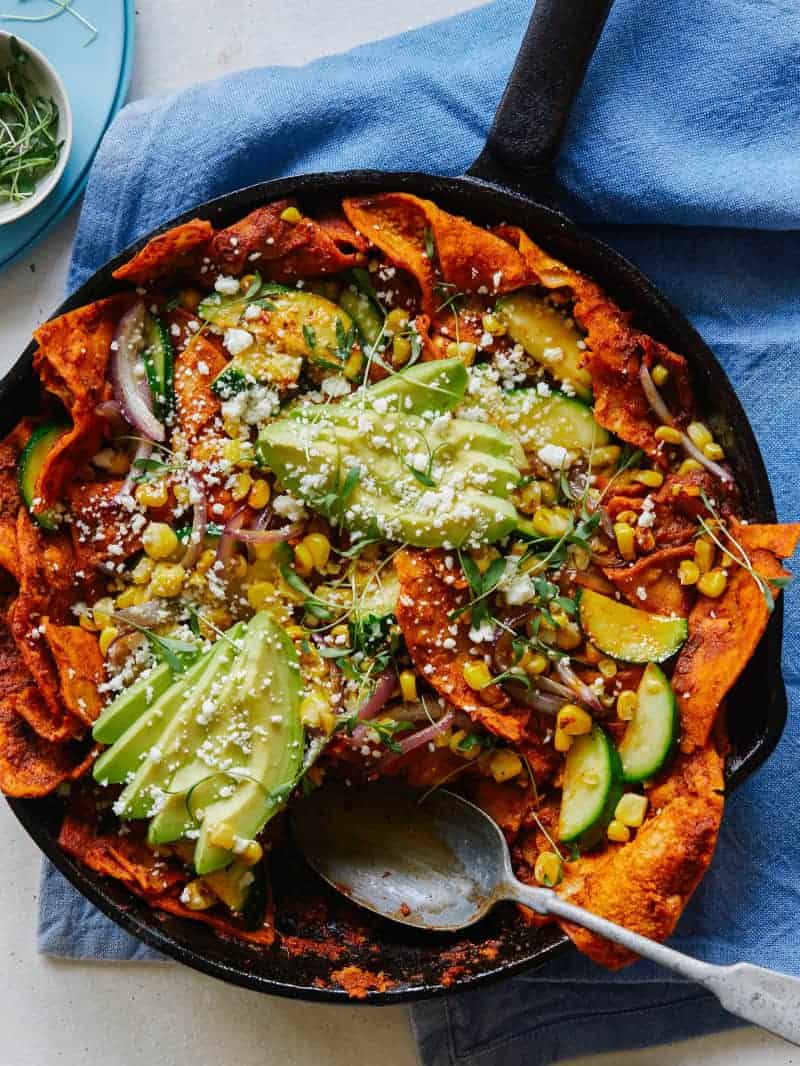 We are huge fans of chilaquiles, and so today we are sharing with you a recipe for a summer inspired version of chilaquiles. We piles these with sweet summer corn, and lots of squash. Obviously we have to add avocado because everything is better with that. This is perfect is you are a vegetable lover – or just need to add a little more to your diet. This is an ideal Sunday brunch dish! : )
& hearts; Teri
Chipotle-Lime Chilaquiles

Makes 1 (12") skillet

Ingredients:
2 ears sweet corn
2 tablespoons extra virgin olive oil
1/2 sweet onion, diced
2 garlic cloves, minced
1 medium zucchini, halved lengthwise and thinly sliced
2 1/2 cups store bought red salsa
2 tablespoons minced chipotle peppers in adobo sauce
1 1/2 cups chicken stock
2 limes, zested and juiced
14 ounces thicker tortilla chips
salt and pepper to taste
garnish:
1/2 cup queso fresco, crumbled
1/2 bunch cilantro leaves, roughly chopped
1/2 avocado, thinly sliced
lime wedges

Directions:
1. Preheat oven to 375F.
2. Place heavy bottom skillet over medium-high heat. Add corn and sear, turning the cobs every 2 minutes to evenly char. Remove corn from the skillet and slice kernels off each cob, discarding the cobs.
3. Pour oil into the skillet and sauté onion and garlic for 2 to 3 minutes. Reduce heat to medium and continue to sauté for 2 minutes.
4. Stir in zucchini and continue to sauté for 4 to 5 minutes. Add corn and toss together. Remove half of the mixture from the skillet and set aside.
5. Add salsa, adobo and stock and stir together.
6. Bring mixture to a boil and begin adding tortilla chips, a handful at a time, folding gently to coat every chip. Allow chips to soak up some liquid before adding more. Repeat until all chips have been added and evenly mixed.
7. Add the lime zest and juice, season with salt and pepper and gently fold together.
8. Bake for 12 to 15 minute or until all liquid has been absorbed.
9. Finish chilaquiles by topping with the remaining zucchini and corn mixture, the queso fresco, sliced avocados, and cilantro. Serve with lime wedges.