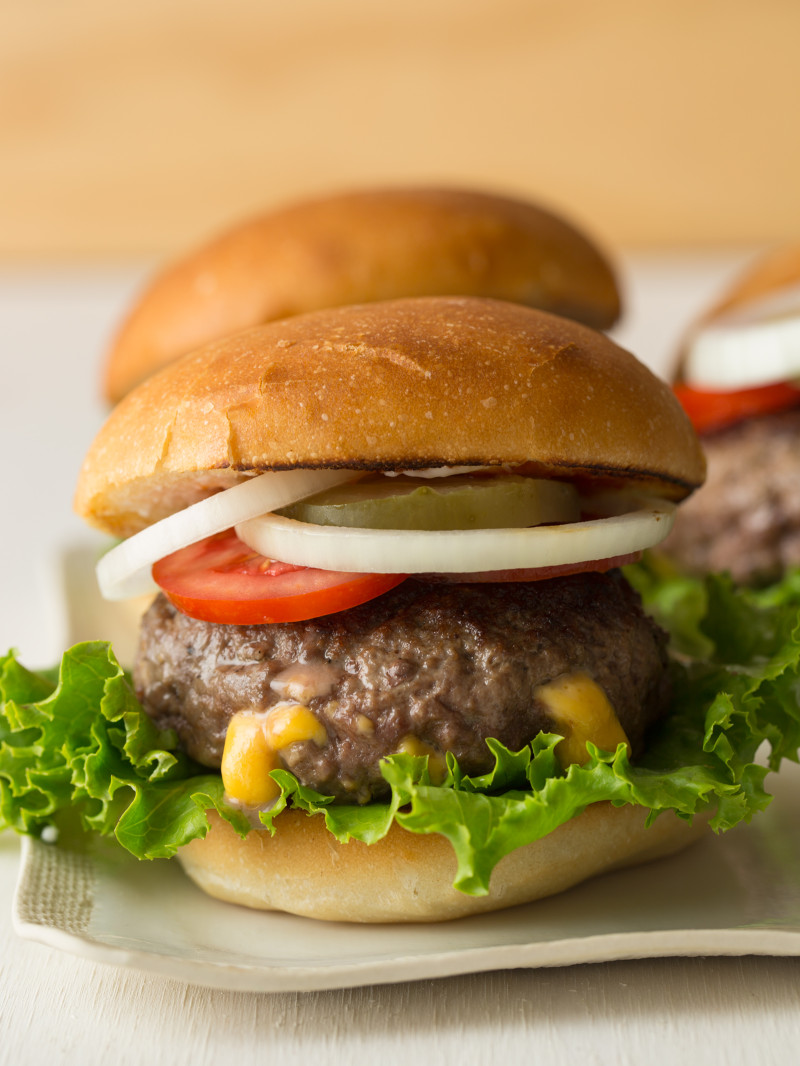 Hey Guys! Today we have Juicy Lucy's for you all! The boyfriend and I LOVE Juicy Lucy's and we make them several times a year. I'm not sure when the first time was that we had heard of these glorious burgers, but I do know that they originate from South Minnesota and two local bars claim to be the original institution for this delicious burger. Either way, they're super fun and mighty tasty. They're basically cheese stuffed burger patties, but you want to make sure to pile the center with enough cheese so that when you take a big bite, you have a large flow of oozing cheese pouring out. It's so freakin' good!!
For this burger we stuck with good old American cheese, but if you're not into American that's totally fine. You can swap out the American cheese for your favorite melting cheese, like cheddar, mozzarella, fontina, gruyere, gouda, brie, etc. Or you can get schmancy and add cheese like taleggio or la tur. I also like to stay pretty standard and basic with my Juicy Lucy burger toppings, but feel free to add whatever toppings you'd like to finish of your cheese flowing burger.
This is such a great little twist on the traditional cheeseburger and can be a lot of fun to make…with kids too! I also think they're the perfect 4th of July burger, or basically the perfect summertime burger. :) Enjoy! xx, Jenny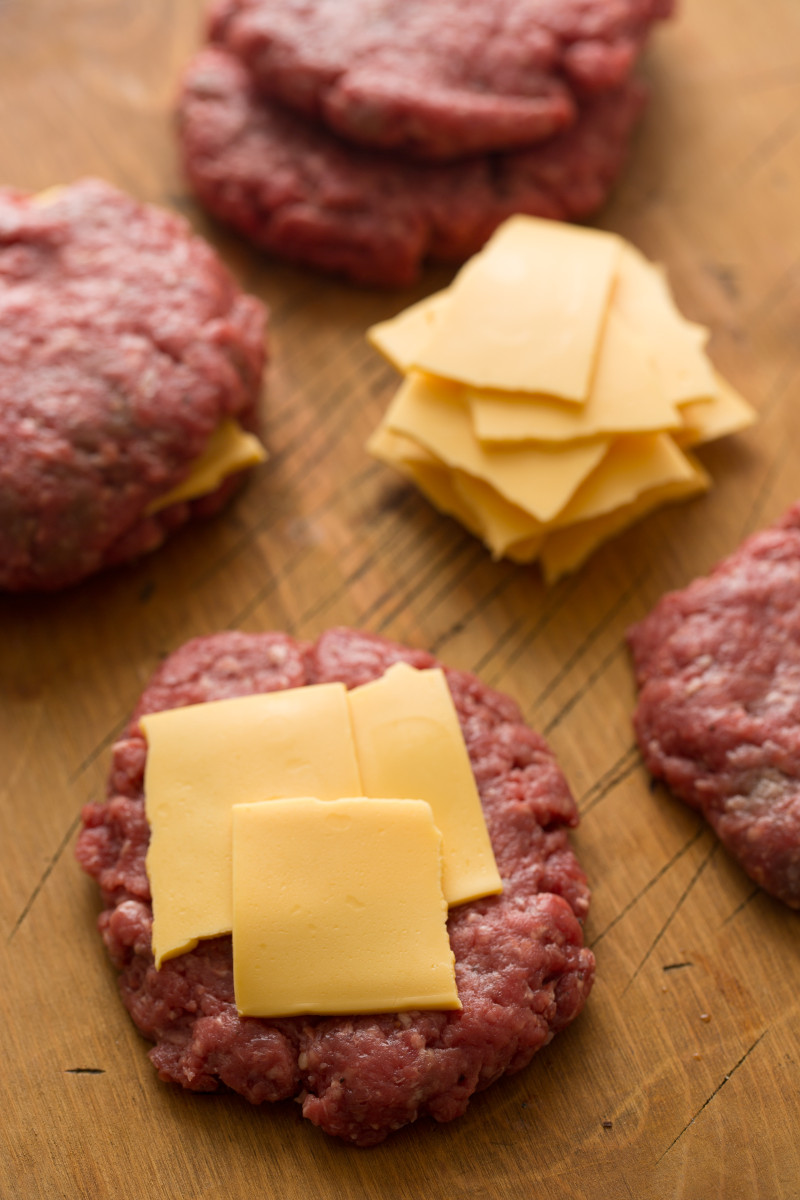 Here are some great sides to pair with your burger: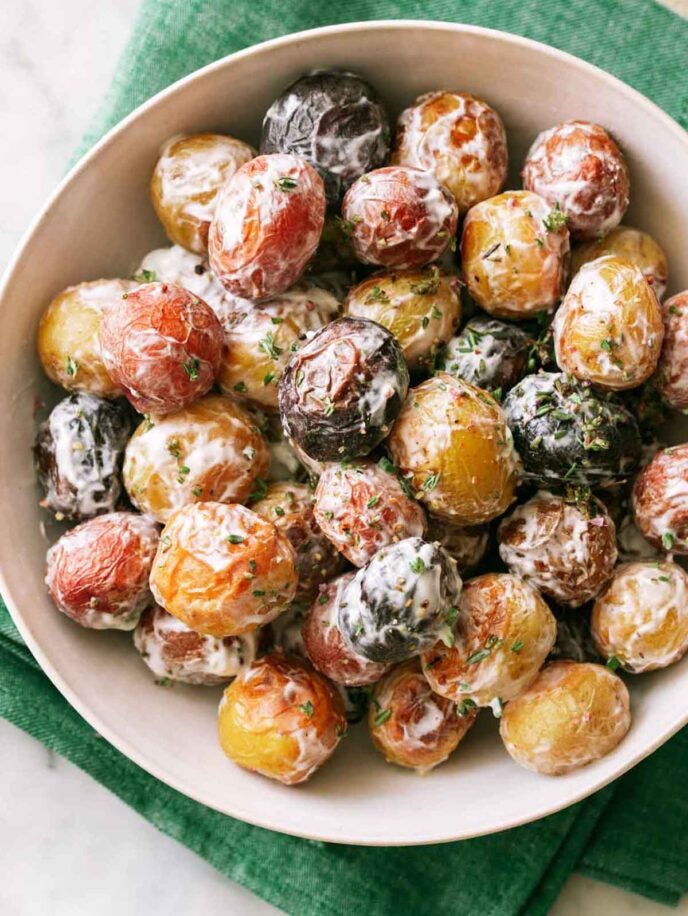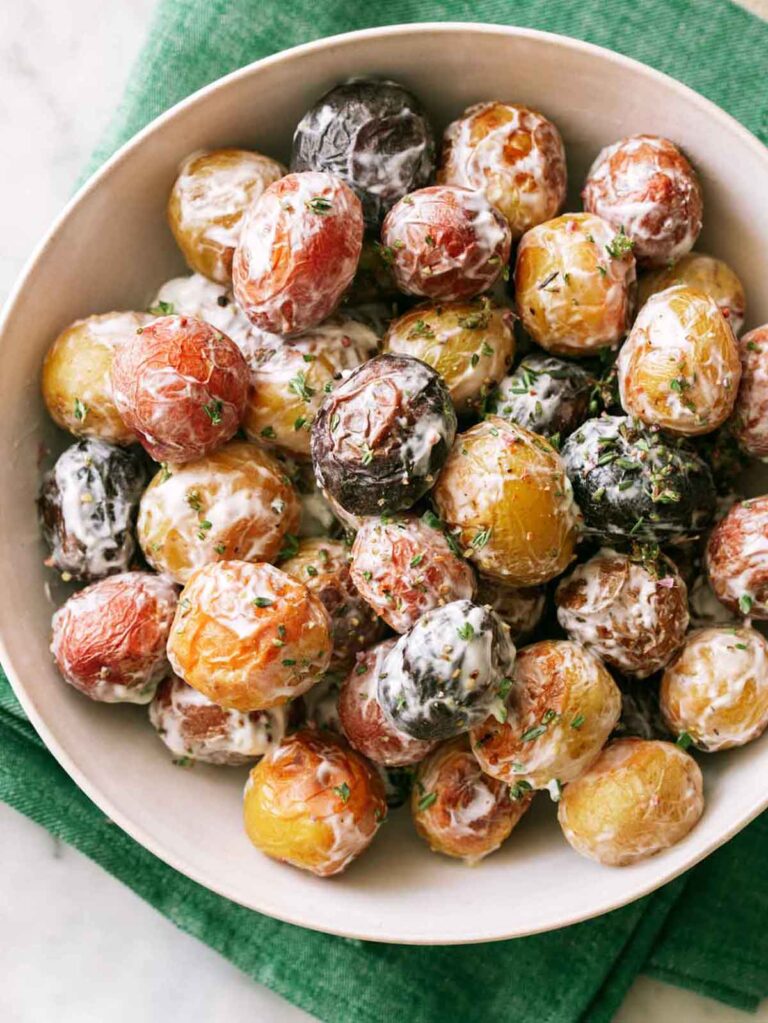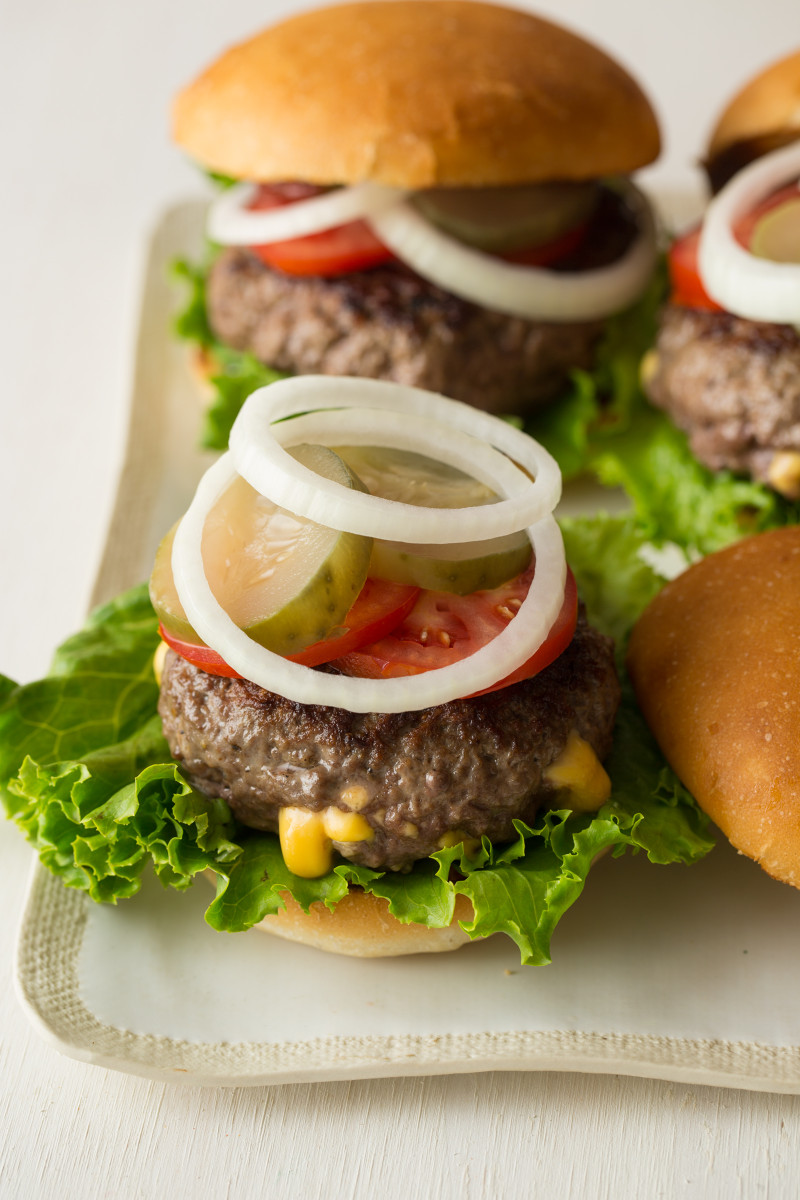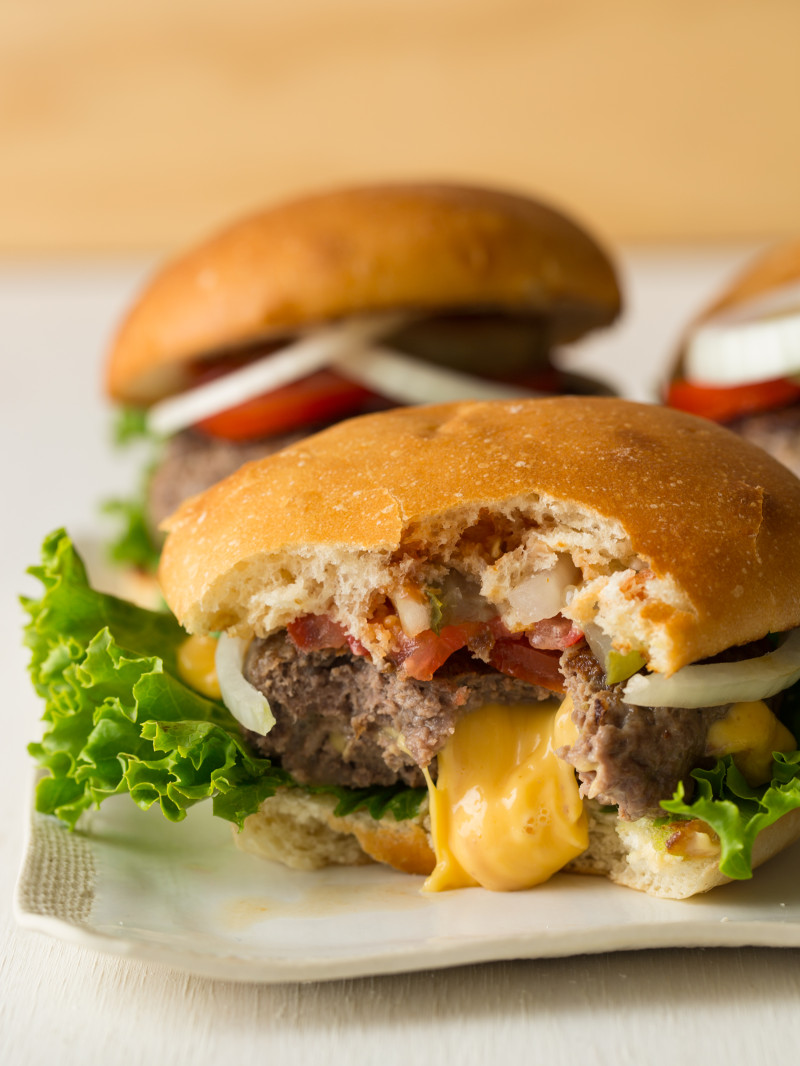 Hungry for more?
Subscribe to never miss a recipe.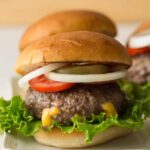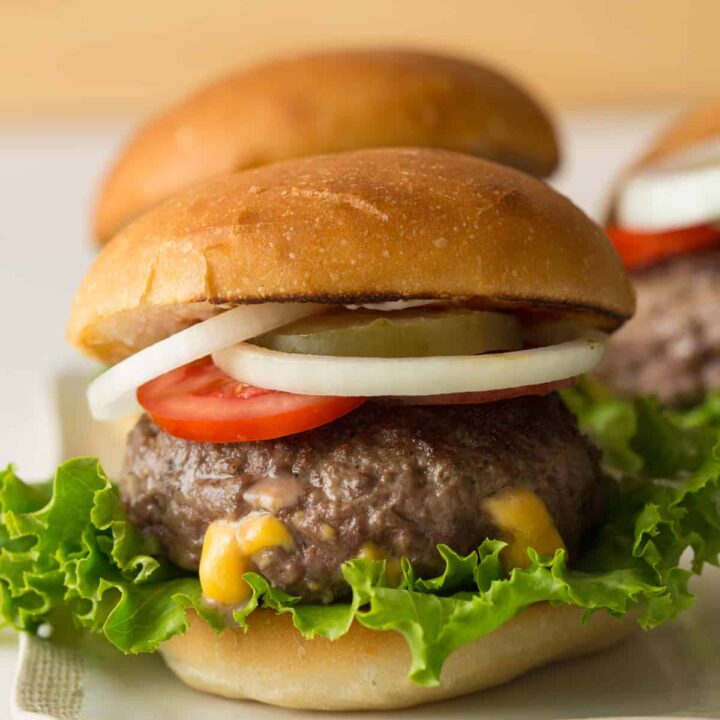 ---
Juicy Lucy
INGREDIENTS
2

pounds

lean ground beef

¼

cup

water

8

slices

American cheese

salt and pepper to taste

4

tablespoons

extra virgin olive oil

4

lightly toasted burger buns

green leaf lettuce

sliced tomatoes

sliced onion

pickles

ketchup

yellow mustard

mayonnaise
INSTRUCTIONS
Preheat grill or grill pan to medium-high heat (about 375˚F).

In a large mixing bowl combine ground beef, water, salt, and pepper and mix until thoroughly combined.

Divide the mixture into 4 equal balls and divide and form each ball into two patties.

Place two pieces of cheese into the center of 4 of the 8 patties. Top each of the patties with cheese, with the remaining patties and pinch the ends together to seal completely.

Season the 4 stuffed patties with salt and pepper.

Brush oil onto the grill or grill pan and add the burger patties. Cook the patties for 5 to 6 minutes on each side for medium doneness. Remove from grill/grill pan and allow patties to rest for 4 to 5 minutes.

Brush burger buns with mayonnaise, ketchup and mustard. Top each bottom bun with a burger patty and finish with whatever toppings you desire. Serve.
Calories:
710
kcal
Carbohydrates:
23
g
Protein:
60
g
Fat:
40
g
Saturated Fat:
15
g
Cholesterol:
183
mg
Sodium:
1068
mg
Potassium:
895
mg
Fiber:
1
g
Sugar:
4
g
Vitamin A:
397
IU
Vitamin C:
1
mg
Calcium:
534
mg
Iron:
7
mg