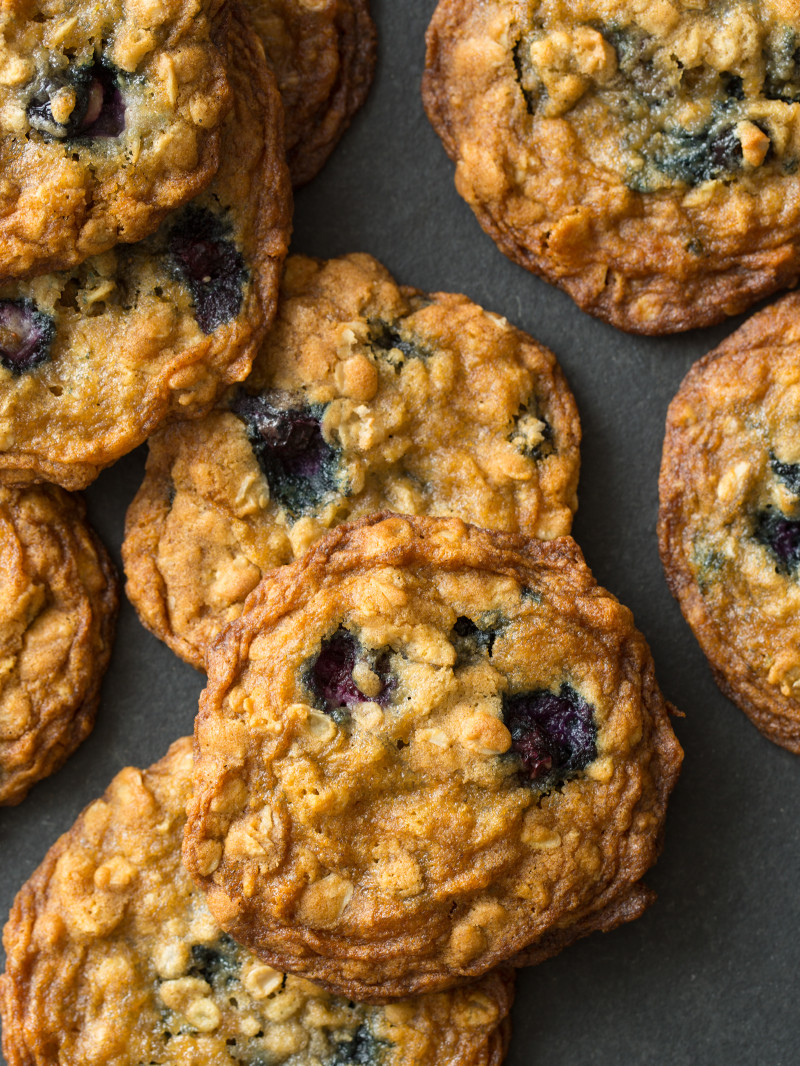 I love a new cookie, especially cookies they are not a derivative of chocolate chip. Oatmeal cookies have been a long time favorite for me, they are just so much more chewy and tender than other cookies. So today we have a new oatmeal cookie recipe for you, our Blueberry and Cardamom Oat Cookies. The blueberries kind of explode in the cookie in the oven making these cookies look like miniature paintings. The flavor of the blueberries paired with the cardamom is so good. These cookies also spread in the oven, which I like because it makes them a little thin, but they are still really chewy and moist. These are my new favorite summer cookies. Oh, and also, if you love blueberry cookies, you should check out our popular Blueberry Yogurt Cookies, they are super good too!
♥ Teri
Blueberry and Cardamom Oat Cookies
Makes 12
Ingredients:
1 cup all purpose flour
3/4 teaspoon baking soda
1/2 teaspoon ground cardamom
1/2 teaspoon ground salt
1/4 teaspoon ground cinnamon
1/2 cup unsalted butter, softened
3/4 cup light brown sugar
1/4 cup white sugar
1 large egg, beaten
1 teaspoon molasses
1 teaspoon vanilla extract
1 cup rolled oats (old fashioned)
1 cup fresh blueberries
Directions:
1. Preheat oven to 350˚F.
2. Place flour, baking soda, cardamom, salt, and cinnamon in a mixing bowl and whisk together. Set aside.
3. Place butter and both sugars in another mixing bowl and cream together until light and fluffy.
4. Add egg molasses and vanilla to the butter mixture and continue to mix together.
5. Add the dry ingredients to the wet ingredients and mix together until well combined. Stir in oat until well combined then gently fold in the blueberries.
6. Place 3 tablespoons sized balls of cookie dough onto a parchment lined baking sheet, 2 inches apart (as these cookies spread quite a bit) and bake for 9 to 11 minutes or until browned.
7. Remove cookies from the oven and allow cookies to cool, 7 to 10 minutes before serving.