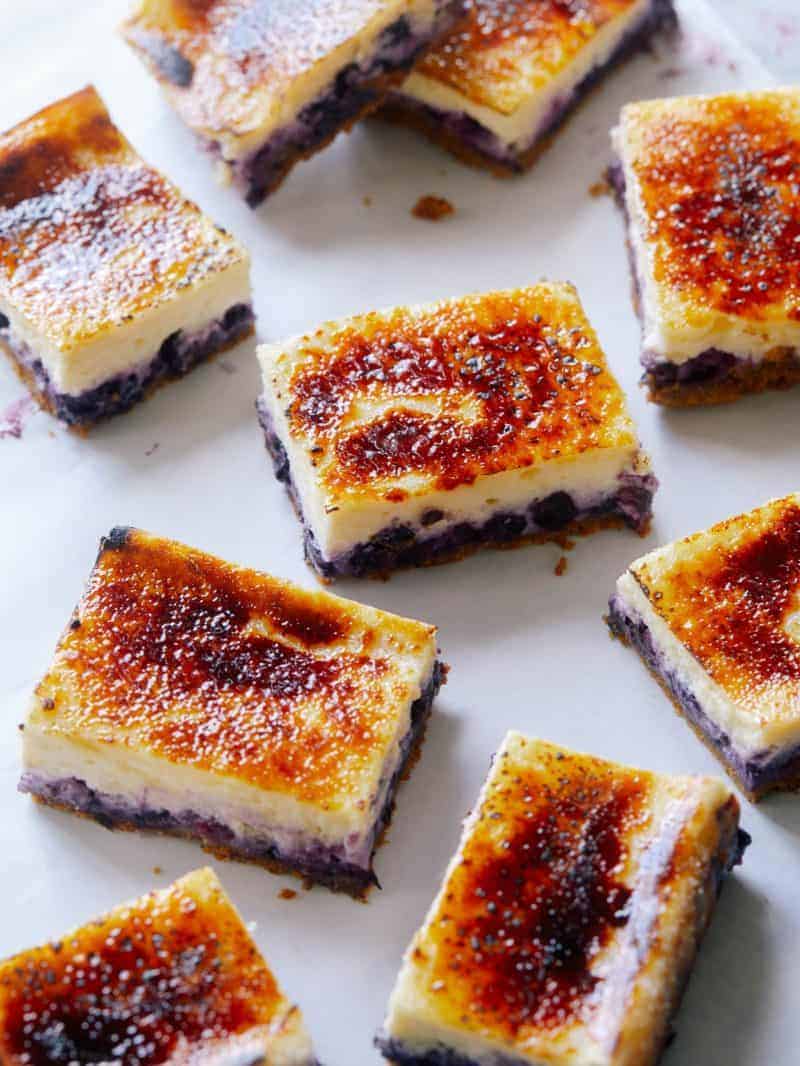 Creme Brûlée is one of my favorite all time desserts ever, so it only felt right that we should add a creme Brûlée topping to these delicious blueberry cheesecake bars. We decided to make bars because the cheesecake part is a bit thinner which means there is more surface area for the delicious creme brûlée part. I really don't think it's worth having cheesecake with the crack of the brûlée. Hope you guys like this one :)
♥ Teri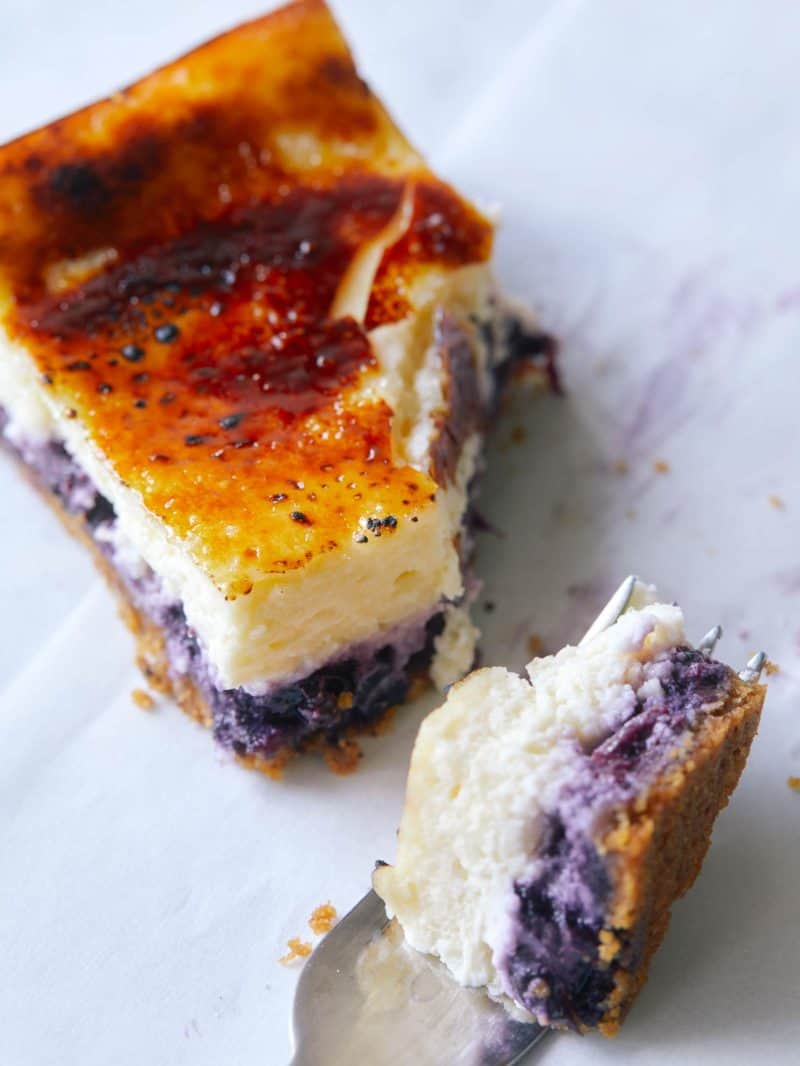 Blueberry Cheesecake Creme Brûlée Bars

Makes 1 (8"x8") pan

crust:
2 cups graham cracker crumbs
6 tablespoons salted butter, melted and cooled
filling:
1 pint blueberries
16 ounces cream cheese, softened
3/4 cup sugar
1/2 cup sour cream
1 1/2 tablespoons all-purpose flour
2 egg yolks
1/4 cup milk
2 teaspoons vanilla extract
1 1/2 teaspoons lemon zest

2/3 cup turbinado sugar
brûlée torch

Directions:
1. Preheat oven to 350˚F. Line 8"x 8" baking dish with parchment (with about 2 inches of overhang on two of the sides) and lightly grease.
2. For crust: Place ingredients into a medium mixing bowl and mix together until all the crumbs are saturated in butter. Pour mixture into the prepared baking dish and firmly press down on mixture to form an even crust. Top crust with a single, even layer of fresh blueberries. Set aside.
3. For filling: Place cream cheese and sugar in a large mixing bowl and beat together with a wooden spoon (you can also use an electric hand mixer or stand mixer, fitted with a paddle attachment). Add egg yolks, one at a time, beating after each addition.
4. Add sour cream, flour and milk and beat together until no lumps remain. Fold in vanilla extract and lemon zest until fully incorporated.
5. Pour filling into prepared baking dish and smooth top.
6. Bake cheesecake for 35 to 45 minutes or until cheesecake is just slightly wobbly in the center.
7. Remove from oven and allow cheesecake to cool about 30 minutes. Refrigerate for at least 1 hour and up to 2 days.
8. Before ready to serve, run a knife around the sides of the cheesecake without the parchment overhang to loosen, lift cheesecake from baking dish and cut 2 inch squares.
9. Sprinkle each piece of cheesecake with a thin, even layer of sugar and brûlée the tops until each piece is browned and caramelized. Serve.