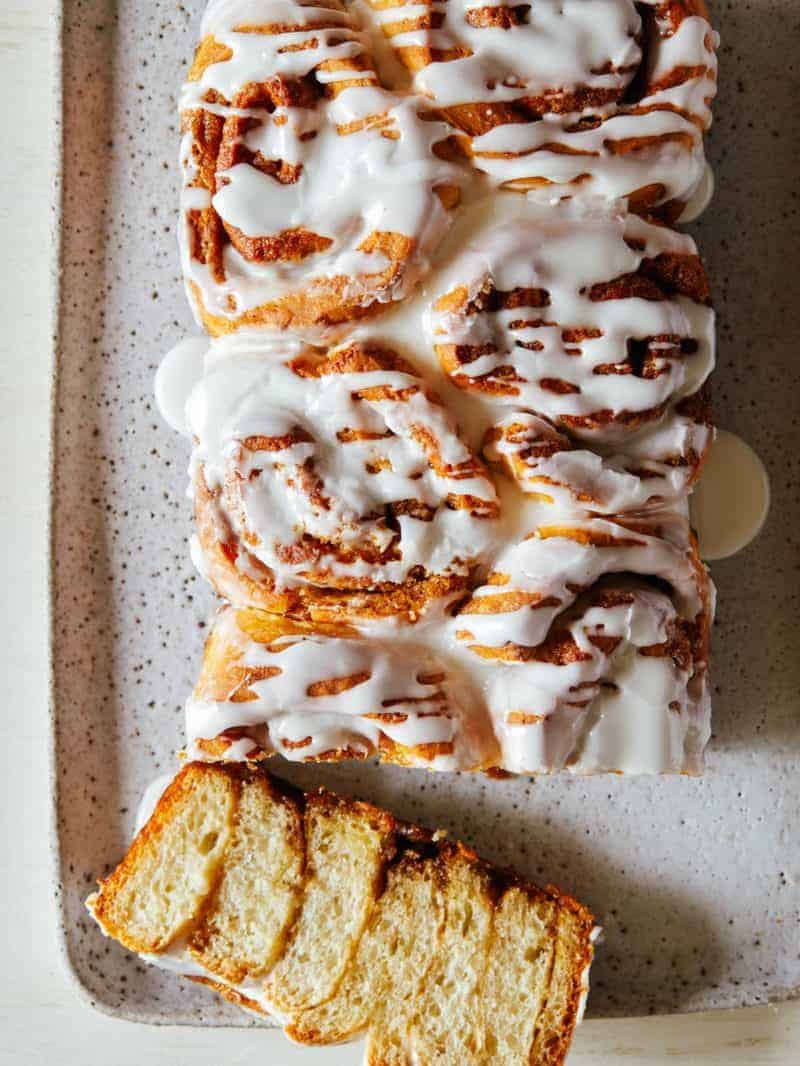 Scroll down a bit and see this Cinnamon Roll Loaf without frosting, it's a beautiful thing. I do love this recipe because it's in a loaf form, which means you take a big thick slice, or a little snacking slice. It is especially delicious warmed up in the microwave just a little. This is definitely happening in my house this weekend!
♥ Teri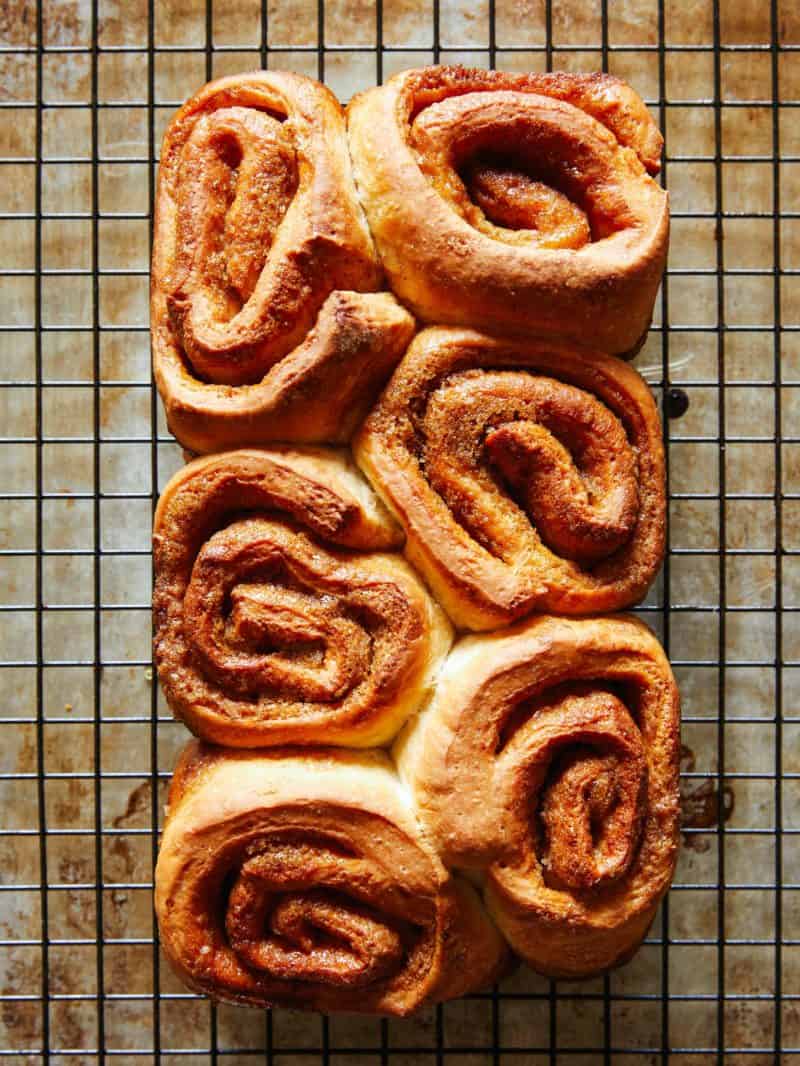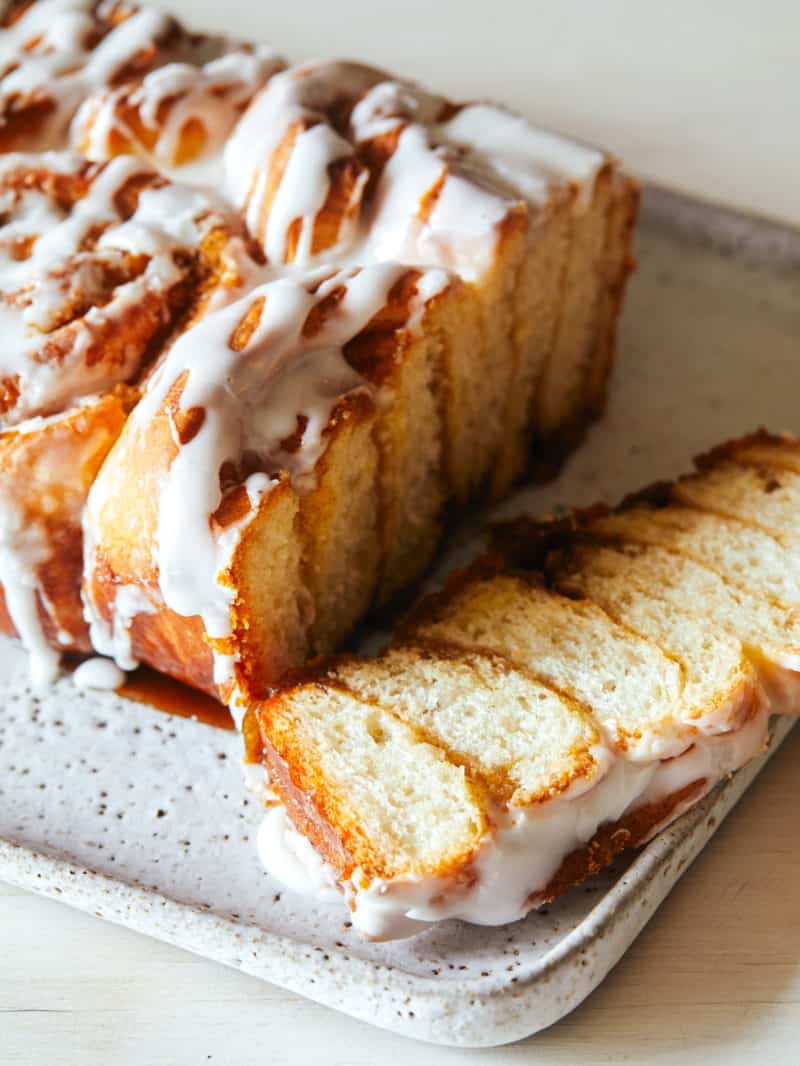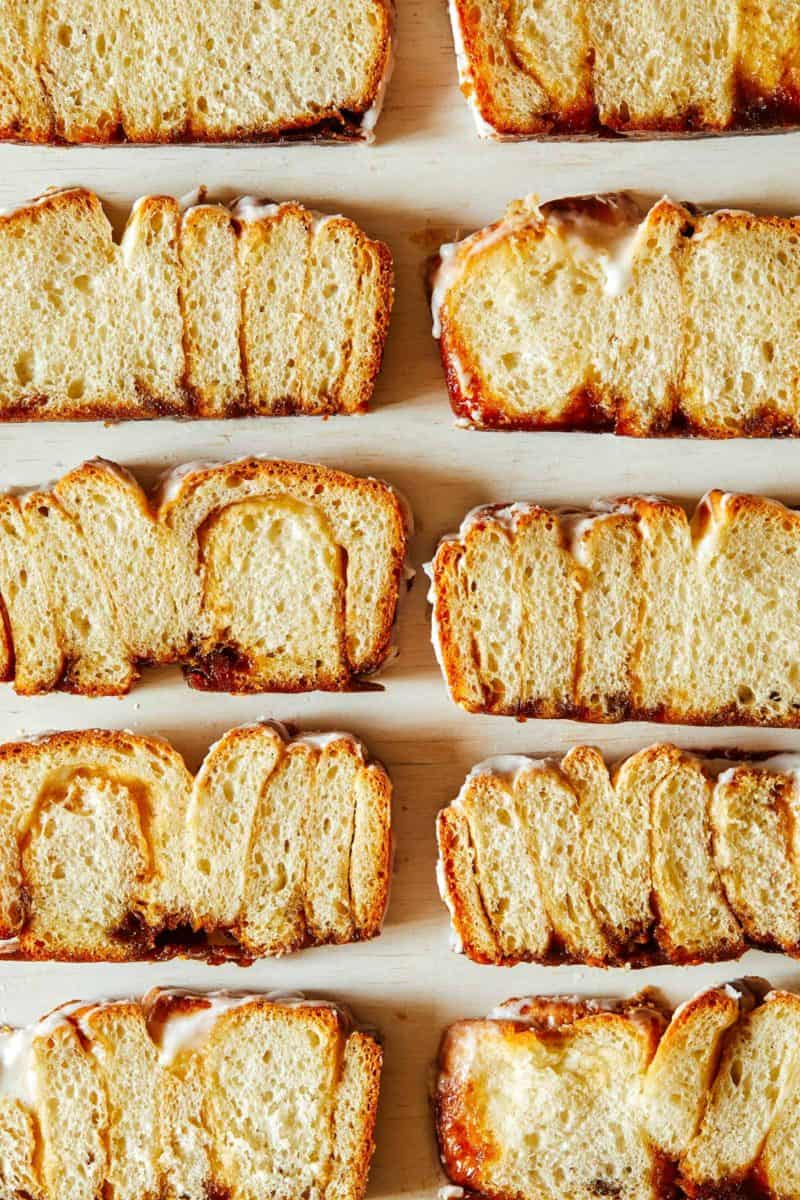 Cinnamon Roll Loaf

Makes 1 (5"x9") loaf

Ingredients:
3/4 cup whole milk warmed (about 110˚F)
1/4 cup superfine sugar, divided
2 teaspoons active-dry yeast
1/4 teaspoon salt
1/4 cup unsalted butter, softened
1 large egg, room temperature and lightly beaten
~2 1/2 cups bread flour
filling:
6 tablespoons unsalted butter, softened
2/3 cup superfine sugar
2 teaspoons cinnamon
glaze:
2 tablespoons whole milk
2 teaspoons vanilla extract
1/2 teaspoon cinnamon
2 cups sifted confectioner sugar

Directions:
1. Preheat oven to 350˚F.
2. Line a 5"x 9" loaf pan with parchment, with 2" overhang on the longer sides and lightly grease. Set aside.
3. Pour milk and half of sugar into a mixing bowl and stir together.
4. Sprinkle yeast over milk and sugar and allow mixture to sit for 4 to 5 minutes (yeast should begin to bubble and foam).
5. Stir in remaining sugar, salt, butter, and egg. Begin adding flour, 1/2 cup at a time, stirring to incorporate after each addition.
6. Once all the flour has been added, dump mixture onto a clean and lightly floured surface and knead dough for 5 to 7 minute or until smooth and elastic, adding more flour, 1 teaspoon at a time as needed, dough should be a little sticky, but soft and smooth.
7. Once smooth dough has formed, place dough into a lightly greasy bowl, cover with a clean, damp towel and place in a warm area until dough has doubled in size. About 40 minutes.
8. Filling: Place butter, sugar and cinnamon in a small mixing bowl and mix together until fully combined and smooth.
9. Once dough has doubled in size, punch down center of dough and turn onto a clean and lightly floured surface. Roll dough out into 8"x 12" rectangle and about 1/4″ thick
10. Spread cinnamon-sugar butter mixture evenly over dough and carefully roll dough into a tight log (but not too tight that the filling leaks from the ends), and gently pinch the seam shut. Place cinnamon roll log seam side down and cut into 6 even cinnamon rolls.
11. Nestle cinnamon rolls into prepared loaf pan and cover with a clean, damp towel.
12. Store in a warm place until cinnamon rolls double in size 40 minutes to 1 hour.
13. Uncover and bake for 35 to 40 minutes or until golden brown. Remove from oven and cool for about 20 minutes.
14. Glaze: Stir milk, vanilla and cinnamon together in a small mixing bowl. Stir sugar into the milk mixture, 1/4 cup at a time until fully incorporated and mixture is smooth.
15. Lift loaf from baking pan, using parchment and peel parchment away from loaf. Transfer cinnamon loaf to cooling rack and drizzle with glaze. Allow glaze to set, about 15 minutes. Slice and serve.