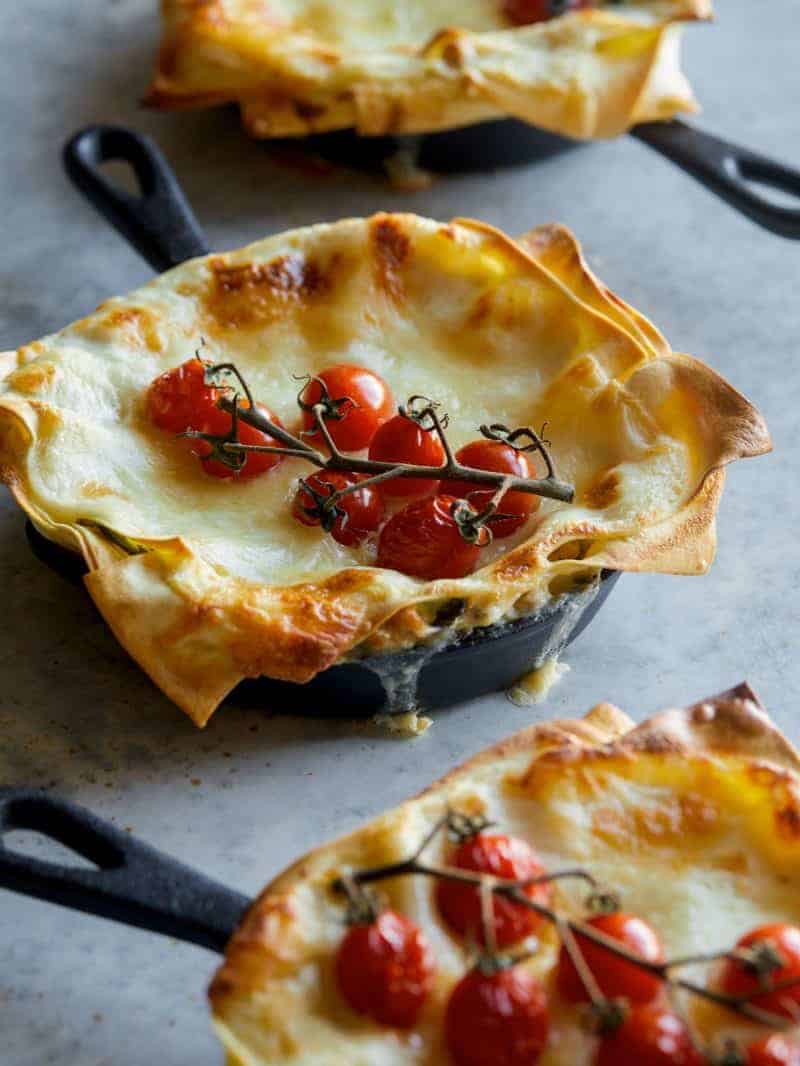 We're staring this week off in a big way! By that I just mean with these Creamy Turkey and Kale Skillet Lasagnas. :) I really love these things, you guys. They're seriously creamy and just so good! I also love these because of their size. The 6 inch skillet sitch makes them great for making and assembling ahead of time and freezing (minus the tomatoes, which you'll want to add right before baking) for another time. When you're ready to eat one, you can just stick it straight from the freezer into the oven! I would just double the baking time if you go this route to make sure they cook all the way through and are nice, hot and bubbly when you dig in!
I always find full size lasagnas a little fussy unless I'm cooking for a crowd, because 'full sized' recipes always make way too much for my household of 2, you know? I also love a great white sauce lasagna because they're so much creamier and delicious…which we've balanced out with some lean turkey and plenty of baby kale, so you don't have to feel too guilty about this meal. Enjoy! xx, Jenny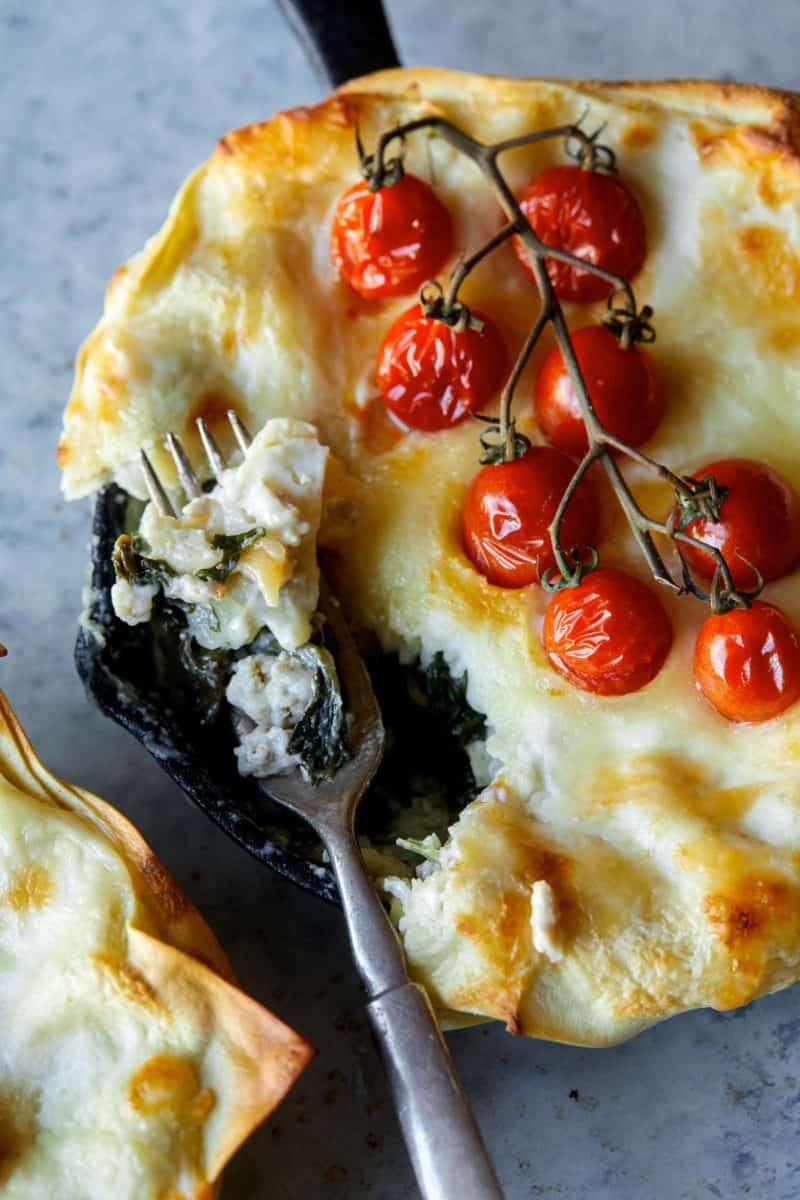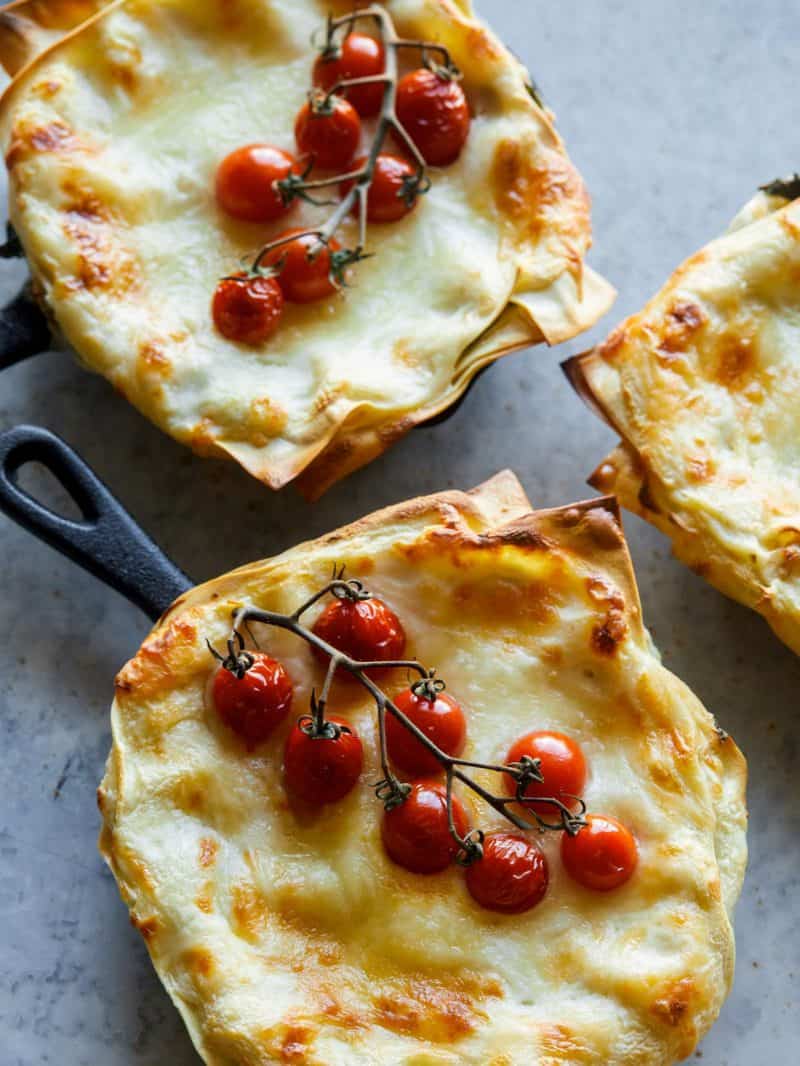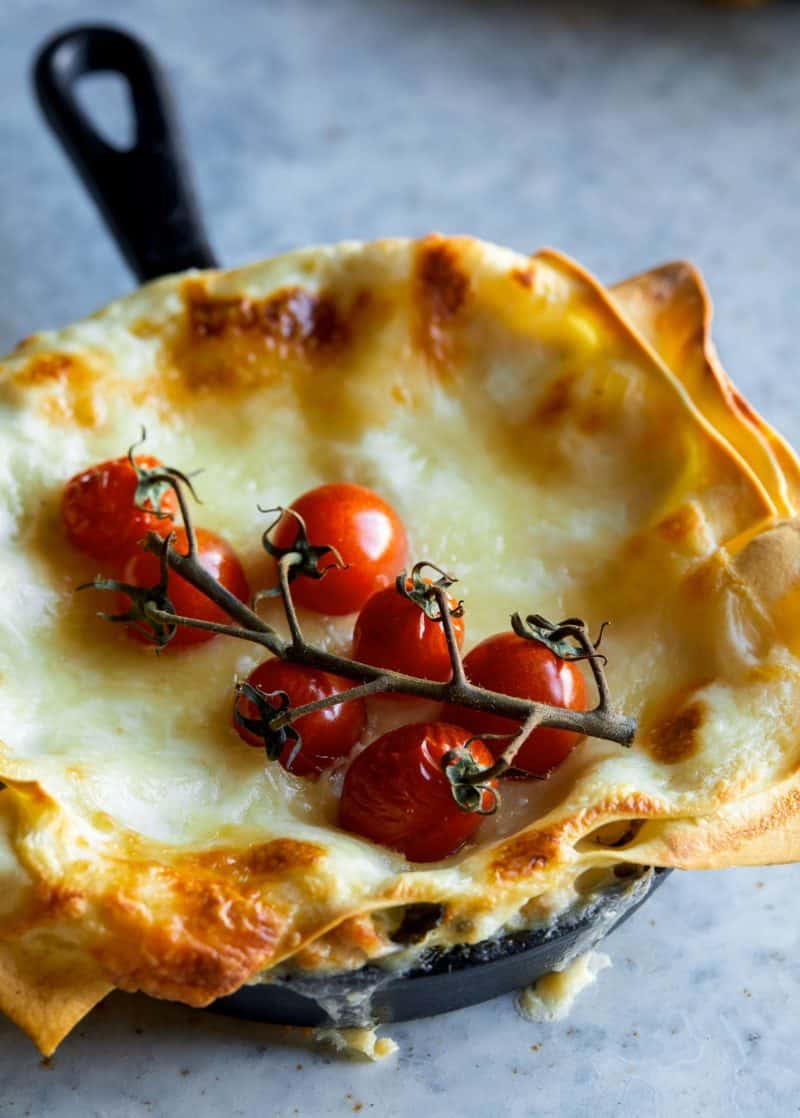 Creamy Turkey and Kale Skillet Lasagna

Makes 3 (6 inch) skillets

Ingredients:
3 tablespoons extra virgin olive oil, divided
1/2 yellow onion, finely diced
2 garlic cloves, minced
1 pound ground turkey
10 ounces baby kale
cheesy béchamel:
6 tablespoons unsalted butter
1/3 cup all-purpose flour
2 cups milk
3 tablespoons grated Parmesan
salt and pepper to taste

18 pasta sheets, parboiled (about 5 minutes)
3 tablespoons unsalted butter, softened and divided
2 cups plus 2 tablespoons shredded mozzarella
3 small vines cherry tomatoes

Directions:
1. Place a large skillet over medium-high heat. Pour in 2 tablespoons oil, add onion and saute for 4 to 5 minutes. Add garlic and continue to saute for an additional minute. Season with salt and pepper.
2. Add turkey, breaking up with a wooden spoon and brown for 3 to 4 minutes. Season with salt and pepper. Transfer turkey mixture to a mixing bowl and set aside.
3. Place skillet back stove and lower heat to medium. Add remaining tablespoon of oil and kale and saute for 3 to 4 minutes, until kale has just wilted. Season with salt and pepper and transfer to another mixing bowl.
4. Using the back of a wooden spoon, press kale and drain excess liquid from kale.
5. Place skillet over stove for a final time and lower heat to medium-low. Add butter and melt.
6. Sprinkle flour over butter and stir together with a wooden spoon for about 3 minutes to remove raw flavor of the flour.
7. Slowly add milk, while stirring, until all milk has been added. Continue to stir mixture together until completely smooth and mixture thickens enough to coat the back of a wooden spoon. Season with salt and pepper. Remove from heat and sprinkle Parmesan over mixture and stir together until smooth and creamy.
8. To assemble: Preheat oven to 375˚F.
9. Lightly grease 3 (6") skillets with 1 tablespoon butter each. Pour a heaping spoonful of béchamel over each skillet and top each skillet with 2 pasta sheets, slightly overlapped.
10. Top pasta sheets with 1/4 heaping cup of ground turkey, followed by a thin layer of kale. Pour about 3 tablespoons béchamel and sprinkle about 2 tablespoons shredded mozzarella over kale. Repeat with another layer of pasta sheets, turkey, kale, béchamel, and mozzarella. Top each skillet with 2 more pasta sheets remaining béchamel and shredded mozzarella. Finish each skillet with a vine of cherry tomatoes and place onto a large baking sheet.
11. Bake skillets for about 30 minutes or until bubbling and slightly browned on top. Remove from heat and allow lasagnas to cool for about 10 minutes before serving.