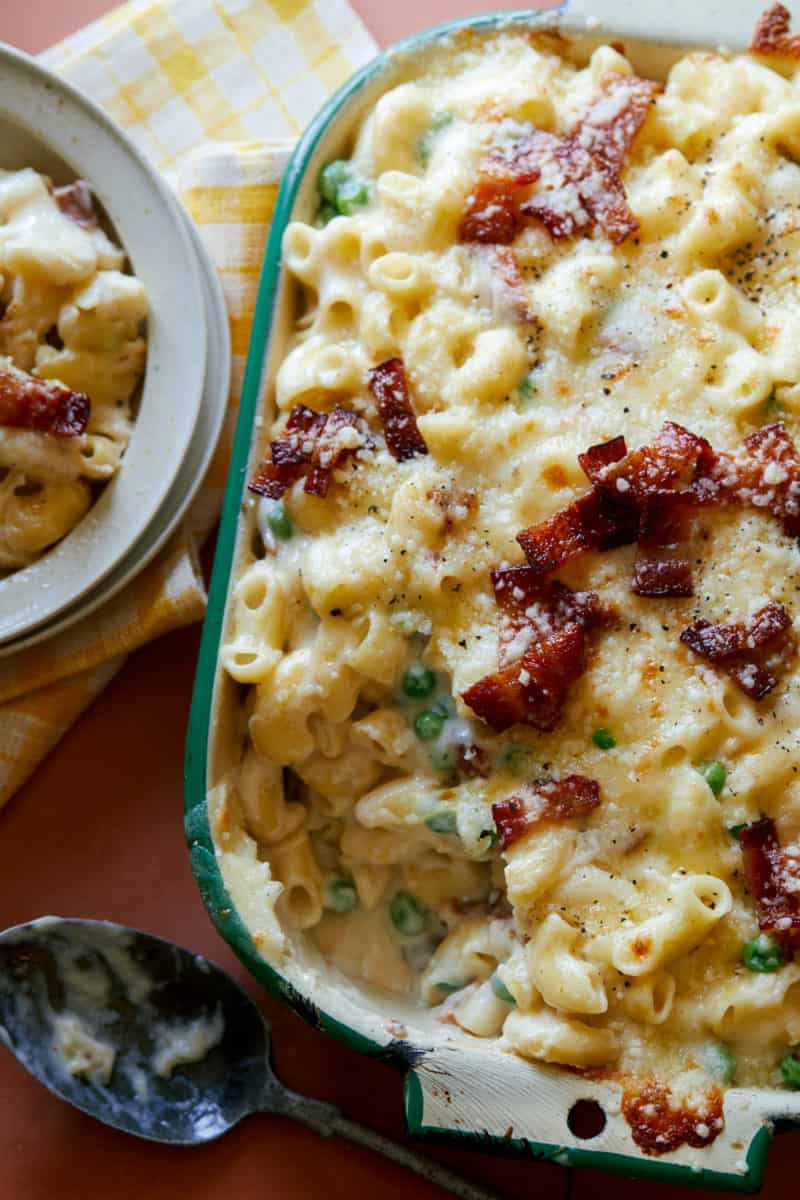 We made mac and cheese, but with carbonara so it's extra rich and delicious. We added some peas and bacon because it's nice to have some texture variation. We also love baking mac and cheese because the top gets a nice crispy coat, and under the blanket of crispy cheese the sauce gets to stay nice and warm and gooey. I also love making casserole-y things because the leftovers are always the best! Hope you like this one!
♥ Teri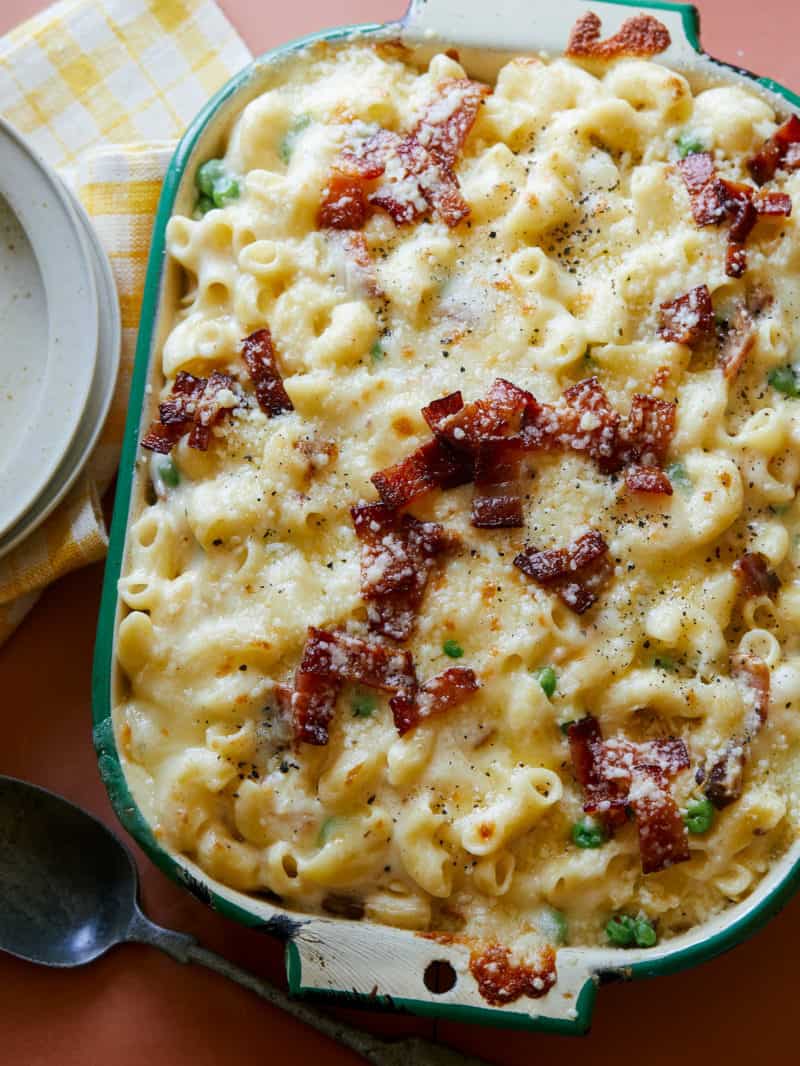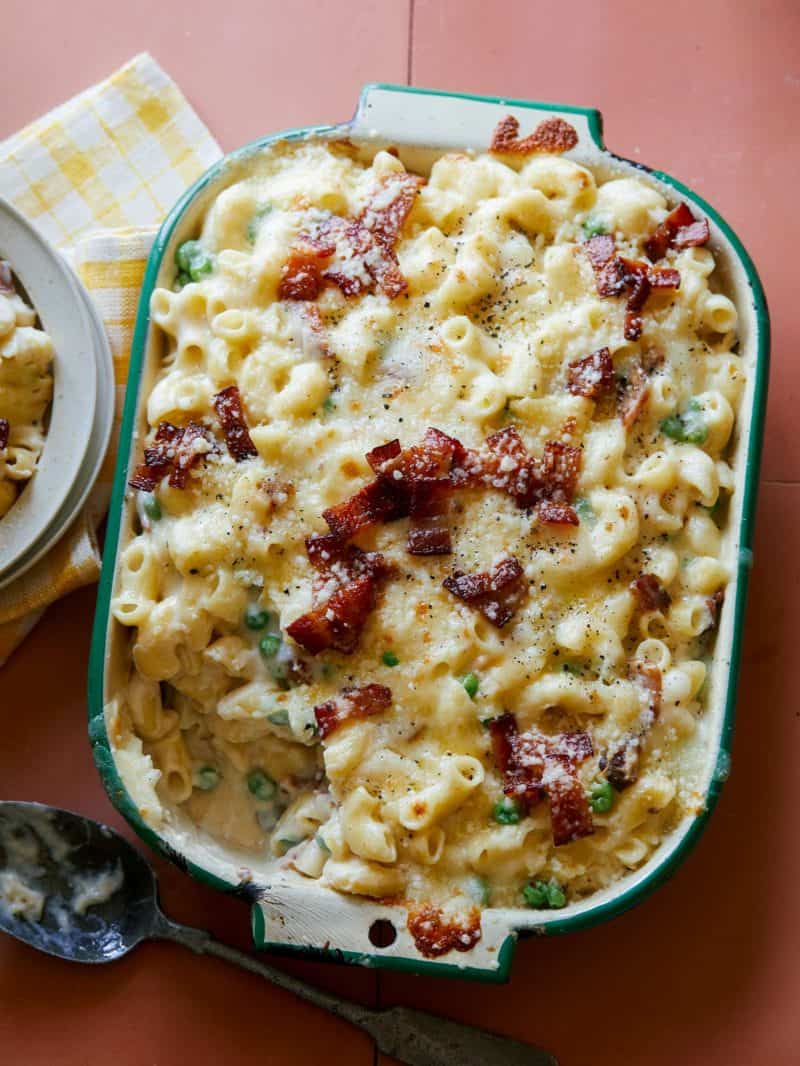 Creamy Baked Carbonara Mac and Cheese

Serves 5 to 7

Ingredients:
1/2 pound macaroni
white cheddar cheese sauce:
5 tablespoons unsalted butter
4 tablespoons all-purpose flour
2 cups milk
1 heaping cup shredded white cheddar, plus more for sprinkling on top
1/4 cup grated Parmesan, plus more for sprinkling on top
salt and pepper to taste

2 large eggs, lightly beaten
8 slices crispy cooked bacon, chopped and divided
2/3 cup frozen peas, thawed

Directions:
1. Preheat oven to 375˚F. Lightly grease a 9"x 12" baking dish.
2. Fill a large pot with water, place over high heat and bring to a boil. Add a handful of salt and pasta and bring back up to a boil. Cook macaroni, stirring occasionally, until macaroni is al dente, about 7 minutes. Drain and transfer macaroni to a large mixing bowl.
3. Place a saucepan over medium heat and melt butter. Sprinkle flour over melted butter and whisk together for 2 to 3 minutes.
4. Add milk in a slow and steady stream, while whisking, until fully incorporated and mixture is smooth and has thickened enough to coat the back of a wooden spoon. Season generously with salt and pepper.
5. Remove from heat and stir in shredded cheddar and Parmesan, small handfuls at a time, until a smooth cheese sauce has formed.
6. Pour sauce over macaroni and stir together. Allow mixture to cool, about 10 minutes. Stir in eggs, 6 slices bacon and peas until fully and evenly incorporated. Season with salt and pepper.
7. Pour mixture into a baking dish and top with more white cheddar, Parmesan and remaining bacon.
8. Bake macaroni for 20 to 25 minute or until mixture is thick, creamy and lightly browned on top.
9. Remove from heat and allow macaroni to cool, about 10 minutes, before serving.