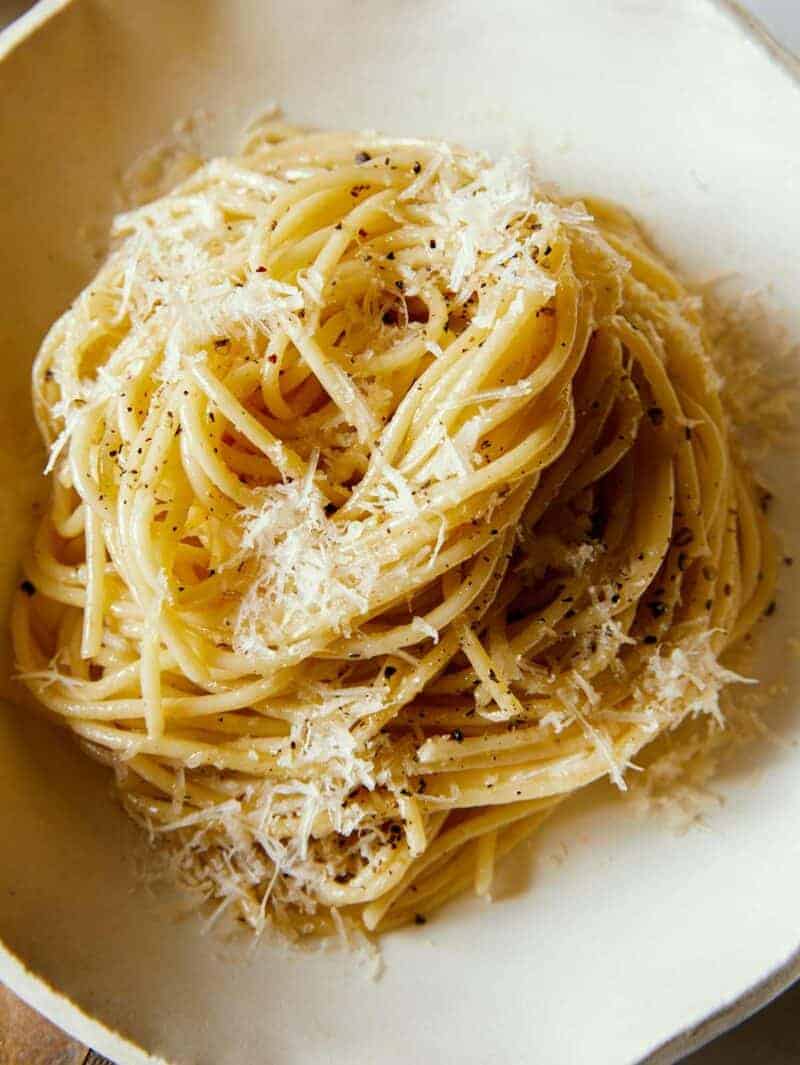 I've been on such a simple pasta kick lately and this Cacio e Pepe recipe is high on that list. I love everything about this pasta – the simplicity, how delicious it is and how fast it comes together!
What is Cacio e Pepe?
Cacio e Pepe is a Roman pasta dish that translates to "cheese and pepper". The simple dish consists of spaghetti, black pepper and Pecorino Romano.

What does Cacio e Pepe taste like?
Cacio e Pepe (pronounced ca-cho ee pepe) is made with Pecorino Romano which has a sharp, rich nutty flavor, so this is the predominant flavor of the dish. The other major flavor you will taste will be the sharp cracked black pepper.

Ingredients in Cacio e Pepe
Bucatini or Thick Spaghetti are traditionally used, but you can also use other varieties of pasta such as angel hair, linguine or fettucine.
Pecorino Romano is a deliciously nutty cheese that melts quite well. You can substitute Parmesan cheese if you prefer or have it on hand. I just recommend using a wedge of cheese and grating it yourself. Pre-grated cheese doesn't melt quite as well and can make the finished sauce uneven and clumpy.
Cracked Black Pepper adds a nice punch of flavor to the mildly, creamy dish.
Pasta Water is also added to the dish. The starchy water is a large part of what creates a subtle sauce.
Butter isn't traditionally used in this dish, but I like incorporating it for the nice flavor it adds as well as the glossy finish it adds overall.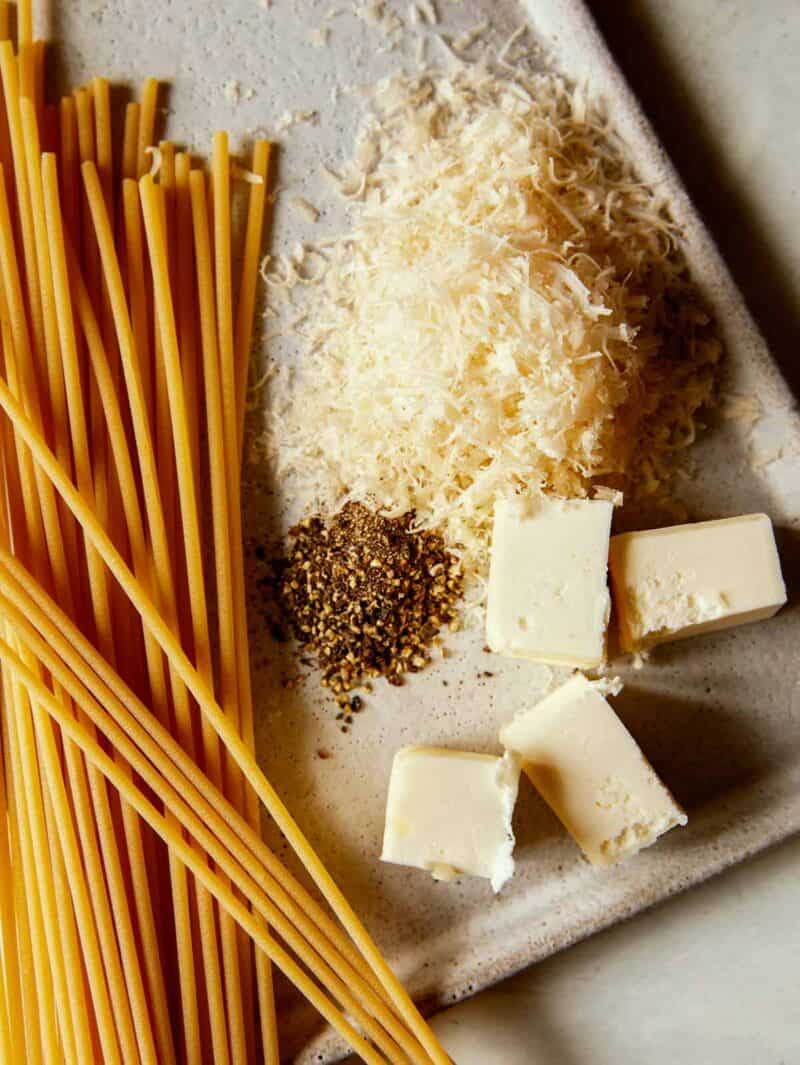 How to make Cacio e Pepe
Bring a large pot of water to a boil and generously season with salt.
Add pasta and cook until al dente.
Drain pasta, reserving 2/3 cup pasta water.
Place skillet (or same pot used to cook pasta) over medium heat and add pasta back into pot and add reserved pasta water and butter. Toss together.
Add grated cheese and black pepper and continue to toss together until sauce comes together and is smooth and creamy.
Top with more grated cheese and serve.
How do you keep the cheese from clumping in Cacio e Pepe?
One issue that people seem to have when making making Cacio e Pepe is when adding the cheese is that it clumps together and therefore won't melt properly into the sauce. To combat this issue we just like to be sure the Pecorino is grated as finely as possible. The other trick is when you add the cheese, try to sprinkle it evenly over the pasta before you mix it in to ensure there are no concentrated areas of cheese because those are likely to clump.

Variations
Make this recipe gluten free by swapping out your favorite gluten free pasta.
Add a protein to the pasta like sautéed shrimp or grilled chicken.
Keep it vegetarian friendly, but bulk it up with some vegetables like steamed peas or steamed/sautéed broccoli.
Add some heat to the dish with a pinch of crushed red pepper flakes.
Add some texture to the dish by topping it off with some butter toasted breadcrumbs.
Can you use Parmesan in Cacio e Pepe?
You can use parmesan is Cacio e Pepe, although it is not traditional. Parmesan has a much more mild flavor than Pecorino Romano does so it doesn't make this recipe as nutty in flavor. If Parmesan is all you have on hand don't worry! This recipe will still work, and it will still be delicious. We would recommend trying this out with Pecorino Romano though if you can!
What to serve with Cacio e Pepe
Cacio e Pepe is a simple but rich dish so we like to pair it with leafy greens tossed in a light dressing. We also like to serve this with some simple Roasted Root Vegetables.
This Cacio e Pepe recipe is the perfect weeknight dinner to throw together, especially if you're in a pinch for time and ingredients. I love using this brand of pasta, but you can use any pasta of your choice. If you love this quick, easy and delicious pasta, you'll also love our equally simple, delicious and minimal ingredient One Pot Fettuccine Alfredo!

How to store Cacio e Pepe
You can store your leftovers in an airtight container in the refrigerator for about 3 days.
How do you re-heat Cacio e Pepe?
There are two methods to reheat Cacio E Pepe:
Stove top in a skillet: Place your leftover pasta in the skillet with a splash of water to help loosen things up. Cook on medium low – and just long enough to heat through. You don't want to dry out the pasta. Top with more cheese if you have it and serve.
In the microwave: Place your leftover pasta in a microwave safe bowl. Splash a little water into the bowl and microwave for 45 seconds. Take it out and give it a little stir. Don't worry if it's still a little watery, this will help steam the pasta back to life. Return to microwave and head for another minute or until fully cooked through. Make sure you don't overheat this dish, or you will dry the pasta out!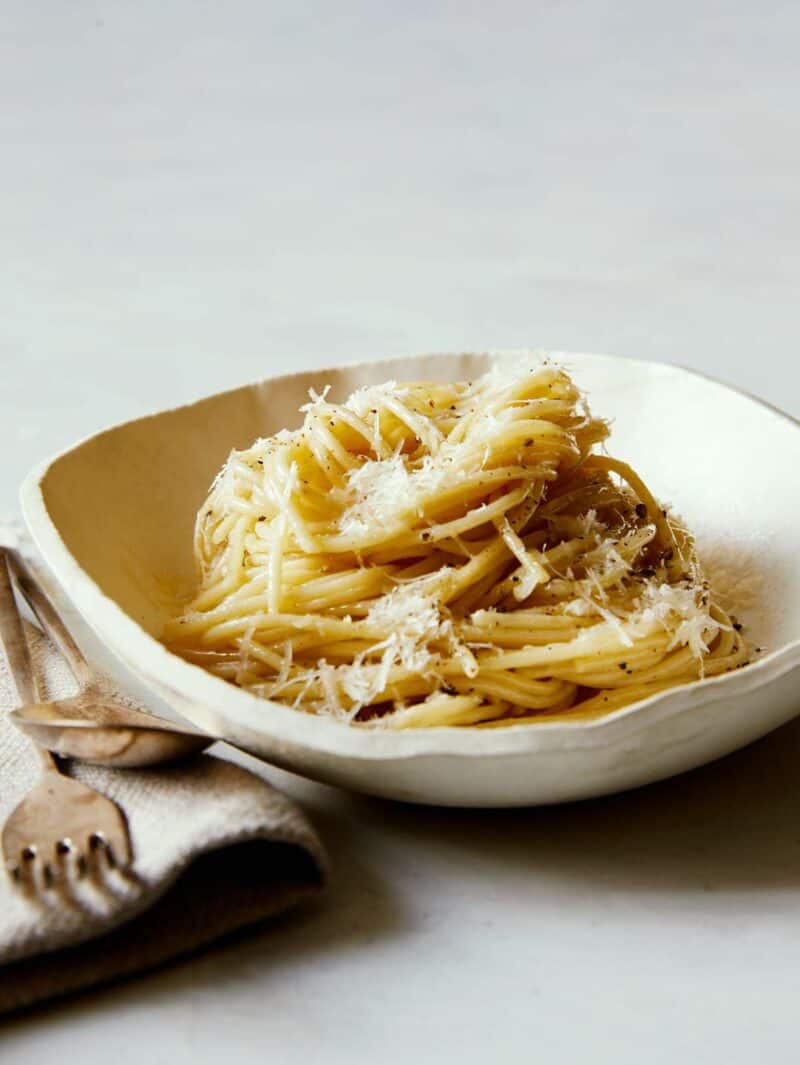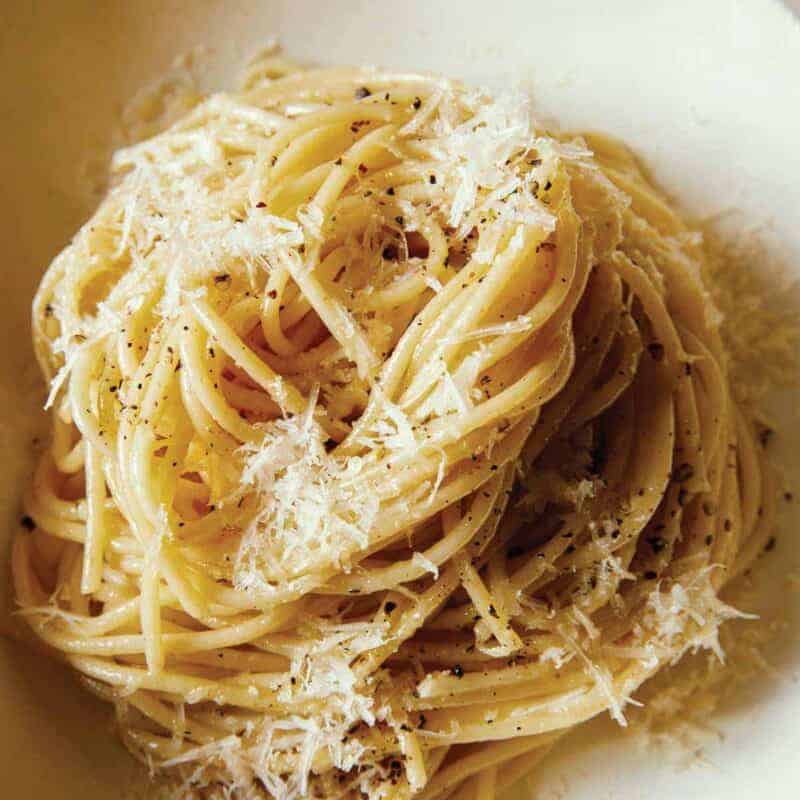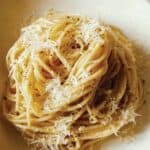 ---
Cacio e Pepe recipe
We love this Cacio e Pepe recipe because it requires only 4 ingredients! It's also really quick to make which makes this perfect for weeknight dinners. This dish is truly indulgent and packs a ton of flavor.
INGREDIENTS
8

oz

dried bucatini

or spaghetti

2

tbsp

unsalted butter

½

cup

freshly grated Pecorino Romano

plus more for garnish

½

tsp

cracked black pepper
INSTRUCTIONS
Fill a large pot with water and bring to a boil over high heat.

Add a small handful of salt and pasta to boiling water.

Cook pasta, stirring occasionally until al dente, 6 to 8 minutes.

Drain pasta, reserving 2/3 cup pasta water.

Pour pasta back into pot or into a large skillet and place over low heat.

Add pasta water and butter and toss together until butter just melts.

Add grated cheese and black pepper and continue to toss together until cheese melts and a creamy sauce forms.

Top with more grated cheese and serve.
Serving:
1
g
Calories:
621
kcal
Carbohydrates:
86
g
Protein:
23
g
Fat:
20
g
Saturated Fat:
12
g
Cholesterol:
57
mg
Sodium:
308
mg
Potassium:
274
mg
Fiber:
4
g
Sugar:
3
g
Vitamin A:
459
IU
Calcium:
290
mg
Iron:
2
mg