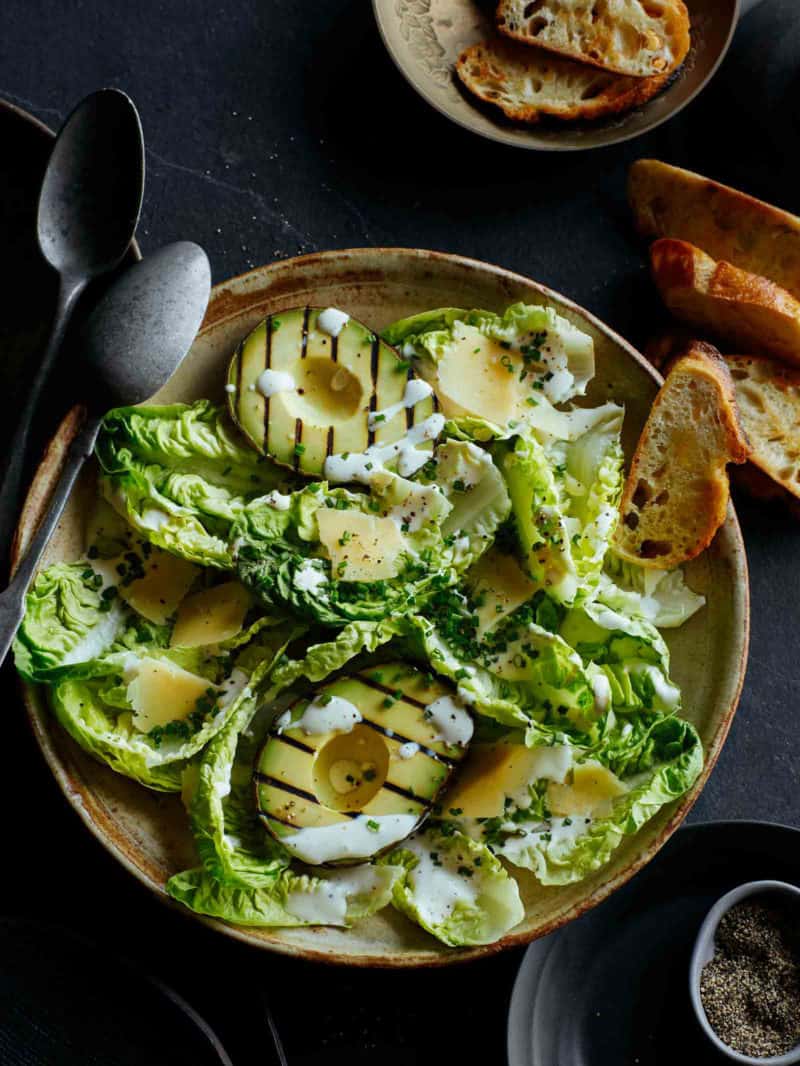 This one is for all you avocado lovers! Grilling the avocados gives them a nice smoky flavor that I love. Pairing that with the crisp lettuce and the creamy dressing – we are hitting all the notes with this one! This little salad is the perfect dish to get the ball rolling for the grilling season that is coming up. I hope you guys love this one! ♥ Teri
Grilled Avocado and Gem Salad with Herb-Yogurt Dressing

Serves 4

Ingredients:
herb-yogurt dressing:
2/3 cup plain (fat free) Greek yogurt
1/4 cup minced mixed herbs (such as chives, thyme and dill)
2 tablespoons minced shallots
1 garlic clove, minced
3 tablespoons extra virgin olive oil, plus more for avocados
3 tablespoons water or more as needed to achieve desired consistency
1 1/2 tablespoons honey
salt and pepper to taste

2 avocados, halved, pitted and peeled
1/2 lemon
3 heads gem lettuce, ends trimmed and leaves separated
shaved Parmesan

Directions:
1. In a mixing bowl, whisk together all dressing ingredients until fully incorporated and smooth. (You can also blend everything in a blender until smooth).
2. Preheat a grill or grill pan over high heat.
3. Brush flat sides of avocado with oil, a squeeze of lemon juice and season generously with salt and pepper.
4. Place oiled sides of avocado down on grill or grill pan and sear for 3 to 4 minutes.
5. Remove avocados from heat and transfer to a plate.
6. To assemble: Arrange lettuce leaves and avocado halves onto a large platter and drizzle with dressing. Season with salt and pepper and finish with lots of shaved Parmesan. Serve with side of crostini or grilled bread.