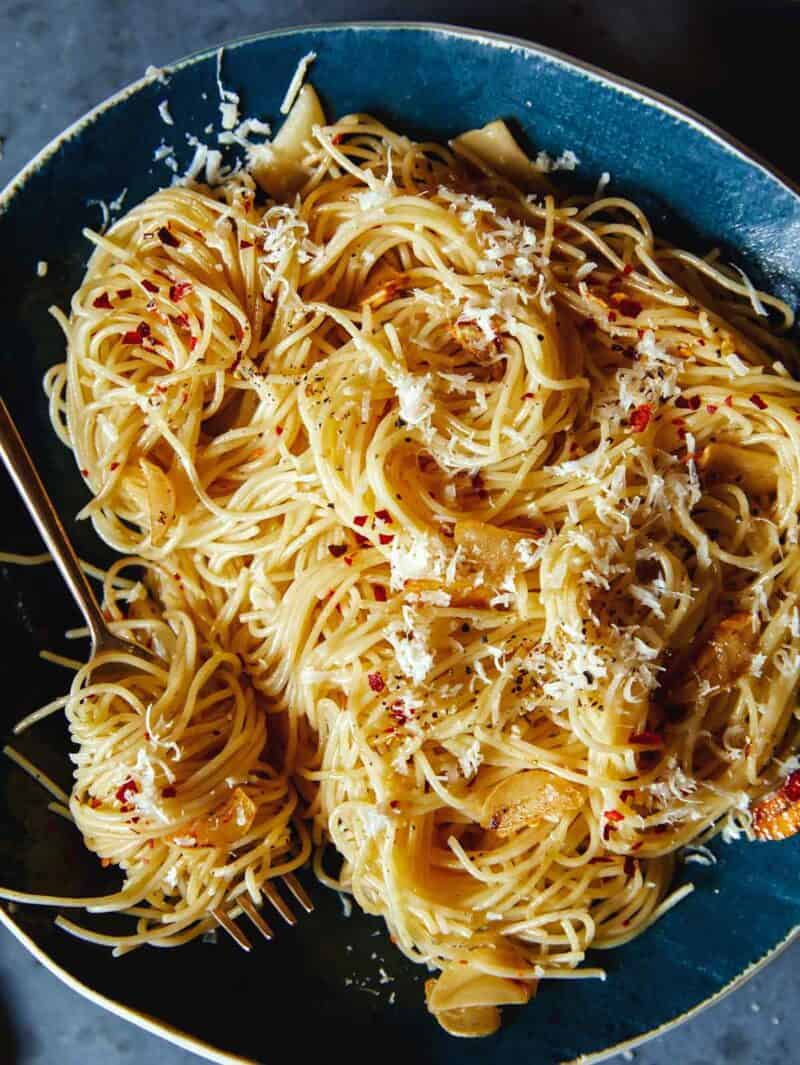 Our Capellini pasta with Garlic Lemon and Parmesan is one of those dishes that are really satisfying. I just love how this meal only requires a few basic ingredients, takes less than 30 minutes to pull together and is just so.good. You won't miss the sauce in this dish because there's so much delicious flavor going on!  It's the perfect busy weeknight meal for sure. We really love pairing this with a simple mixed green salad or some spicy arugula. You can also throw some grilled chicken or shrimp on top!
What is capellini?
It is a rod shaped, long strand Italian pasta that literally translates to "little hairs".
What's the difference between capellini and angel hair pasta?
Although very similar in shape and size, capellini is slightly thicker than angel hair.
Tips for making Capellini with Garlic Lemon and Parmesan
Seasoning the pasta water with salt is very important. As the pasta absorbs the water when boiling, it will flavor the pasta internally. You'll also need less salt in the overall dish.
Adding some of the starchy pasta water to the skillet will help to thicken the butter 'non-sauce' and nicely coat the pasta in the overall dish.
Using butter in this recipe instead of oil adds a subtly nutty flavor to the dish without having to worry about low smoke point since the heat doesn't go above medium and the overall skillet cook time is relatively short.
I love how quickly this thin pasta cooks up and particularly love this brand. If you love this recipe, you should check out our other capellini based recipes that are equally simple and delicious:
–Garlic and Herb Capellini
–Capellini with Blistered Cherry Tomatoes and Fresh Basil
–Capellini with Smoked Salmon Cream Sauce
–Castelvetrano Olive Lemon and Parmesan Capellini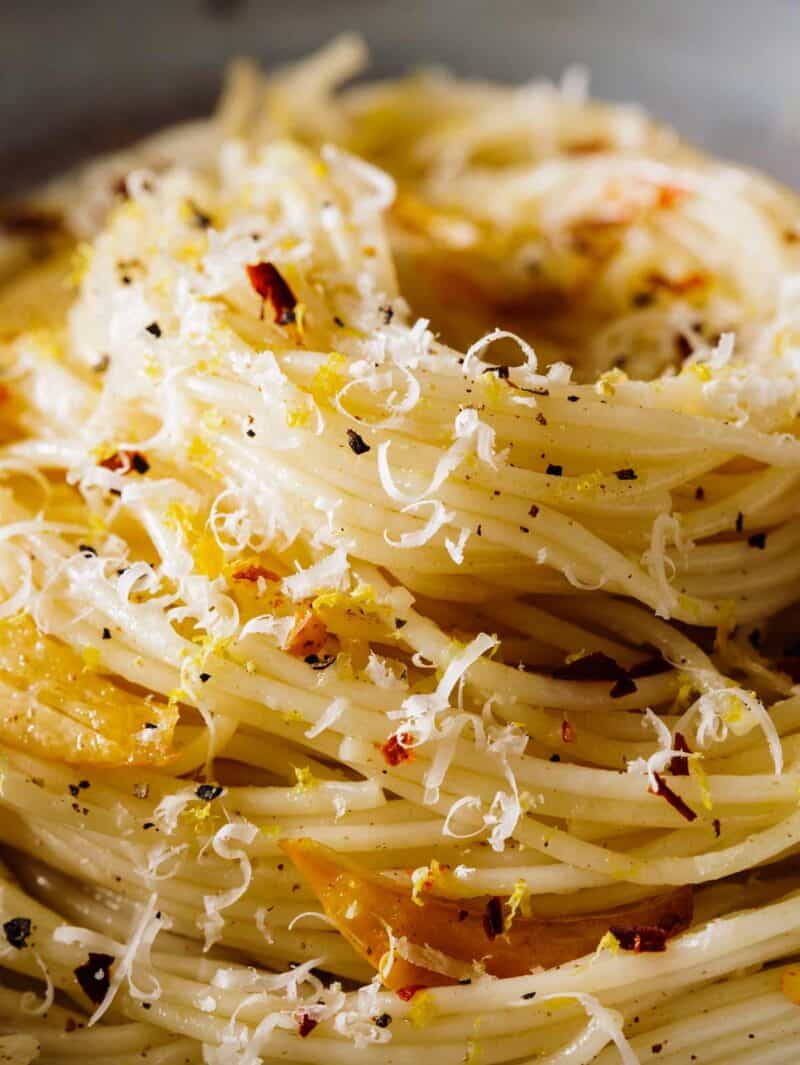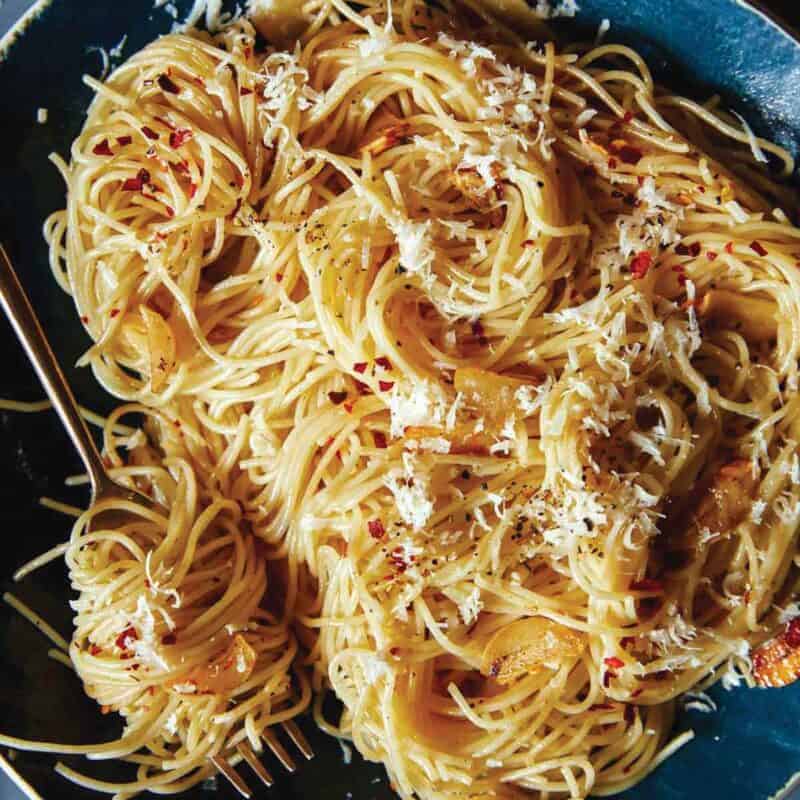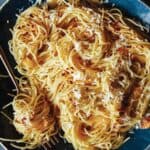 ---
Capellini with Garlic, Lemon and Parmesan
A simple and delicious recipe of Capellini pasta with Garlic Lemon and Parmesan is the perfect weeknight dinner that can be made in less than 30 minutes.
INGREDIENTS
½

pound

capellini

3 1/2

tablespoons

unsalted butter

2

tablespoons

minced shallots

3

garlic cloves, thinly sliced

1

lemon zested and juiced

salt and pepper to taste
garnish
lemon zest

red pepper flakes

grated Parmesan
INSTRUCTIONS
Fill a large pot with water and bring to a boil.

Add a handful of salt followed by the pasta and boil for 5 to 6 minutes or until the pasta is cooked through.

Drain and set aside, Reserving 1/2 cup pasta water.

Place a large skillet over medium heat and add butter. Once butter has melted add shallots and garlic and sauté for 2 to 3 minutes. Add pasta and pasta water and season with salt and pepper and toss together for 1 minute. Lower heat to medium. Add lemon zest and juice and continue to sauté for 2 minute. Finish pasta with additional lemon zest, a sprinkle of crushed red pepper flakes and a generous amount of freshly grated Parmesan. Toss together and serve.
Calories:
368
kcal
Carbohydrates:
46
g
Protein:
8
g
Fat:
17
g
Saturated Fat:
5
g
Cholesterol:
15
mg
Sodium:
6
mg
Potassium:
189
mg
Fiber:
3
g
Sugar:
3
g
Vitamin A:
175
IU
Vitamin C:
15
mg
Calcium:
23
mg
Iron:
1
mg