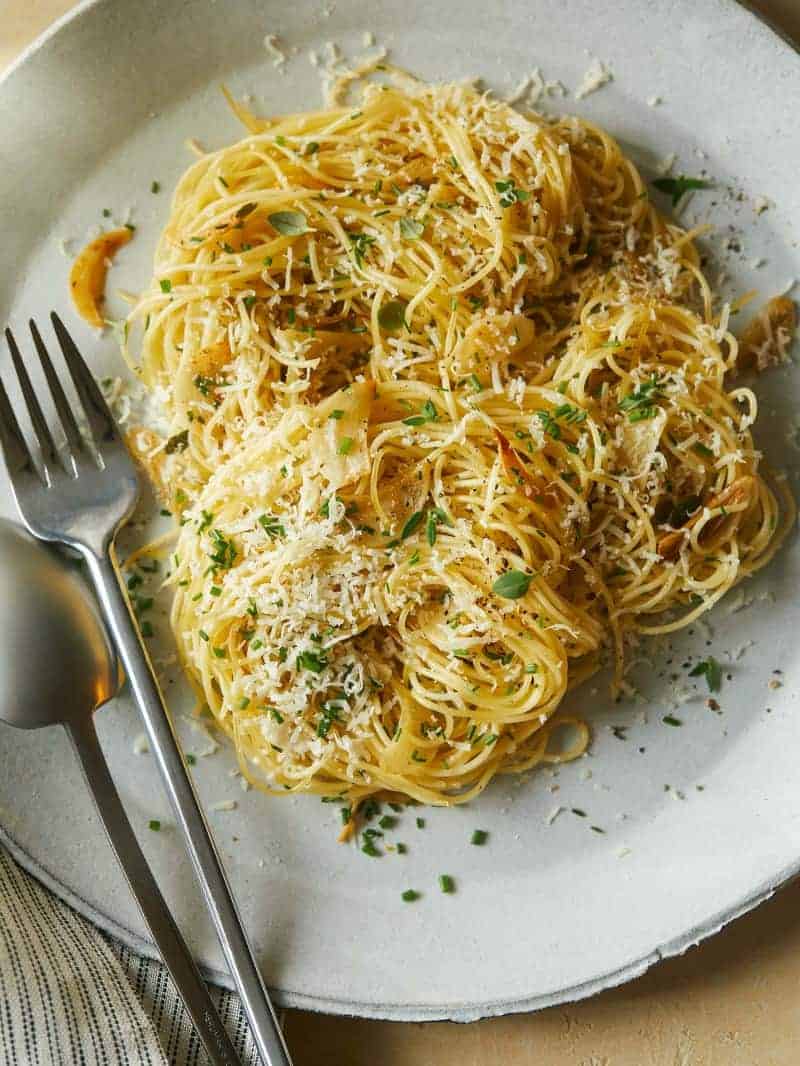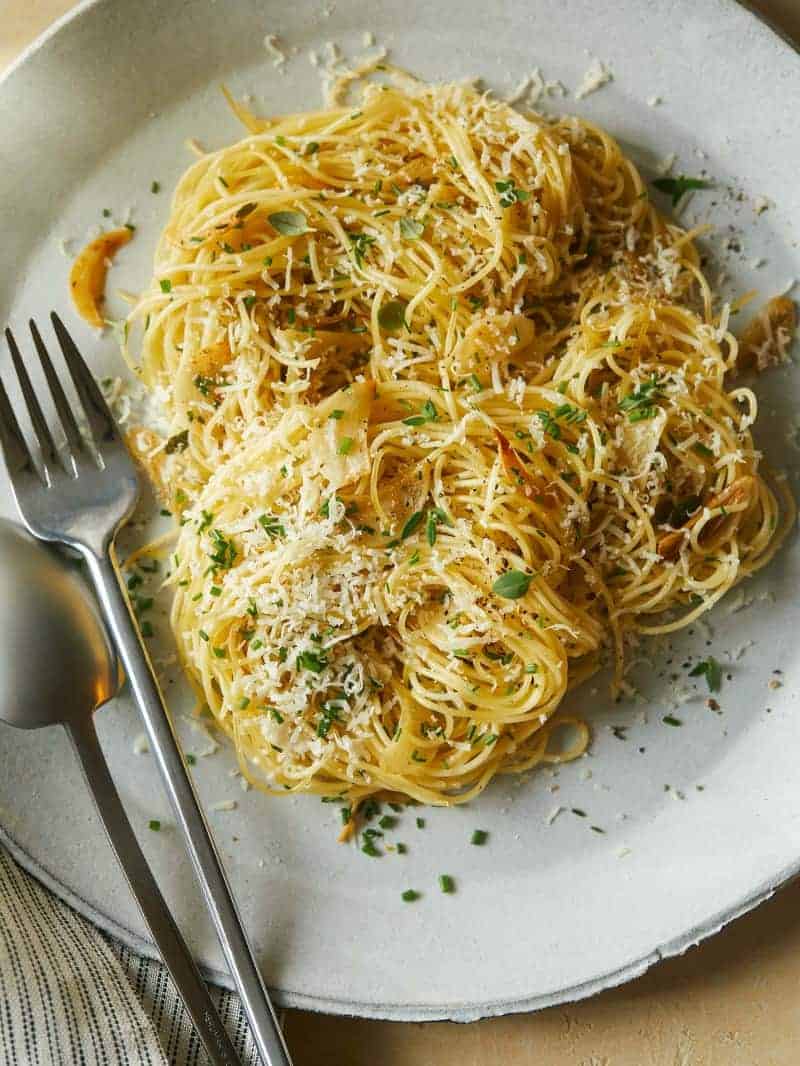 Today's Garlic and Herb Capellini recipe is dedicated to my bet friend, Tristan. In a few days I'm headed to Seattle with one of my best friends, to visit our other best friend, Tristan (and her family!). We're also going to be in town that weekend to participate inWalk MS, Seattle on April 8! It'll be my third year in a row walking in the event, and I can't wait. Some of you may remember when I brought this event up a couple year ago, the first year I attended.
I began walking in the event the year after Tristan was diagnosed with multiple sclerosis, also known as MS, which is for those of you who don't know, "an unpredictable, often disabling disease of the central nervous system that disrupts the flow of information within the brain, and between the brain and body" (as directed described by the National MS Society).
In the few years that this disease has been a part of her life, she has tackled it head on by maintaining her health, keeping up an unbelievably positive attitude and not allowing it to stop her from living her life. Tristan displayed her strength and perseverance during the experience of a lifetime when she and her husband Blair, welcomed their first child, a very happy and healthy baby girl into the world!! Riley is the sweetest little girl and I love seeing Tristan and Blair totally THRIVE as new parents!
Like I mentioned earlier, this Garlic and Herb Capellini recipe is dedicated to my best girl. I know this recipe seems very similar to the recipe I dedicated to her last time, but it's a little bit of a joke because of her crazy, picky palate, lol. I kept the capellini, garlic and Parmesan (because duh), but swapped the red pepper flakes and lemon out for some fresh herbs. This dish is super simple and easy to throw together, but still so delicious, it makes the perfect weeknight meal.
MS is a scary, unpredictable disease which sadly affects millions of people around the world including Tristan and the hundreds and hundreds of people that personally love and care about her so much. I will continue to do whatever I can to support my best and strongest friend, even if it's just with a little pasta. :) I really appreciate you all taking the time to read this personal post! If you'd like to learn more about Multiple Sclerosis, you can do so here. xx, Jenny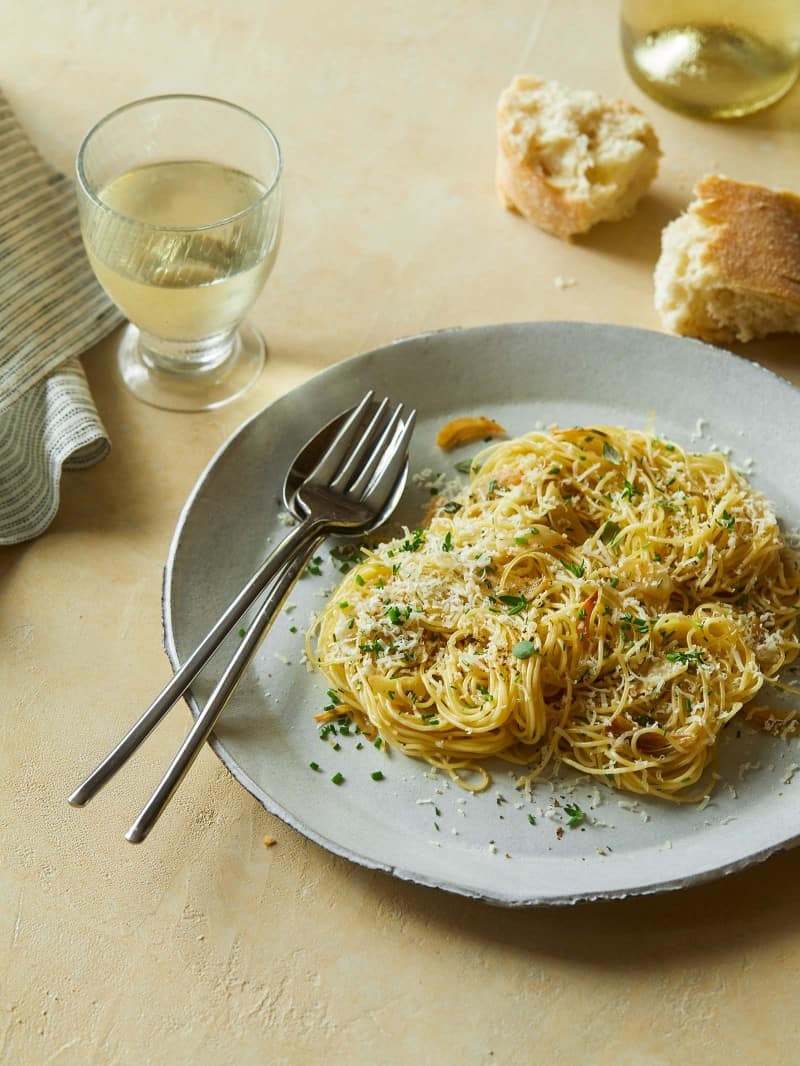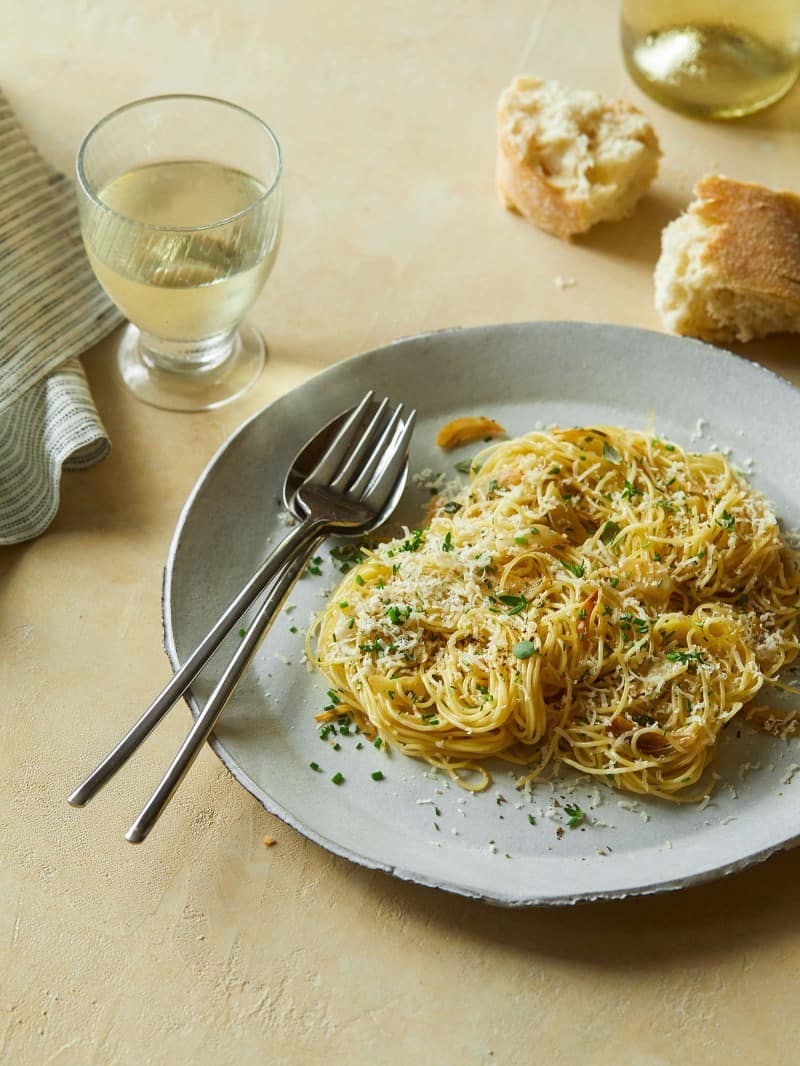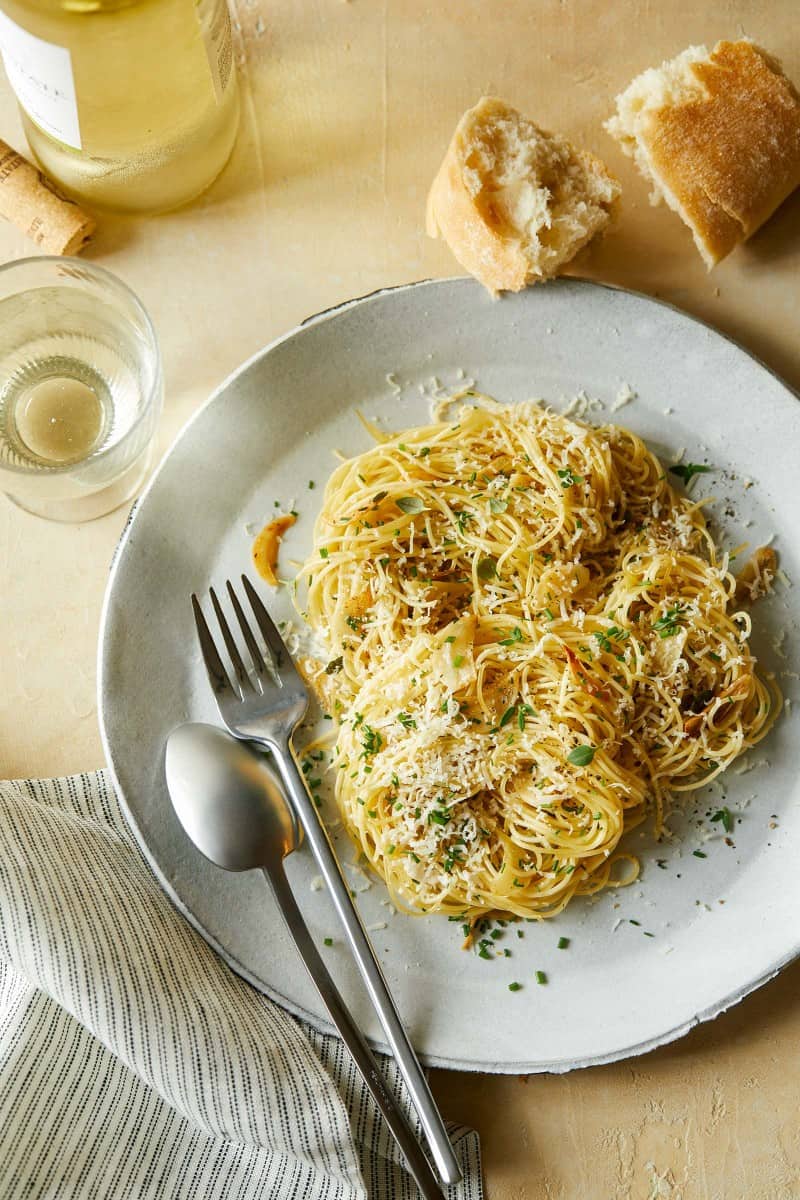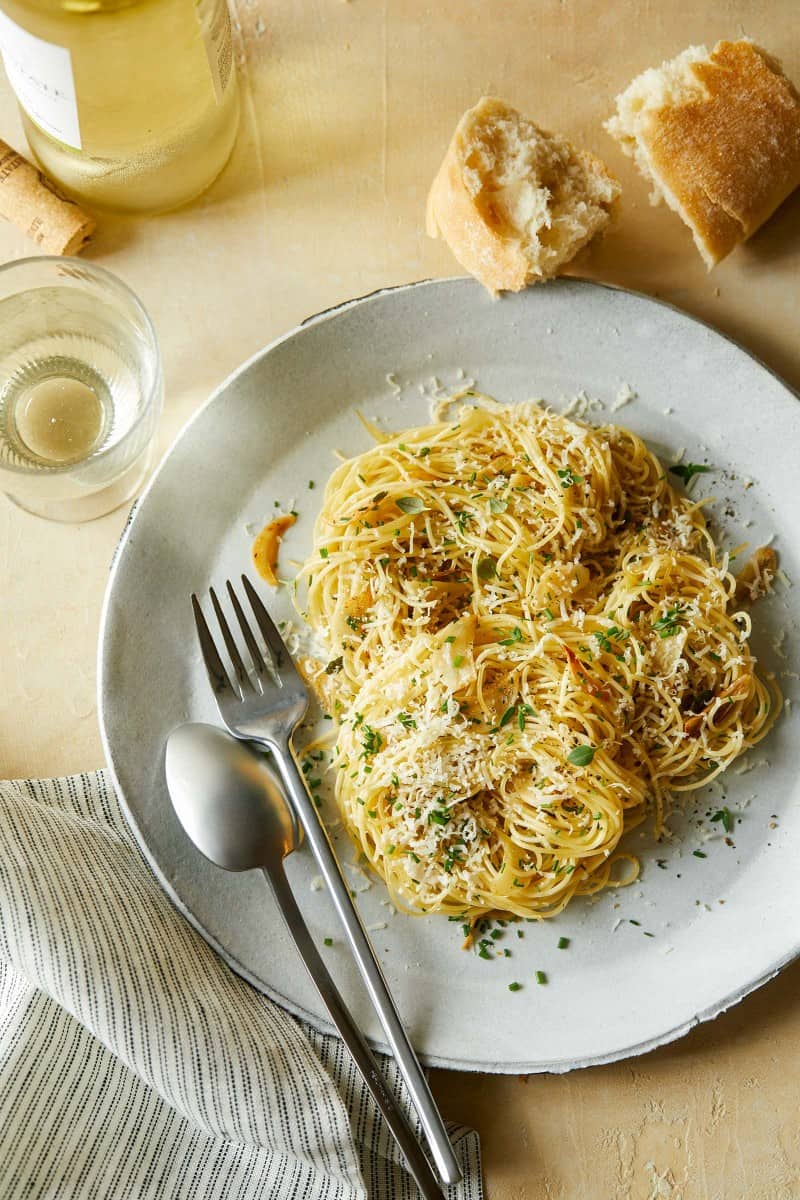 Hungry for more?
Subscribe to never miss a recipe.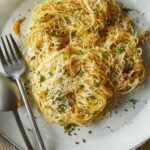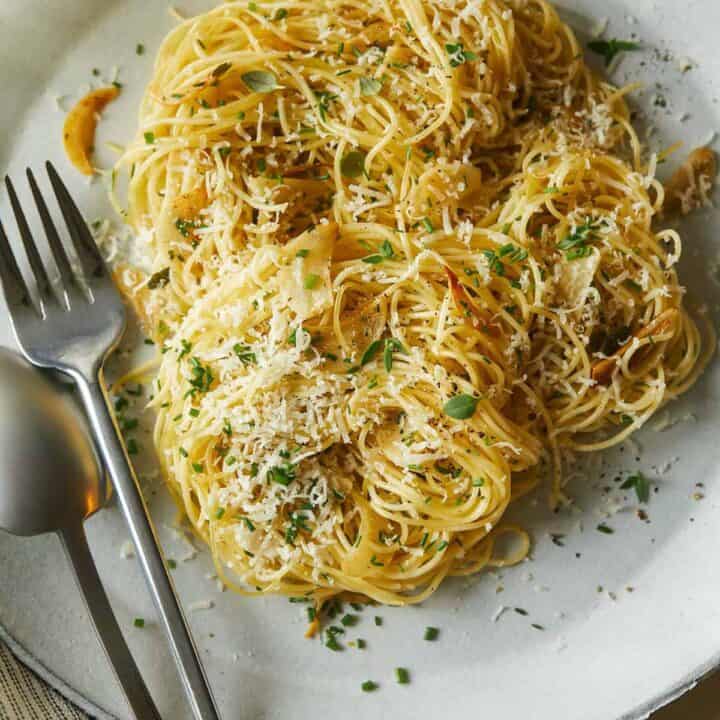 ---
Garlic and Herb Capellini
INGREDIENTS
½

pound

capellini

3

tablespoons

extra virgin olive oil

2

tablespoons

unsalted butter

2

tablespoons

minced shallots

3

garlic cloves, thinly sliced

1 ½

tablespoons

thinly sliced chives

plus more for garnish

1

tablespoon

minced thyme

plus more for garnish

salt and pepper to taste

grated Parmesan
INSTRUCTIONS
Fill a large pot with water and bring to a boil.

Add a handful of salt followed by the pasta and boil for 5 to 6 minutes or until the pasta is cooked through.

Drain and set aside, reserving ½ cup of pasta water.

Place a large skillet over medium heat and add oil and butter. Once butter has melted add shallots and sauté for 2 to 3 minutes. Add garlic and continue to sauté for an additional 3 minutes.

Add pasta, season with salt and pepper and toss together.

Add reserved pasta water to the skillet, sprinkle herbs over pasta and toss together. Simmer for 1 minute.

Remove skillet from the stove and finish pasta with additional herbs and a generous amount of freshly grated Parmesan.
Calories:
362
kcal
Carbohydrates:
44
g
Protein:
8
g
Fat:
17
g
Saturated Fat:
5
g
Cholesterol:
15
mg
Sodium:
6
mg
Potassium:
163
mg
Fiber:
2
g
Sugar:
2
g
Vitamin A:
307
IU
Vitamin C:
5
mg
Calcium:
23
mg
Iron:
1
mg